PreHistoric Animals – The Magical Mystery Machine (Chapter 1)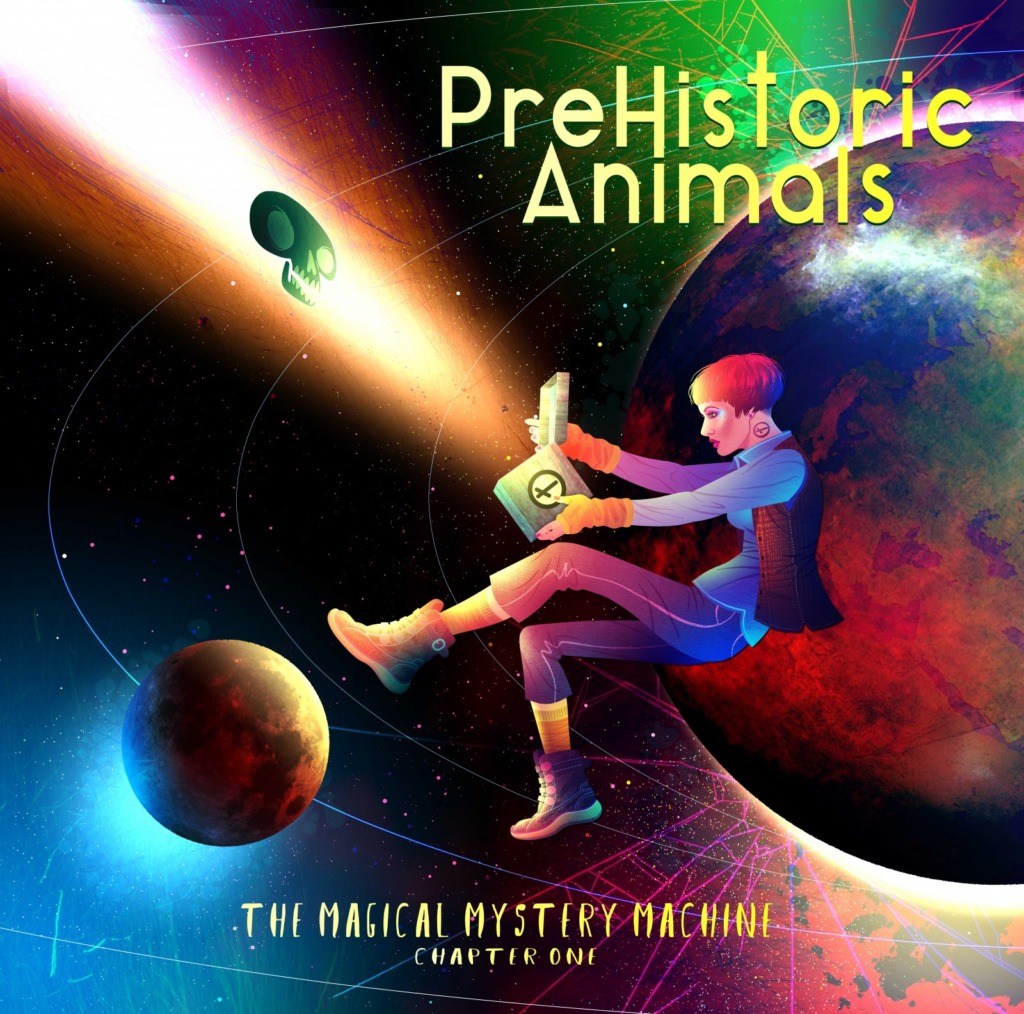 PreHistoric Animals is a band that took many, including me, by surprise when they released their highly praised debut album "Consider it a work of art" back in November 2018. A mix of progressive time changes and easy-to-listen music with a lot of influences from pop and alternative rock, the album was very well received and allowed the band to play in festivals even if they were not exactly a band yet, as they told us in this interview we made during ProgPower Europe 2019.
The band originally was the duo Stefan Altzar (guitars, vocals and synths) and Samuel Granath (drums), but thanks to the demand for live shows and the good reception of their first album, they called in Daniel Magdic (ex-Pain of Salvation) on guitars and Noah Magnusson on the bass guitar. (They toured with the renowned Swedish keyboardist Stefan Jernståhl).
Now the band is about to release their second album "The Magical Mystery Machine (Chapter 1)" for which I had a lot of expectations as it was announced to be a concept album and as I totally fell under the spell of these Swedes after seeing them perform a close to perfect show at ProgPower Europe, I've been hoping for another great album. And boy these guys delivered!
The album introduces us to an interesting story. According to the press release, it follows Cora and Jareth's diary: she's given the mission to collect humanity's good and bad sides (fear, happiness, greed and all other human traits). "She finds out that the world is dying and she is the only one on earth that knows except for her sidekick, Jareth who isn't even half as brave as her. All information inside the device will be used to re-create earth somewhere else in the universe and they are promised to go there if their mission gets accomplished."
The story is indeed quite moving. It touches different aspects of how a human being would react to such a gigantic and impossible task. Let alone, a young woman in charge of saving humanity from extinction. The band comments: "It's a quirky story but underneath there's politics, feminism, environmental issues and love. It's also our way to say thanks to all the good music we've listened to so far". I don't wish to extend too much about the lyric theme, the listener should sink in, enjoy and reflect on it. I think it was very well developed between the 7 tracks, following from the moment she's staring at the task she must complete, when she's given the "magical mystery machine", finding her partner, and all the doubts that arise in such a challenge.
"It's a quirky story but underneath there's politics, feminism, environmental issues and love. It's also our way to say thanks to all the good music we've listened to so far" – PreHistoric Animals
The first taste of their new music came with the exclusive release of the first single and opening track 'Floodgate' here at The Progspace. Just within the first seconds, I could sense the band's music had taken quite a turn. Synths, voices in the background and an air of spacey mystery give way to a heavy knock out with straight-in-your-face prog metal. When Altzar starts singing to us the intriguing story, it is clear we're having another banger from PreHistoric Animals, actually not too distant from the music style they established on their previous album: catchy chorus, nice melodies and a banging rhythmic section. A powerful single indeed.
PreHistoric Animals – Floodgate (click here if video doesn't play)
But when the title track starts, oh my…  I was not ready for this. It is clear for me now that 'Floodgate' is a sort of transition between what we know from their previous album and this new darker facet of what the band can create. 'The Magical Mystery Machine' is entirely another thing.
The band took up their gear, rolled up their sleeves and threw in everything they have absorbed and learnt in terms of music during their individual musical careers spanning several years, as most of them are not newcomers in the music business. With influences ranging from pop-rock, jazz, metal and of course classic prog – among others, the band know how to extract the best of each genre and mix it up coherently in this multifaceted musical gem of an album.
The song shines through all these influences, to highlight are clearly some late 80's Rush vibes, with crunchy almost djenty guitars and syncopated rhythms flowing through the melodic chorus. Yep PreHistoric Animals in a new form. I'm loving it! And then the extended ending section. What a journey! You can really feel you're travelling through space along with Cora and Jareth. I close my eyes and I can see the sequence unfolding like in a movie, with all the instrumentation in place, the synths creating an atmospheric wall of sound, what a build-up! And this journey has just started!
'No Mortal Girl has ever seen the light inside' follows and it is one of the most earworm-worthy tracks on the album. I've found myself singing the chorus several times since I heard the album for the first time. In this song, you realize how good of a singer Stefan Altzar is. He indeed reached new levels in this album and shows his abilities on his vocal range as well as in diverse vocal effects to personalize different characters.
Precisely the next track 'A Good Start' is a great example. The vocal arrangement and his own main vocal line are just superb! Starting with acoustic guitars, the song is a perfect blend between 70's Rush (brings me back to 'The Trees') and a Porcupine Tree or a Steven Wilson vocal arrangement with the PreHistoric Animals sound. Clocking in at just 1:39 it is one of my favourite tracks in the album, a difficult task to choose, by the way.
The transition provided by 'A Good Start' flows into 'What a Lucky Day', another great tune in the PreHistoric Animals catalogue. Sam Granath shines through and through and Altzar delivers one of his best vocal performances. "What a lucky day, now I'm on my way, gotta find the way to my treasures, it goes over and over over and over again…." how not to sing-along? This song has everything I love from this band. Songs based on melody, catchy tunes, emotive transitions, and that complex rhythmic section supporting it all. The bridge towards the end reminds me a lot of something from old good "Artificial Paradise" from German art-rockers Sylvan, helping with the transition from a happy-go-to song to a darker realization by the characters. The music indeed goes hand in hand with the lyrics on this album, so pay attention to them!
Keeping the darker tune in 'First we'll go to Mars' it is a very melodious track with help of the synths in the background and the very enjoyable jazzy vibes on Granath's drumming and Magnusson's bass very present throughout the song. This song I think has the most varied melodic variations from the syncopated chorus to the also syncopated vocal melodies. It just cannot be more prog because it cannot. I love everything from this song, what a banger and that ending guitar solo by Magdic is pure beauty.
Now we reached the end of the first part of this journey. 'Into Battle (Like My Father)' lasting 10:03 minutes, is the longest track of this – too short for my taste – album. And it does comprise the best PreHistoric Animals have released. The complexity in this song but at the same time, the easy-to-listen quality of their music shows the superb writing skills of these Swedes. You're deep in the sad turn of the beginning of the song when at around minute 3, it suddenly does a 180° change with a funky section serving as a transition for the story. Altzar again delivers one of his best vocal performances. This sequence repeats later on with an extended funky section. The whole band shines on this song, my absolute favourite in an album that has become a constant listen since I received it for this review.
"…well, as you may know, this song is about courage, to change something that is wrong, about making a hard choice, to not care if it will kill you, to rise above the voices, to stop and never follow…" These lines sum up the whole album. Even musically the band clearly threw in everything they had to give. With their music based in melodies first, but with a strong rhythmic foundation and its organic sound, the perfect amount of atmospheric synths and excellent crunchy guitars and soul-filled solos, and of course the superb voice from Altzar and his vocal arrangements, make everything on this album for me, one of the best albums of the year. And these guys really deserve all the attention of the progressive community!
Oh and I almost forgot about the ending solo! Yep Altzar not only has an excellent voice, but that solo is also simply superb!  Did I say already I can't wait to hear "The Magical Mystery Machine Chapter II"?
Tracklist:
Floodgate
The Magical Mystery Machine
No Mortal Girl Has Ever Seen The Light Inside
A Good Start
What A Lucky Day
First We'll Go To Mars
Into Battle (Like My Father)
Written and produced by PreHistoric Animals.
Mixed and mastered by Erik Berglund.
Cover art by Richard Dearing.