Haken – Aquarius (10th Anniversary)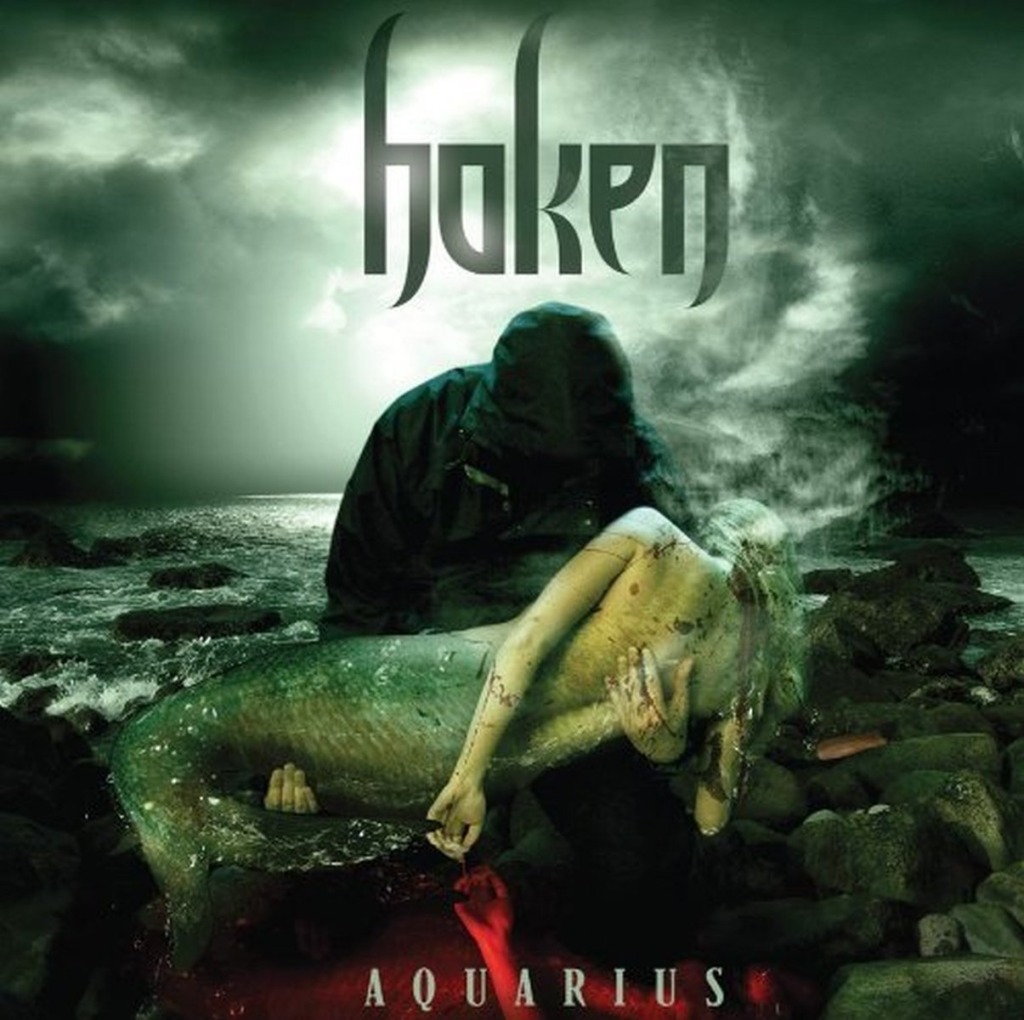 Well folks, it's the 10th anniversary of prog giant Haken's debut album "Aquarius". I remember when it was born… "fins for arms and tail where legs should be" – so much has changed, eh? Well, actually, it still has fins and tails, but so much has changed in the past 10 years, so let's journey down memory lane, and see where it all started for this scaley, lovable prog-opera.
The album first released way back in March of 2010, after Haken's demo "Enter the 5th Dimension" two years earlier. Since then, the band had changed its lineup; Peter Jones, originally on keys, was replaced by Diego Tejeida. Matthew Marshall (guitars) was replaced by Charlie Griffiths.
The album was mainly written by guitarist Richard Henshall on piano, but in what seems to be the now-typical writing process for Haken, things were changed and developed in the practice rooms. The band would meet every week and jam through some ideas in a room in the Guildhall School of Music and Drama, as drummer Ray Hearne was a student there learning the tuba. Recording for the album began in 2009 on a shoestring budget. In fact, the only thing recorded in a studio was Hearne's drums, using Griffiths' friend's studio. The rest was recorded in the band's own homes. Ross Jennings' vocals were recorded in a loft with a makeshift duvet-cover vocal booth. Despite the low budget and limited resources, the sound quality on the album holds up well, and allows for a vivid soundscape to form through each song.
The album pushed Haken into the ears of many listeners, garnering them generally positive reviews and taking them near the top of Progarchives album of the year listing. This, according to Henshall and Griffiths, was a big step in spawning interest in the band, and things grew from there. And while every Haken release delivers something different from the last, it's clear that Aquarius still holds a solid foundation of the eclectic, yet distinct and recognisable sound of Haken.
Opinions are often divided when it comes to this album. It is perhaps the most 'unique' lyrically, and while some fans love it and some fans prefer more metaphorical lyricisms from albums like "The Mountain", the lyrics of "Aquarius" not only tell the story well, but pull and tear at your heartstrings (songs like 'Sun' and 'Celestial Elixir', for example).
As well as the lyrics, "Aquarius" holds some bold and interesting instrumentation, lots of different styles and passages that take you on many different journeys. Be it sprawling crescendos on piano, symphonic heartbeats and choruses, or the famous 'circus-music', "Aquarius" is an incredibly eclectic album that flirts with the edge of being 'over-crowded' but never crosses the line. Despite all the different styles and sounds "Aquarius" shows off, the theme and mood is consistent; the band do a good job of making everything seem like it fits together.
Haken – Streams (click here if the video doesn't play)
One of the more notable things, for me, on "Aquarius", would be the harsher vocals. Only a minority of songs on the album feature these vocals, and harsher vocals are almost non-existent in Haken's entire discography. Jennings has stated before that he ended up disappointed with the way the harsh vocals turned out, saying they sounded too inhuman and edited, but to be honest, that's what I like about them. Everyone's heard harsh vocals before, but the ones on Aquarius really strike a different chord with me; they're perfectly placed, and perfectly toned to the theme of the song, and I think the 'inhuman' feel to them suits the album.
In 10 years, the album has never quite left the ears of fans: a remaster came in 2017 from InsideOut Music, featuring instrumental versions of each track. The remaster was a welcome treat, and it felt like a good way for me to listen to the album 'for the first time' again. Also in 2017, a 22 minute medley of the album was performed live and released on the "L-1VE" CD/DVD, featuring a combination of all songs on the album (except 'Sun'). This medley is a great 'bitesize' way to digest the album, featuring signature passages from almost every song, but to truly experience and appreciate "Aquarius", you need to go in from the very beginning to the bittersweet end.
Haken – Aquamedley (click here if the video doesn't play)
Despite its varied and diverse sound, "Aquarius" was probably the first Haken album I fully 'got'. My first Haken experience started with 'Atlas Stone' from their album "The Mountain" (which had just been released) but there were only a handful of songs on it to start with that I actually liked ("The Mountain" is now, however, my favourite Haken release). So I went back into their 'older' stuff, and "Aquarius" just took a firm hold on me. I think it's because it was so new and fresh to me that I liked it so much, it was exciting and daring, it was catchy and epic. It was everything it needed to be, and it still is.
So please, however you view the album, celebrate this magnificent and timeless release on its 10th birthday.
This anniversary feature is a guest article by our friend James Carstairs from Prog – Musical Enigma.
Also check out this thorough analysis of the lyrical concept of "Aquarius" from our friend Jason Spencer at The Prog Mind.