Colin
Researcher & Reviewer
I was born in 1993 and live in Montréal, Canada. I play drums in Ashbreather and Vicarious Reality. I am also an enthusiast of progressive death metal, with experience in filmmaking.
Evelina
Reviewer
Evelina is a small Bulgarian girl with a big passion for music. She was introduced to prog long before she even knew what that is thanks to classic bands such as Genesis, YES and Pink Floyd, but the subgenre grew on her after discovering Haken back in 2015. When she's not at some local show or driving the neighbours insane with the new obscure band she's currently obsessed with she enjoys the other fine things in life, like good food and visual art.
Alexandre
Reviewer
Residing in a small village in the north of France, Alexandre discovered progressive music at the age of 13 thanks to Octavarium by Dream Theater. Since then, he has developed a strong musical curiosity, and is now a music-lover with eclectic taste, always eager to share his experience with anyone willing to.
Matthew Dakroutos
Reviewer
Matthew is a professional violinist and composer from Greece. He was introduced to Pink Floyd early in his life, and later embraced the prog metal explosion of the early 00s, which led him to discover more experimental music. He is the lead songwriter of art of simplicity, was part of Wastefall and has appeared on many recordings.
Sander
Reviewer
Sander is a web developer, game designer and metalhead from Horten, Norway. Having already discovered progressive music through bands like Dream Theater, Rush and Opeth, his real passion for the genre was sparked when his dad introduced him to Porcupine Tree around the age of 17. He enjoys most genres within metal, but particularly more extreme, technical progressive metal, and he also has a soft spot for post rock. Apart from listening to music, going to concerts and playing a little bit of guitar, his other hobbies are mainly of the nerdy kind. Especially computer gaming, but also reading fantasy literature and playing Dungeons & Dragons.
Matthew
Reviewer
Growing up in Colorado, in the United States, Matthew spent most of his youth exploring the outdoors. At a young age, his brother introduced him to heavy metal, eventually leading to the discovery of Between the Buried and Me, which was his taste of the progressive side of metal, and he has been hooked ever since. An avid music listener of all genres, Matthew indulges in anything that intrigues him or gets him dancing.
Marcel
Reviewer
Marcel is an insurance agent with the largest insurance company in the Netherlands. Yes, even people in insurance like progressive music! He grew up on his parents' collection of Queen, Rolling Stones, Pink Floyd, Metallica, Scorpions and eventually made his own way into the metal scene with first a love for all things power metal. Slowly his developing tastes lead him into the progressive metal scene and now has an eclectic taste ranging from progressive rock to tech death metal.
Christian
Reviewer
California raised in the greater Los Angeles area, Christian grew up listening to his parents favorite music ranging from Chick Corea to Led Zeppelin. When he was a young teenager he found his first true love of music with Iron Maiden, a love affair that continues to this day. His first exposure to progressive metal came when he purchased The Divine Mythology Suite by Symphony X. Soon after that he became one of the first listeners at progulus.com, where he would expand his musical tastes and knowledge across the wide spectrum of prog and metal through endless hours of listening and chatting (often when he should've been working). Nowadays, when he's not jamming out to music while he runs his pool cleaning business, he loves to travel, go to live shows, play guitar, and attempt to write songs. Who knows, maybe someday he'll actually record something worth releasing! He also hopes to one day soon travel regularly to Europe to meet all his fellow prog brethren and attend all the festivals there (once that's allowed, of course).
Pauline
Contributor
Bonjour ! I am Pauline from France, an English teacher by day and a rock 'n roll, prog metal lover by night with a black cat as my side kick. I was raised in a family of musicians, my father was a drummer who provided the soundtrack of my childhood with ELP, Yes, Rush, The Beatles, Pink Floyd... I enjoy all things prog related from music (as long as it's not too aggressive), to art covers, stage, light & sound design. I have soft spot for avant garde and experimental metal, post rock and instrumental. When I am not working, I enjoy travelling and attending festivals with my husband Rune, reading, tea, spending time with my family drinking wine & eating cheese with baguette!
Cees
Researcher & Reviewer
Half a century young, but only listening to the progressive side of rock and metal for just over 20 years. The 80's, my teen years, were all about the standard pop music. Started to listen to heavy metal Early 90's, with Iron Maiden and Metallica making the most rounds in the cd player. After discovering Ayreon late 90's, horizons were broadened and nowadays listening to great variety of the progressive genre. Mechanical engineering as a profession and as hobbies photography, reading and Geocaching.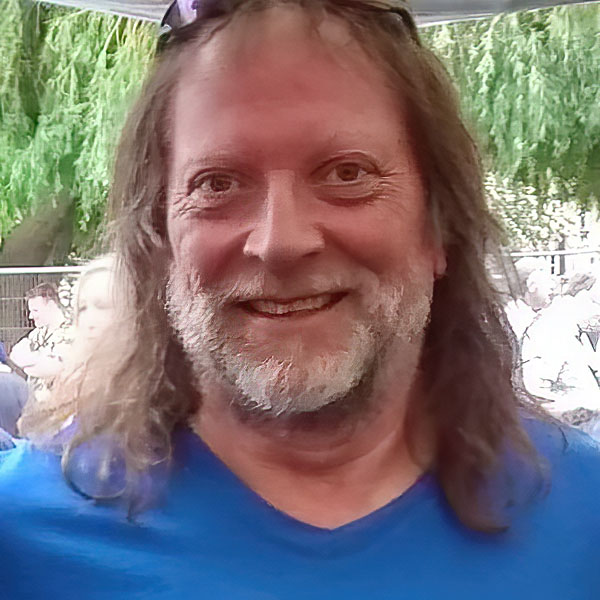 Duncan
Reviewer
I live in the UK near Nottingham and have a passion for all things Prog. Having been brought up on 70's classic rock and prog, Pink Floyd, Genesis, Led Zeppelin, I've enjoyed the last 40+ years Exploring, watching and listening to all manner of music from Folk-Rock through to Progressive metal and most things in-between. My eclectic taste covers many genres within Prog but with the overriding appreciation of melody and lyrics plus interesting song structures ( multiple time signatures are always good) remain at the forefront of my tastes. I also have a passion for English, continental and world beer and when not in the bar I co-own and run I can be found with my wife Suzanne attending a concert or festival somewhere in the UK or Europe. Any remaining spare time is often spent walking the great outdoors together.
Jaak
Photographer
Jaak started in 2007 as a concert photographer for several Belgian webzines with a preference for progressive music and metal. Currently, his main focus is on street photography. But, despite his cosmopolitan way of life, Jaak regularly tries to attend a concert.
This is our team, if you feel inclined to contribute with your Progknowledge, then drop us a line and we'll contact you asap!