Ne Obliviscaris – Urn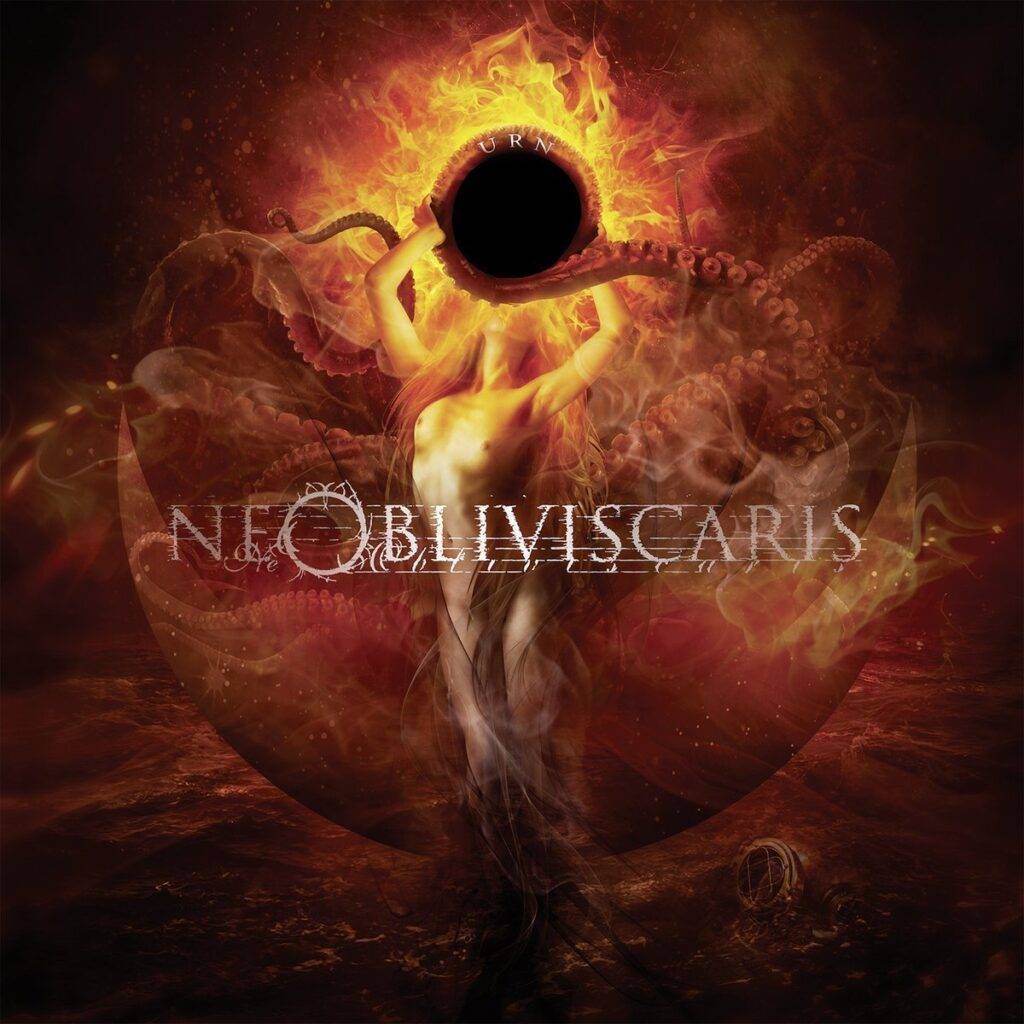 Let's start this review with an elaborate disclaimer: I am a huge fan of this band and a contributor to their Patreon campaign. I also unsuccessfully auditioned to be their touring bassist for their upcoming tours, thinking that I had the chops to replace, albeit temporarily, one of the best bassists in progressive metal nowadays. So if you want to read an objective review of this album maybe look for it somewhere else.
Now that I got that out of the way, I present to you "Urn" from Ne Obliviscaris (NeO). After much acclaim for their previous albums, much anticipation for this next one and quite a bit of drama regarding Brendan "Cygnus" Brown's departure from the band, the Aussies come back with what can only be described as their best work yet. Seriously, this album is impressive. Every single thing that I was expecting from NeO has been delivered in excess. No barrels were held on this one. The melodies are superb, the violin work from Tim Charles is beautiful, the compositions are excellent. I could go on.
'Libera' opens the album and right away we get what this will be about. Benjamin Baret and Matt Klavins lay down the riffs, Xenoyr and Tim excel on vocals and Dan Presland's drum work is incredible. On top of all that the guest bassist they tapped for recording is none other than Robin Zielhorst (Ex-Cynic, Ex-Exivious), who lays down some tasty bass lines and grooves. I had some worries about who'd fill Brendan's shoes for the album, but they were gone long ago when the video for 'Intra Venus' was released. Back to 'Libera', it includes choir work for which some fans had the opportunity to participate, like Dream Theater's 'Prophets of War' and they work wonderfully. The track is split in two, as NeO usually do, with the closing movement being a violin solo with acoustic guitar tracking. It's very moving. I still don't understand why they split their longer songs like that but to each its own I guess.
The album continues with 'Intra Venus', and right from the beginning all those flamenco influences that were very prevalent in "Portal of I" are back. Robin's tapped intro and subsequent lead line are a great way to start the song, and when the band kicks in the dynamic evolves quite fast, with Dan really going for it on the drums and Xenoyr growling away like he does. This was the first track that they released, with a full video, and it's the strongest song on the album for me. Tim's voice is perfect here, as are Benji's guitar solo, the flamenco brake and Robin's bass solo afterwards. This is where my worries disappeared, that is one hell of a bass solo. And this is one hell of a song. Very bass-driven, and with superb work in every single instrument involved, voices included.
After all that we get a nice rest with 'Eyrie', which starts with an extended soft, melodic section. This is the longest song on the album. Its introduction is very ethereal with the strings leading the way and, yet again, great drum work from Dan. After a little over 4 minutes of pure bliss, we get back to heavy things with a very tasty guitar riff and amazing vocal work from Xenoyr and Tim simultaneously. This is by far the proggiest song in the album. When 9 minutes have passed and I think the song can't get better they decide to go into full blast mode, but always with an upbeat violin solo to close the song that is also very catchy.
And then there's the title track, 'Urn'. Right from the beginning, the first guitar riff is the heaviest one in the album. And maybe the heaviest one in their entire catalogue. NeO can do doom metal as well. This is a blaster of a song, with an insane tapping solo right there as well. And then there's Dan with his blastbeats. This is the one that will get people to go insane when they play it live. The verses in 6/8 are relentless, and what follows only ups the ante. Whoever was complaining that they had lost their edge with "Citadel" (seriously?) can rest assured that NeO are in excellent extreme metal health, as demonstrated by this song. Everyone is on point for the instrumental breakdown, following violin madness and clean guitar passage that closes this first part. Because yes, there's more, this one is also split in two, but the second part isn't an acoustic outro, but a full-fledged song on its own with a drastic change in style. The dark ambience is very much there, but where the first part was doom and gloomy, this second part is more avant-garde, relying heavily on dissonance and killer riffs. It's the most rifftastic song in the album.
"Urn" represents an evolution for the band, taking everything that makes them NeO into the superlative. There is, nonetheless, something I disagree with. Such as was the case with their previous record "Citadel", which to me has 3 songs, this one has only 4, no matter how the band insists on splitting them. I'd say that we can handle 13-minute long epics with ease, so I just don't see the point. That's basically the only "negative" thing I can say about this album.
As I mentioned in the beginning of this review, I auditioned to be their touring bassist but didn't get the gig. The winner is a very talented player who can handle the material with ease, as can be seen from his audition video. His name is Martino Garattoni. The band will be touring North America during November and a couple of days in December, then Australia and New Zealand during February 2018, and hopefully they'll go around the world playing their music.
"Urn" will be released this Friday, October 27th on Season of Mist. You should all get it.
1. Libera (Part 1)
2. Libera (Part 2)
3. Intra Venus
4. Eyrie
5. Urn (Part 1)
6. Urn (Part 2)