Heart Sound Metal Fest – 6 April 2019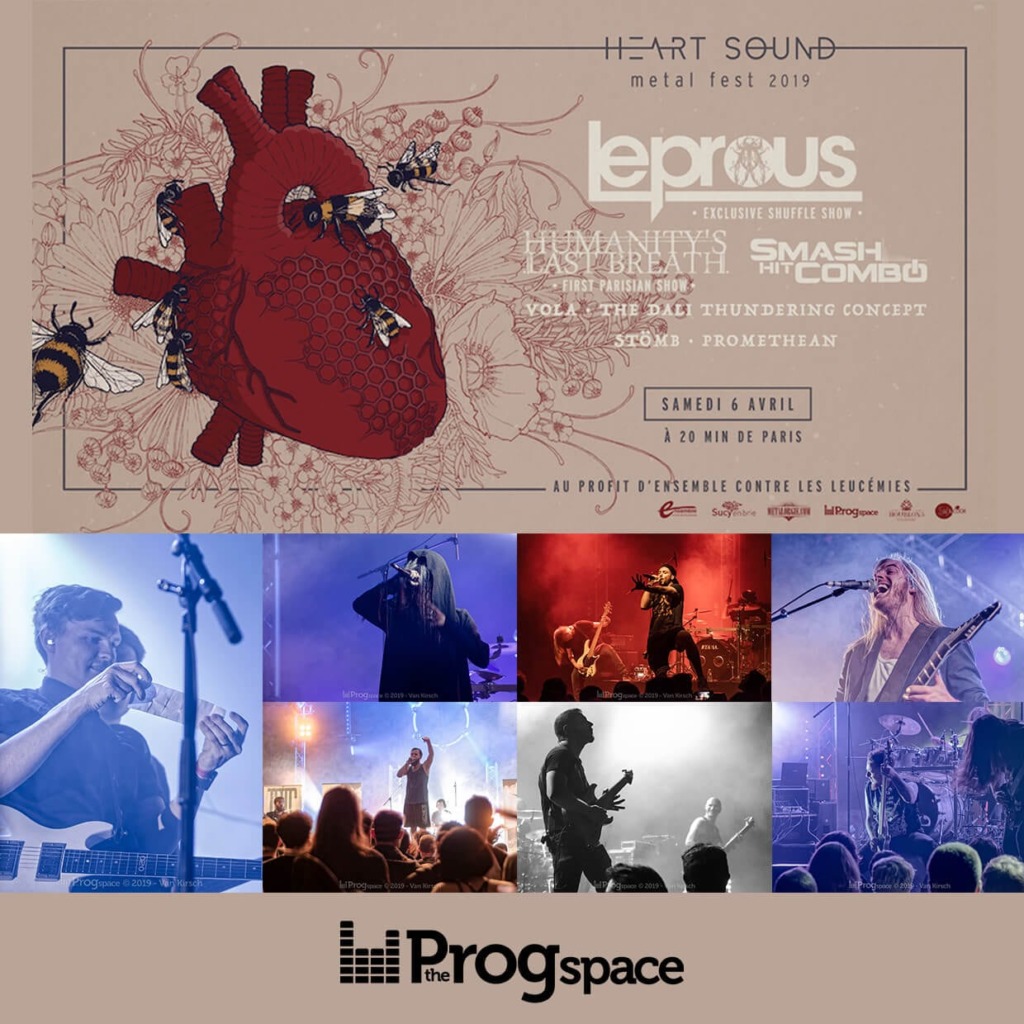 Heart Sound  is a French non-profit association dedicating their efforts to help the non-profit association Ensemble contre les Leucémies (Together against Leukemia). They raise awareness about Leukemia and funds to help those afflicted by this disease and their families as well as support the donation of bone marrow. Since their founders are metalheads at heart, in 2014 they created the Heart Sound Metal Fest to aid this cause by bringing metal bands and fans together to celebrate an evening of music dedicated to this noble cause.
This happens at the Espace Jean Marie Poirier, in the small town Sucy-en-Brie, at the outskirts of Paris. On the evening of April 6th, things changed for them, as the mainly voluntary-driven crew were about to embark in one of a kind evening, going beyond their previous goals as for the 4th edition of this festival with mainly local bands, they had invited 3 prominent international names as well as 4 french bands with following among the locals: The Norwegian titans Leprous, Danish prog darlings Vola, Swedish renowned extreme metal band Humanity's Last Breath. Promethean, [Stömb], The Dali Thundering Concept and Smash Hit Combo closed the bill as the local representation. A very varied line-up for a festival more focused on the progressive side of metal on this edition.
The Espace Jean Marie Poirier, a hall dedicated to concerts, cinema and other events is located on top of a hill and it has as a background a beautiful park. This setting and the sunny and unusually warm day might have helped releasing tension on the audience quickly accumulating at the entrance that was still closed at the official aperture time. Technical problems delayed the opening by nearly 2 hours, but people just enjoyed themselves in the sun.
When the friendly crew opened the doors, we all found the merch tables ready, with many band members walking around greeting people or selling their band's products. Drinks and food stands was another story. Literally masses of people went straight to queue up at the drinks stand, right in the middle between doors and merch stands and the main hall entrance, this made it difficult to walk through or almost impossible to grab a quick drink and continue. This was a scene that would repeat throughout the night.
A start with the locals
Finally, when the doors of the hall opened, Promethean were already on stage, not waiting a second they started blasting their instruments with their mix of symphonic blackened death metal. They fulfilled the job of opening the festival very well, with a very energetic punch delighting their local fans and certainly winning new fans beyond the local Parisian scene.
Sadly, the band had to reduce the playing time. They stepped out of the stage with a roaring applause and leaving a very good impression on those of us who never heard them before.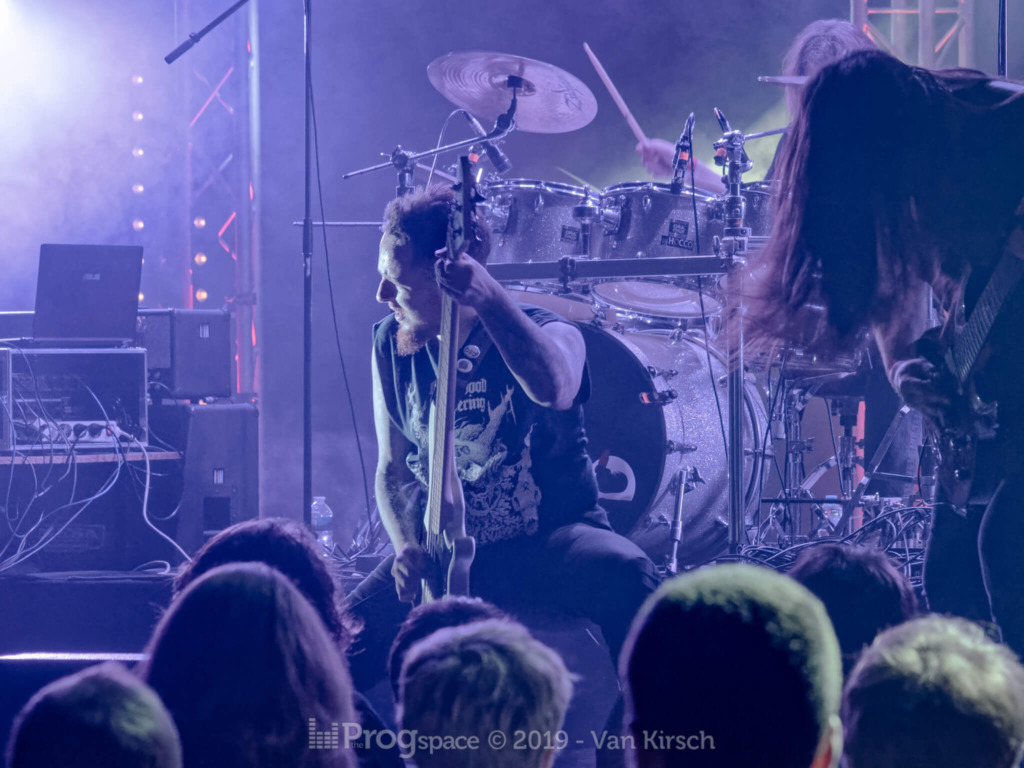 [Stömb] jumped on the stage as soon as the previous band left, build up quickly their set and without a full check, they embarked on their mission to make every single person in the hall headbang and stomp their feets with ther very good instrumental metal. Clearly the second Parisian band had a big following at the venue.
Their instrumental show was excellent, at times melodic, but most of the time quite brutal and direct, a nice premonition for what was to come. And it left me wanting to hear more from them in the future.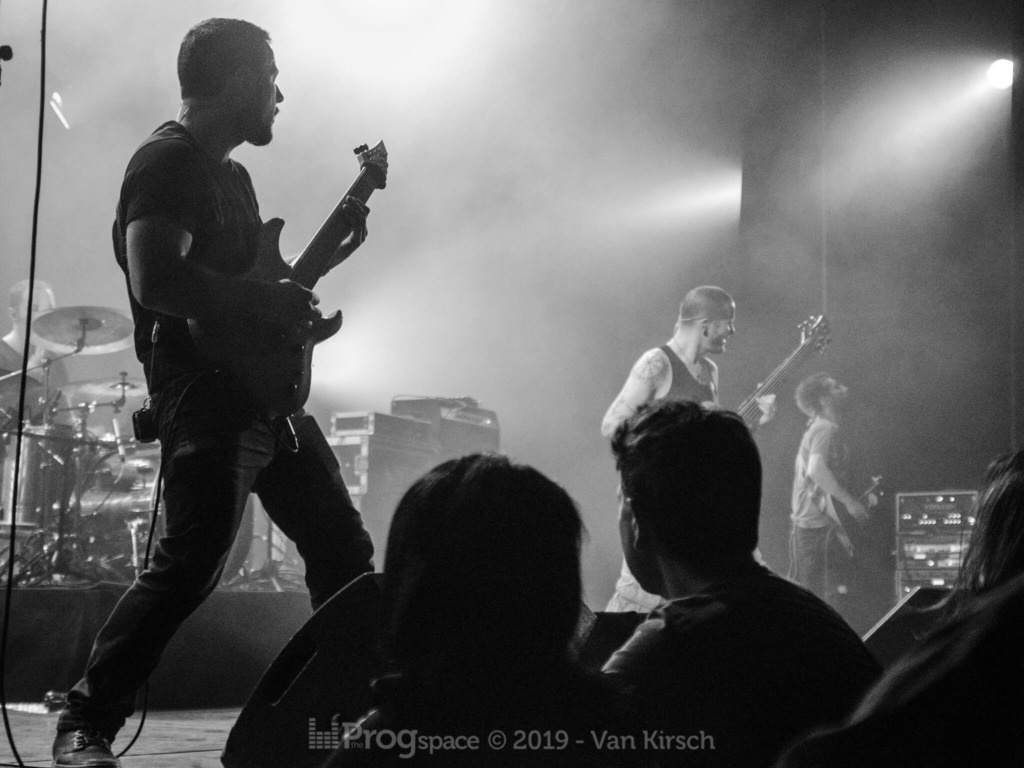 Following the last of the locals, and again as quick as lighting, the stage for The Dali Thundering Concept was ready. This band is leaving a mark on the European metal scene, having played in festivals such as Euroblast and UK Tech-Fest and toured through Europe, they are recognized these days as one of the leading French Metal acts, naturally the increasing audience was ready to receive a blast as the 5 piece band made everyone jump and mosh without letting anyone catch their breath with their brutal mix of mathcore and djentcore blasting from the stage.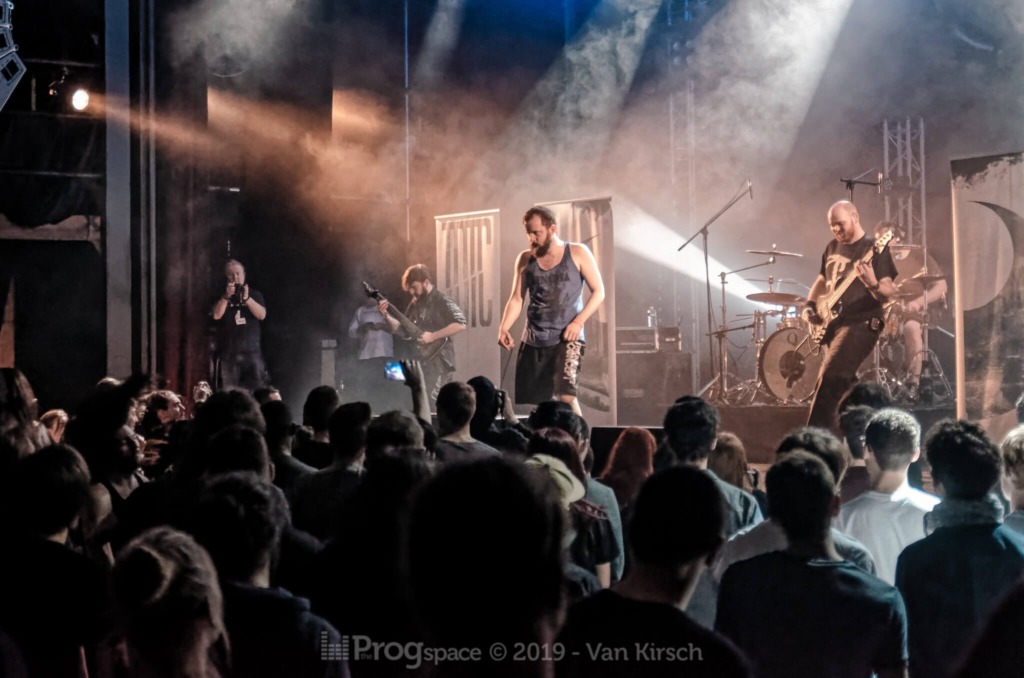 Scandinavia rolled a thunder over everyone
Now it was the turn for the first international band, focusing on Scandinavian bands, I'm not sure if it was on purpose or mere coincidence, but now it was the turn for the Danish darlings of the prog world, Vola. They did take their time to fully check their sound, to ensure that this show was at the high standards they always deliver.
The Danes are having a superb year since the release of their highly praised sophomore album "Applause of a distant crowd". Many in the audience had not seen them before, many others came from different places just to see them. And they made sure everybody was going to get a bang on their heads starting with the massive 'Smartfriend' from their most recent album.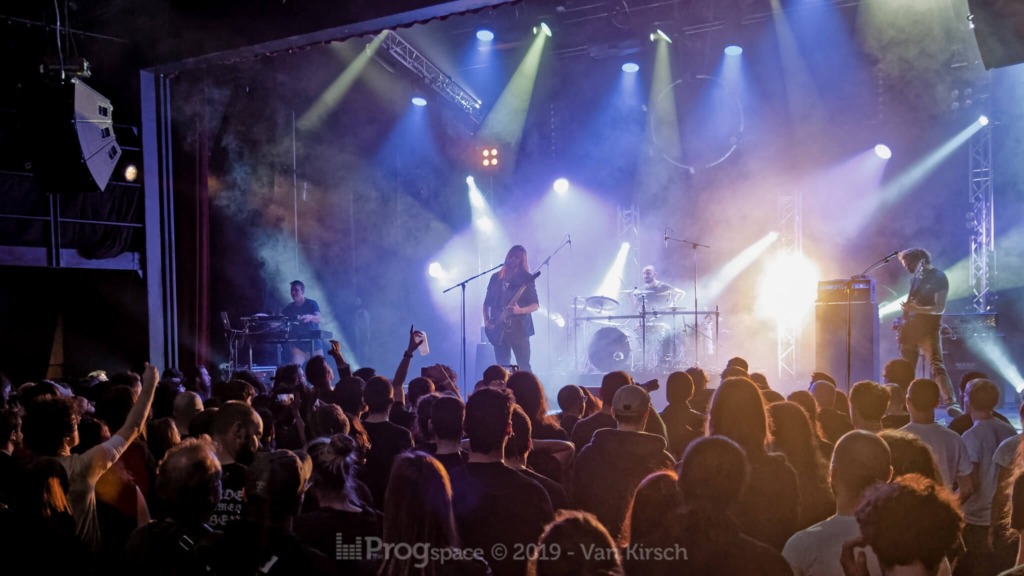 Here in The Progspace, we've been following the band since their debut album "Inmazes", hailing them as one of the bands to keep an eye on. And boy have they surpassed our expectations. Not only the music, their unique blend of heaviness and melodic at times pop-catchy choruses with soft velvety vocals, was a wave that washed over the packed audience who were left wanting more by the Danes (and one Swede).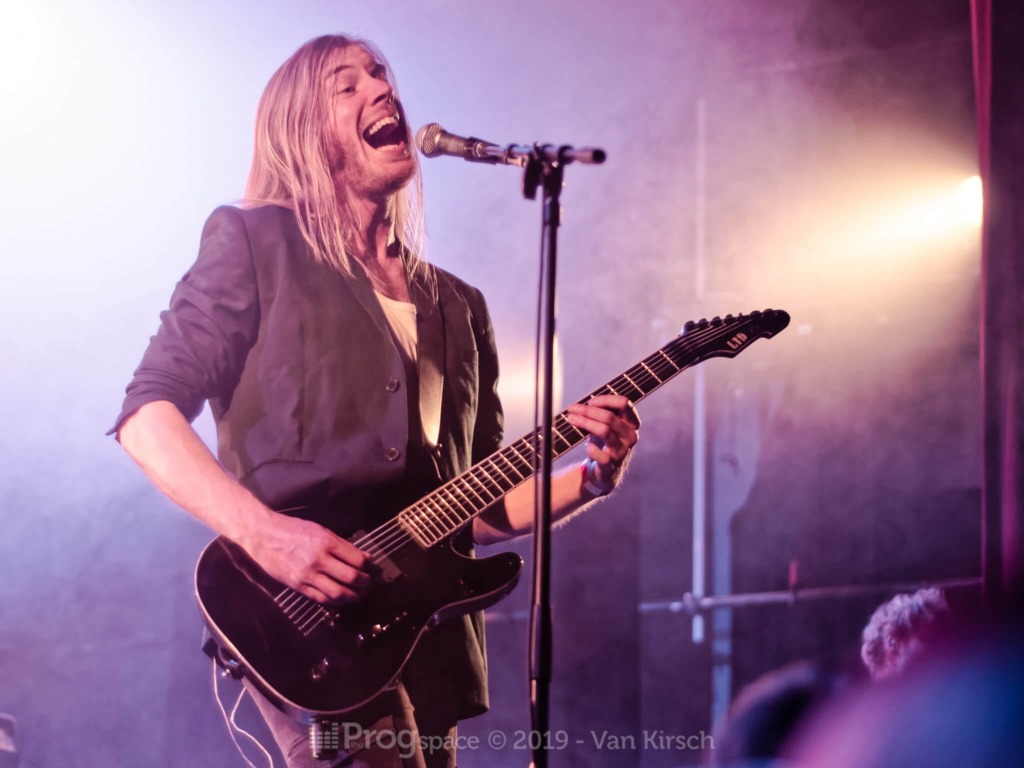 If you, my friend the reader, have the chance to see Vola live in a town close to you, just GO, don't hesitate. It's not only the music but the perfect sound, the excellent lightshow and how the guys are a delight to watch playing. I wonder how Asger Mygind can sing those melancholic tunes with a smile on his face while shredding his guitar with those heavy riffs. Nicolai Mogensen (a.k.a. Theon), never stops jumping, moving and extracting every note with such passion. It was a delight to see Martin Werner again on stage as many of us missed him during the band's last tour. And words apart for Adam Janzi, who is a titan on the drumset. It made me happy to see them triumph and to hear (in my very bad understanding of French) many people asking about them, and rushing to their merch set to buy their music and shirts.
Now we were at the half of the evening and the time for changing gears was used by the organization of the festival to deliver a speech to apologize for the delay, give recommendations for taking busses or trains and most importantly, about the labor of the Association "Ensemble contre les Leucémies" and their role helping those afflicted with the disease and how everyone in the audience could help. It was very good to see people queuing to sign on the bone-marrow donation list. Well done!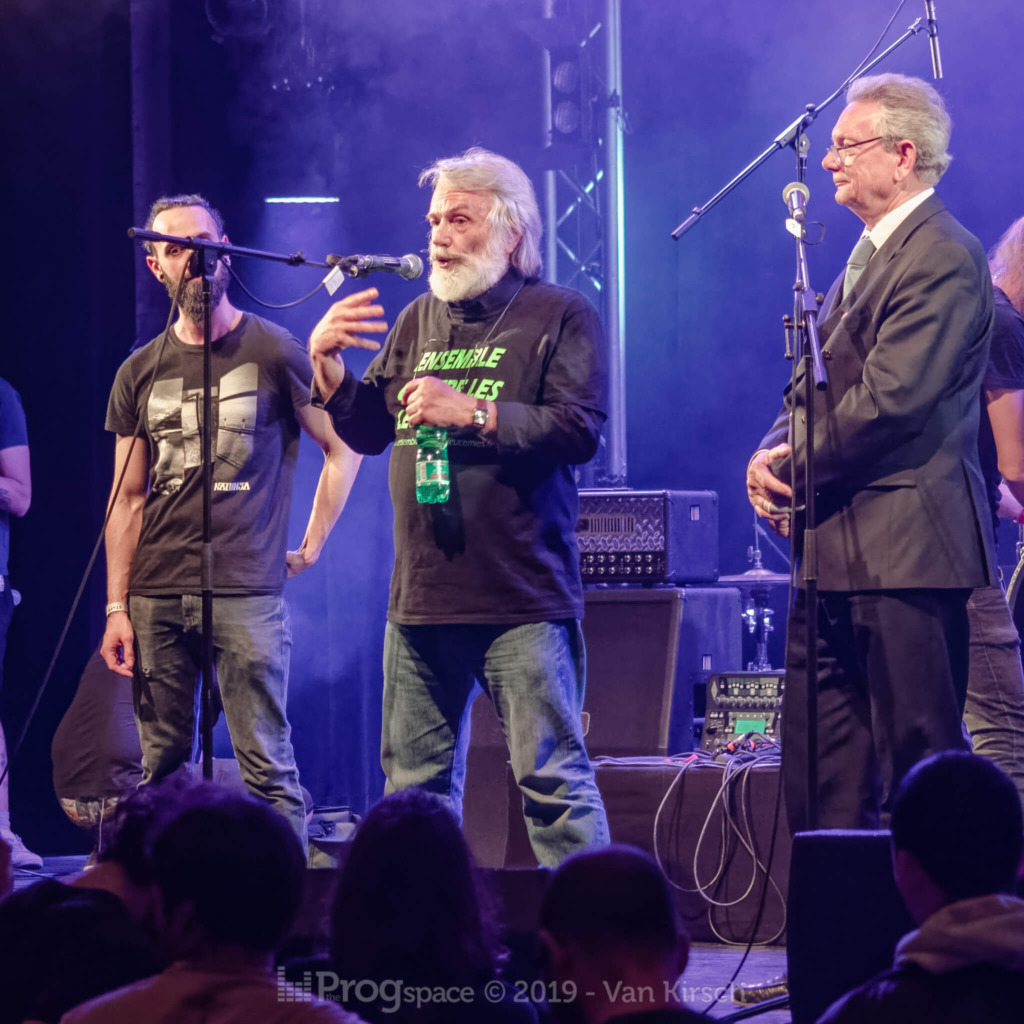 Djent, metalcore and hip-hop – wait, what?
After the speech it was the turn of the last french band of the festival, Smash Hit Combo. And what a surprise for yours truly – this band knocked me off my feet, almost literally! What an interesting mix is hip-hop, metalcore, djentcore and melodic metal! Even if Smash Hit Combo is not considered a progressive band, the mix they delivered was truly progressive. The band have a huge following in their native France and surely won more fans among the international audience present on this electric evening.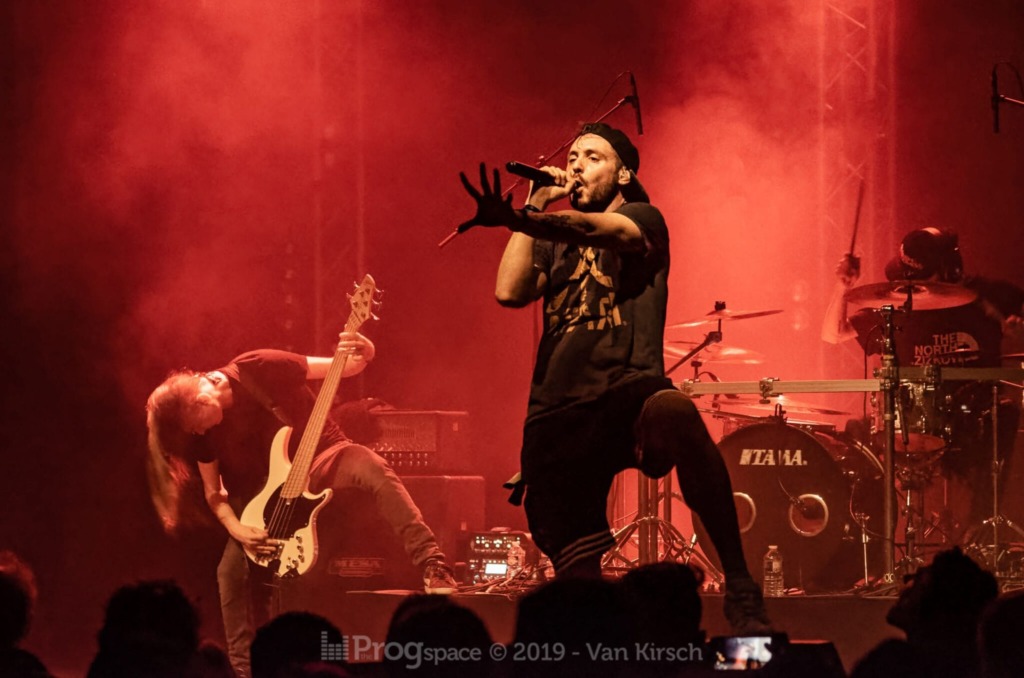 The energy and fun they displayed on stage and from within the audience was magnetic and contagious and left everyone with a big smile on their faces. Certainly I was smiling nonstop after almost being knocked down by one of their vocalists/rappers. It was delightful to see these guys manage a crowd like puppeteer.  The only thing I regretted is not to understand sufficient French to really dig their lyrics. As an ecstatic fan beside me told me, they're crazy good and talk about manga, anime, games, and other stuff. That explained to me why on their merch table, they had a console and a screen for people to play for free (usually children were attracted like magnets!)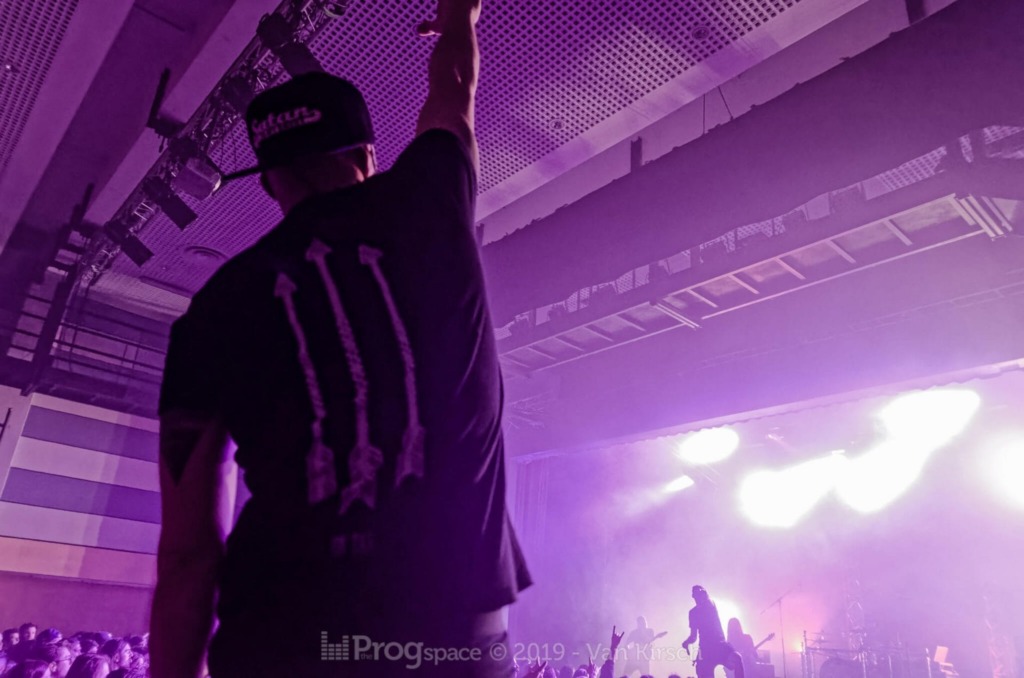 This band was in top form and even if many on the metal spectre of music don't like or even hate hip-hop, bands like this one, who truly embody both genres to their core (pun intended!) are doing a great favor in expanding the borders of these genres that can really coexist and create a superb sound. It works, and it works perfectly live, as Smash Hit Combo clearly demonstrated.
A darkeness fell over the stage
After so much fun, it was the turn of darkness to arrive on the stage, both figuratively and literally. Humanity's Last Breath, as their ominous name implies, was like a punch in the gut or in our souls. The brutal technical deathcore band from Sweden arrived like a black cloud on their first time in a parisian stage.
The heavy riffs and the deep grunts were accompanied by low lights, darkening the stage and increasing the somber ambient lead by their hooded frontman Filip Danielsson. The heavy and dense music was something the packed audience were ready to dig, and while it is not my cup of tea, the Swedes certainly delivered!
A 'Shuffle-Setlist' randomly selected live
And finally it was the time for the headliners, the most awaited band of the night and one of the most successful bands in the scene of the latest years. Leprous from Norway jumped to the stage in a state of bewilderment and nervous smiles as they were ready to attempt something new: a shuffle-show! A completely random setlist with songs chosen by the audience (or themselves as it happened on this crazy fun show) right before they were played! Never attempted by them (has any other band done anything like this before? I don't know).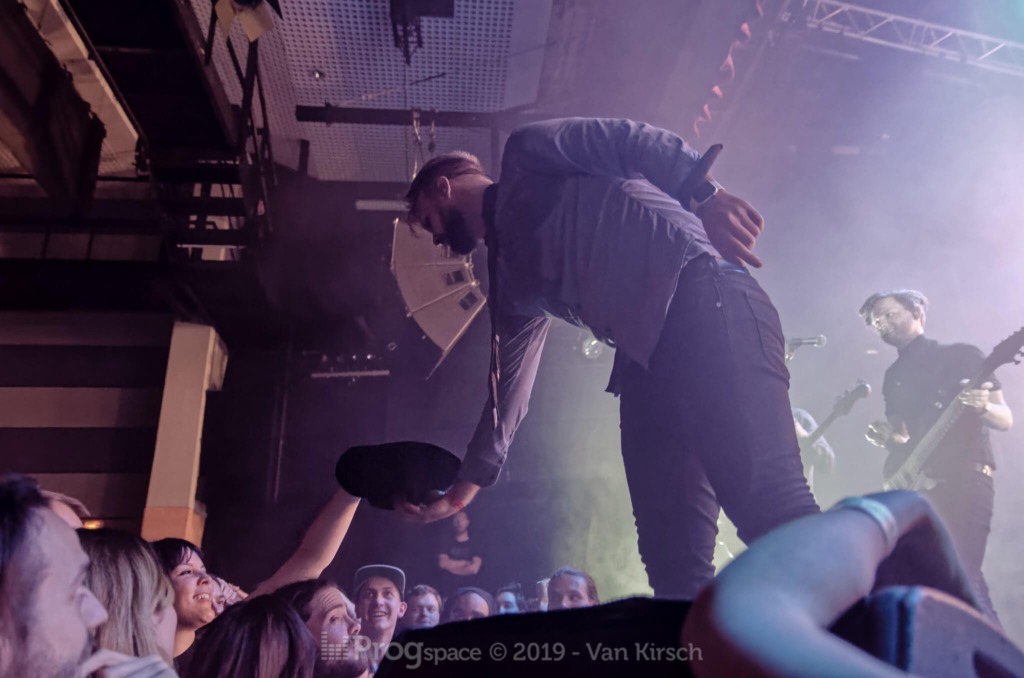 But right before this started the band took their time to fix their gear, prepare the weird show (and themselves) and check their sound. Why, Einar? Why did you have to play 2 or 3 seconds of 'White' on your keyboard to test it? That was the first sign the Norwegians were up for a very very very different show.
With a hat full with 33 songs written in paper strips, the honor to choose the first song was the head from "Ensemble contre les Leucémies", Roland Rab and JB from Heart-Sound. To the surprise of everyone, the first chords of 'Rewind' started the atypical Leprous show. That set the mood, with Einar Solberg at the top of his game delivering this song perfectly despite not having time for his throat to properly warm up.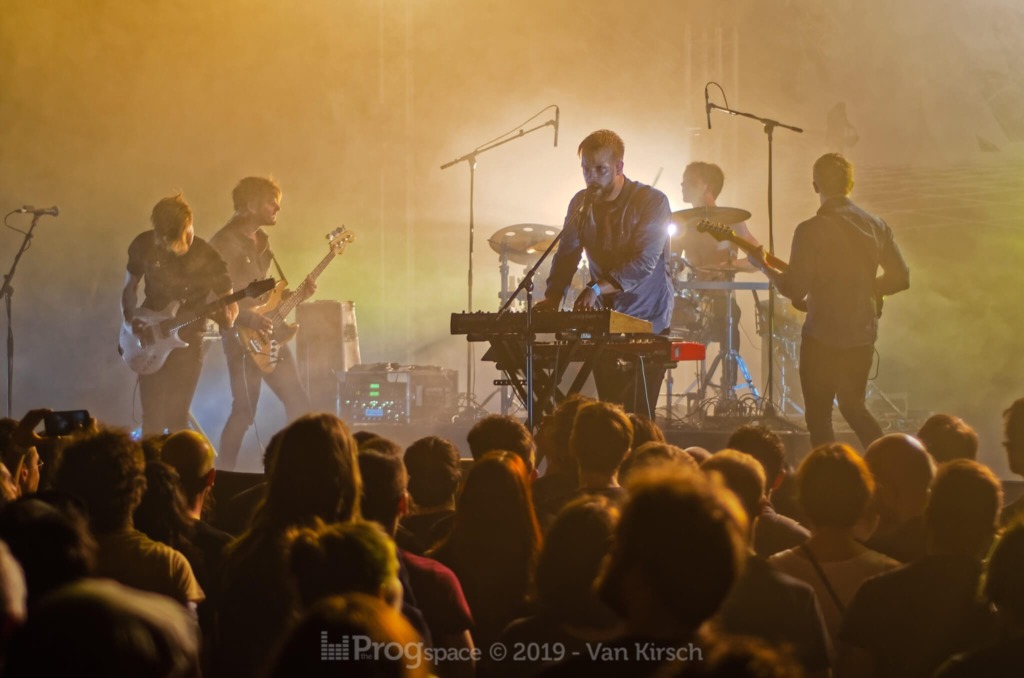 An even more unusual stream of songs followed suit, selected by fans on the front rows. Classics from all their discography were in the 'magic hat', but sadly no song from "Tall Poppy Syndrome" had the luck to be played, but we had 'Acquired Taste' as an oldie but goodie!
Leprous delivered what was an unique experience for the lucky fans and themselves. The normally serious and exact-as-a-clock band members relaxed and had a fun time on stage, even a laughing Tor Oddmund Suhrke, a very weird sight on any Leprous gig! Despite the "fucked-ups" (which later when chatting with them off-stage, they apologized for), the intents of cheating, and cracking jokes the show was a huge success! Though the guys kept on repeating: Never again!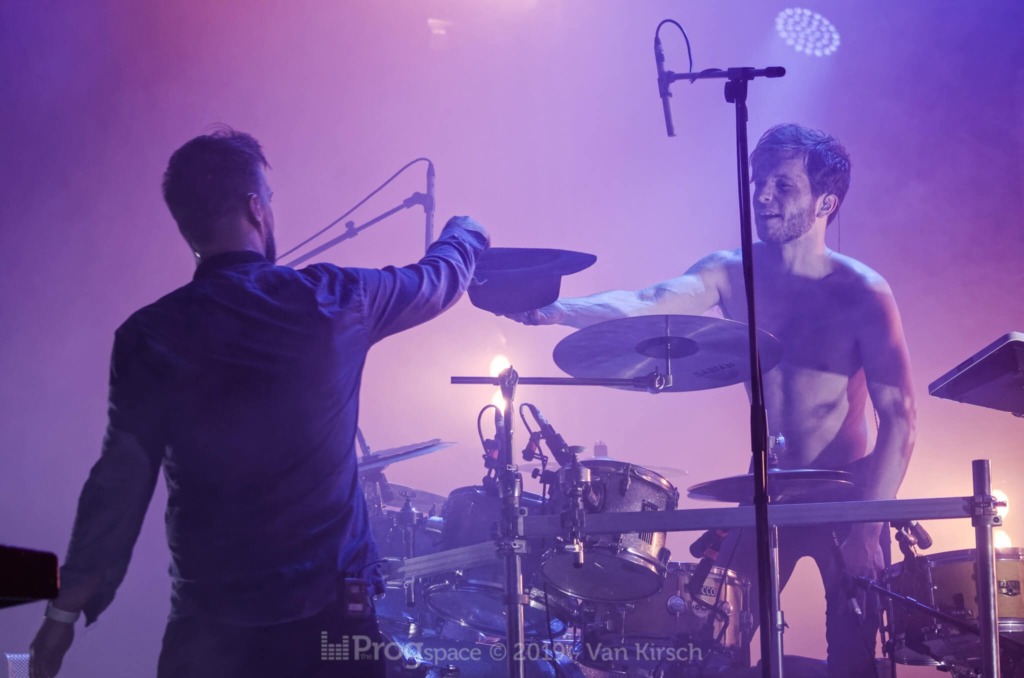 It was an intense and unique festival. Despite finishing at around 1 am, and having endured long hours standing and being generally very tired, I was just smiles after it finished. The experience was unique and it was something I know I will remember for a long time!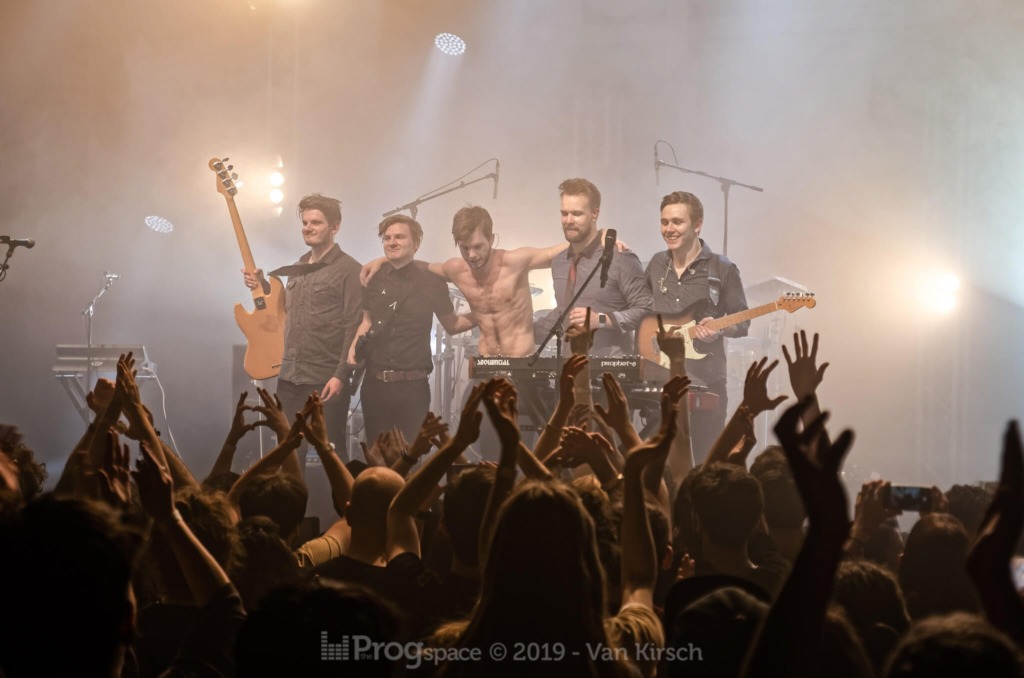 I really hope this festival continues the path they've started and keep the bar at the level they did on this 4th edition. Minus small details and the technical problems they had it was a huge success! People from many nationalities attended the festival and the most important is that the "Ensemble contre les Leucémies" gained a lot of awareness and donors.
Another important subject of the festival was sustainability, drinks and food were from local suppliers and they had the concept of "bring your own cup or reuse the one you bought", to avoid excess of waste of disposable plastic cups often created in festivals. The beautifully printed reusable plastic cups were a memory I brought with me. Here at The Progspace we're very happy to have sponsored this special event, and if the festival continues this more proggy path, we'll be happy to help again!