2023 is not slowing down release-wise: catch the newest in prog right here!
Releases of the Week 02/2023 with Framing Skeletons, BAK, Mariusz Duda, Iván Torrent, Until Rain, Frostbitt, Sunchild & Volkor X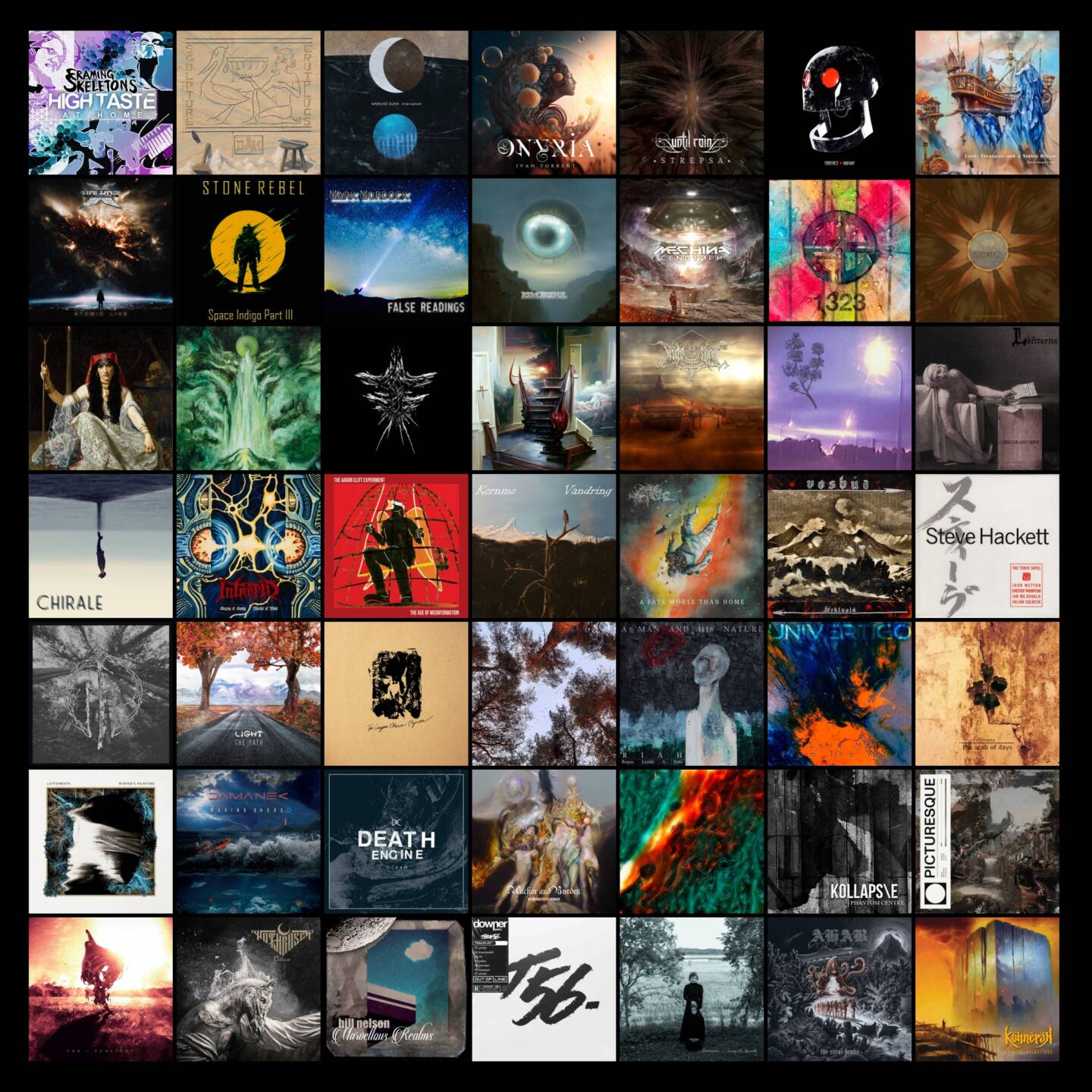 Scratching the 60 releases mark already with our first edition of the Releases of the Week in 2023! The new year looks like it's not thinking about slowing down after the whirlwind that was 2022. Ok, we picked up some of them over the laste weeks since our last instalment mid-December, but still a nice bang to start the year properly with a wide array of albums and EPs from all across the progressive spectrum. 8 diverse highlights, a weekly rotating Spotify playlist you absolutely should subscribe to if you haven't done so already and many many Bandcamp links below! Dive in!
More releases for 13 January, 2023
Stone Rebel - Space Indigo Part III (Jan. 01) Bandcamp
Mark Murdock - False Readings (Jan. 01, Cymbalic Encounters) Bandcamp
Remorseful - Our Law, Grace (Jan. 01) Bandcamp
Mechina - Cenotaph (Jan. 01) Bandcamp
Edge of a Circle - 1323 (Jan. 01)
Nicarus - Sipapu - Golden Buddha (Jan. 01, GreenMuzic) Bandcamp
Ὁπλίτης - Ψ​ε​υ​δ​ο​μ​έ​ν​η (Jan. 01) Bandcamp
Esoctrilihum - Funeral (Jan. 02) Bandcamp
Рожь - В​с​ё (Jan. 02, Reflection Nebula) Bandcamp
Born a Ghost - Stairway to an Empty Room EP (Jan. 02) Bandcamp
Six Sided Storm - Dance of the Serpent (Jan. 03) Bandcamp
Stygian Love - Flowers Fade (Jan. 03) Bandcamp
À la Lanterne - Obscurantisme (Jan. 04) Bandcamp
La Stazione delle Frequenze - Chirale EP (Jan. 04) Bandcamp
Intrepid - Slaying of Sanity/Murder of Mind (Jan. 05) Bandcamp
The Aaron Clift Experiment - The Age of Misinformation (Jan. 06) Bandcamp
Kornmo - Vandring (Jan. 06, Apollon Records) Bandcamp
Iravu - A Fate Worse Than Home (Jan. 06) Bandcamp
Vosbúð - Heklugjá (Jan. 06) Bandcamp
Steve Hackett - The Tokyo Tapes (Jan. 06)
Felsenmirror - Felsenmirror (Jan. 06) Bandcamp
Light - The Path (Jan. 08) Bandcamp
The Canyon Observer - Figura (Jan. 09, Vox Project) Bandcamp
L ux - Become Your Star (Jan. 09) Bandcamp
Ropes Inside A Hole - A Man And His Nature (Jan. 10) Bandcamp
Univertigo - Save Me From the Void (Jan. 10) Bandcamp
crosta - the scab of days (Jan. 10) Bandcamp
Lattermath - Winter's Painting (Jan. 12) Bandcamp
Damanek - Making Shore (Giant Electric Pea)
Karma Rassa - Khmel' Bandcamp
Death Engine - Ocean Bandcamp
Anchor and Burden - Kosmonautik Pilgrimage (MoonJune Records) Bandcamp
Alkamaton - The Great Cerulean Sleep Bandcamp
KOLLAPS\E - Phantom Centre (Trepanation Recordings) Bandcamp
Molly - Picturesque (Sonic Cathedral) Bandcamp
FDK - Sunlight Bandcamp
Samtar - Shadow of the King's Charade Bandcamp
Wothrosch - Odium (Hammerheart Rercords) Bandcamp
Bill Nelson - Marvellous Realms
Bill Nelson - Stupid/Serious
ten56. - downer pt. 2 (Out of Line Music)
Mansion - Second Death Bandcamp
Ahab - The Coral Tombs (Napalm Records) Bandcamp
Kohnerah - Ominous Ubiquitous Bandcamp
Guts Club - Cliffs/Walls Bandcamp
Phal:Angst - Whiteout (Noise Appeal Records/Rough Trade)
Vanguardian – II: The Heretic
it is forbidden - Letter of Withdrawal EP (York House Records) Bandcamp
Cos Sylvan - Rayless EP Bandcamp
Plini - Finnvox Sessions (Live) Bandcamp
Dream Theater - Live at Madison Square Garden
MEGA - Grand Ultimate (Jan. 14) Bandcamp