ArtMania Festival 2018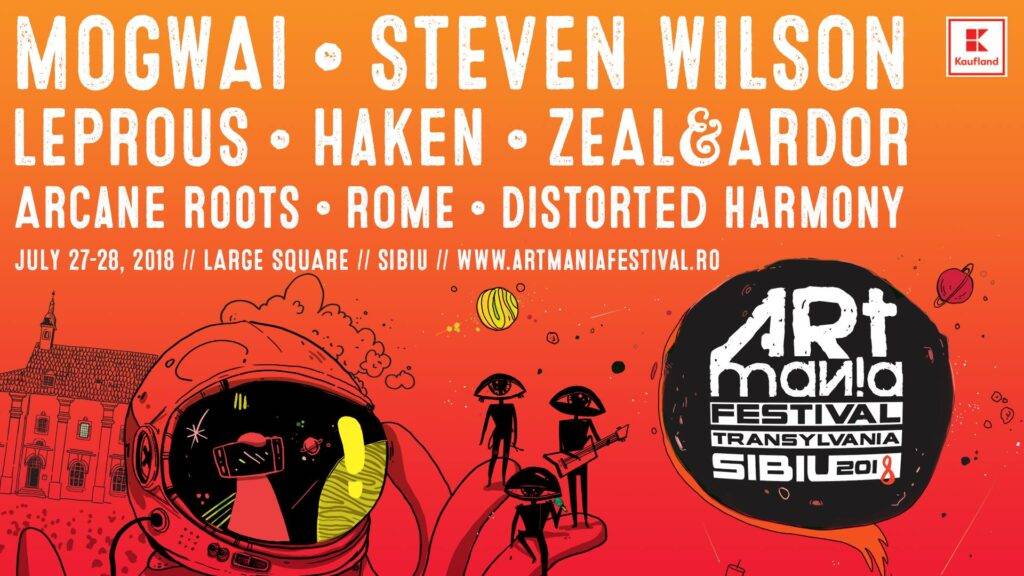 Truth be told: having Haken and Leprous play at the same bill might be currently the wet dream of many a progger (…the northern Americas getting now for a whole tour, lucky guys…). So their names on the bill of Romanian Festival ArtMania, held in the beautiful city of Sibiu, sufficed to buy a plane ticket to the heart of Transilvania. Of course there were going to play some more bands, but further convincing was not needed whatsoever.
If you were to arrive on the thursday though, there even was the opportunity to extend the festival by a couple of live performances at the city's Oldies Pub, where the Romanian Music Export held a showcase with five of the best bands Romania has to offer. An excellent idea as a whole host of Festival and Live Music Promoters were already in the city to attend the "Eastern European Music Conference". Kicking off things in style were the guys of Gramofone, giving old-school soulful rock a modern twist.
JazzyBIT have it in their name what style they're playing and the trio surely knows how to jazz. After an intriguing stop in artsy pop territories with Next Ex, things finally got serious for us prog heads though. Ok, no 'real' prog yet, but some engaging and energetic post rock by the gentlemen with the enigmatic band name Am Fost La Munte Si Mi-A Placut (I have been to the mountains and I liked it).
Usually not too excited about the prospect of entirely instrumental post rock, I thoroughly enjoyed their set, I must admit. Rounding things off on this excellent evening of a colorful and diverse set of Romanian bands were White Walls, who should have made themselves a name by now in the european prog scene.
They played ProgPower Europe in 2011 and most recently teamed up with Greek rising stars Poem and aussie power brothers Damnations Day for a european tour earlier this year. They presented their modern take on prog metal oscillating between doomy introspective bits and core-like breakdowns as powerful as ever and sold some of the last copies of their 2013 and to date still most recent effort "Escape Artist" after the show. But fret not, a new album is finally on its way!
The festival itself takes place on the Large Square of this picturesque city (yes, that is the actual name, close by is also the Small Square located). Rome from Luxembourg had the honor of opening the 2018 edition with their unique mixture of acoustic americana, gothic and industrial. Mastermind and project leader Jerome Reuter has got a mesmerizing deep voice for sure, all in all they were not able to hold my attention throughout the whole set though and I have to admit, that the overall mood and atmosphere was far too depressive for such a beautiful and sunny summer afternoon, even though I usually prefer my stuff to be dark and melancholic. I can imagine their somber soundscapes can develop a hypnotic quality when in the right mood, but apparently it was not for me on that day. Despite constant sound struggles with some kind of E-Drum plug-in, the welcome from a decent crowd was a warm and thankful one.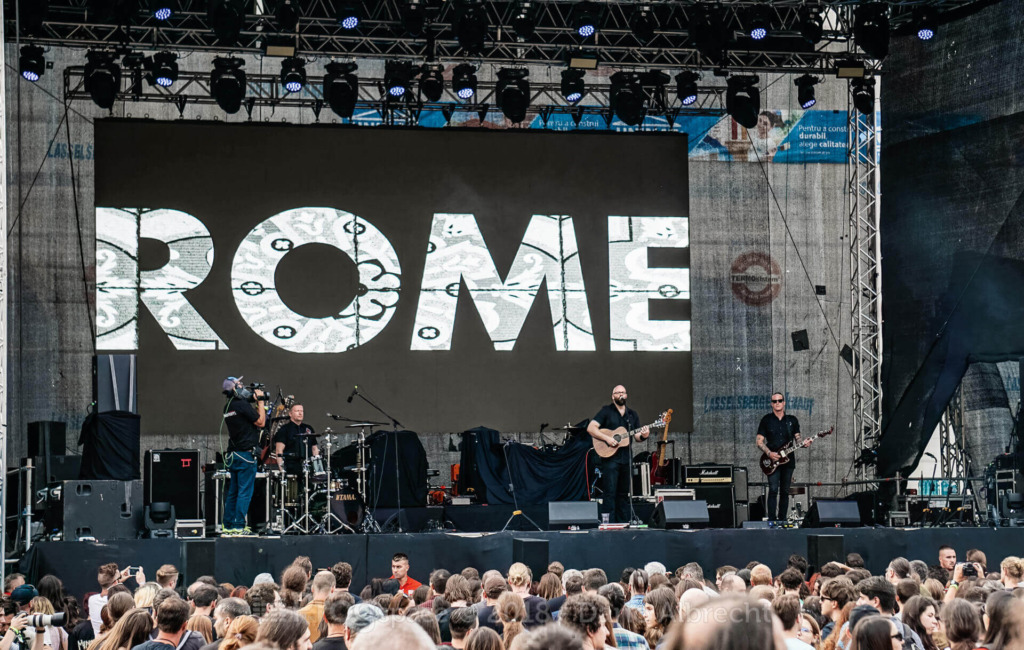 And then suddenly the stage seemed to explode: the energy level raising a thousandfold, and the mood going from quiet and introspective to excitement and exuberance in the matter of seconds. Even though a trio just like their predecessors on that very stage, the British boys from Arcane Roots were bursting pure energy from the get-go with the anthemic 'Off the Floor' from their superb latest album "Melancholia Hymns". Stellar harmony vocals by all three members, stadium ready hook-lines alternating with abrasive, angular alternative prog riffing: they turned their often quite electronic studio sound into a full on rock approach. The only downside of this electrifying performance was that Andrew Groves' lead vocals were somewhat buried in the mix. Oh and retrospectively that they just called it quits. What a bummer. But little did we know back then and the ecstatic vibe was transmitting splendidly to the audience and got the masses pumped and ready for the first eagerly anticipated new stars on the prog firmament of the weekend with Arcane Roots' country mates in Haken.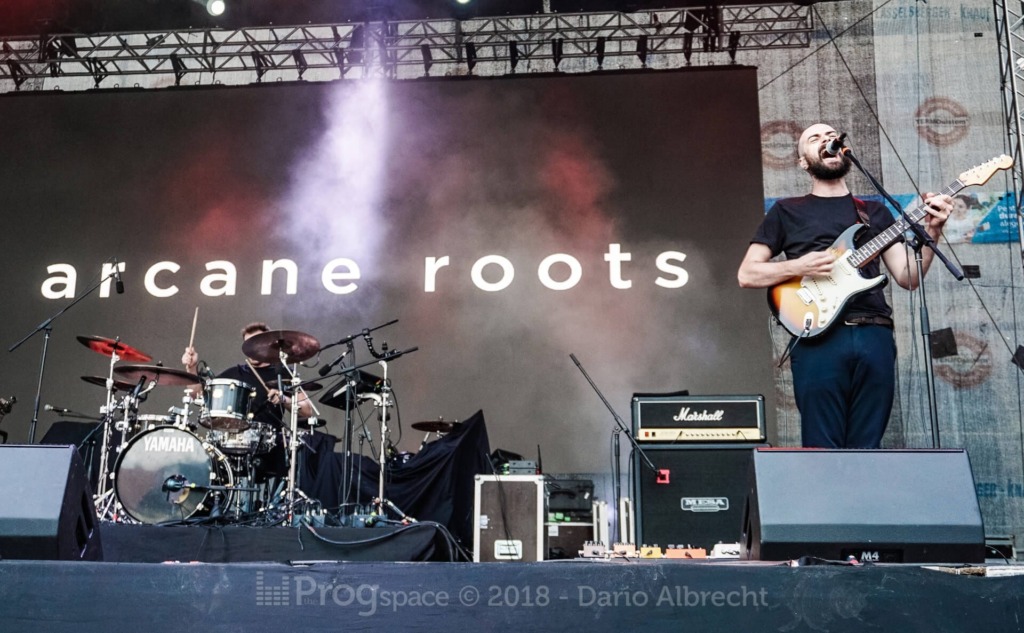 And then, well, Haken happened. The ridiculously talented six-piece ploughed through an "Affinity"-heavy one hour set-list with a vehemence like there was no tomorrow. While the night was slowly falling on Sibiu, the raving audience was singing along every note with great fervor, taking every neck-breaking riff as a welcome invitation to bang their heads and staring in awe at every jaw-dropping instrumental solo section. Even some music industry people, who were mainly there for the Eastern European Music Conference freaked out completely, becoming instant fans. As a booker of one of the world's biggest heavy metal festivals told me afterwards: that was a world-class performance.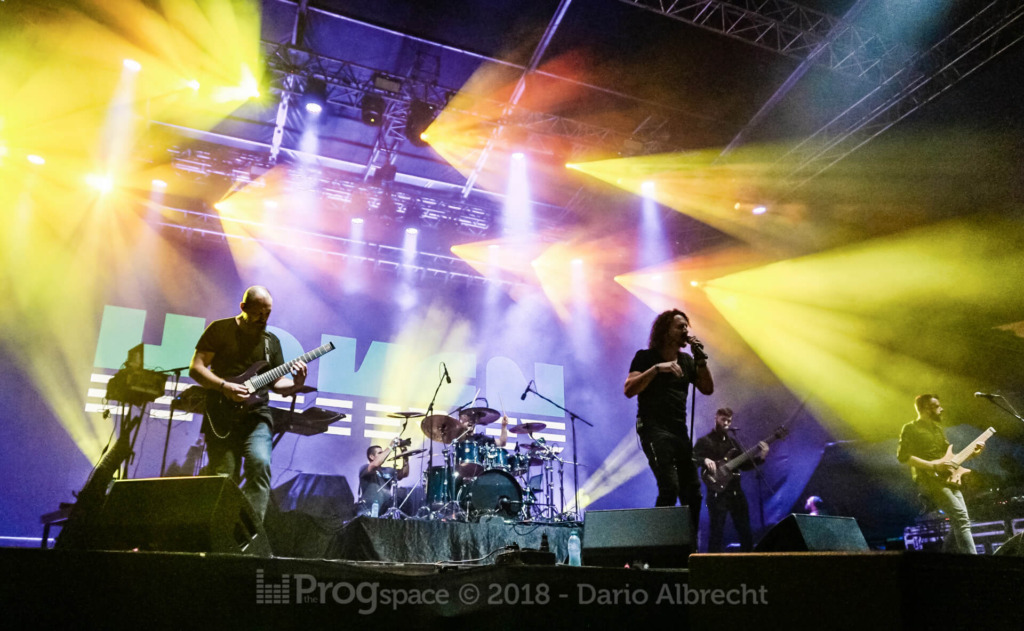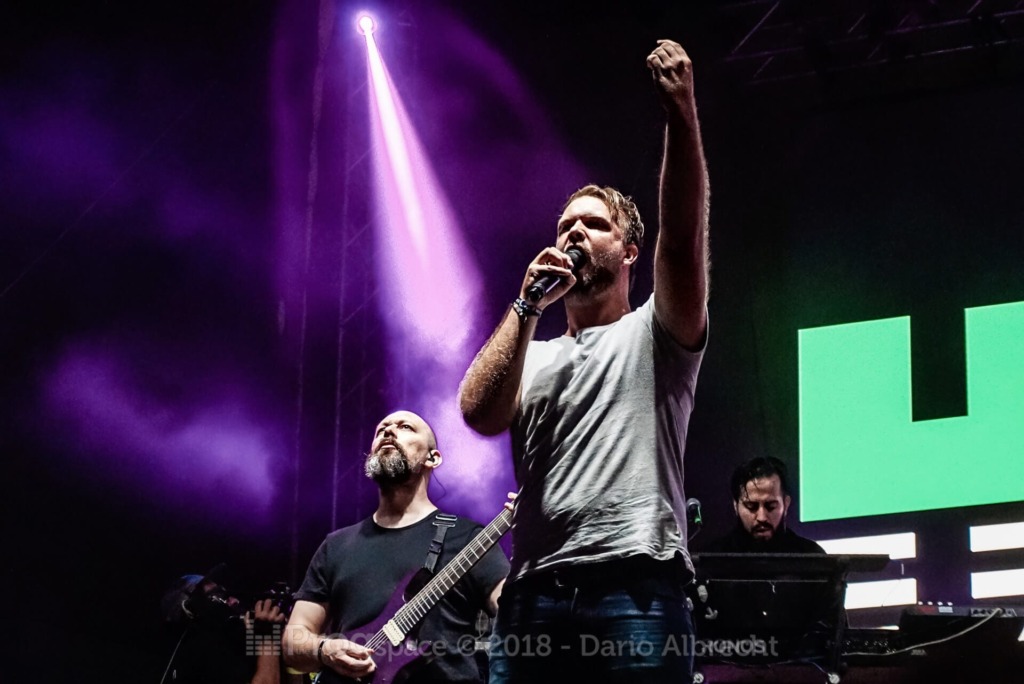 So keep your eyes peeled on the bigger mainstream rock and metal festivals next year, could be that Haken will appear to make even more people obey the 'Cockroach King', or bow to the 'The Architect'. Because just when you thought it couldn't get any better, Einar Solberg unleashed hell with his guest screams on the epic closing song. The festival's sole moshpit ensued instantly. With "Vector", their fifth studio album fast approaching (and finally out in the meantime), and extensive tours in North America (with Leprous even) this fall and Europe next spring, Haken are ready for world domination!
Programming an atmospheric post rock band after two absolute wrecking balls like Arcane Roots and Haken was surely a risky decision. But truth be told, Mogwai are not some random post rock band. They are among the originators of the genre after all. So even if you were not familiar with their material, or not too much into that whole post rock thing to begin with, or just too exhausted from Haken to really pay attention, one thing was obvious: the Scottish musicians are true professionals and rightfully regarded as one of the genre's most revered bands. Thus ended an eventful first day already, with the second looming ahead promising equally great things.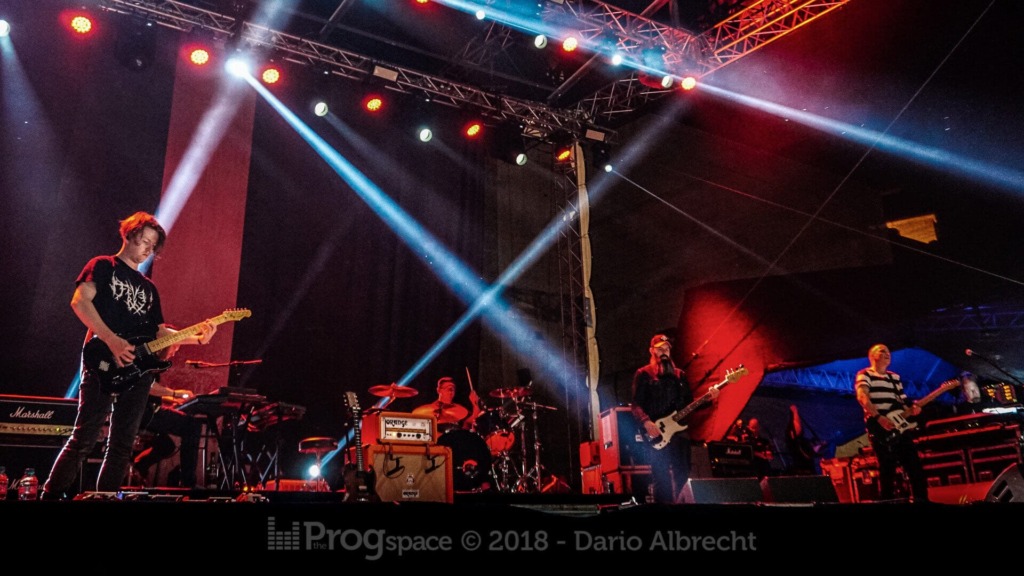 To start the prog party on the Saturday, Israeli shooting stars of Distorted Harmony presented their brand new album "A Way Out" for the very first time. And they sure have come a long way since their 2012 debut "Utopia". On the sophomore 2014 opus "Chain Reaction" already obvious and now finally in full effect and bloom: their steady progression (!) away from traditional, well-trodden prog metal paths towards more modern sonic explorations. With two new guitarists, the quintet showed what they are capable of: kicking the asses of the established acts of the genre with their own distinct and unique sound. Despite a false start due to a laptop refusing to work properly and some sound issues in need of fixing in the middle of the set (plenty of time for some banter about how everybody should follow bass player Iggy Jackson-Cohen's new Instagram account), Distorted Harmony left a thoroughly enthused audience after 45 minutes of intense and intensely beautiful at times music. 45 minutes that went by way too fast. We need, should and will see more of them in the very near future, I am certain!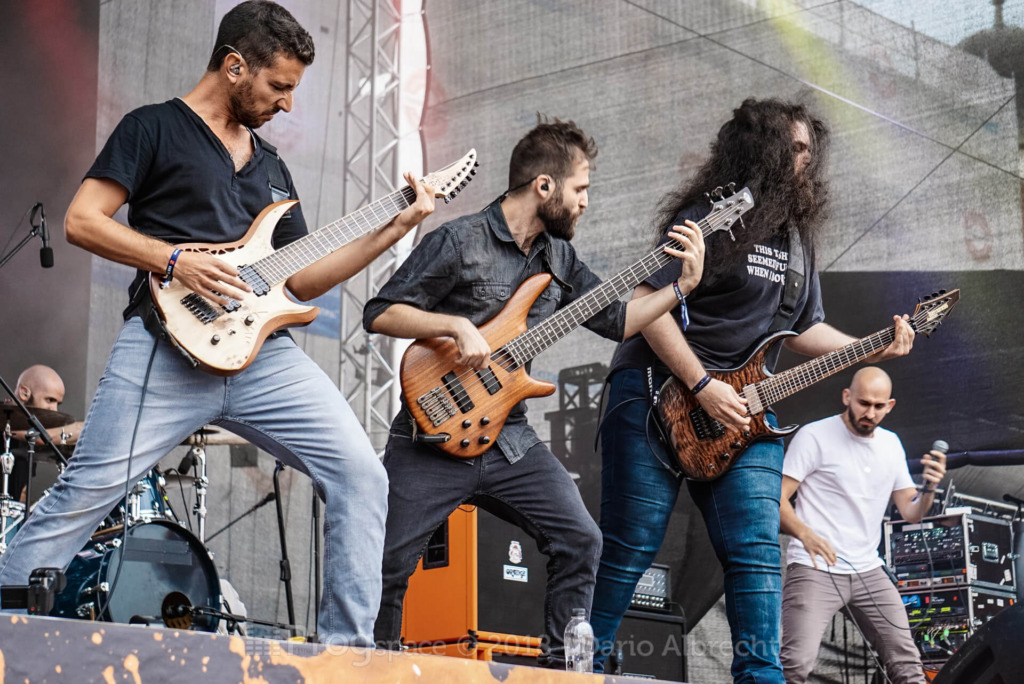 Next up was the Swiss phenomenon that is Zeal & Ardor. Absolutely outstandingly unique and genuinely progressive in their approach to combine Black Metal and Gospel chants, they are truly a breath of fresh air in an otherwise often stale and stagnating genre. Within their style, their songs tend to become quite repetitive after a certain point, but that didn't stop them to put on an engaging show. Especially the triple vocal attack was impressive. Definitely the odd one out on that day, but still a good band with a killer performance.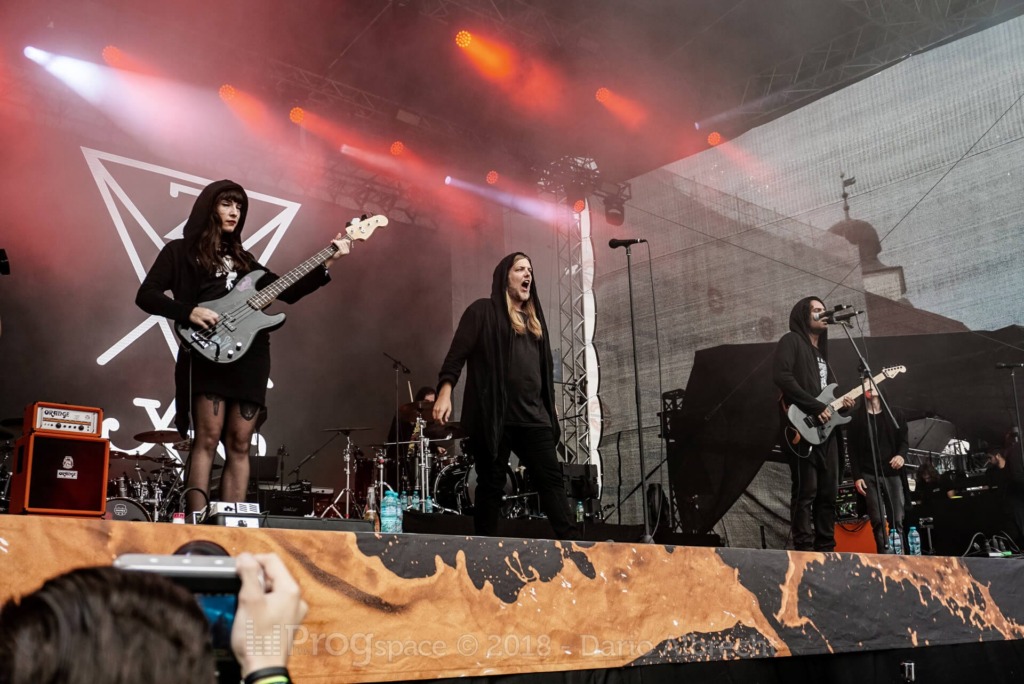 Norwegian posterboys Leprous came, saw and conquered in what was yet another lesson in modern prog. Missing their by now almost officially permanent sixth band member, Cellist extraordinaire Raphael Weinroth-Browne, their sound was naturally missing that extra depth, that added layers of beauty and epicness we all came to love during the last tours. But still, if you are able to open your set with 'Bonneville' and 'Stuck', close it with 'Mirage' and 'Slave', four of the arguably best prog songs in recent years and there is absolutely no dip in quality noticeable in any of the songs in between, I guess there is something to the songwriting abilities of these guys.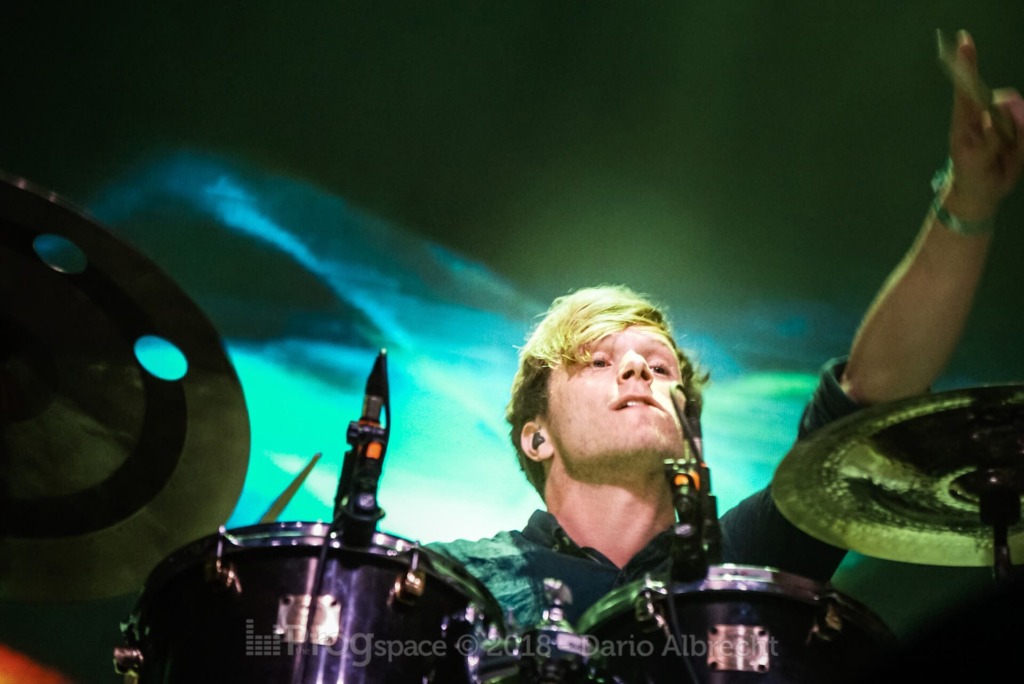 And this consideration didn't even include the fact that they could have picked ten different songs from their current live repertoire – and still they would have made the same lasting impact. Words cannot describe the rhythmic insanity powerhouse drum-wunderkind Baard Kolstad can unleash in songs like 'Mirage'. Or the beauty and emotional depth of Einar Solberg's vocals in the heartcrushing final song 'Slave'. And again there is the question looming in the air: is the headliner going to be able to top this performance?
To spare you the surprise: he was! Steven Wilson and his band of excellent players proved easily why he is/they are so widely successful these days. After the stage was prepared with a vacuum cleaner for the barefooted maestro and the audience was treated to a thought provoking video clip, the "To the Bone" double 'Song of Unborn' and 'Pariah' (sadly with Ninet Tayeb only singing from the larger than life video screen) proved to be an unusual opening choice. The "Hand.Cannot.Erase" classic 'Home Invasion/Regret #9' complete with a more than worthy rendition of the Guthrie Govan-solo of the decade by current live guitarist Alex Hutchings and some Porcupine Tree Nostalgia with 'Lazarus', picked up the emotional urgency and momentum, leading up to the core piece and highlight of this show: the massive epic 'Ancestral', incorporating both emotional quieter parts and a rhythmically insane prog metal rollercoaster in one breathtaking arc of suspense.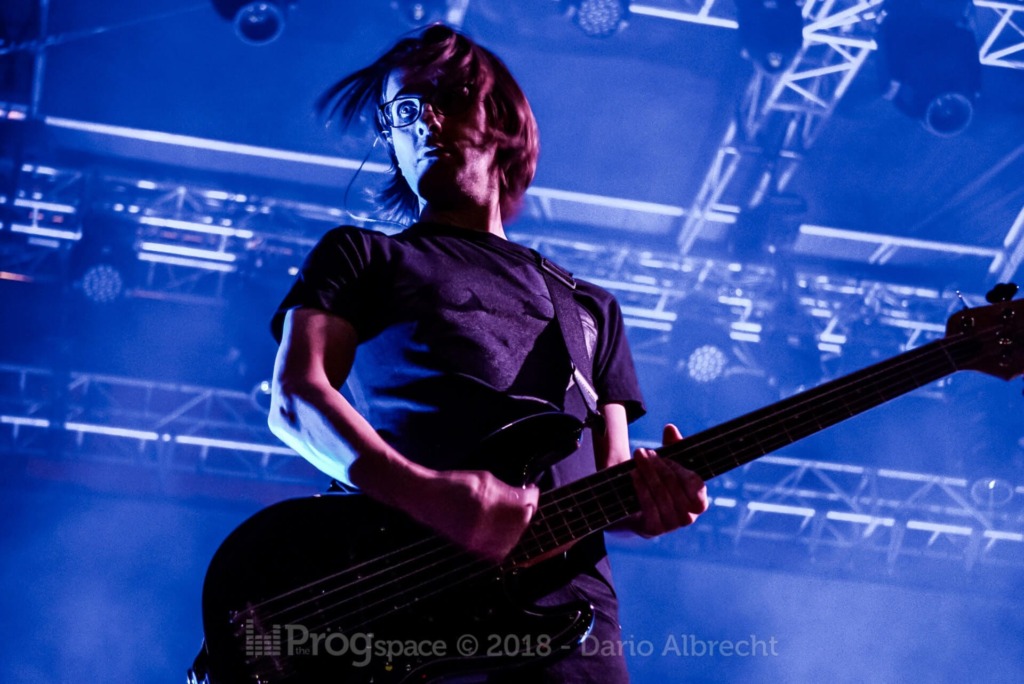 Watching the great Craig Blundell go crazy behind his drumkit is truly a sight to behold. And headbanging to a Steven Wilson song is great fun. As is dancing to the 2017 prog (or rather pop!?) summerhit 'Permanating'. The dark and electronically tinged 'Song of I' works just as well as the prog metal instrumental 'Vermillioncore'. Steven Wilson was definitely the artist with the most diversity in his setlist.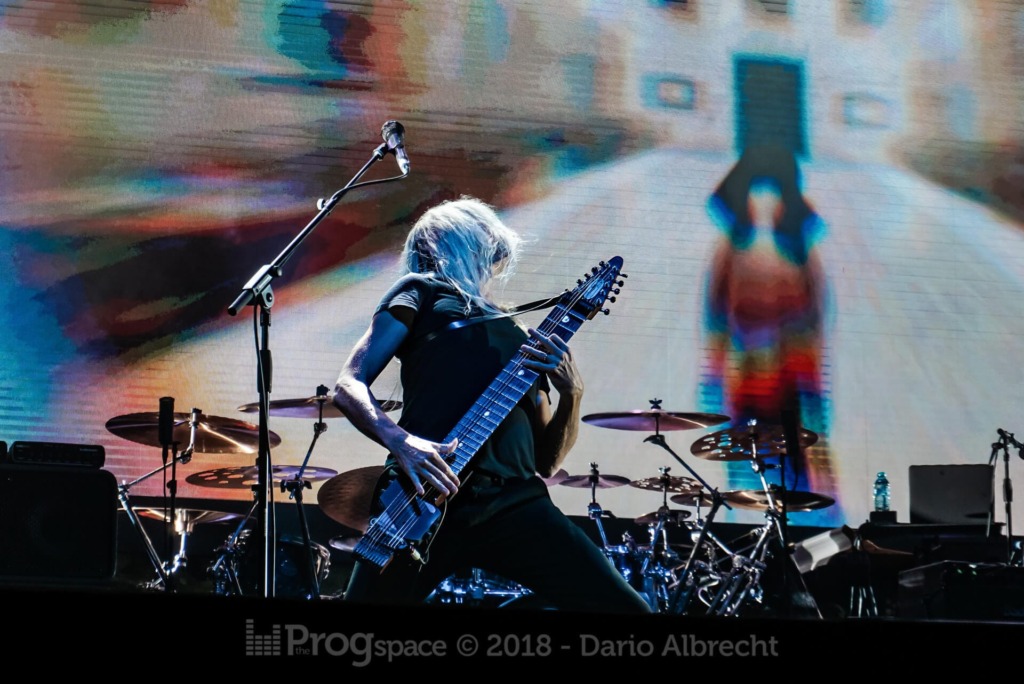 The ever flamboyant Nick Beggs with his various bass guitars and chapman sticks as well as keyboard legend Adam Holzman are as vital to a Steven Wilson show as the maestro himself, who seemed to have a very good day, not insulting his own audience for not liking pop music for a change. An energetic version of Porcupine Tree's 'Sleep Together' builds towards a last ecstatic high, before 'The Raven That Refused To Sing', complete with the stunning visuals of artist Jess Cope, closed the 2018 edition of the ArtMania Festival in the middle of the beautiful Romanian city of Sibiu on a more melancholic reflective note.
Some tears in the audience included. But the first headliner for 2019 is already announced: none other than Steven Wilson's best buddy Mikael Åkerfeldt will be there next year with his amazing band called Opeth (along with other quality acts like Wardruna, Madrugada and Myrkur). Ever heard of them? If so, it is time to book your flights to Transilvania for next summer!
See you there!
Be sure not to miss the full photo galleries of Day 1 at ArtMania Festival 2018 and here for Day 2 at ArtMania Festival 2018