Best of What's Hot?! May 2020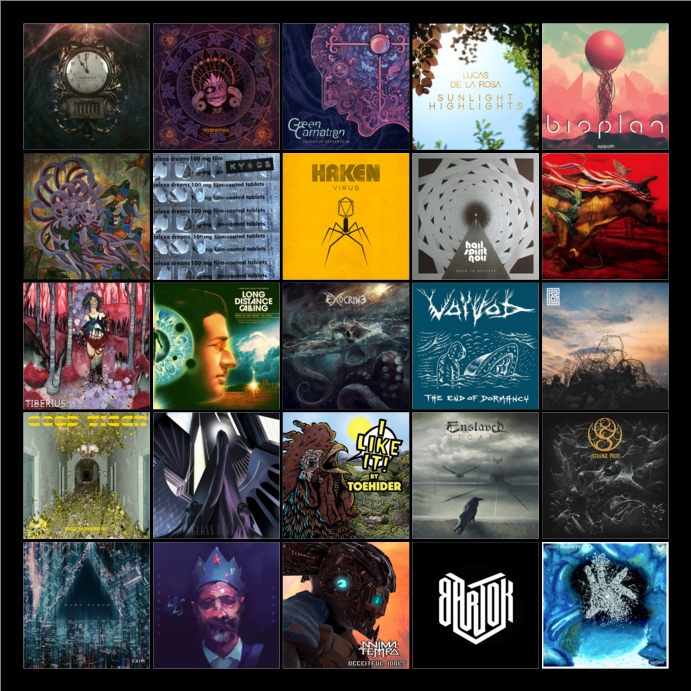 To keep the focus of our Progcast episodes on the interviews, we decided to bring you our monthly Best of  What's Hot?! in this form henceforth, just as the weekly lists! We hope you like the new format.
Listen here to our Spotify Playlist!
Novena - 'Sail Away' ("Eleventh Hour", March 6, Frontiers Music)
(click here if the video doesn't play)
Vulkan - 'This Visual Hex' ("Technatura", May 08)
(click here if the video doesn't play)
Green Carnation - 'Sentinels' ("Leaves of Yesteryear", May 08, Season of Mist)
(click here if the video doesn't play)
Lucas de la Rosa - 'Sky' feat. Sithu Aye ("Sunlight Highlights", May 15, Acid Airplane Records)
(click here if the video doesn't play)
Bioplan - 'Perspex Cassidy' ("Epipath & Ocular", May 29, Layered Reality Productions)
(click here if the video doesn't play)
Covet - 'parachute' ("Technicolor", June 05, Triple Crown Records)
(click here if the video doesn't play)
Kyros - 'Phosphene' ("Celexa Dreams", June 19, White Star Records)
(click here if the video doesn't play)
Kyros - 'Two Frames of Panic' ("Celexa Dreams", June 19, White Star Records)
(click here if the video doesn't play)
Haken - 'Canary Yellow' ("Virus", June 05, InsideOut Music)
(click here if the video doesn't play)
Haken - 'Invasion' ("Virus", June 19, Inside Out Music)
(click here if the video doesn't play)
Hail Spirit Noir - 'Crossroads' feat. Lars Nedland ("Eden in Reverse", June 19, Agonia Records)
(click here if the video doesn't play)
Protest the Hero - 'From The Sky' ("Palimpsest", June 19, Spinefarm Records)
(click here if the video doesn't play)
Tiberius - 'Mechanical Messiah' ("A Peaceful Annihilation", June 26)
(click here if the video doesn't play)
Long Distance Calling - 'Voices' ("How Do We Want To Live?", June 26, Inside Out Music)
(click here if the video doesn't play)
Exocrine - 'The Kraken' feat. Julien Truchan (Benighted) ("Maelstrom", June 26, Unique Leader Records)
(click here if the video doesn't play)
Voivod - 'The End of Dormancy' (Metal Section) ("The End of Dormancy", July 10, Century Media Records)
(click here if the video doesn't play)
Gösta Berlings Saga - 'Basement Traps' ("Konkret Musik", July 27, Inside Out Music)
(click here if the video doesn't play)
Good Tiger - 'Kimbal' ("Raised In A Doomsday Cult", Aug. 7)
(click here if the video doesn't play)
Glass Ocean - 'Beyond Us' ("The Remnants of Losing Yourself In Someone Else", Aug. 21, Wild Thing Records)
(click here if the video doesn't play)
Toehider - 'Concerning Lix & Fairs' ("I Like It!", Sept. 04)
(click here if the video doesn't play)
Enslaved - 'Homebound' ("Utgard", Fall 2020, Nuclear Blast)
(click here if the video doesn't play)
Oceans of Slumber - 'Strange Fruit'
(click here if the video doesn't play)
Exist Immortal - 'Dust Cloud'
https://youtu.be/H28HGzdWf7U
(click here if the video doesn't play)
White Walls - 'Starfish Crown'
(click here if the video doesn't play)
Anima Tempo - 'Deceitful Idols'
(click here if the video doesn't play)
Bartok - 'Deconstruct'
https://youtu.be/lFLvJGCHv5U
(click here if the video doesn't play)
Visual Insanity - 'MIGHT'
(click here if the video doesn't play)
Woodkid - 'Goliath'
(click here if the video doesn't play)