Bluewave Quartet – Poney-Club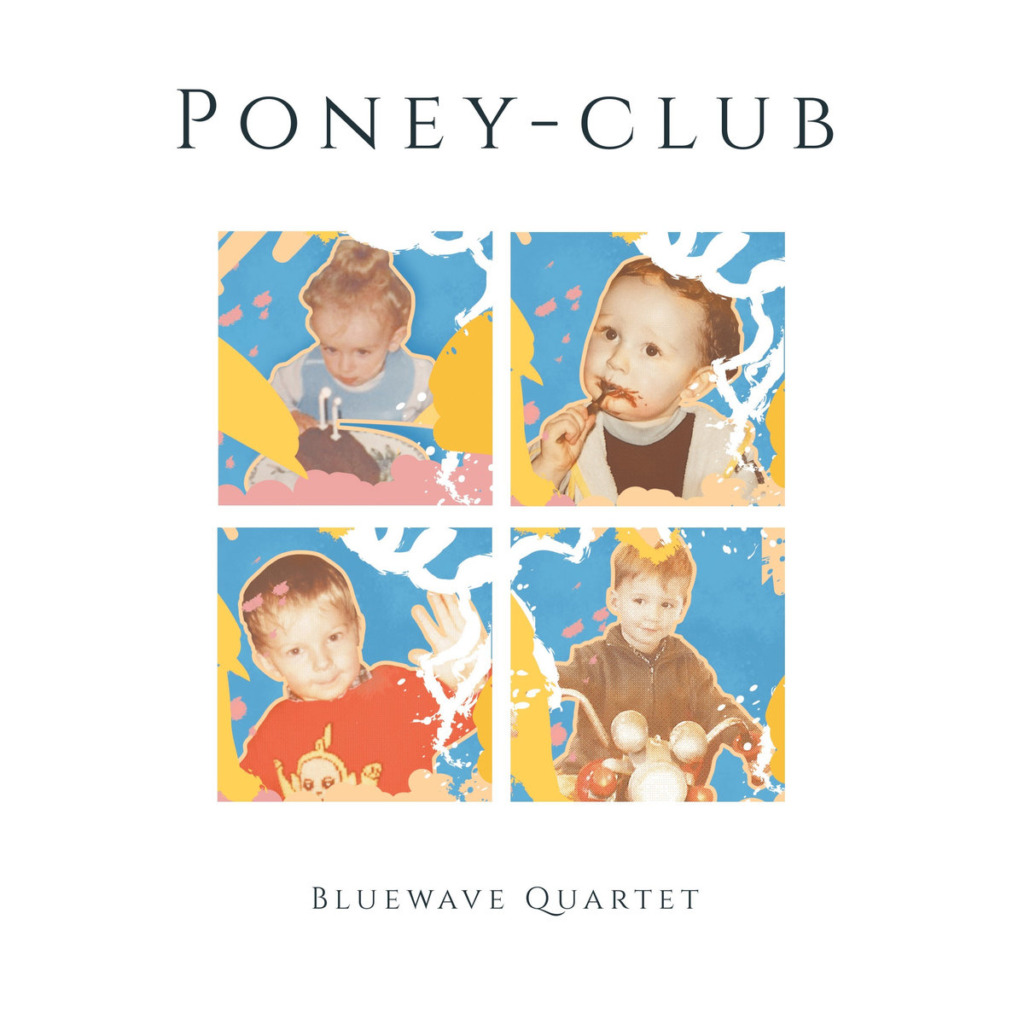 Sometimes, circumstances seem to conspire against you. So when your faithful reviewer traveled more than 1000 kilometres to see one of his absolute favourite new musical discoveries (Archætype) and it just wouldn't stop raining the whole day and the soundcheck kept being delayed and delayed until the playing time of the support bands had already begun, of course, my heart sank a bit. Sure, I enjoyed the spending time with (new) friends, but the probability of actually seeing the concert I made this journey for in the first place was growing lower and lower.
In the end, Archætype, who were supposed to play a headline set on the beach of Querqueville for the annual nation-wide music fest 'Fête de la Musique', couldn't play. Instead, one of the support acts surprised me with a short, but jaw-dropping set of modern, instrumental jazz/fusion awesomeness and I enjoyed it so much that I didn't mind the pouring rain at all. Little did I know what kind of magic those four young musicians, with whom I had spent the entire afternoon already, were actually capable of conjuring on that wet stage.
Fast forward some months, an incredibly successful crowdfunding campaign (that reached over 300% of the initial goal) and one industrious day in the studio later, and those four musicians that go under the name of Bluewave Quartet, finally present their debut EP: "Poney-Club". Three of the songs on there  ('Southbound Feelings', 'Free Waves 2' and 'Fifth Modality') were available as earlier demo versions on Youtube for some time already.  The opener 'Airplane Traffic' and the almost 9 minute tour de force 'Weather Disturbances' are brand new.
Bluewave Quartet – Southbound Feelings (click here if the video doesn't play)
So what kind of music do they play? With a line-up of saxophone, keys/synths, bass and drums, an instrumental variety of sounds is being presented, that draws from classic fusion/jazz and modern prog as much as from soul, funk, hip-hop and pop. The quirky saxophone melodies and sprawling synth leads of Coline Busquet are embedded in rich harmonics from keyboarder Merlin Asseline, and the tight-as-a-cat's-asshole rhythm section of Leo Elluard on drums and Yoann Oudoire on bass is grooving with and against each other like there's no tomorrow.
Bluewave Quartet – Fifth Modality (click here if the video doesn't play)
The musical chops on display are off the charts throughout the all too short half an hour, and to think that they recorded the whole thing live with only a couple of solo overdubs (and at the tender age of 18 at that) simply beggars belief. The sheer exuberant joy of playing music pours from every note (and even from every space between the notes) and the only reason "Poney-Club" doesn't get the full 5 stars awarded is because it's way too short with just about half an hour playing time. Oh and to leave some space for the Bluewave Quartet debut album we hopefully don't have to wait too long for. The massive synth drop leading into an extended, chaotic, eerily disturbing noise part in 'Weather Disturbances', the piano intro and the bass solo in 'Southbound Feelings'. The tasty second bass groove of 'Fifth Modality' coming out of nowhere/chaos. Damn, the whole EP already now counts among my definitive favourite musical moments of 2020.
Tracklist:
Airplane Traffic
Weather Disturbances
Southbound Feelings
Free Waves 2
Fifth Modality