Empire Bathtub exclusively premieres new single This Is Fine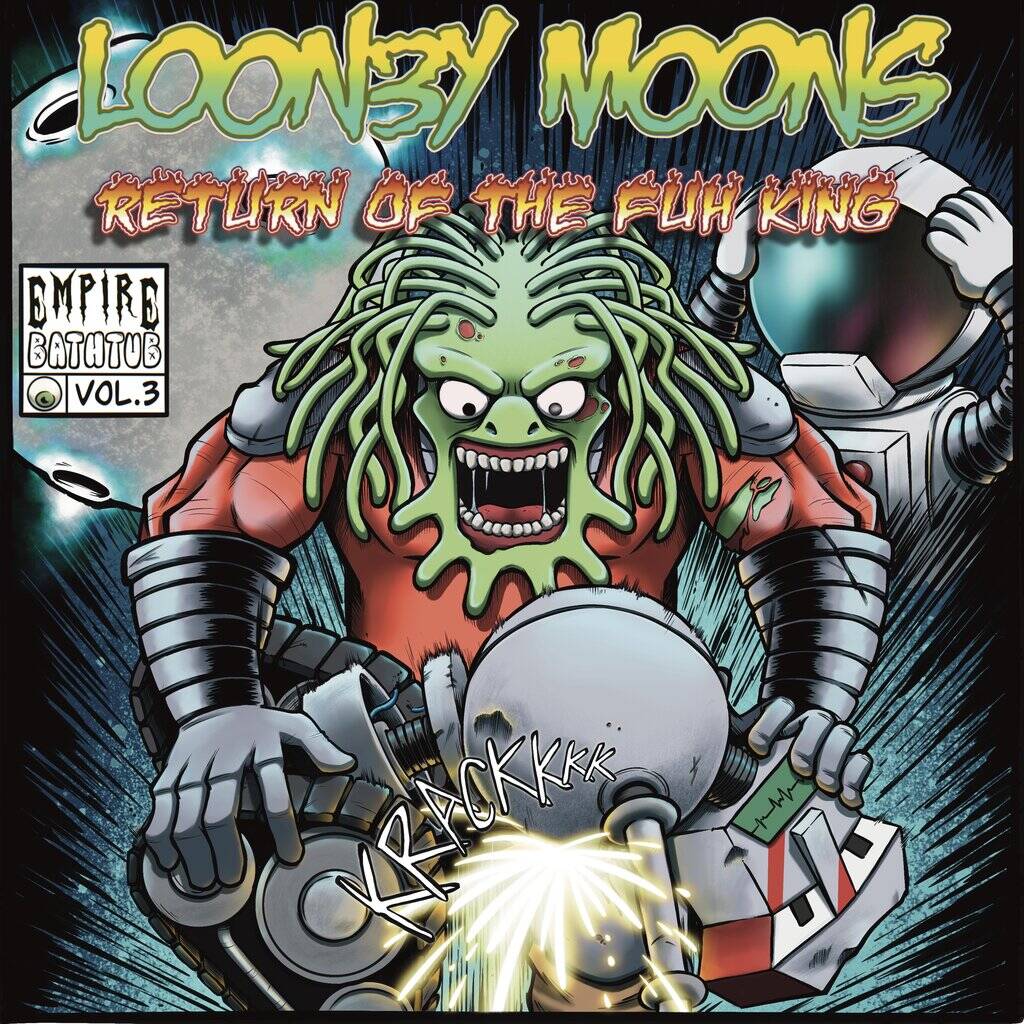 If Tool and Devin Townsend co-ran a comedy night, Empire Bathtub (named by the fate of a random word generator) would be its hyperactive opening act, gleefully chattering away to an audience obscured by a thickening fog of coffee-steam and illicit substances. The zany Texan-Floridian duo, formed in 2019, discovered a shared love of sludgy progressive metal over Discord, with narrator and co-lead vocalist Jonah Robertson eventually led astray by founder and multi-instrumentalist Stephen Forristall's wacky comedic tastes. Two side-splitting albums of "narrative-driven comedic progressive metal" quickly resulted, with 2020's debut "Looney Moons" introducing listeners to the wild adventures of Tool-obsessed robot TARS and its hapless owner in the year 2169.
Forristall's background as a bassist is clearly apparent in the prominent bass lines littered throughout Empire Bathtub's compositions, though showmanship is kept to a respectful minimum. Wiry slaps are used in moderation, decorating the slinky, lyrical playing and deep grooves that are the primary focuses. Elsewhere, hints of ambient music and EDM flit around crunchy guitars, squeaky-clean vocals and jittery syncopated grooves like flies to mouldy cheese–actually, don't ask where that cheese came from. TARS' mortal enemy, the Fuh King, might have had something to do with it…
"Looney Moons"' sequel, 2021's "2 Looney 2 Moons" (read our review here), takes the electronic elements – and the weirdness – up a level, with jagged synths and twisting guitar melodies washing over cavernous drums. For those who worship at the altar of the brain-mashing sci-fi epic Inception… sorry not sorry. It's just that you may never think of Leonardo DiCaprio in the same way again. 'Hits From The Gong' exploits Robertson's subterranean growls to the full between Danny Carey-inspired cowbell and tambourine interjections, depicting the moment when the conniving, dream-corrupting Oracle finally meets its maker.
With "Looney Moons"' final gripping instalment, "Return of the Fuh King", scheduled for release on March 18, Empire Bathtub's vivid saga of fun, friendship, and flatulence already has the cosmos clenching tightly in anticipation of the impending havoc…
Today, Empire Bathtub are premiering 'This Is Fine', the second single leading up to "Looney Moons 3: Return of the Fuh King", exclusively here on the Progspace!
"This Is Fine" is the second chapter in Looney Moons 3: Return of the Fuh King. Our heroes, Boss and TARS, are celebrating the fact that, finally, after two albums of grueling conflict, everything seems to be going their way! Nothing says "party" like throwing caution to the wind with a bunch of aliens on another planet. In all the excitement, Boss might be celebrating a bit too hard. He decides to try a new beverage that one of the planet's residents offers to him, and gets a familiar feeling he hasn't felt since TARS drugged him in album 1. It's a good thing there isn't an angry zombie king returning to claim his throne! What could possibly go wrong!?"
Empire Bathtub – This Is Fine (click here if the video doesn't play)