Empire Bathtub – 2 Looney 2 Moons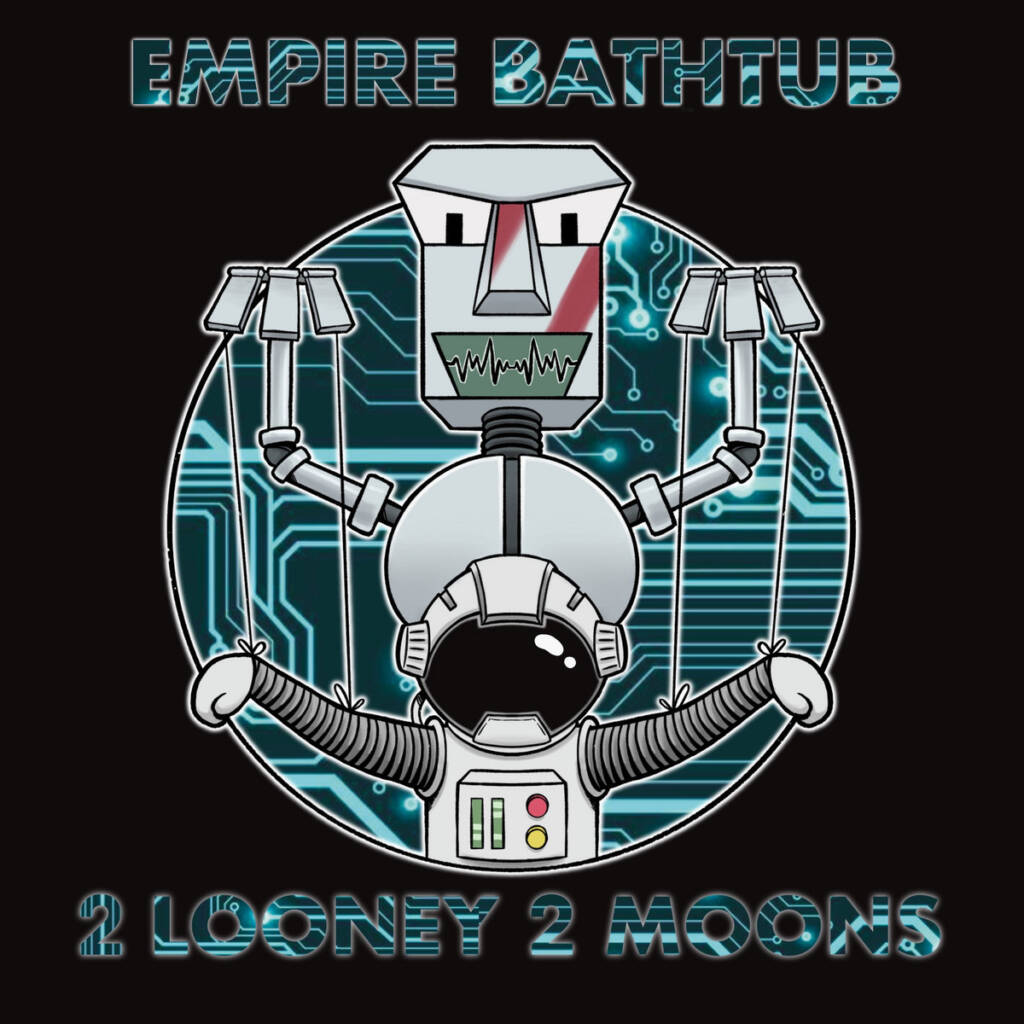 Need something fun? Then take off to an adventure filled with action, comedy and a bit of "robromance" with Empire Bathtub and their second album "2 Looney 2 Moons"! This is a continuation of their previous one – "Looney Moons", so in order for the story to make sense I suggest checking them both out.
In the second part the story begins with our two main characters, Boss and T.A.R.S. (Troll Ass Robot Safety Unit) returning home after defeating the Fu King and finding the Tool album they've been searching for (which surprise, surprise – wasn't that good). Now Boss wants to repopulate the planet, but TARS has other plans – he enjoys his new life as a ruler and wants to keep his dictatorship role, even if that means sabotaging the repopulation project. In order to stop that madness, Boss gets into TARS's head, and once inside he teams up with some Oracle that accompanies him during his journey. What happens next I'll leave you to find out for yourself.
The album is pretty fun, the narration is great and the quality of the mix has majorly improved since the first one, but when it comes to the musicality is nothing special. I like to think of it as a comedic story with neat music rather than an average album with some jokes and prog references to distract you from the mediocrity.
I've noticed someone mentioning (hopefully jokingly) that they play the first part for their kids to introduce them to prog. Please, have some decency, don't do that. The album is filled with language that is not very Christian Minecraft server-friendly, even if the characters on the cover are this cute, cartoony robot and astronaut duo. Instead, play this for your inner child. More precisely your inner angsty 12-years old, who thinks swearing and the number 69 are cool. Mine surely enjoyed most of the dumb jokes.
After 15 tracks I'm left in a better mood and with the important new information that Whiskey Dick Mountain is a real thing. If you have an hour or two to kill and crave something silly, don't hesitate to give Empire Bathtub a shot!
Tracklist:
2 Prologue
Chapter I: King TARS
Chapter II: Botnapping
Chapter III: Inception
Chapter IV: The Theater of Dreams
Chapter V: The Mind's Guide
Chapter VI: Inside the Nightmare
Chapter VII: A Manic Confrontation
Chapter VIII: Across the Mind to the Mountain
Chapter IX: At the Base of the Summit
Chapter X: Hits From the Gong
Chapter XI: Deconstruction
Chapter XII: The Rise
Chapter XIII: Robromance
The End?