Exanimis – Marionnettiste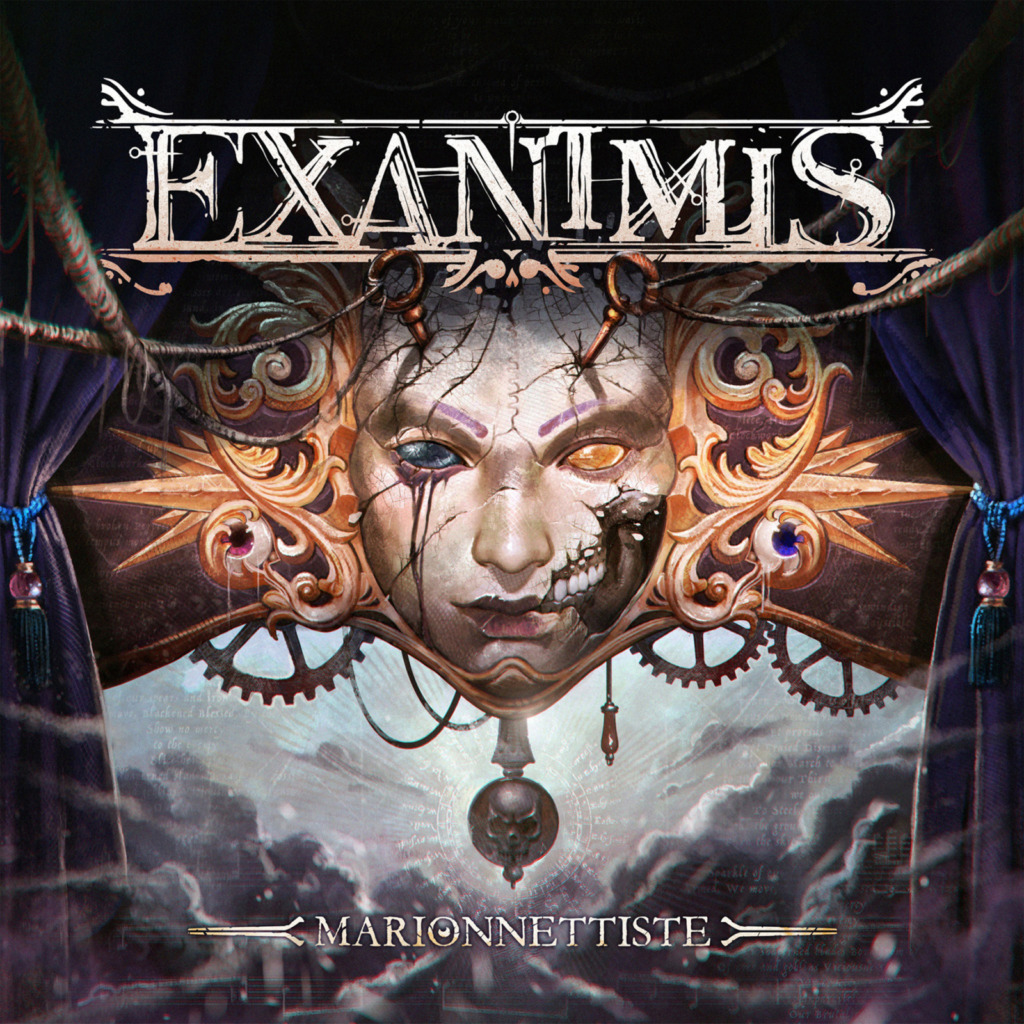 "Marionnettiste" is the debut album from French symphonic death-metal band Exanimis. They describe it as an atmosphere of horror and fantasy with the heaviness and technical intricacies of metal. That sounds right up my street. Don't confuse them with the Australian band of the same name who disbanded in 2015, this bunch are former students of the Music Academy International and coincidentally formed in the same year.
In Latin, exanimis means lifeless or dead, and this is certainly reflected in the band's image (but definitely not in their music). French bands seem to have a penchant for the theatrical. Like 6:33, Igorrr, Öxxö Xööx and others before them, they embrace the burlesque to enhance the complete experience. What an experience it is too, marionnettiste translates as puppeteer and this album transports you through a mystical adventure with a grotesque fairground/carnival ambience.
This creepy tale kicks off with a short instrumental intro. 'Prélude du songe avant le cauchemar' (Prelude to the dream before the nightmare) starts with tentative piano and is joined by percussion and strings, building to a crescendo. Then with all guns blazing, they launch into 'The Wrathful Beast' and here we hear fellow resident of the band's hometown Nancy, Flavien Morel, deliver some narration and, if I'm not mistaken, additional vocals.
'Throne of Thorns' is a complex and varied number with narration by Antoine Duffour who also studied at Music Academy International, and some fine shredding from one of the guitarists, Alexandre Dervieux or Julien Marzano, maybe both. Anyway, here's a snippet from Julien, French speakers will appreciate this more, but it gives you an idea of what I'm getting at:
EXANIMIS – Solo inédit – Throne of Thorns (click here if the video does not play)
'Stampede of the 10,000' has a stamping industrial, but still symphonic sound, for the first half of this track. Later there are guitar solos and staccato riffs that descend first into a chaotic passage, and then a narrated piece with a choir in the background, before a bombastic finish. Another short instrumental interlude 'Entracte du sommeil pendant le cauchemar' (Intermission of sleep during the nightmare), again with piano and strings, leads into one of the longer tracks 'Cogs, Gears & Clockworks'.
It starts with the sound of a clock, which is overlaid with strings and narration by Jean Bisello, another musician connected with the Music Academy International. The main body of the track has a chugging, chopping riff and a swaying Nightmare Before Christmas style passage. Other clocks can also be heard during the almost twelve minutes of this track. There is an imaginative accompanying video to go with it on YouTube. It is a couple of minutes shorter and is missing the opening parts.
EXANIMIS – Cogs, Gears & Clockworks (click here if video does not play)
The mood becomes calmer for 'The Slow Flow of the Spume on the Shore', After a short piece of dialogue by Guillaume Barrou, clean vocals drift over gentle but gradually intensifying guitars and strings. Following a brief breakdown, things get livelier as they throw everything into it. The orchestration and whirling guitar licks make this something of a mini epic.
Although there are only two tracks to go, there is still just under 20 minutes left, and a full-blown epic comes next.
Even the title of the track 'Cathedral', suggests something huge and epic. For the first four minutes of its sixteen, this feeling is bolstered by Hammond organ from Raphaël Jeandenand with a choir and dramatic guitars. As you would expect for a track this long, you are taken through many different changes and styles for the remainder. Closing the album, we have 'Epilogue du songe après le cauchemar' (Epilogue of the dream after the nightmare), which brings us back to a few minutes of more sombre music. Mournful violin sits beautifully on top of plaintive piano. As it fades out, the urge to play the whole album again is irresistible.
Once in a while, a release appears that is an absolute joy to review. I have found myself in the unusual position of trying to find fault with this album but, have come up wanting. It just gets better each time I listen to it. These former musical students have produced a sumptuous sixty-five minutes of grandiose, orchestral death metal brilliance. It is not uncommon for a release to be on my album of the year list this early, and this is the first contender. I will definitely be looking out for these guys in the future, both release wise and on the live scene.
Track List:
Prélude du songe avant le cauchemar
The Wrathful Beast
Throne of Thorns
Stampede of the 10,000
Entracte du sommeil pendant le cauchemar
Cogs, Gears & Clockworks
The Slow Flow of the Spume on the Shore
Cathedral
Epilogue du songe après le cauchemar