Gazpacho – Soyuz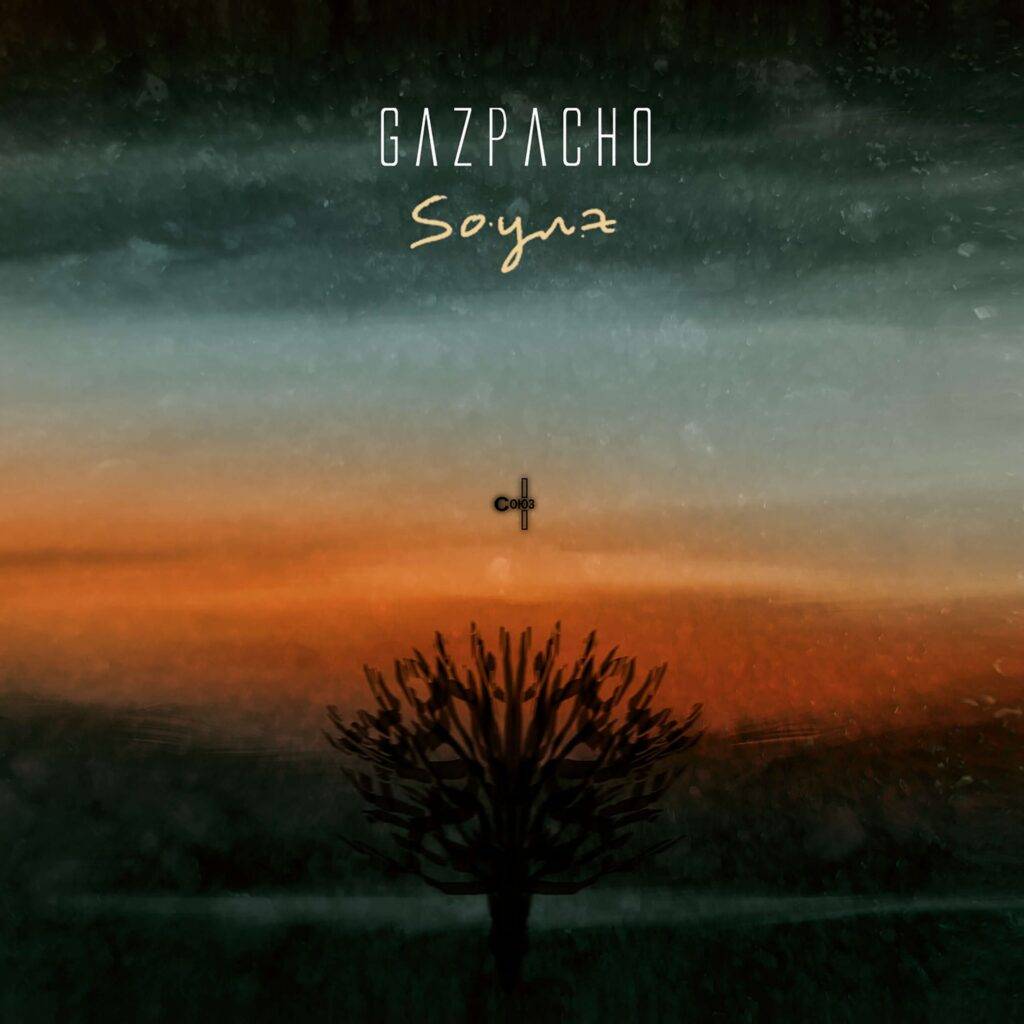 Gazpacho is a truly unique band in the big spectrum of rock bands out there, whatever the sub-genre. They've developed their own unique sound, easy to recognize, yet in every album they know how to reinvent themselves and avoid repetition. "Soyuz" follows through, and though this could actually sound like nothing new, this album has so many different sounds, elements and harmonies, that it is impossible to deny the level of maturity the band has achieved.
'Soyuz One', the opener of the album, starts with sequenced drumbeats and clean guitars in a melody creating suspense. Sound effects give way to the haunting vocals by Jan Henrik Ohme singing in very cryptic poetic lines, telling us about the doomed flight back home of the Russian Spacecraft. The song slowly builds up creating the classic piano and keyboard atmospheres only Gazpacho knows how to do. Towards the half of the song, we're suddenly surprised with the full band led by the keyboards from Thomas Anderson, displaying an interesting array of time-shifts. The song serves as perfect introduction for what's to come on this album: layers and layers of music, soundscapes and effects, beautifully arranged along excellently composed music and cryptic lyrics. Everything Gazpacho has to offer.
Next comes 'Hypomania', my first impression: Porcupine Tree meets Radiohead, but with Gazpacho seasoning.  A rare upbeat track in Gazpacho's musical library, though nonetheless dark and haunting. I confess I don't fully understand the lyrics, but taking the title in consideration and the main theme of the album, about those moments when time freezes, is the band talking here about someone with hypomania disorder waking up to the realization that he was living in a self-created world and not reality? That frozen second of time when everything comes clear? Hope I'm not wrong!
Musically, the song has so many different elements showing us why Gazpacho is the leading band they are. They can create such an awesome song and condense so much in few minutes, in what is almost the shortest track, they managed to capture the essence of their music in a bit less than 4 minutes. One of my favorites and a perfect live-sing-along for sure!
With 'Exit Suite' the mood goes back to the bleak soft melodies, layers and layers of instruments and sounds to create those soundscapes only Gazpacho does.  Poetic and cryptic as usual, it makes me think about aging, and the desire to capture those subtle moments before is too late. Drumbeats, mixed with acoustic drums, strings, guitar and piano create such a mesmerizing short melodies that serve almost as introduction to the next song.
'Emperor Bespoke' is inspired by H.C. Andersen's "The Emperor's new clothes" story, but adapted to the empty young generations as product of the fashion industry dictating how people should look like, poisoning the minds of the young and spreading like wildfire through social medias and internet.
Here the band ventures to a more folksy sound: acoustic guitars, violin, in for some moments waltz rhythm, that swiftly and almost unnoticed evolves into a full progression of polyrhythmics and sounds. The band has repeatedly said they don't consider themselves progressive per-se, but this song clearly defies that statement. The song has that Marillionesque enchantment, but the haunting vocals and soundscapes make it one of the best Gazpacho songs I've heard to date.
Piano and haunting burial chants by Tibetan monks introduce 'Sky Burial', based on the death ritual practiced by the Tibetans, in which they take the bodies of the deceased to sacred places high up in the mountains to decompose by nature or be eaten by birds of prey. As creepy as it may sound in our western world, the practice is based on the belief that every creature in this world is connected and that the human body is a vessel for the soul, so when it dies, it has stopped serving its purpose and is thus given back to nature. The song takes this subject and contrasts it with the hectic empty lives of modern life, wasted away on simple small matters.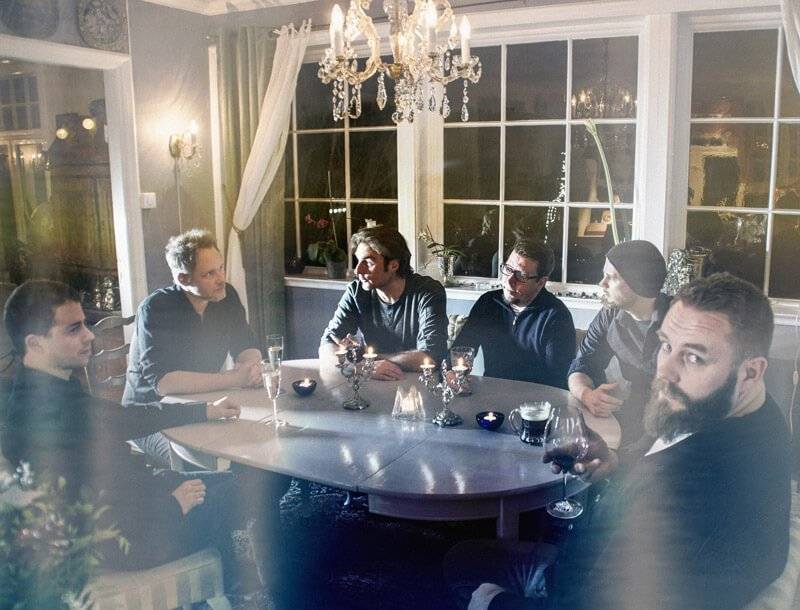 This is one of the most beautiful songs in the album (and I dare say of Gazpacho's discography). Beautiful and varied, with so many layers slowly building up momentum towards the end. Here's where Torp's bass takes a step forward, but still the piano and the keyboard soundscapes and melodies take the song to other levels, crunchy guitars present enough to remind us this is a rock band, whether you call it progressive or art-rock, to me this is just perfection.
'Fleeting things' is based on those moments that last few seconds to live in our memories, "You'll never own what's only borrowed", because what we live in a moment, a second later is already history, how to freeze and keep those moments with us?
Ohme's beautiful voice and Anderson's piano give way to programmed drum beats, with Jan Henrik's voice in a double feature (main vocals and repeated in the background at a lower volume and slightly off-time) create an atmosphere easy to let oneself fall into. Haunting bells sounds included or some metallic object used as instrument, with Gazpacho you never know what they might have used to create sounds, they even used a tank before! The song gains momentum raising to its climax to fall again to the subtle melodies and sounds resembling an old toy – a childhood gone.
Now the album enters the last lap with 'Soyuz Out'. The longest track of the album is in itself a whole universe. We can easily divide the song in two parts, though clearly they form a whole. The lyrics of the first part give me a hard time trying to decipher, so I'll let it to the listener to form his/her own idea of what the Norwegians wanted to transmit. Musically, I just can't help to remember Steven Wilson's music, mostly from his first solo album (Insurgentes). Dark in matter (no pun intended!), the chorus has its upbeat moments, but soon falls again to the soundscapes created by diverse instruments (do I hear a xylophone?) alongside the keyboard programmed sounds. Interesting odd time signatures follow to give way to the catchy Wilsonesque chorus. Talking about chorus, the song, besides having it all, also has a children's choir.
I cannot really say melodies, but more like sound lines, coming from Jon-Arne Vilbo's guitar serve as transition to the second part, while the sequenced rhythm patterns serve as connectors, or in this case, transportation to another world. Outer Space? The band takes us through soundscapes to fly along the Soyuz, while the song takes a completely different turn. It comes back to the main melody of the album opener 'Soyuz One'. This second part's lyrics take on the story of the ill-fated flight of the Russian space vessel and its cosmonaut Komarov, "Miles away from promised land / A little man with little faith / He'll ever make it home". But not only with words, but with their music, the band tells us about the disastrous voyage entering the Earth's atmosphere. Then ending in a jazzy tone that slowly transforms more and more into a closing march, filled with layers of sounds and vocal lines, fading out with electronic beeps. It is by far the best song in this album, and one I'm sure will last long among the best of Gazpacho entire discography. Bravo!
The album comes to an end with the slow 'Rapaccini', loosely based on the story "Rapaccini's Daughter" by Nathaniel Hawthorne. It tells the story of the daughter of a doctor who grows poisonous plants, and by tending to them, she grows poisonous herself. When her lover brings her an antidote, she dies.  The song starts with what I believe is the audio of the first-ever recorded human voice (by Parisian inventor Edouard-Leon Scott de Martinville in 1860).  Then slowly develops with strings, piano, and Ohme's velvety voice, taking us into a dark poetic world. This song is pure cinematic gold. It has the feeling of music score and not just one song. It is unwinding a story, a story that truly never ends, as we cannot freeze those moments in time, they just pass by leaving only memories behind.
What a gem of an album! It was difficult for me to review, as at first listen I couldn't really dig into it. I found myself floating in the universe the Norwegians masterfully created; slowly I could finally become one with it and tried to understand it. This album is truly another masterpiece by the Norwegian sextet, experts in choosing dark philosophic concepts and transform them into music.
The concept of humanity trying to "freeze time", to hold on to those moments we want to preserve, but failing miserably, is a haunting thought. Gazpacho knows how to make music that not only transports you to parallel universes, through soundscapes and effects that are truly unique in the prog and art-rock genre, but to me their biggest achievement is to produce thought-provoking music with their distinctive dark but beautiful sound atmospheres.
Tracklist:
Soyuz One
Hypomania
Exit Suite
Emperor Bespoke
Sky Burial
Fleeting Things
Soyuz Out
Rappaccini
Soyuz European Tour 2018:
24/05 – NL –  Maastricht, Muziekgieterij
25/05 – NL-  Uden, De Pul
26/05 – NL-  Zoetermeer, De Boerderij
28/05 – UK – London, The Dome
31/05 – DE – Aschaffenburg, Colos-saal
01/06 – DE – Cologne, Die Kantine
02/06 – NL – Leeuwarden, Neushoorn
23/06 – NO – Oslo, John Dee
30/06 – ESP – Barcelona, Be Prog Festival