Rise & Shine Vol. 1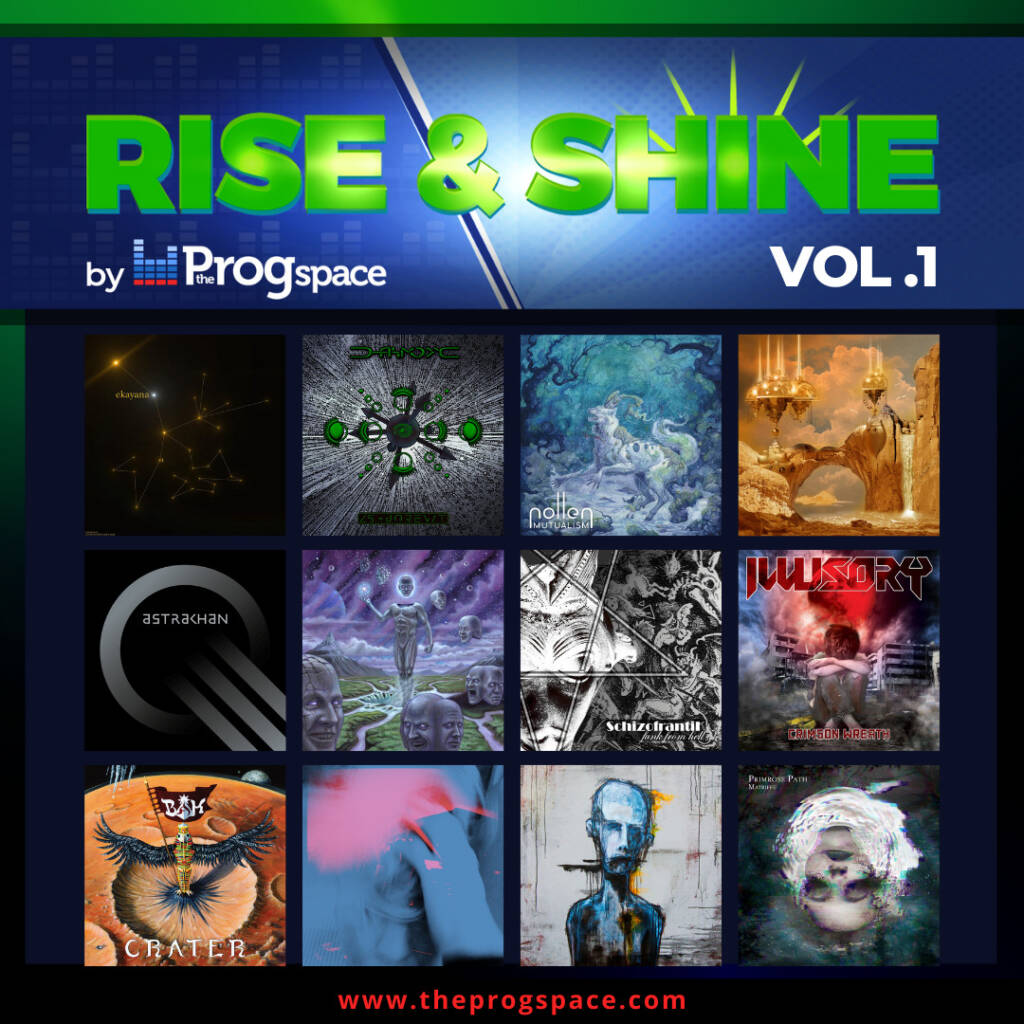 If you, the reader, are anything like us here at The Progspace, there is just so much great music, right? It's hard to get the time to listen to, or even check out, all the bands and artists you want to give a little of your time. Here at The Progspace we all regularly find new music to enjoy, and are bombarded with albums we'd love to review.  We'd like nothing more than to be able to give them all the attention they deserve. Sadly we all have only 24 hours in a day to spend, so that's how the idea for this "Rise & Shine" article series was born.
Every few months we hope to be able to present interesting, fresh music that we want to put the spotlight on, but in a shorter more compact format where we can cover more, and bring more of the good stuff out to you! Complete with links for easy access so you can just click, listen, and check it out for yourself. Because we understand that your time, like ours, is limited.
This will, of course, be in addition to our more traditional, long-form reviews and the weekly mini reviews of the selected Highlights in our Releases of the Week roundup.
This is also a place for us to put the focus on music that usually falls somewhat outside of the "prog-label". It could be experimental, ambient, avant-garde or just plain weird…
We really hope you enjoy this new format, and that it will help you discover some new music that excites you!
We would appreciate any feedback. Also if you are an artist, in a band, or just a fan wanting to promote something you love, hit us up, and it might get featured here.
Lions'den - Ekayana I & II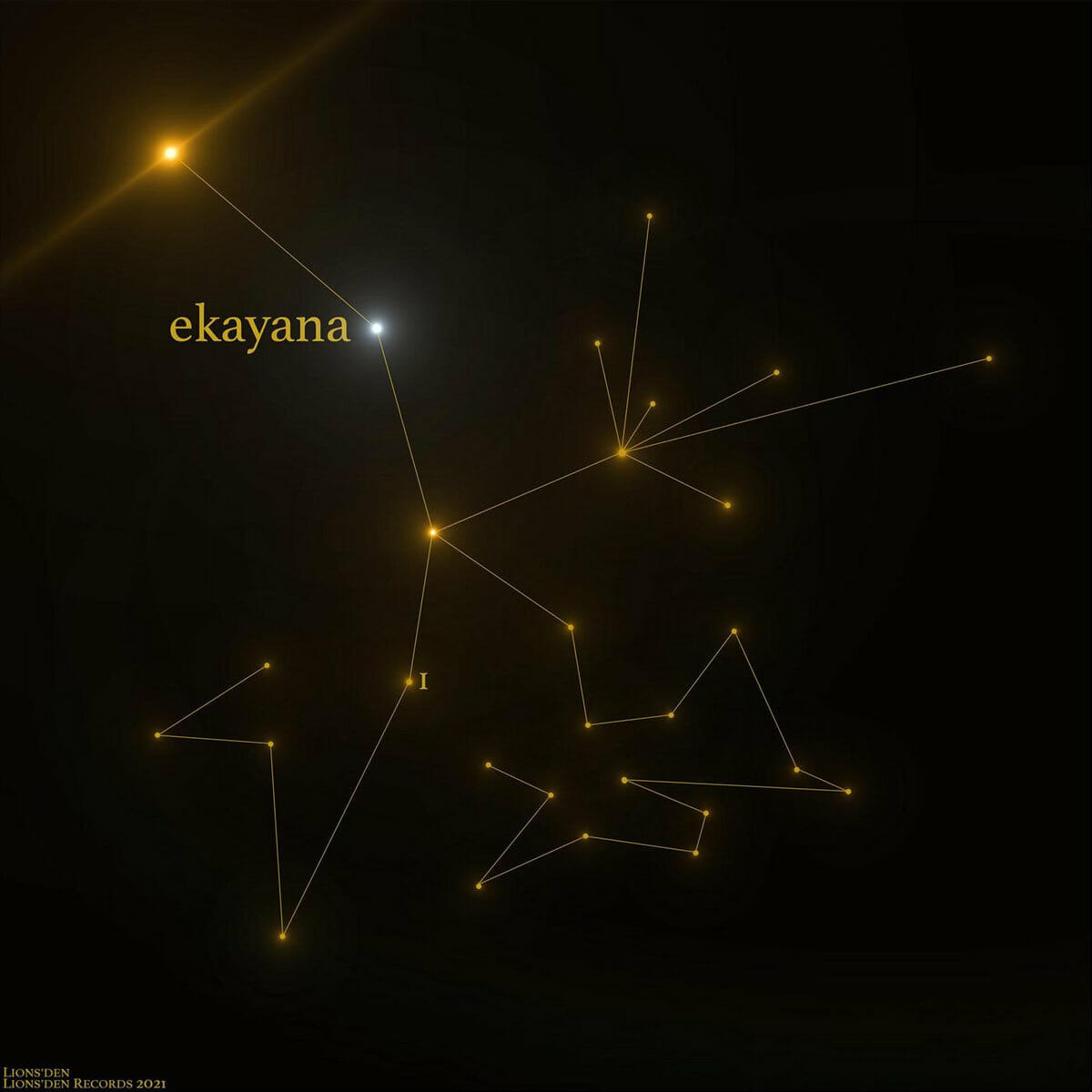 Rhy Dongju is Korean guitarist/multi-instrumentalist and has been releasing music under the Lions'den moniker for some time now. I wasn't aware of his music though until I discovered a promo mail in my inbox promoting his latest (15 minute!) single 'Ekayana II'. The composition struck me totally by surprise with its eclectic influences and different sounds and textures like classic guitar fusion licks, jazz piano, upright bass, some sparse djent chugs, but also some electronic glitchy stuff. So naturally, I went back to check out some more of his work and found the EP "Ekayana I", which was released back in February. The EP runs through 6 tracks in its 19 minutes runtime (5 if you count the two part 'Marga' as one), and almost as many styles. Starting off with the slightly djenty yet piano driven 'Dukkha' (think Sithu Aye), 'Samudaya' brings the electronic influences to the fore, but with some superb guitar licks on top and without losing that jazzy feel. A classical influence shines for a bit in the piano work before the marriage of swinging djent with some electronics segues back into that electro industrial swathes topped off by that sweet guitar lick. 'Nirodha' takes us by surprise with a folky double bass/flute intro, but the heaviness returns with a violin this time in charge of the main melody. And another turn towards some latin rhythms? This is getting more awesome and unique by the minute! While 'Marga I' is an overall quite djenty affair, 'Marga II' takes us to pure electronic synth/soundtrack epicness. And if I there wasn't enough reason to love "Ekayana I", the beautiful rendition of 'Ich Ruf Zu Dir', one of my favorite pieces from Maestro Johann Sebastian Bach seals the deal: this is some the freshest, most unique instrumental 'guitar' music I've heard since Jason Kui's "Naka" last year. I think we'd better keep an eye on Rhy Dongju and his Lions'den project, and until he's back with new exciting stuff, there's enough to discover on "Ekayana I & II" and his previous releases. Dario
Hasmody - Δs​=​δQREV​/​T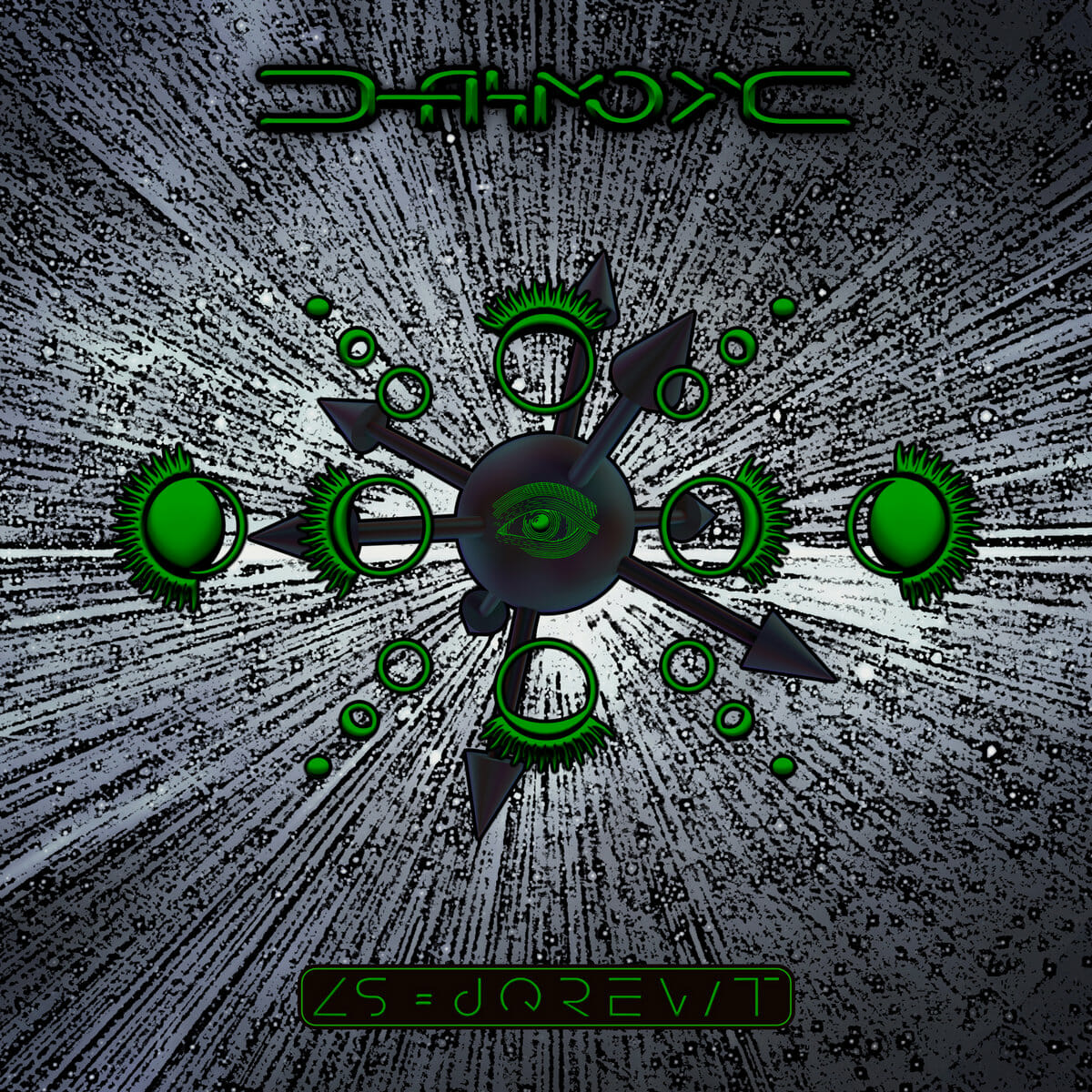 Hasmody is a musician and composer from Greece, with years of experience in several genres. The last couple of years he has shifted his attention to instrumental recordings in a unique style. He is describing himself as an "anti-genre subvertionist" which is quite accurate. His music ranges from progressive rock to fusion, to electronica and maybe a taste from math rock and cinematic music, all in good taste and very attuned with each other. He is influenced by futuristic and social issues.
After many collaborations he released his first complete work last year called "Δs​=​δQREV​/​T" which keeps up with the futuristic themes, the title being the calculation formula for entropy and describes "an attempt to illustrate an expression of cosmic nihilism and insignificance, towards the indifferent Abyss". It's relatively short duration (around 27 minutes) makes it easily accessible and enjoyable. It's a cinematic music journey through the vastness of space, almost impressionistic. One slight drawback might be the production, as it is not as loud as other contemporary releases, though everything is clear and as far as I understand this was a deliberate choice.
His second EP "Synapses" was released in April and is a continuation of the themes, as this will be a trilogy of releases. Matthew D.
Pollen - Mutualism EP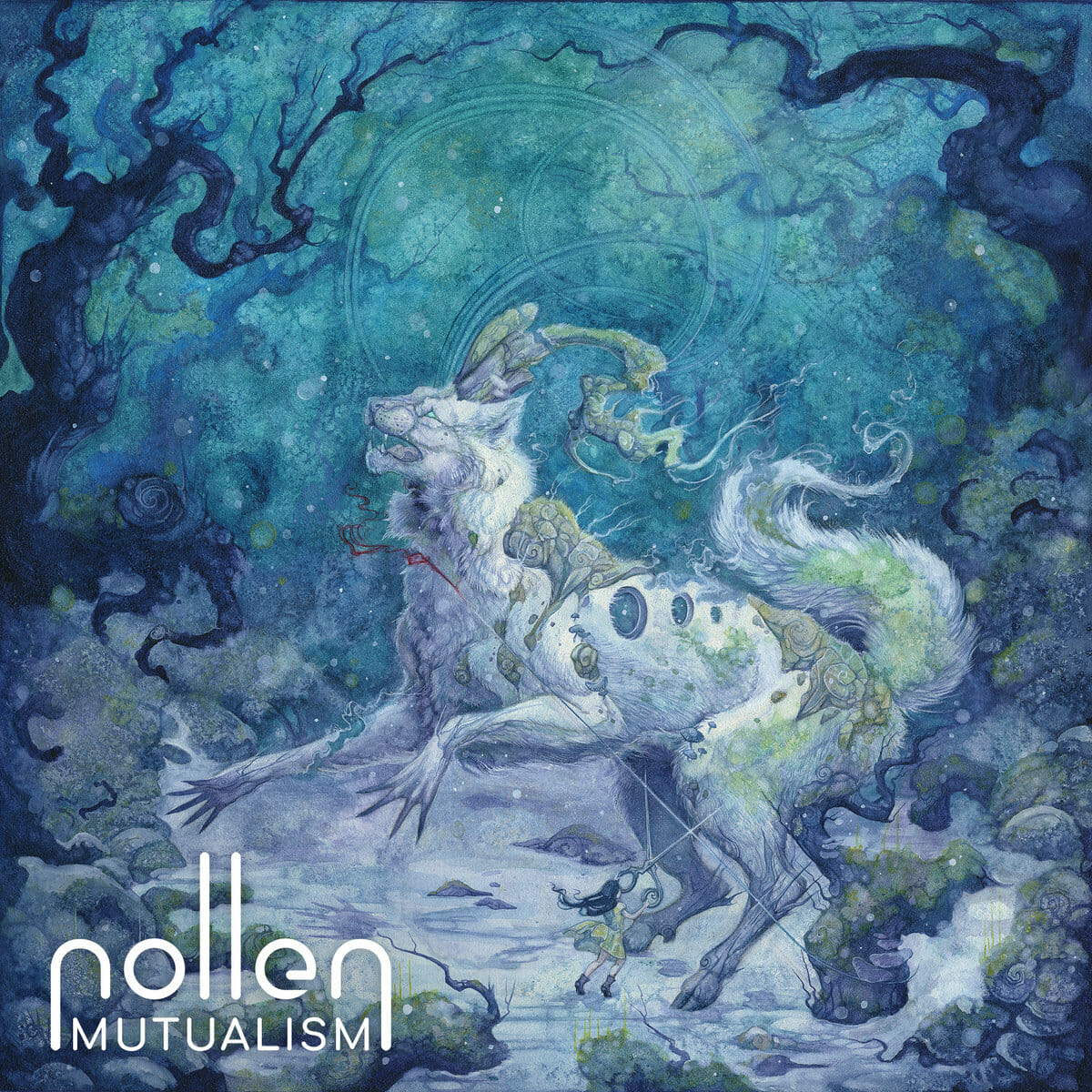 "Mutualism" is the debut EP by three Swiss based instrumental djentlemen that go by the name Pollen. The first thing that meets the eye when confronted with it is of course the gorgeous cover artwork, which I'm sure is from the same artist who also did David Maxim Micic's "Ego" and "Eco". But we're here for the music mainly of course. Their conceptual approach around stuff such as "Mutualism", "Symbiosis", bees, flowers and, ultimately, Pollen becomes quickly clear with a narrator explaining the concepts of symbiosis and mutualism in nature like we're watching a documentary movie. The David Maxim Micic reference earlier certainly isn't too far fetched either when it comes to the music, even though Pollen mostly sticks to one mood, atmosphere, style throughout the 17 ½  minutes of the EP, whereas Micic used to experiment more in his latest releases. But they do it with style and excellent all around quality, from production/sound design, to composition and instrumental execution. Around half a year after the release of the EP in February, Pollen already returned with the brand new single 'Cordyceps' with special guest Heli Andrea from Mobius adding her ethereal and immersive vocal layers. A perfect fit that gives the whole thing a slight oriental vibe and definitely a collaboration that might prove fruitful for future releases as well. I'll be looking forward to more Pollen stuff either way. Dario
A Compendium of Curiosities - Heaven Feels Like Floating Around in a Golden City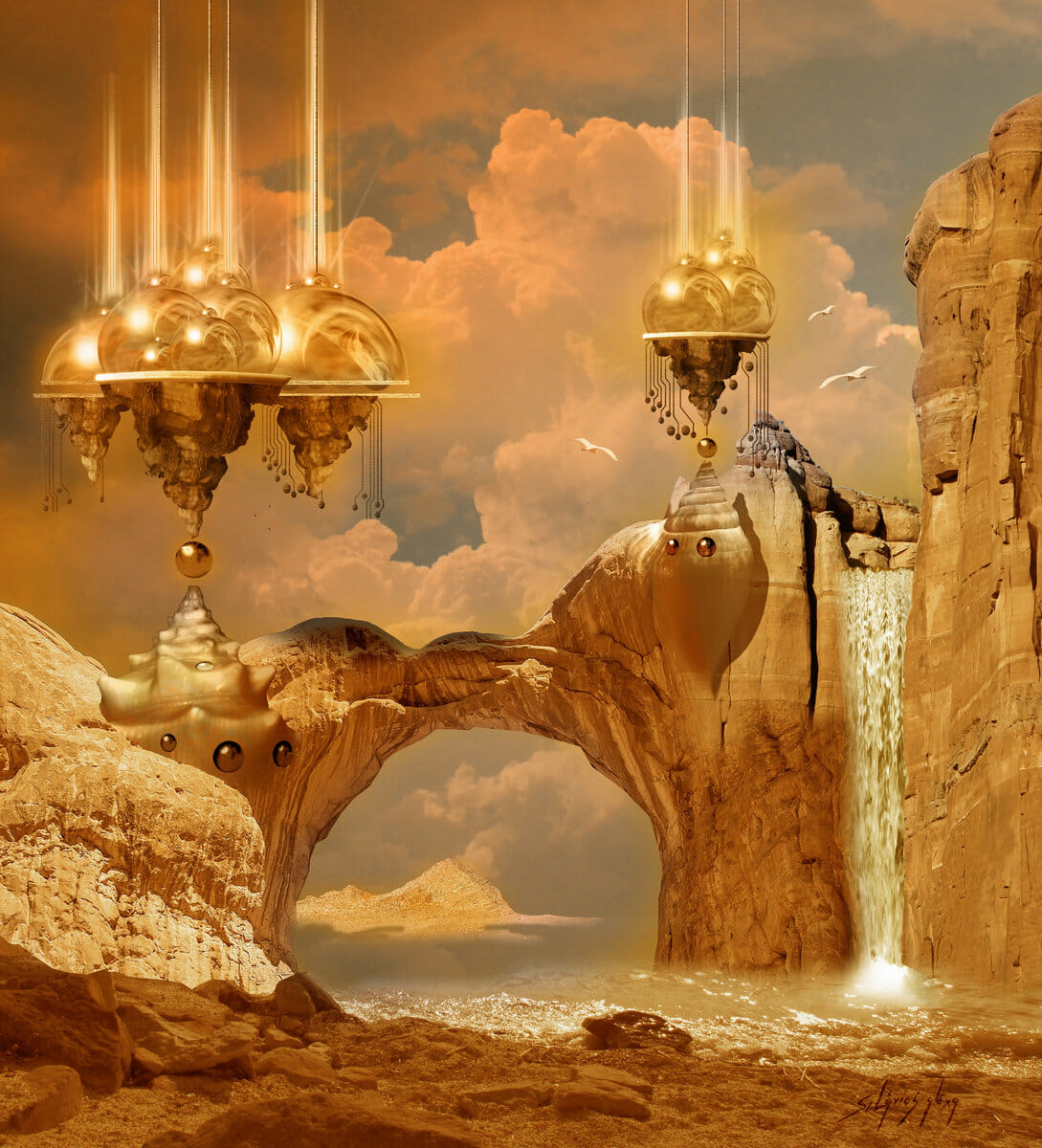 A one man project by Ayloss, the mastermind behind other bands and projects such as Divine Element, Mystras and Spectral Lore. While his projects are usually around the black metal sphere, A Compendium of Curiosities differs as it is Dungeon Synth/Ambient/Neo-Medieval and this album in particular is different from the two that followed.
Since the album was based on a lucid dream, the neo-medieval/folk influences are not that prominent. It's more ambient/vaporwave creating a calm dreamlike soundscape so as to transport the listener to the aetherial realm of the narration. This is an instrumental release (much like the previous two albums) but the music is very descriptive and with the help of the track titles you get a pretty good indication of what is happening at all times.
It can't be background music though and it may sound uninteresting if you don't give it too much attention. Plus due to its dreamlike nature it's difficult to return to it too frequently for the same reason you can't listen to meditation music all day. I also found a bit distracting a hissing sound from one of the effects in 'Soaring Towards the Great Gate that Connects the Realms of Astral Dream and Sleep' which it might be intentional but it took me out of the experience. However it's full of retro sounds and an enchanting feeling that will leave you very satisfied. It's relatively short duration helps for new fans to discover this kind of music. Matthew D.
(Disclosure: I was a guest musician on Mystras and the Divine Element demo)
Astrakhan - A Slow Ride Towards Death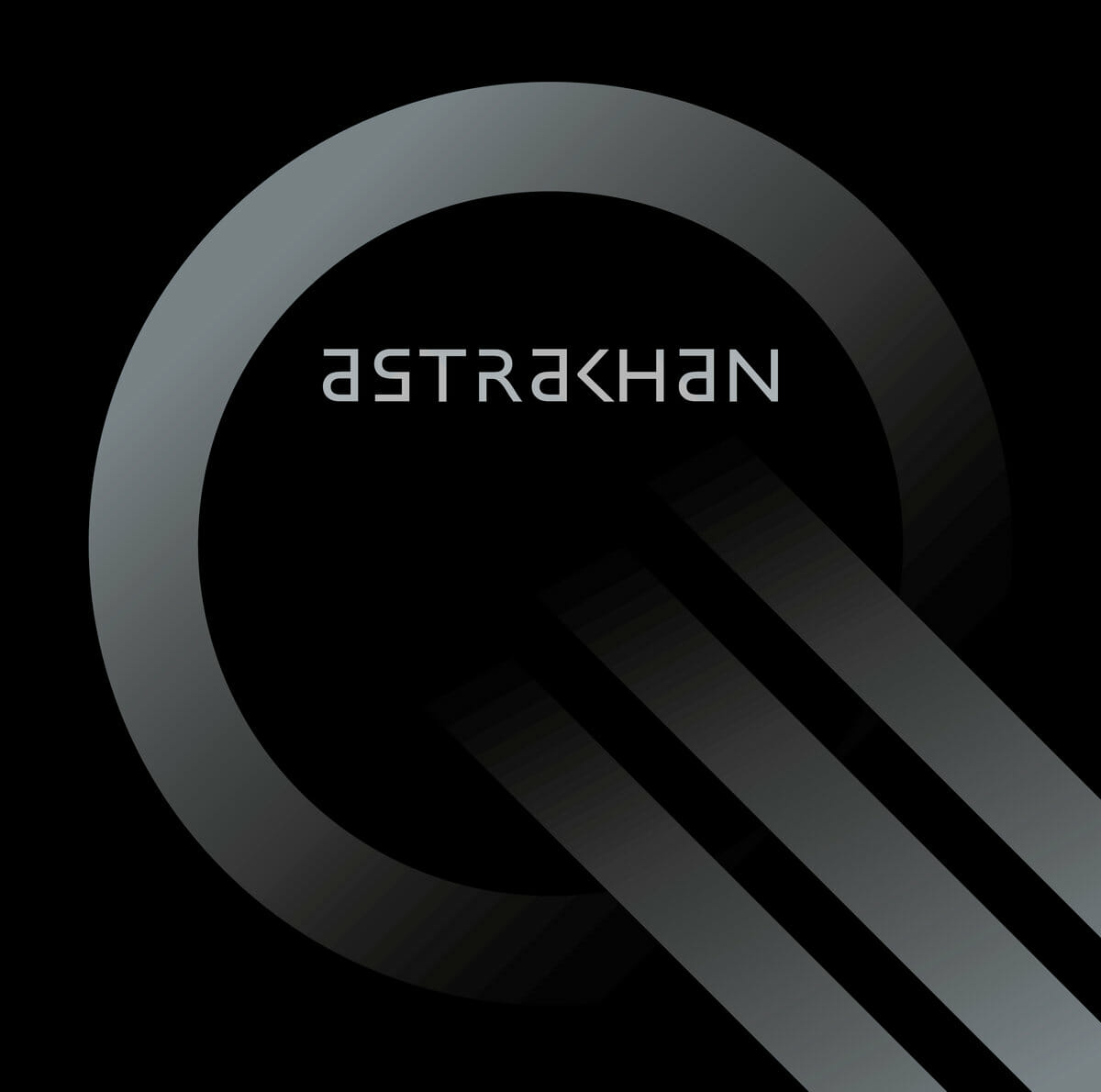 Five years after "Adrenaline Kiss", Sweden's Astrakhan are back with a new studio album full of original heavy prog rock compositions. Last year's "Jesus Christ Superstar Experience" was, exactly as the title suggests, a live recording of one of the concerts where they played songs from Andrew Lloyd Webber's masterpiece musical, which worked perfectly. But that shouldn't come as a surprise for anyone knowing the impressively expressive baritone voice of frontman Alexander Lycke and they even had none other than the legendary Mats Levén (Yngwie Malmsteen, Candlemass, Therion, Trans-Siberian Orchestra…) performing the part of Judas… So definitely check out that one as well in case you've missed it last year. But on to Astrakhan's 2021 album "A Slow Ride Towards Death", as I said, the first one with new original material from the band since 2016. They haven't missed a beat though, with rock solid songwriting (what is it with the Swedes and songwriting anyway) laying the foundation for eight powerful songs about "…the pain of broken relationships, broken dreams and an endless love and passion to music – the anchor in life and the only relationship we'll never let go." Sometimes groovy, sometimes brooding, sometimes heavy, sometimes dramatic and symphonic, but always emotionally expressive, the time is as ripe as ever to finally place the name Astrakhan on the international map of heavy music with a big fat exclamation mark. With keyboardist and co-founder Jörgen Schelander having jumped ship since the recording of the album, one can only hope the remaining four musicians will continue, as the excellent and passionate music they are creating together in Astrakhan deserves to be heard.
Even though the second half of the album can't quite keep up with the quality of the first, "A Slow Ride Towards Death" still is a very pleasant and rewarding listen if your jam is dark & heavy prog rock. Dario
Coevality - Multiple Personalities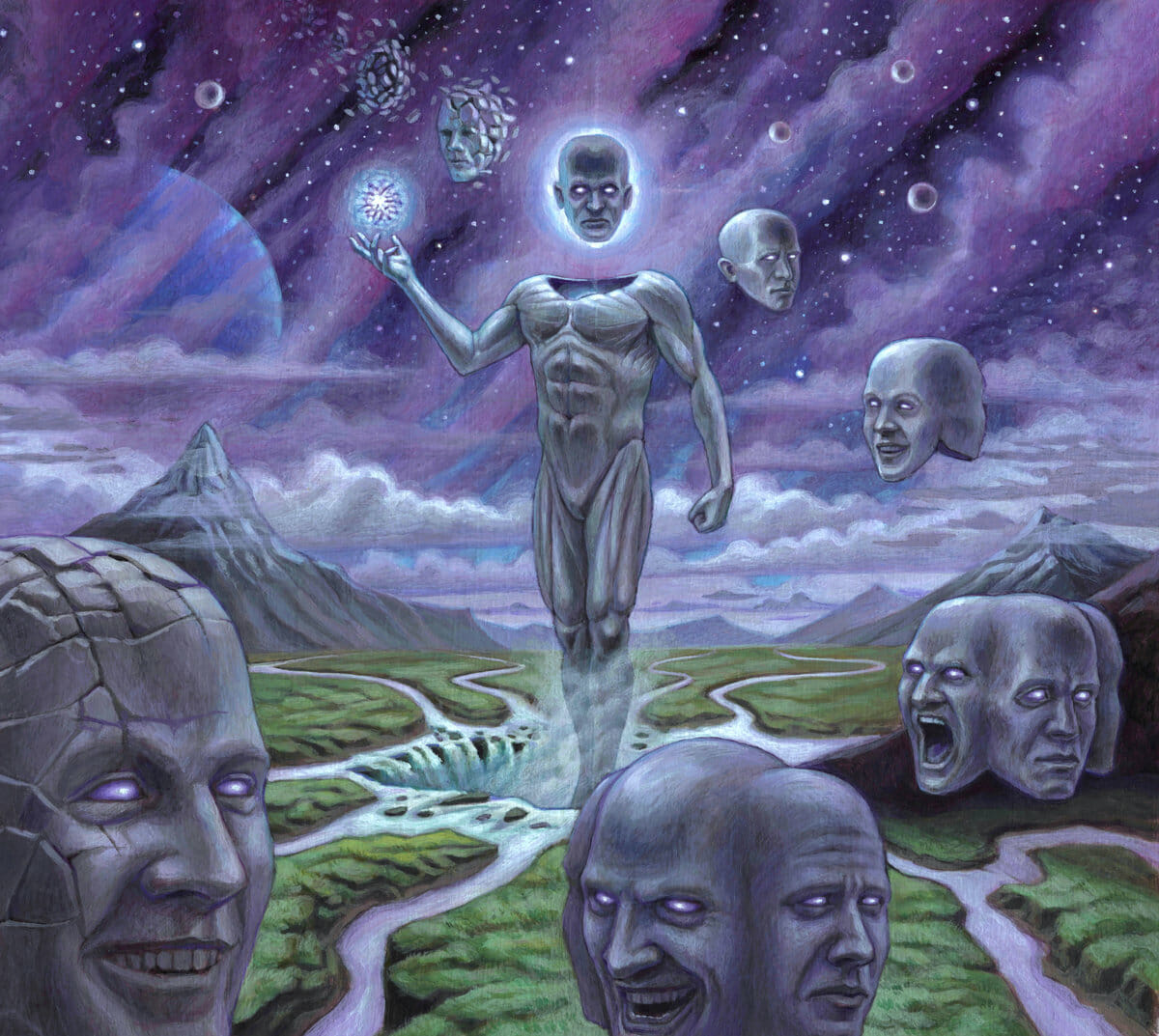 A first glance upon the mysterious and magnificent cover artwork, and the expectations are high for an album full of extreme cosmic prog death metal of some sort. Los Angeles trio Coevality surprises with some top notch fusion though on their debut full length "Multiple Personalities", self released back at the beginning of April. Starting off with a song that sounds like if Cynic went all out fusion, throughout the full album length, the three musicians demonstrate a maturity and diversity in songwriting and arrangement, that far transcends the restrictions of an 'instrumental fusion metal' drawer they might be quickly put in  after a superficial listen. Mexican Progspace Online Festival veterans of Glass Mind come to mind at times, Arch Echo (minus keyboards) elsewhere. The sounds of composer Jon Reicher's 7-string guitar serves many purposes, classic riffing is rarely one of them, instead textures and lead licks are his weapons of choice. Drummer Andy Prado Jr knows how to support a song with intricate patterns and grooves. The real star though is Derrick Elliot's fretless bass that makes "Multiple Personalities" stand out. On the risk of contradicting myself here I have to note how those three instruments and players stand equally next to each other in the arrangements as well as in the mix. But perhaps standing on the same level as the guitars and drums will make the bass sound like it's sticking out. In any case a highly technical affair, but melody and harmony work hand in here with the instrumental virtuosity on display. According to the band, the album was almost a decade in the making, so I say: well worth the wait (even though I didn't know I was waiting for it) and: hopefully we won't have to wait 10 years for a follow up, 'cos this is delicious! Dario
Schizofrantik - Funk From Hell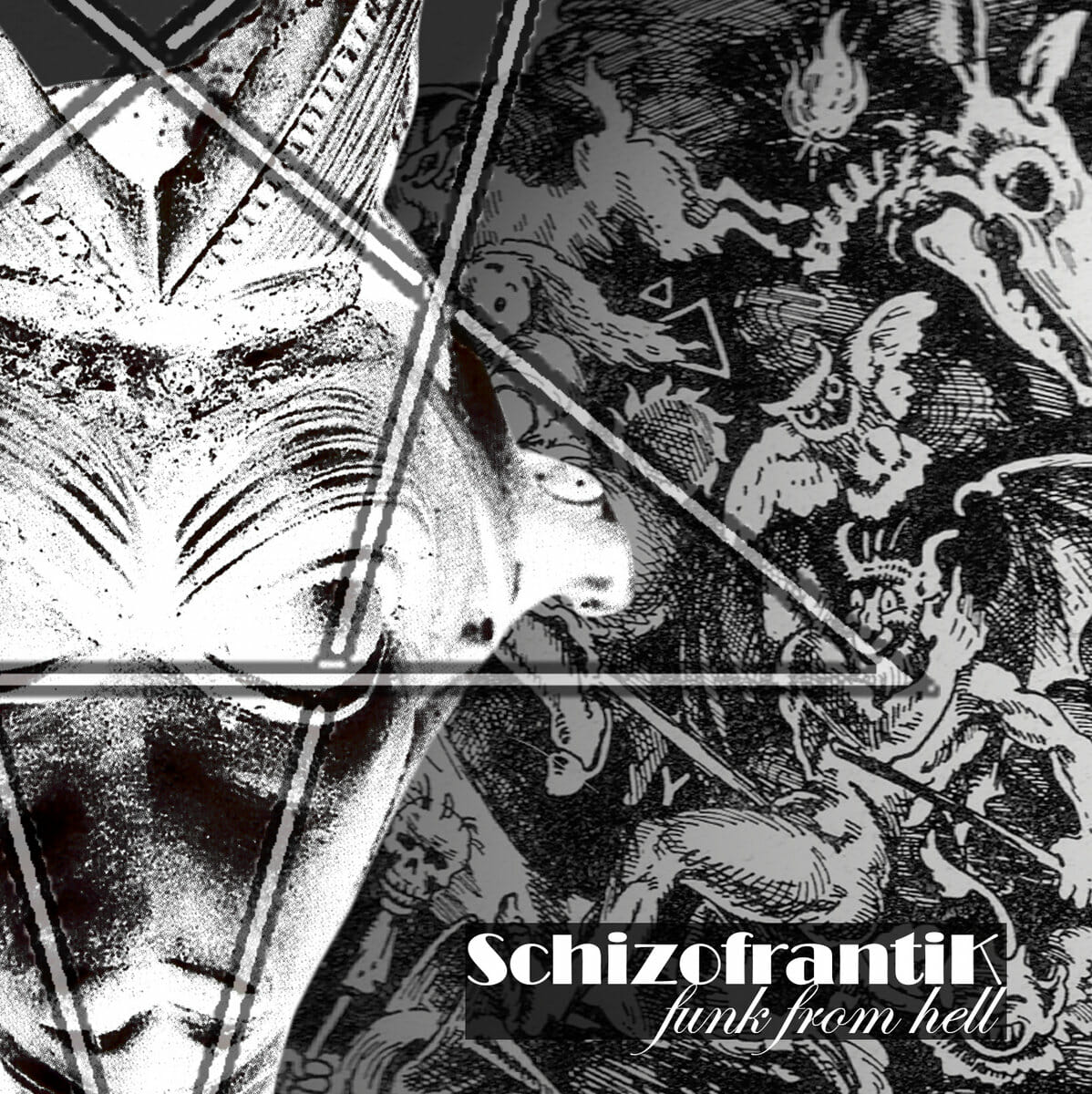 "Funk From Hell" is the sixth studio album from Munich based avantgarde proggers of Schizofrantik. After a run of three label backed album releases through Gentle Art of Music, the four piece around ex-Panzerballett guitarist Martin Mayrhofer unleashed this one on April 22 independently again. Already their third album "Oddities" (2011), their label debut with Gentle Art of Music, should have brought them a lot more attention in the worldwide scene of music lovers who like it odd. Remaining in obscurity though, it didn't keep them from keeping on, and if you're not afraid of a weird cocktail of funk, jazz, metal, avantgarde, and contemporary ('modern') classical music, you should definitely risk an ear for "Funk From Hell". A brain twister roller coaster rider par excellence, the 8 tracks were certainly not composed to please the distinct listener with, well, easy listening. Still not convinced? Then start with the drum solo by illustrious guest musician Marco Minnemann on the title track. The icing on the cake is the completely bonkers music for the closing track 'Efgikl N Möp', maybe the dissonant King Crimson goes brass vibes are something for you? Dario
Illusory - Crimson Wreath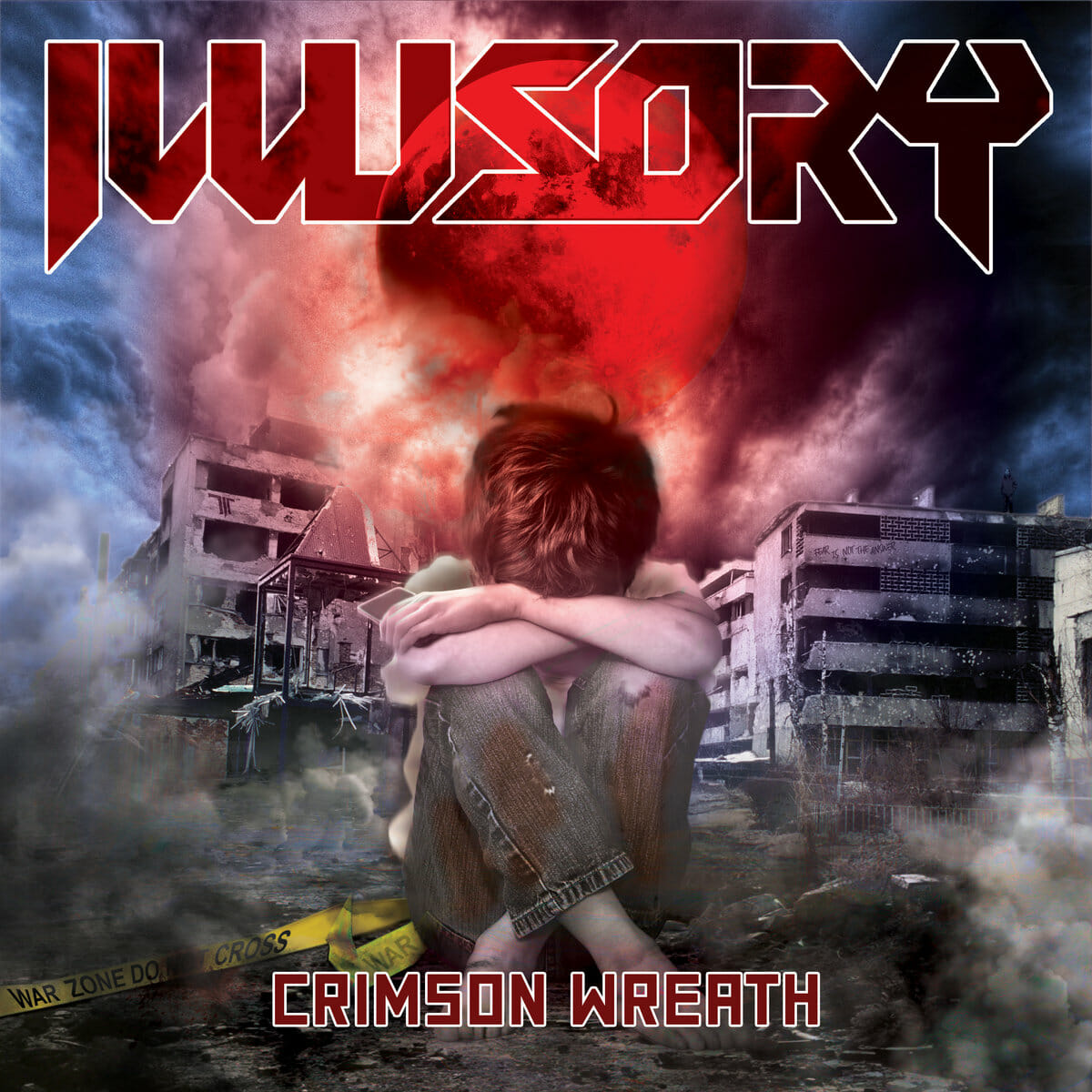 Illusory is a band from Greece active since 1992, though they were using a different name until the release of their debut in 2013. They play melodic power metal with several prog influences, and I have to confess that my taste is nowhere near that for quite some time. They are clearly influenced by bands such as Queensryche, Savatage and I can hear a lot of Iron Maiden in there. "Crimson Wreath" is a very melodic and heavy album, and while these influences might sound dated they have managed to include some diverse ideas for the style they have chosen. The band clearly worked a lot to seamlessly incorporate them in their sound, and I really appreciated the level of commitment that can be heard.
However it is not a very unique result, and if you're not into power metal, sitting through 14 songs might seem like a herculean task. Also I'm not a big fan of their singer, he has a good voice but he is using it in a repetitive and old-fashioned way. Not to mention that while some of their best moments are the quiet, more acoustic oriented songs the singer's thick accent almost ruins it.
Overall, the band evolved a lot since their previous album and there is a lot to enjoy for fans of the genre. Matthew D.
BaK - Crater EP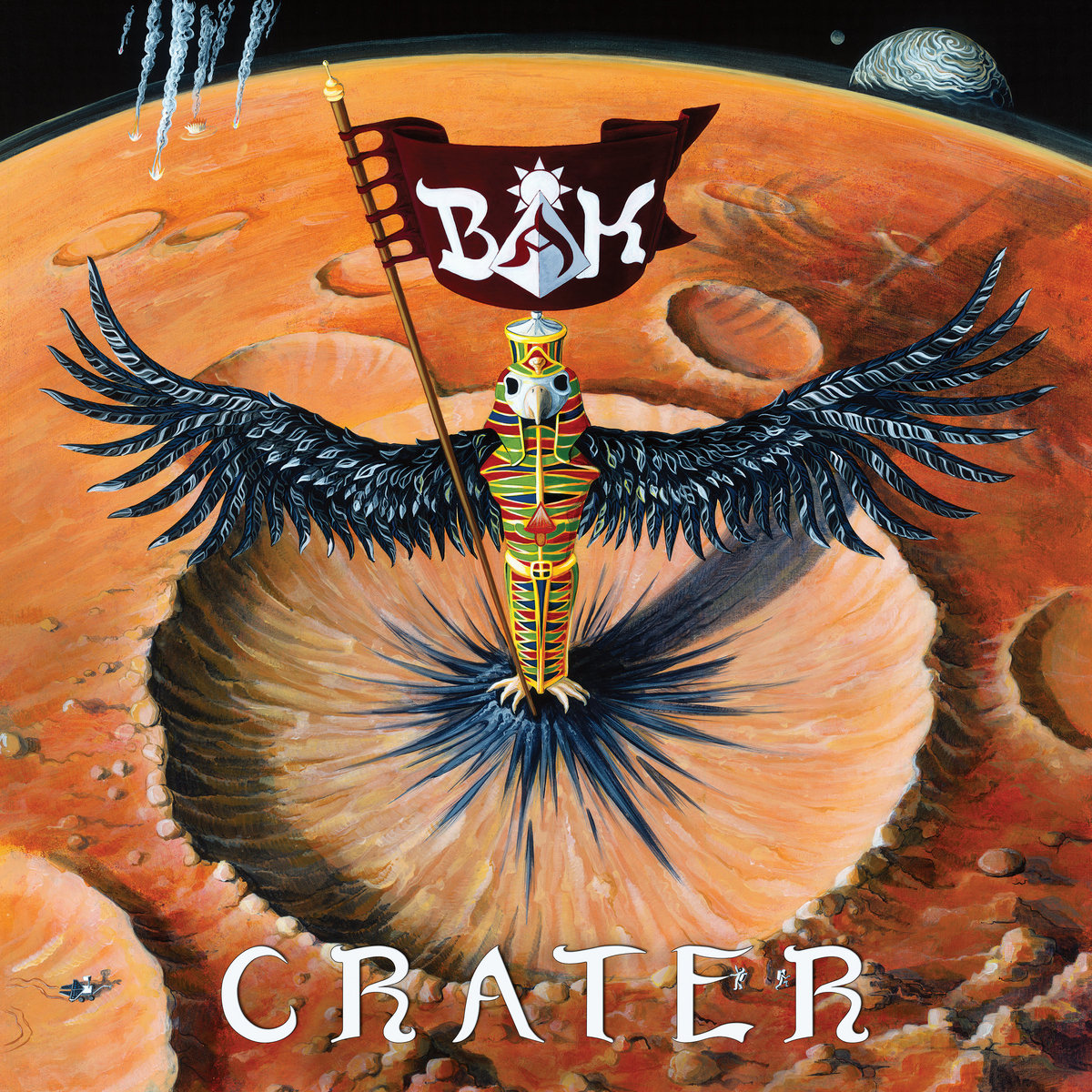 What happens when a bunch of Australian musicians with a diverse array of classical, ethnic and rock instruments enter a studio and create a whole new world complete with a new deity and all? BaK is what might happen!  Their fusion of traditional Indian and middle eastern themes with traditional metal and prog vibes is absolutely glorious, totally entertaining and highly addictive. Konnakol meets pitched metal screams and pinch harmonics, tablas, sitar, oboe, trombone and timpani take turns with stomping heavy metal riffs. This is some meshed melange you've got to hear in order to believe that it works, but it does, and in absolutely breathtaking fashion. Bak's music is so much fun, it never fails to put a smile on my face.  Delve into the world of Baklandia through their newest EP "Crater" that they released independently in June and be sure to check the two previous ones as well. Another whimsical lullaby as closing track like 'The Tragedy of Isabella Lockhardt' from 2019's "Painter" EP would have been sweet again, but even without "Crater" easily qualifies for one of the best EPs of the year. Exceptionally unique stuff! Dario
Vitamin Manifest - #1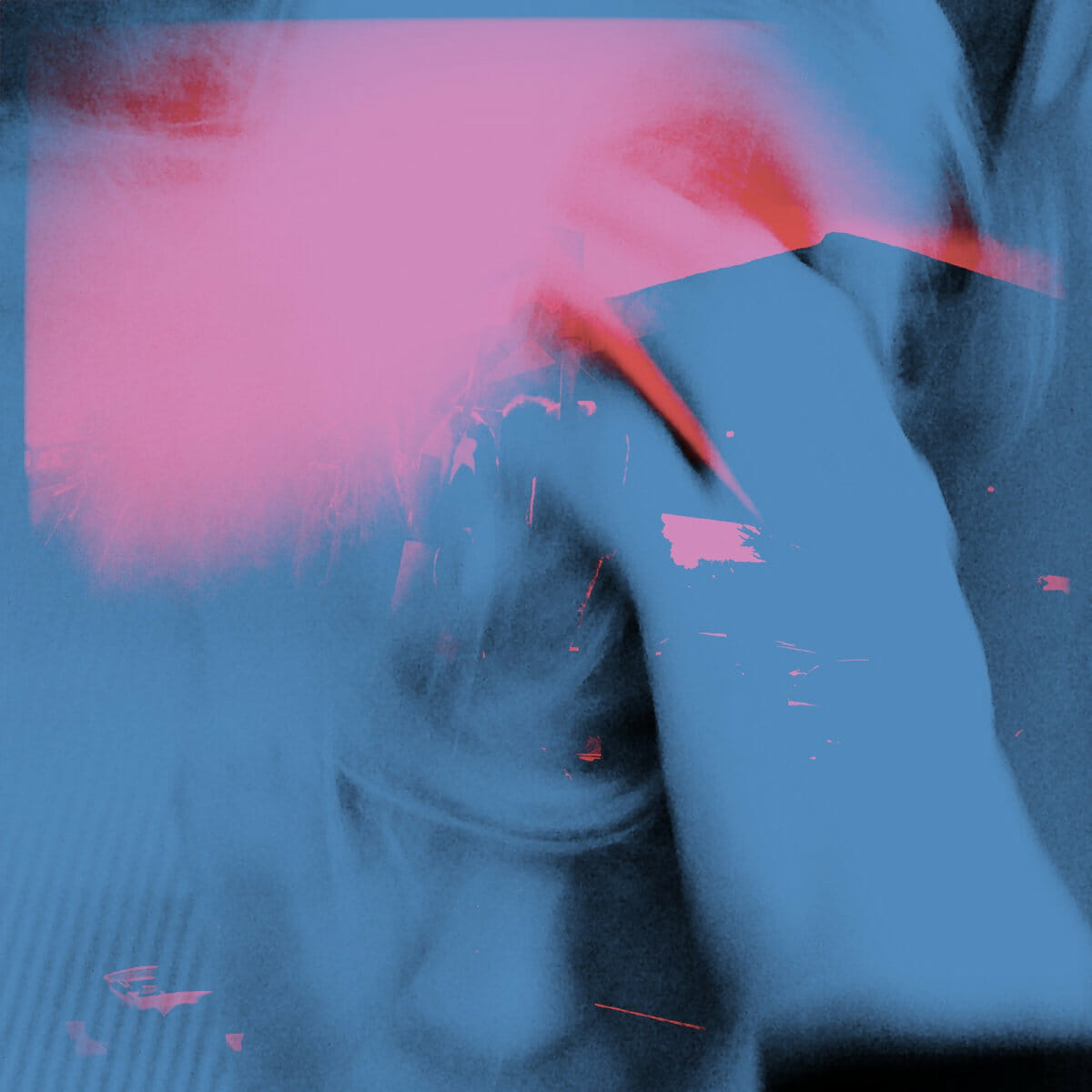 On my birthday I received the promo for Vitamin Manifest, a duo from Serbia which was born "out of love for field recording and improvisation", as they say in their email. While the EP has no name (I guess you can call it "EP") and the track names are just track numbers, it explores the sounds of Belgrade, the city the duo was residing (they now moved to Berlin). Lucky for them I've been in Belgrade so I can actually visualize the sounds they have captured and modified.
I have to say that this sounds like an accurate description of the cold deserted alleys that you pass by near the railway station while heading to the Yugoslav Ministry of Defence building, a masterpiece of architecture which was heavily damaged during the NATO bombing of Yugoslavia in 1999.
While not the most impressive recording I've heard it captured my imagination, maybe for trivial reasons but nonetheless, this is an interesting EP for fans of the genre. Hopefully we'll listen to the sounds of Berlin soon, as depicted by the duo. Personal Soundtracks picked this up and released it on tape, so that's interesting too. Matthew D.
Franklin Zoo - The Dandelion Child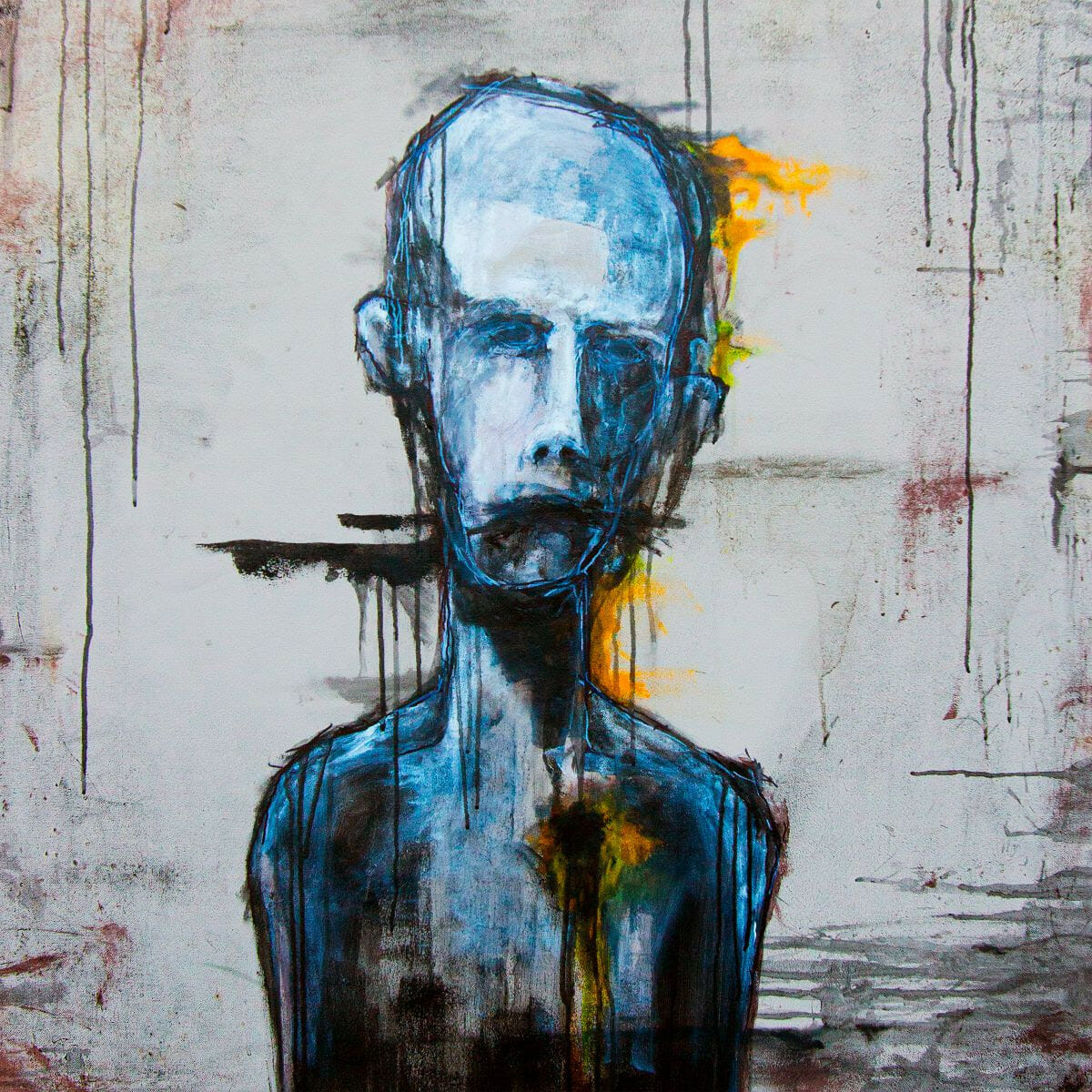 Strong Opeth/Dark Suns vibes are permeating the opening riffing, venturing towards Vulkan land once the vocals hit in the first verse: when I heard the final single and title track of Franklin Zoo's third album "The Dandelion Child" thanks to a promo email in our inbox I was instantly hooked. Unceremoniously simply dubbing themselves 'Danish rock band' on Facebook, I was shocked to find out that they already had two albums out in 2013 ("Untamed") and 2016 ("Red Skies") respectively. How come I had never heard about them before? Truth be told, something similar happened when Vulkan's "Technatura" hit me out of the blue last year. And while Vulkan might just be my favorite new discovery of 2020, Franklin Zoo has a big chance of inheriting that title for 2021 from their Scandinavian kindred spirits. Maybe I'm wrong, but I have the feeling that this kind of heavy prog rock is still quite hard to come by, with most bands either opting for something more mellow when going for a progressive rock vibe, or succumbing to the heaviness and sound aesthetics of the metal altogether. "The Dandelion Child" is comprised of six tracks between 6 and 12 minutes and takes you on a 55 minute journey and I'm almost convinced you will lap up their every note and word if you're into any of the aforementioned three bands. Legendary HateSphere shouter Jacob Bredahl makes a loud guest appearance on the closing epic 'The Abandoned' and the production from Tue Madsen (another Danish metal legend) leaves just enough roughness around the edges to prop up the honest and heartfelt delivery. If Opeth were to play a bastard fusion of Soundgarden, Tool and Deftones – Franklin Zoo could be the stunning result. This album needs to be heard and once international touring is easier again, I need to see Franklin Zoo play a packed, sweaty live club to an ecstatic crowd! Discovery of the year, I'm calling it now! Dario
Primrose Path - Matriffe EP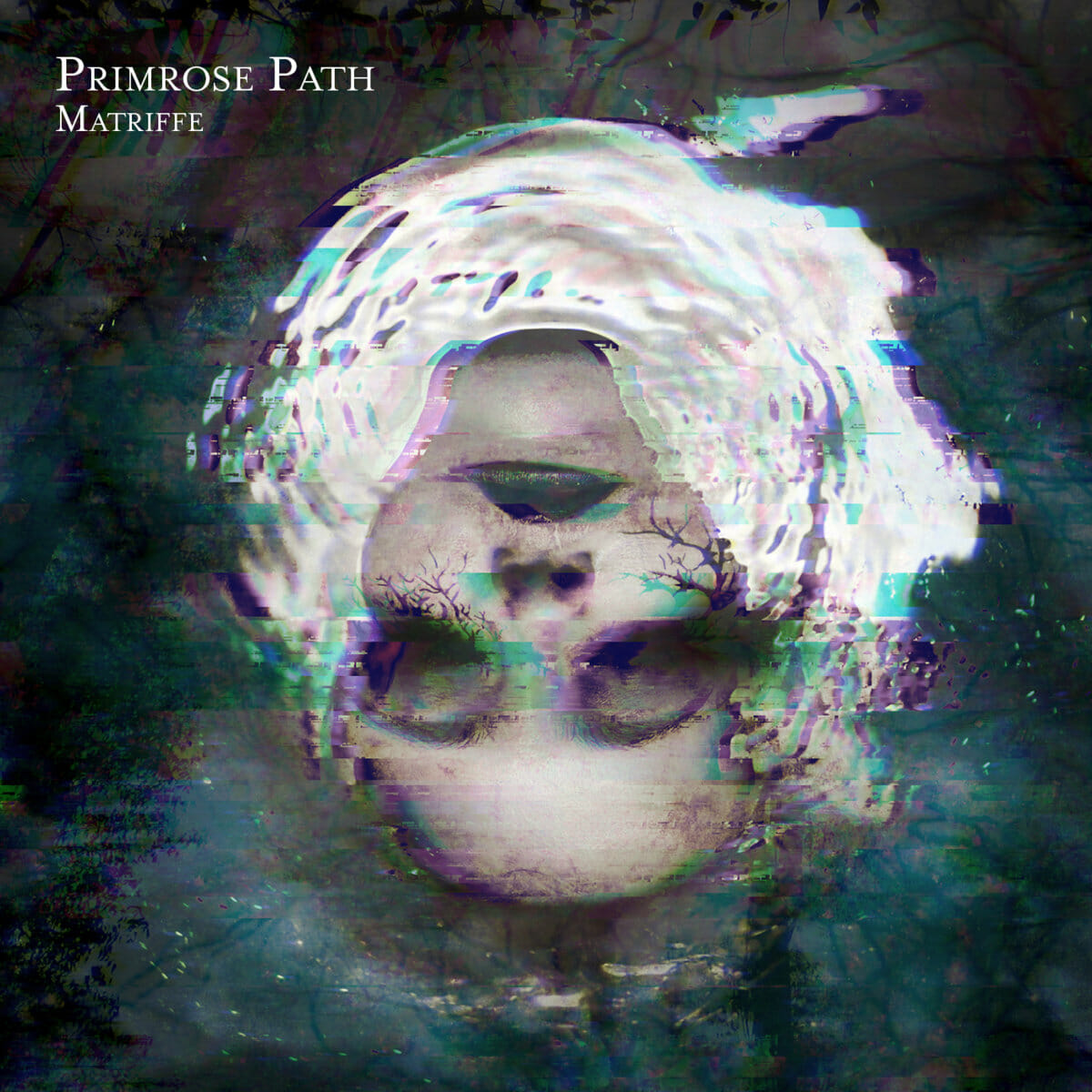 A total chance discovery, this little debut EP from Perthian post proggers of Primrose Path while compiling the latest Releases of the Week playlist on Spotify, I'm a bit surprised in retrospect that I stuck around through the slow beginning of opening track 'Hide and Seek', as the song only really takes off towards the end. I am very glad that I did though. The following 'Birdsong' surprises with a Black Sabbath heavy riff and fierce background growls, while Lindsay Kearns is more and more channeling the focus of all attention on her captivating, expressive lead vocals. Doomy outro. Excellent. The final 10 minute 'Caroucellular' starts off with subtle guitar beauty before descending into the coolest mid-late 90s The Gathering vibes since, well the 90s probably. Something that I definitely didn't see coming, especially not judging by the first couple of minutes of this EP. "Matriffe" is showing a lot of potential from this young band in a relatively rare niche of the genre. Avantgarde Mystic Space Witch Metal, as one fan apparently called it, seems quite fitting, or a slightly doomier version of their countrymates from across the continent, Acolyte. Promising sounds out of Western Australia for sure. Dario