Spectrum of Delusion – Neoconception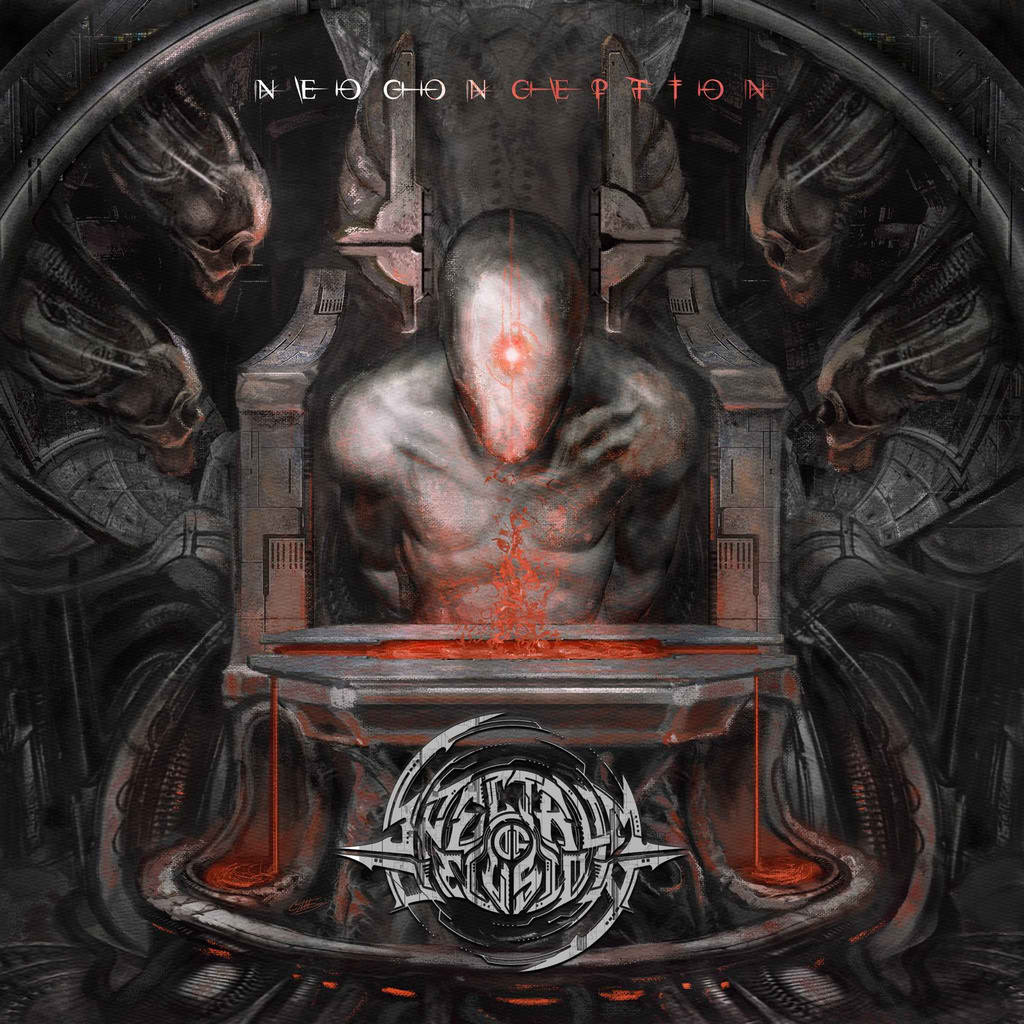 The Artisan Era strikes again. This label never disappoints, bringing to light the elite in technical death metal and surrounding sub-genres. Their latest addition, the Dutchies in Spectrum of Delusion, might have just landed the tech-death release of the year with their sophomore full-length album "Neoconception". Technical death metal has always been my go-to genre when seeking extensive creativity and musical proficiency, or just pure adrenaline. To say that Spectrum of Delusion ticks these required boxes would be an understatement. The level of complexity and unpredictability in the composition here is boundary-breaking in the most satisfying way. Let's take a look in detail.
The progressive component is as far-fetched as possible, making use of head-altering time signatures, tempo changes, baffling contrasts and constant shifts in direction at every step of the way. Listening to it feels like you're constantly being ambushed and thrown around in confusion and then being sucked back in by hooky, engaging moments. The way they balanced out their extensive arsenal of prog-wizardry with certain ear-friendly melodies, grooves or headbanging patterns proves a high focus on the enjoyable side of the experience, a trait that most tech nerds tend to overlook.
Spectrum of Delusion – Into Another Formation (click here if the video doesn't play)
Unlike what you'd see in a traditional death metal act, nothing here is set in stone. The song-structures are all over the place and the roles of the instruments constantly interchange to the point where every band member is the star. Looking at guitars, there is a pretty vague border between riffs, harmonies and lead sections that allows them to gradually and unexpectedly oscillate from one to another, moving frantically on the fretboard wherever the maelstrom takes them. The delivery is extremely dynamic, melodic and sonically pleasing while challenging to keep track of and the slightly raw-edge in the otherwise highly processed sound always packs an extra punch.
On the bass, we encounter the fluid, wobbly and dense presence of fretless parts akin to bands like Beyond Creation or Augury, but on this particular album, I feel like it isn't used solely to flash out. Instead, it always complements and expands on the guitar parts with a different sound and texture that often connects them and blends all three melody makers into a triple formation of hyper-speed artistry. But there are still plenty of moments where only one instrument takes the fore-front (See for example the atmospheric break in 'Into Another Formation' that spotlights the bass).
But that kind of spectacular melodic movement needs a secure foundation to rely on and that task rests on the shoulders of drummer Jeroen Mostert who is an absolute hero in my books. Making fretless bass and harmonized guitars sound fluid is one thing. Blending grooves, blast beats, temporal ruptures and head-bang patterns into a singular amorphous flow of motion is an entirely different story. This guy somehow makes his way through all the challenging shifts in pace and bridges all the different musical phrases into one, while still blasting your brains out like a total maniac! And just to prove that time actually can bend, the icing on the cake in terms of progressiveness is in the moments where the tempo gradually picks up or slow down over a few seconds before landing back into a solid pace, feeling like the substance of the sound dilates and compresses through the motions. The best examples of this phenomenon are in 'Torment of Being' and 'Through Mankind's True Ambition'.
Spectrum of Delusion – Trough Mankind's True Ambition  (click here if the video doesn't play)
We can now conclude that instrumental technical nerdery has reached its highest peak thus far, so let's take a look at the meaning and feels that it captures. This is a concept album and since I didn't see the lyrics, I couldn't grasp every detail of the story but the general idea of it is so inspired that I refuse to give any spoilers. However, I will say that it presents a character placed in an impossible situation that he has to make peace with, and this is clearly expressed in the first 7 tracks on the record. These connect into a singular body of work that feels like a constant increase in entropy with fear, confusion and rage being so artistically exhibited. The dramatic peak is 'Welcoming Death', which delivers the most brutal riffs and vocals along with an almost spook-sinister styled mood. An admirable element regarding the forms of expression on this album is, to me, how easily they could fuse real human emotion into a sci-fi, futuristic, ominous atmosphere, typical to tech-death. Thin yet striking layers of orchestration also enhance the otherworldly vibe.
The single 'Into Another Formation' feels like a dimensional warp that connects the 2 main chapters in the album and completely changes the scenery. We are then greeted with a "calm after the storm" feel in the instrumental piece 'Bringing Serenity', that beautifully merges bass with guest clean guitars by Equipoise's Nick Padovani, who also lends his skill on many other tracks to enhance the atmosphere and expressivity. The album then goes rampant again as the peace doesn't last long and the last few tracks take us back on a path to aggression, drama and tech-mastery. 'Destruction' is a highlight on the album, cleverly alternating between the brutal and calm compositional traits that the band explores on this record.
Throughout the entire journey, vocalist Douwe Negenman does a great job at delivering powerful mid-range growls with occasional shifts to really high or low guttural registers that relentlessly scar your eardrums. He gives this album the attitude it needs to feel like a living, breathing entity instead of a carefully calibrated machine. The authenticity of the storytelling component is further developed by a few narrators who play brief parts in key moments on the album and really make you immerse yourself into its world.
And at the end of it all, you realize this was all packed in 44 minutes of music. And although it did get hectic as tech-death often does, it did not feel exaggerated or excessively crammed. I came out of it very impressed by their capabilities and also very satisfied with the experience itself. Such a powerful work of art this is. "Neoconception" is out on September 11th on The Artisan Era and I invite any fan of death metal to throw an ear at it and get ready for something truly special!
Track List:
Downfall (03:08)
Defunct Reality (02:00)
Animosity (03:07)
Pointless Endeavor (03:16)
Torment of Being (03:44)
Welcome Death (02:58)
Await the Transition (02:41)
Into Another Formation (05:50)
Bringing Serenity (02:12)
Destruction (05:02)
Through Mankind's True Ambition (04:22)
To Tower Over All Other (04:41)
Alone (01:25)