2022 is starting with a bang and a whole host of awesome new releases!
Releases of the Week 02/2022 with Syncatto, Thomas Giles, BIID, Chaosbay & Anna von Hausswolff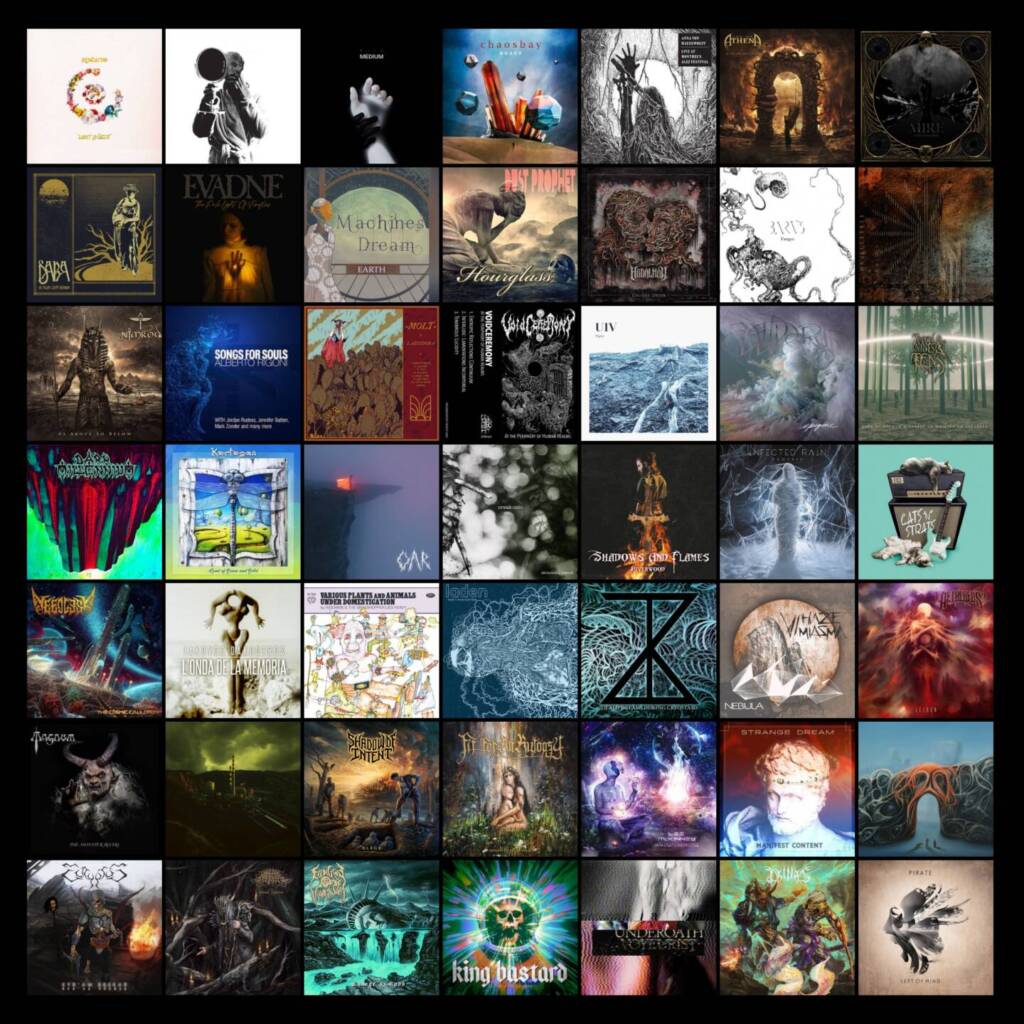 Catching up with a few releases that we missed over the holidays, but also featuring the hottest new releases from the prog world, fresh from the release press. In this first 2022 edition of our Releases of the Week, we have a little closer look at EP Highlights from Syncatto, Thomas Giles and Chaosbay, the debut album from BIID and finally an absolutely mesmerizing live recording from swedish luminary Anna von Hausswolff. Are you ready for another year filled with amazing releases?
More releases for 14 January, 2022
Age of Athena - Gate to Oblivion (Dec. 17, 2021) Bandcamp
Mire - A New Found Rain (Dec. 17, 2021) Bandcamp
Dara Project - Si Glia Lua Nume (Dec. 24, 2021) Bandcamp
Evadne - The Pale Light of Fireflies (Dec. 24, 2021, Solitude Productions) Bandcamp
Machines Dream - Earth EP (Dec. 25, Progressive Gears Records)
Dust Prophet - Hourglass (Dec. 31, 2021) Bandcamp
Hadal Maw - Oblique Order (Dec. 31, 2021) Bandcamp
Barus - Fanges EP (Dec. 31, 2021) Bandcamp
Trenches - Reckoner (Jan. 01) Bandcamp
Nimrod - As Above So Below (Jan. 03) Bandcamp
Alberto Rigoni - Songs for Souls (Jan. 06)
Lasiodora - Molt (Jan. 06) Bandcamp
VoidCeremony - At the Periphery of Human Realms EP (Jan. 06, 20 Buck Spin) Bandcamp
UIV - Frigus EP (Jan. 06) Bandcamp
Wilderun - Epigone (Jan. 07, Century Media Records)Read Our Review
Seven Nines and Tens - Over Opiated in a Forest of Whispering Speakers (Jan. 07, Willowtip Records) Bandcamp
Dark Millennium - Acid River (Jan. 07, Massacre Records)
Karfagen - Land of Green and Gold (Jan. 07) Bandcamp
Oar - The Blood You Crave (Jan. 07, Blighttown Records/Hammer of Exile) Bandcamp
Orsak:Oslo - Skimmer/Vemod (Jan. 07, Kapitän Platte) Bandcamp
Riverwood - Shadows and Flames (Jan. 07) Bandcamp
Infected Rain - Ecdysis (Jan. 07, Napalm Records)
FS3 - Cats 'n' Strats (Jan. 07)
Needless - The Cosmic Cauldron (Jan. 07, Target Group) Bandcamp
Matthew Dakoutros/Iakovos Dakoutros - L'onda de la Memoria (Jan. 07) Bandcamp
The Grasshopper Lies Heavy/Woorms - Various Plants and Animals Under Domestication (Jan. 07)
Laden - The Visitation (Jan. 07) Bandcamp
Zebulon Kosted - Death Dreams In Cryostasis (Jan. 07)
V/Haze Miasma - Nebula EP (Jan. 07) Bandcamp
Aethereus - Leiden (The Artisan Era) Bandcamp Read Our Review
Magnum - The Monster Roars (Steamhammer/SPV)Read Our Review
Toundra - Hex (Inside Out Music)
Shadow of Intent - Elegy Bandcamp
Fit For an Autopsy - Oh What the Future Holds (Nuclear Blast) Bandcamp
Pyramid - Validity
Nick Haas - Variants Bandcamp
Lee McKinney - In The Light of Knowledge (Sumerian Records)
Strange Dream - Manifest Content
Mizmor - Wit's End (Gilead Media) Bandcamp
Ecryptus - Kyr'am Beskar (SBDC Records) Bandcamp
Worm Shepherd - Ritual Hymns (Unique Leader Records)
Eradication of the Unworthy Infants - Change is Good (Wormholedeath Records)
King Bastard - It Came From The Void Bandcamp
Underoath - Voyeurist (Fearless Records)
Deinos - Deinos EP Bandcamp
Pirate - Left of Mind (Re-issue) (Bird's Robe Collective)