The last Releases of the Week of 2021!
Releases of the Week 49/2021 with Dessiderium, Atlas, Kosmodome, Grace Hayhurst, Consider the Source, Omnerod & Titan Agronomist Project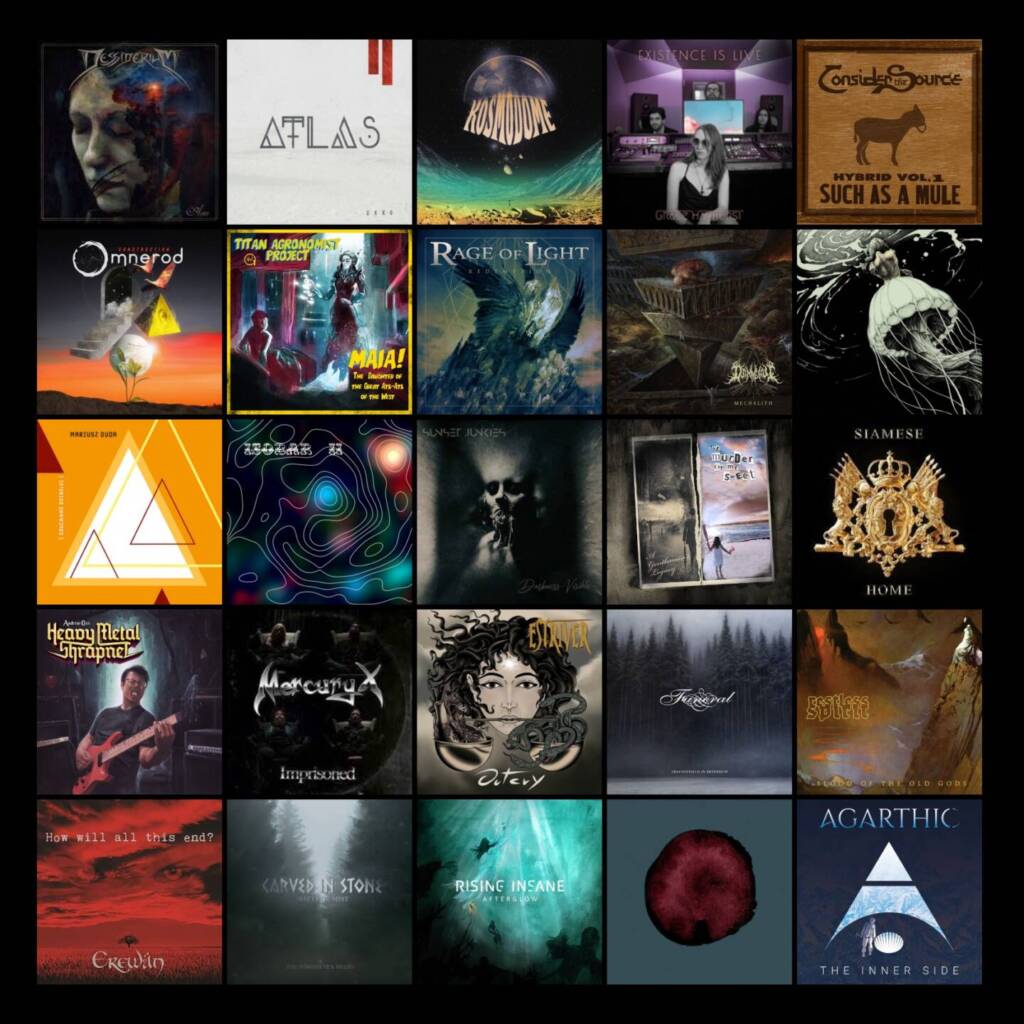 For our last instalment of the Releases of the Week articles and playlists for 2021, we have once again 7 very diverse Highlights ranging from progressive/technical death metal (Dessiderium), atmospheric "Northcore" with Atlas from Finland, relaxed psychedelic grooves from Norway with Kosmodome, instrumental post something with Grace Hayhurst from the UK (The Progspace Online Festival Pt. 1), Progressive world music with Consider the Source from New York, Belgian prog metal with Omnerod (incl. The Progspace Online Festival Pt. 2) and finally some instrumental sci-fi prog with the Titan Agronomist Project! Don't forget to check out the other 25 releases either in our Spotify Playlist or through the Bandcamp links in the list below. Happy Holidays and see you in 2021!
More releases for 10 December, 2021
Rage of Light - Redemption (Dec. 08) Bandcamp Read Our Review
Djinn- Ghül - Mechalith EP (Dec. 09, Vicious Instinct Records) Bandcamp
Novere - Soulless Elements (Dec. 09) Bandcamp
Mariusz Duda - Interior Drawings (Dec. 10) Bandcamp
Isobar - II (Dec. 10) Bandcamp
Sunset Junkies - Darkness Visible (Dec. 10)
The Murder of My Sweet - A Gentleman's Legacy (Dec. 10, Frontiers Music)
Siamese - Home (Dec. 10, Long Branch Records/SPV) Bandcamp
Heavy Metal Shrapnel - Andrew Lee's Heavy Metal Shrapnel (Dec. 10, Nameless Grave Records) Bandcamp
Mercury X - Imprisoned (Dec. 10, Frontiers Music)
Estriver - Outcry (Dec. 10, Wormholedeath Records)
Funeral - Praesentialis in Aeternum (Dec. 10, Season of Mist) Bandcamp
Restless Spirit - Blood of the Old Gods (Dec. 10, Lifesblood Records) Bandcamp
Erewän - How Will All This End? (Dec. 10) Bandcamp
Carved In Stone - Wafts of Mist & The Forgotten Belief (Dec. 10, Schwarzdorn Productions)
Rising Insane - Afterglow (Dec. 10, Long Branch Records/SPV) Bandcamp
No God Only Teeth - Placenta (Dec. 10, Narshardaa Records) Bandcamp
Agarthic - The Inner Side (Dec. 10, Frontiers Music)
Karnivool - Decade of Sound Awake (Live) (Dec. 10)
Pink Floyd - Live in Rome Palaeur 20 June 1971 (Dec. 10)
Mother - Interlude I/I (Consouling Sounds) (Dec. 12) Bandcamp
Moonworshipper - 13 Fullmoon Nights of Doubt (Dec. 13) Bandcamp
Mind Furniture - Illustrated Map of the Heart (Dec. 17) Bandcamp
Slow Burning Rage - Slow Burning Rage (Dec. 17) Bandcamp
Hadal Maw - Oblique Order (Blighttown Records) (Dec. 31) Bandcamp