38 new releases finish off January 2022 in style!
Releases of the Week 4/2022 with The Dali Thundering Concept, Big Big Train, Josh Trinnaman (Luo), Ross Jennings, Dawn of Solace, Steve Vai & Catbamboo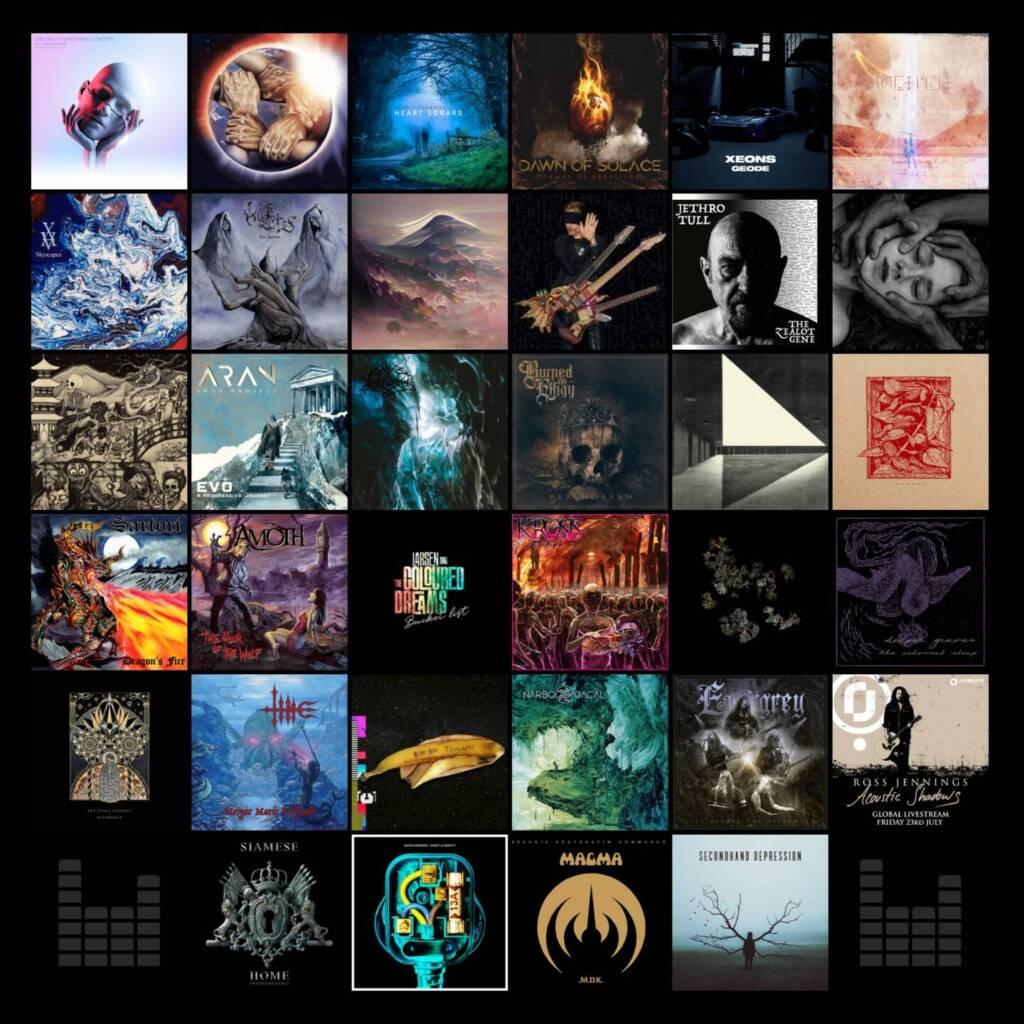 That's the first month of the year done and dusted, and this is January' 2022s last chance to shine. We found so many releases again that we couldn't help ourselves but pick 6, no 7! highlights that couldn't be more diverse. Eclectic conceptual Deathcore with France's The Dali Thundering Concept, some british Prog Rock from the international ensemble that is Big Big Train,  progtronics with Josh Trinnaman from Luo, Haken's Ross Jennings acoustic and solo, some finnish melancholy with Dawn of Solace and finally a new album by guitar maestro Steve Vai himself! What are you waiting for? There's a lot to discover! (And don't miss out on the last minute math rock addition Catbamboo!
More releases for 28 January, 2022
Xeons - Geode EP (Jan. 22)
Macondø - II (Jan. 23) Bandcamp
Xavier Boscher - Skyscapes (Jan. 24) Bandcamp
Vile Rites - The Ageless (Jan. 25) Bandcamp
Skwar - Wandering Haze (Jan. 25) Bandcamp
Jethro Tull - The Zealot Gene (Inside Out Music)
Celeste - Assasine(s) (Nuclear Blast) Bandcamp
Earthless - Night Parade of One Hundred Demons (Nuclear Blast)
Aran Prog Project - EVO - A Progressive Journey Bandcamp
Krallice - Crystalline Exhaustion Bandcamp
Burned in Effigy - Rex Mortem Bandcamp
Grivo - Omit Bandcamp
Sartori - Dragon's Fire (Rockshots Records)
Amoth - The Hour of the Wolf (Rockshots Records)
Kisaragi Station - First Flame
Larsen and the Coloured Dreams - The Bucket List (Apollon Records)
Krosis - E.V.I.L.
deathcrash - Return (untitled (recs)) Bandcamp
Deeper Graves - The Colossal Sleep (Disorder Recordings) Bandcamp
Det eviga leendet - Reverence (Dissociative Visions) Bandcamp
Tine - Mergae Maris Profundi Bandcamp
Mur - Cut The Rivers Vein Bandcamp
Alvablot - Harmonic Dystopia Bandcamp
Bye Bye Tsunami - Bye Bye Tsunami (Nefarious Industries) Bandcamp
Blastanus - Beyond Bandcamp
Narbo Dacal - Narbo Dacal EP (Piranha Music) Bandcamp
Evergrey - Before the Aftermath - Live in Gothenburg (AFM Records)
Siamese - Home - Instrumentals (Long Branch Records) Bandcamp
Gavin Harrison - Sanity & Gravity (25th Anniversary Edition) Bandcamp
Magma - MDMK (Vinyl Re-Release)
Secondhand Depression - Secondhand Depression EP (Re-release)