Blind Ego – Liquid Live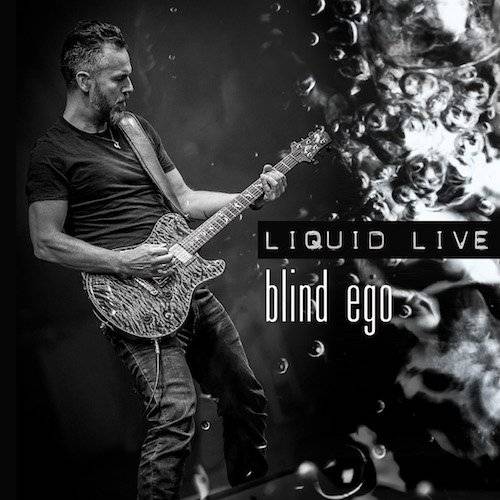 Kalle Wallner is not an unknown name in the German prog scene. Founding member (and "W") of RPWL, the guitar virtuoso out of Freising, a small town near Munich, also released three solo albums under the moniker Blind Ego. Now while retaining a core Blind Ego sound, all of these three albums have their distinctive own flavor, as the first one ("Mirror", 2007) was clearly influenced by (guitar driven) classic british neo prog, no wonder with guest contributions from John Mitchell (Arena, It Bites, Lonely Robot), John Jowitt (Arena, IQ) and Paul Wrightson (Arena). "Numb" (2009) already explored some heavier territories, while their newest strike "Liquid" (2016) showed a simpler heavy rock approach, which worked exceptionally well due to the incredibly strong songwriting prowess displayed throughout. And especially the touring line-up brought those 'hits' to live.
Perfect conditions for a live album then, which came out just about one year after the release of "Liquid" in the form of "Liquid Live". Recorded at the prestigious Night of the Prog Festival, it captured a very special concert for the band, as the crowd reaction was so enthusiastic, that everybody endured the heavy rain passing over the beautiful Loreley Amphitheatre mid-set. All in all, it was simply a great party, a big celebration of good music despite unfavorable weather circumstances. Yours truly was lucky enough to witness it first hand, so let me ensure you: the cheerful atmosphere was nothing short of contagious.
Now the question is of course: was it possible to capture that atmosphere into an audio track only? And there can only be one answer: absolutely yes! Of course, it is impossible to recreate the magic of the moment in any way, but this is as good as it gets. If you have been there yourself, you can reminisce in the beautiful memories, if not, "Liquid Live" will give you a very good idea as to what you can expect at a Blind Ego live concert. The CD is accompanied by a live dvd with the video recording of the Hamburg show earlier in 2017 at that, which can be seen on Youtube as well in it's entirety. Speaking of a fan friendly move here!
But let us go back to the audio part from Night of the Prog though, that is what this review should be all about after all. Be it the opening smasher 'A Place in the Sun', the heavy grooving 'Not Going Away', the relentlessly pounding chorus of 'Never Escape the Storm' (including the aforementioned rain shower) or the straight forward 'Hear My Voice Out There' with a celebrated 'old school guitar battle' between Wallner and his equally excellent young sidekick Julian Kellner (Dante): they simply rock! Long-standing (or rather sitting) Blind Ego drummer Michael Christoph and Sylvan-Bassbrother Sebastian Harnack providing the solid backbone and always keeping the groove. The guitar tandem complementing each other perfectly. And on top of all singer and entertainer Scott Balaban with his powerful, dark timbre, acting like he is singing with the band since forever even though he didn't sing on any of the studio albums. Blind Ego in this current (touring) line-up is unstoppable and I really hope they will take that momentum into the studio.
Rounding out the setlist with older stuff like the pensive 'Don't Ask Me Why' (from "Mirror") or the emotionally soaked slow growers 'Death' (from "Numb") and 'Speak the Truth', leading up to the grand finale with the video single 'Blackened' and closing with the idiomatic 'Tears and Laughter', "Liquid Live" brings nothing but pure joy of music into your living rooms and shows Blind Ego at the top of their game. The only minor flaw I can find in "Liquid Live" is that they didn't include a version of 'Blackened' from the tour where the DVD was shot, because Arno Menses from their touring partners Subsignal added his vocal magic to Scott's, as he was the one singing the studio version. Knowing the studio version with Arno on vocals, the live version with Scott and this third very special one, I can't help but conclude that the duet version is my favorite, delivering double the magic. Anyway, that is a classic case of you can't have it all, I guess. What you can have though is more Blind Ego live dates. So don't miss out on the second part of the Liquid Tour if you are in Germany, the Netherlands or France, starting on January 28th in Kalle's hometown of Freising.
Tracklist:
A Place in the Sun
Obsession
Not Going Away
Don't Ask Me Why
Never Escape the Storm
Death
Hear My Voice Out There
Speak the Truth
Blackened
Tears and Laughter