Join us for The Progspace Online Festival!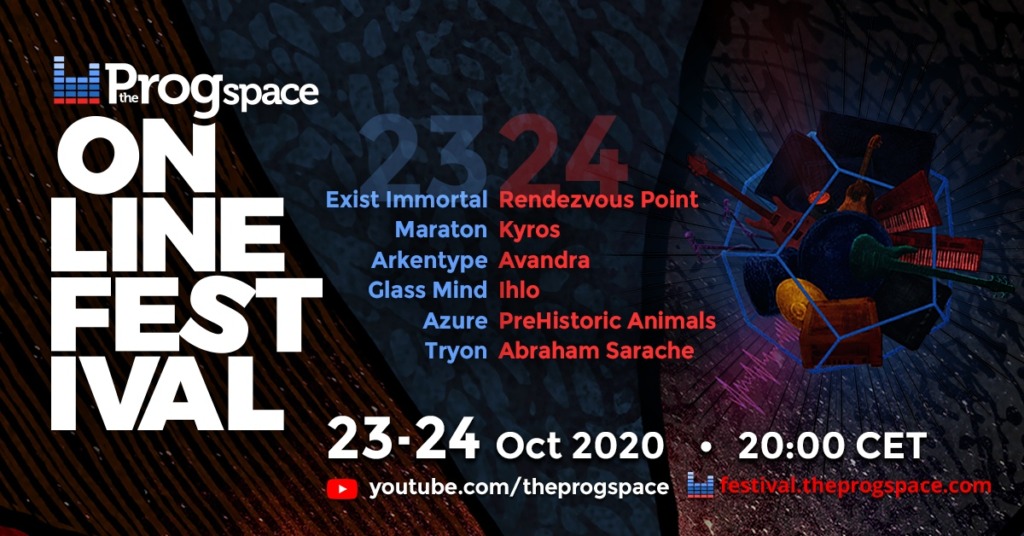 We are delighted to invite you all to attend the first edition of the Progspace Online Festival, an online, streamed music event, that focuses on progressive metal and rock!  
2020 has been a challenging year for musicians and everyone working in the music industry, as well as for fans of music, who usually would usually spend their time attending gigs and festivals.
In a small attempt to create alternatives for music lovers, and to help out musicians and crew, we proudly present our first Online Festival!
Two days of the best Progressive music brought to you by 12 bands who have prepared their best repertoire from their studios, homes and even recorded a stage show, all for free! Both festival days will feature 6 bands drawn from all parts of the world, and covering a variety of progressive subgenres:
Friday, October 23rd
Exist Immortal
Maraton
Arkentype
Glass Mind
Azure
Tryon
Saturday, October 24th
Rendezvous Point
Kyros
Avandra
Ihlo
PreHistoric Animals
Abraham Sarache
>>> To learn more about these bands and artists, please visit our festival page <<<
Please join us on our YouTube Channel, grab your drinks and snacks and enjoy the music with us from the comfort of your home!
During the live-streams, we will provide viewers with links where they can donate directly to the bands playing, or buy their merchandise and music.
The Progspace will also have festival merchandise available, where the proceeds will be donated to Crew Nation.
The Progspace Online Festival is a self-funded, non-profit venture, where the proceeds will be donated to Crew Nation, a charity organization that provides aid to the many music-crew workers affected by the current pandemic.