Kin Beneath Chorus – Winner of Euroblast Festival Contest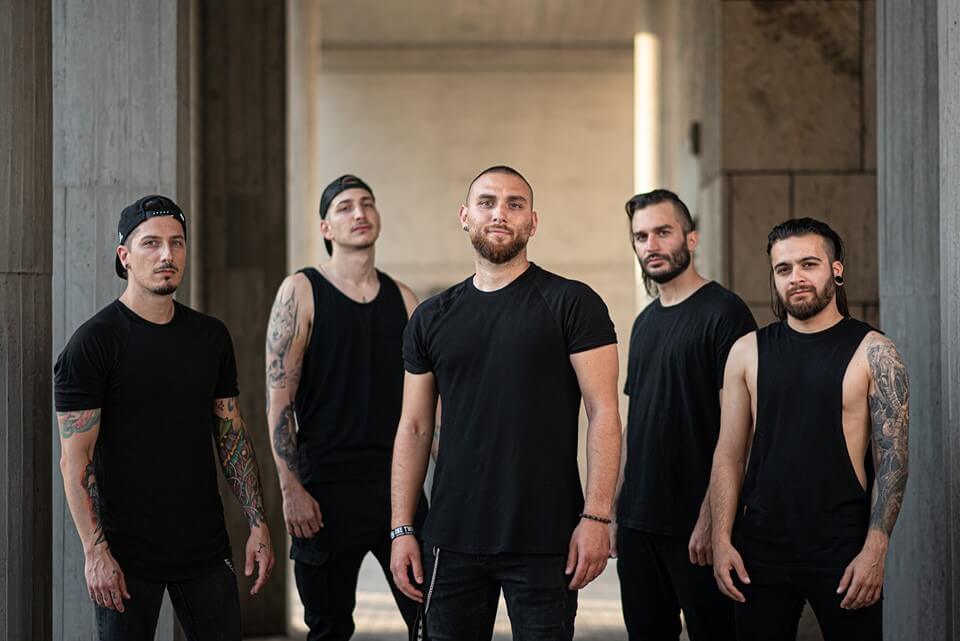 About a month ago, Euroblast Festival in Cologne, Germany launched a community chosen slot contest on Facebook. The festival announced the contest a few days prior to the vote and received more than 130 bands' applications. The price? Open Euroblast Festival on Friday 27th of September! 
After more than 15,000 votes cast by fans and rallied by all the bands in the contest, the winner was Greek band Kin Beneath Chorus.
Now, I'll be honest with you and tell you straight up that I had never heard of them before but damn they have quite the following in Greece, so much so that they were way above the rest of the bands in the vote. So, we thought we would interview the band to know a bit more about them and how they feel about playing Euroblast Festival 2019.
Hi there, and congratulations on recently winning the contest to open this years Euroblast festival!
Hello there! Thank you for giving bands like us an opportunity like this one!
Even though Kin Beneath Chorus has been around since 2010, there might be people who are unfamiliar with you. Could you give us a little presentation of the band?
Yeah… It has been almost 10 years… We are a 5-piece band from, the almost always sunny, Thessaloniki, Greece. We have 2 albums out and we are getting ready to record our 3rd one. We play a genre that we call "modern metal". We LOVE what we do and we do it with passion.
You describe your music as a mix of death metal and hardcore. What inspirations go into the creation of your sound, other bands/artist or otherwise? Is there a specific atmosphere or feeling that you try to create in your sound?
All 5 of us are metalheads to the bone. We grew up listening all the classics (Iron Maiden, Metallica, Slayer, etc) and we still do. But we are getting inspired by lot of genres. From death metal to post rock, but mostly modern sound music. We can say that there is an atmosphere, a feeling that we want to create. In Greece we call it "Χαρμολύπη". It is the feel of joy and sadness at the same time. That feeling that makes you stand on your ground in every bad situation.
The name of the band is interesting, why did you choose it, and is it related to the art and philosophy of the band as a whole?
We have to admit that it is a strange name. A "Kin" or often called "Ah Kin" is a high rank priest/prophet, according to the Mayan history. Kin's view of the human race was that they thought, acted and behaved as a shapeless mass. Due to lack of judgement they spoke as if they were a "Chorus" repeating everything they were told.
Why did you decide to join the Euroblast contest, and can you say a little bit about how you promoted yourself in order to spread the news, involve your fanbase in the voting process, and generally promotion across social medias.
There was not much to think about when we read about the community slot. Euroblast is a well known and respected festival. It is a big honor for us to be part of this big family.
About the promotion. Our first step was to post about it on our social medias and tell our closest friends to vote for us. Then a HUGE wave of support came from everyone that knows our band. But it really was crazy…We could see tons of people posting about it, it was out of control! It felt like a hug from our scene, and we REALLY appreciate it! And when the voting ended everyone was rooting with us!
Were you familiar with the festival before joining the contest? Have you ever visited, and what is your impression of the Euroblast festival?
Of course we were familiar! Every year we are visiting some European Festivals and Euroblast was actually in the plan for next year. So, it is a win-win for us, hahaha. We have never been in Euroblast before and we are really looking forward to it!
Will you be staying at the festival for the entire weekend, and if so, is there any other bands on the bill that you are particularly looking forward to seeing on stage?
Yep, that's the plan! To play our show and then get instantly in the "festival vacation" mode, hahaha. It will be hard to choose some band in particular…But if we had to choose it would be Twelve Foot Ninja, Between the Buried & Me, Betraying the Martyrs, Vola, Haarp Machine, Ghost Iris, Shokran and if we continue we will probably end up writting the whole lineup…
The band has been around for almost ten years, and have released two albums so far. There seems to be a progression from a more straight-forward and extreme, to a more nuanced and atmospheric style in your music. Can you describe your evolution from the debut "Futuristic Composed" from 2013, to the more recent full-length release "Invia" that came out in 2017?
"Futuristic Composed" is, let's just say, raw… It's our first album, we were young and we were (kinda) experimenting with our sound, there are even songs that we had written when we were still at school. You can hear a lot of death metal and metalcore in that album.
"Invia" is an album that we recorded under very stressful and hard circumstances. But the outcome was pretty close to what we had in mind. Melodies, blastbeats, atmospheres and for the first time, clean vocals in some tracks. (mostly fry screams).
There is a difference between these 2 albums, but the core stays the same. And there will be a difference in our 3rd album as well. We feel that us we grow up, we are changing, and our music changes with us.
Continuing that thread, you recently released your newest single 'The Mountain' with an accompanying video. How was the reception to this new song? Are you currently working on more new material, and if so how does that compare to your previous releases? Can we expect an album soon?
'The Mountain' is the beginning of a new era for us. We feel more ready than ever to record the rest of our album. We are taking a different approach this time. Less blastbeats, not so many complex/technical riffage, another approach on our songs structures. We believe that there will be a difference with "Invia", and we can tell you that we are really proud of how our new album is formed right now. When to expect it? In 2020.
KIN BENEATH CHORUS – The Mountain (Official Music Video)  (Click here if the video doesn't play)
You have played with several bigger bands so far, and seem to have a lot of experience on stage. What would you say is the highlight of Kin Beneath Chorus's career so far?
Yes, we have played with a lot a bands like Thy art is Murder, Unearth, Caliban, Stick to Your Guns, SepticFlesh and lot others. But we could easily say that our highlight is our live show in Wacken Open Air. It is really crazy when you perform in front thousands of people… But to be honest, we prefer smaller stages, where you can reach the audience. You can feel the vibe better, you can see the reactions of people's faces. It's different.
'The Mountain' is the beginning of a new era for us. We feel more ready than ever to record the rest of our album.
If somebody reading this were to become interested in checking you out, is there a song in particular you would suggest to get the full "Kin Beneath Chorus" experience, and if so why?
You, hey YOU. If you want to check us out, go listen to 'The Mountain' at first, it's our latest single, it even has an astronaut in the video clip, man! And if you want something faster and darker, listen to 'Higher Than Man'. It is fast I tell you.
Thank you for answering, finally a little bonus question: is there any message you'd like to convey to The Progspace readers, and the Euroblast family, and what can the Euroblast crowd expect from you, when you hit the stage on the first day of the festival?
Thank you all for reading this interview. We hope that you find it interesting and feel free to check out our music! About the festival, expect a lot of passion, headbanging, We are opening the fest and we are planning to do it in the best way possible.
If you want to see Kin Beneath Chorus perform live at Euroblast Festival, you can purchase tickets and accommodation bundles via this link: https://www.euroblast.net/en/tickets. We, at The Progspace, will be at Euroblast Festival 2019 to tell you all about it!
Show Kin Beneath Chorus some love :