La Dame Qui Piquait Les Cœurs – Livre 1 – Les Caprices du Cupidon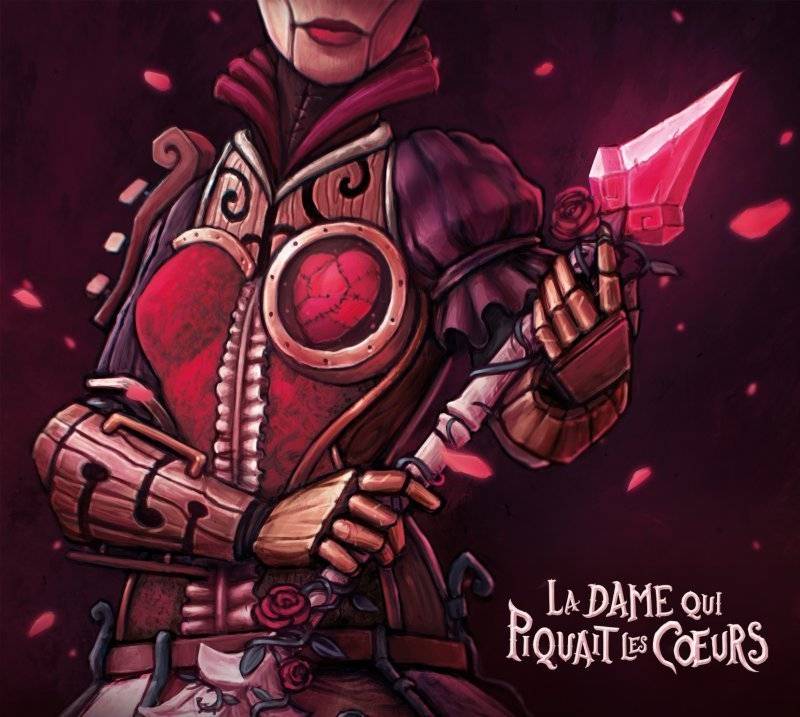 Some reviews seem to write themselves, as soon as I listen to the album, the words just start flowing out of my brain and all I have to do is write them down. Others seem to not want to being written at all, even though I love the album right away, from the first spin. Be it a genuine lack of  words, a scarcity of comparison points, I don't know. One thing I know though is that this review belongs to the latter category.
So what is La Dame qui piquait les cœurs? Some of you might know french singer and composer Nehl Aëlin from her work with the obscure french progressive/avantgarde/extreme metal band Akphaezya, a few might have even checked out her superb solo albums. This is totally different to both though. But knowing the last two certainly will help to know where she is coming from. Her second solo album "Ghost of a Child" was a classic concept tale set to a unique, chanson-inspired indie pop, while "Le Monde Saha" explored different concepts in style, lyrical content and even language. With "La Dame qui piquait les cœurs", Nehl goes fully soundtrack, oscillating between chansonesque and epic orchestrations à la fellow frenchman Woodkid, so always decidedly french, but that is a good thing in my book.
Could you count this album to one of the many progressive subgenres? Not really, it has as much to do with progressive metal as a Symphony by Devin Townsend, but I wouldn't hesitate to review that one here as well (provided the canadian maestro is gonna finish and release it at some point), so there you go. Music of exceptional quality doesn't ask for genres however and will always have a platform here at the Progspace. But enough of the introductory rambling, let's get to the music already.
Julien Stella's clarinet dominates the main theme of the Overture ('Au cœur ouvert': with open heart), joined by the strings of Flora Chevalier (Cello) and Chloé Chameron (violin and viola). And the first 'real' song, 'Mon P'tit Bonheur – L'enfant aux yeus de printemps' ('My little pleasure' or 'at random' – 'The child with eyes of spring') already has the strongest chansonnesque vibe, with some delicate pizzicato strings, the clarinet again and some accordeon. But it doesn't keep itself at that restriction, as the immense symphonic climax breaks free of the rather restrictive french songwriter restraints. 'Fee Bleue – Le cœur de bois ('Blue Fairy – The wooden heart') sees the introduction of these epic Woodkid-style percussions but also contains some delicate acoustic guitars from Stéphane Bèguier.
The intensity of the music in 'Au Menu – Le sucre et l'acide' ('On the menu – Sugar and Acid') ebbs and flows with the intensity of the content of the spoken word lyrics and I would assume the emotion transports also if you don't understand french, as music is a universal language after all. Lyrically, I guess, you could write whole books about the topics and thoughts brought up by Madame Aëlin, but that has to wait for another time, I will focus solely on the music for now. And that is fairly epic in sound and songwriting, to an extent that it almost beggars belief that all this was written, played, sung, produced and programmed by Nehl Aëlin herself with only the help of those four aforementioned musicians and not a whole symphony orchestra.
Others write whole concept albums about the 'Existence' itself, here it is merely a short instrumental interlude, albeit an epic one, I have to admit. In sound obviously, not in length. The sounds of glockenspiel and bassoon start of the wonderful arc of 'L'Ephemère – L'insecte amoureux de l'Étoile' ('Transience – The insect in love with the star'), while the second part is dominated by the brass section and percussions. Lyrical strings and flute transitions into a classic piano quartet set-up in 'A Demi Mot – Le pierrot-sans-larme et l'Enfant-son-mot' ('Without having to spell things out – The clown-without-tears and the child-without-words'), but the climax is huge before it drops back again to those wonderful cello sounds. Pizzicato strings, glockenspiel and dulcimer give 'Extase – Les squelettes au placard' ('Ecstasy – The skeletons in the closet') a playful character, the progression of the vocal melody gives a mournful twist though before the next instrumental 'Délivrance' journeys through piano/cello duet and piano/oboe unison constellations towards an insanely epic finale with french horns and Woodkid style handclaps and percussions. Did I mention the epicness already? Yes? Well I'm gonna say it over and over I'm afraid: this album is the definition of it, so you'll see this word popping up some more times in this review. 'Saigneur – L'aveugle-né' ('Bleeder – Born blind') is quite progressive in its juxtaposition of volumes and feels, while 'Elégie pour Violoncelles et Cors' ('Elegy for cellos and french horns') reduces the music to its simplistic core.
'Les Amants d'Istanbul – La passion et la raison' ('The Lovers of Istanbul – Passion and reason') sees the return of Julien Stella's clarinet in a prominent role and the instrumentation remains pretty sparse compared to the full blown epicness of the rest of the album. A brilliant example of how story-telling can affect the songwriting. The bassoon driven 'Scherzo: Les Caprices du Cupidon' ('The Whims of Cupid') explores more circus weirdness, and draws the album ever nearer towards its inevitable end. Another cautious beginning builds up to the return of the full blown epicness in 'Quand Tu Danses – La petite poupée mécanique' ('When you're dancing – The little mechanical doll'), before the 'Final: Quand La Bouche Reste Close' ('When the mouth remains closed') revisits the two central musical themes one last time. And even manages to introduce the sounds of a harpsichord at the very last minute.
At the end of the day, I just can't help myself but praying to the gods of prog and movies that Mr. Jean-Pierre Jeunet (Amélie Poulain, Delicatessen, The City of the Lost Children, Mics-Macs etc…) will call Nehl Aëlin to make a movie out of "La Dame qui piquait les cœurs". I mean he already loved "Ghost of a Child" so much, that he produced "Le Monde Saha", so the odds are not completely off. Still its highly unlikely, but one can always dream, right? (Especially with music like this…) Oh and there's still the prospect of a second part, since the title of the album is actually "Livre 1 – Les Caprices du Cupidon" ("Book 1 – The Whims of Cupid"). Do yourself a favor and treat yourself with the wonderful and beguiling music of the Lady who picks the hearts if you like movie soundtracks, classical music and french chansons. You won't regret it.
Tracklist:
Ouverture: A Cœur Ouvert
Mon P'tit Bonheur – L'enfant aux yeus de printemps
Fee Bleue – Le cœur de bois
Au Menu – Le sucre et l'acide
Existence
L'Ephemère – L'insecte amoureux de l'Étoile
À Demi Mot – Le pierrot-sans-larme et l'Enfant-son-mot
Extase – Les squelettes au placard
Délivrance
Saigneur – L'aveugle-né
Elégie pour Violoncelles et Cors
Les Amants d'Istanbul – La passion et la raison
Scherzo: Les Caprices de Cupidon
Quand tu danses – La petite poupée mécanique
Final: Quand La Bouche Reste Close