Leprous, Agent Fresco and 22 – Live in Eindhoven. September 20, 2018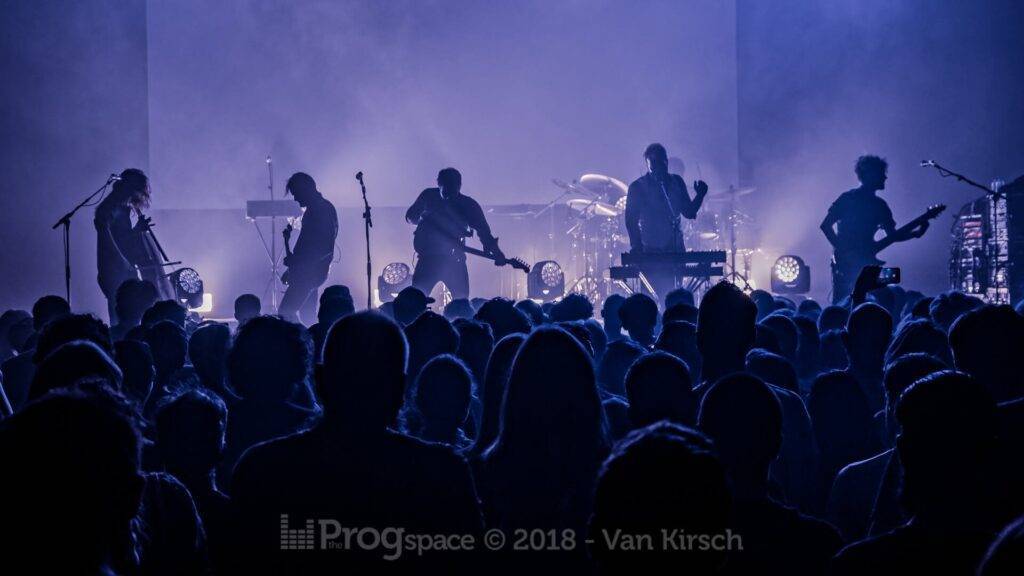 The prospect of witnessing again the magic that means Leprous and Agent Fresco live, joined by the unknown (for me) quartet 22, was an easy decision for me, even if it meant quickly packing my stuff in a backpack, head to a train station, pray to the railway gods for the german trains to be on time and get into a 6hr journey to the Netherlands. It almost felt like leaving everything behind just to live this energetic experience again. I love this live package so much, as I knew we, the lucky ones there, were going to be gifted with such a massive energy and love for well made music flowing back and forth from the stage to the audience. And so it was!
First thing I noticed, when arriving at opening time at the prestigious Effenaar in Eindhoven, was that it was pretty empty outside, it left me wondering if I had the wrong time, or if people were going to see only the main act, which is a shameful behaviour, sadly seen too often, in nice diverse band packages as it was the one that night. Ladies and Gents: please don't miss the opening bands, they're there because they're good, they deserve a spot and they set the mood for the night. Besides you never know if that band is going to be your next favorite one! All big bands started as support acts! Support opening acts!
That said, I went in after a rushed meal, and 22 was just starting to blast the place to the ground, but glad enough I noticed the main hall was filling more and more while I took my camera out and headed towards the front to catch some pictures. I had not heard anything of the band before, expressly so, as I wanted to be surprised after heard comments they were really good. And so they were! I was blown away in a blast of well made straightforward rock, with very cleverly intertwined elements of electronic music and prog. I like when a band surprises me in a positive way and shows creativity, energy and gives themselves 100% to an audience that was clearly studying them and didn't know how to react at first.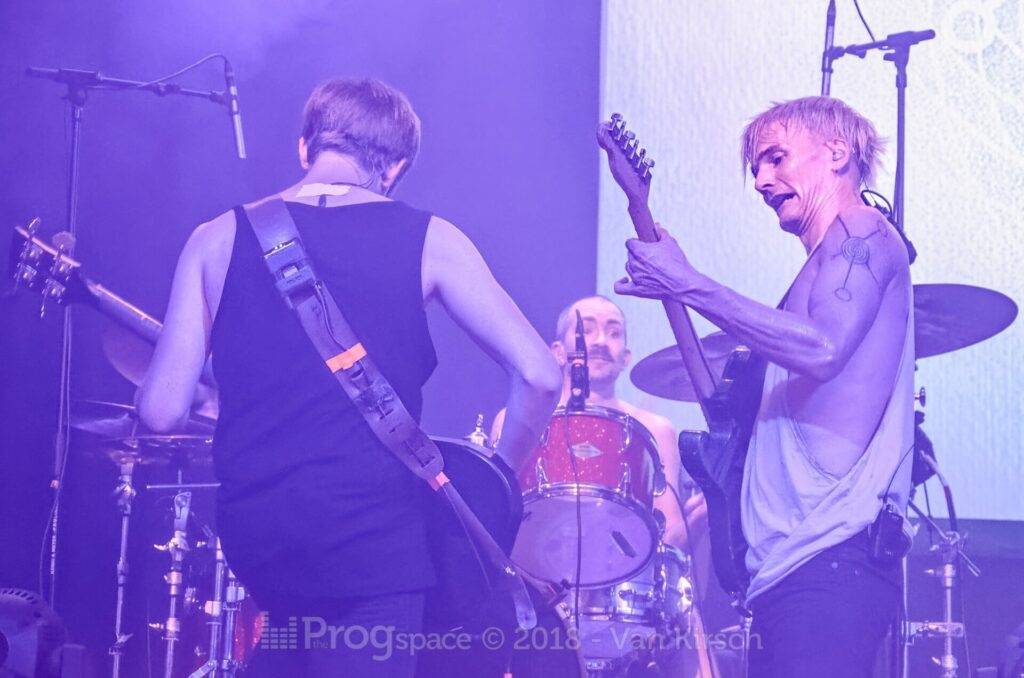 Towards the end of a stream of punches after punches of an energetic performance, awesome lights and direct in your face rock, the norwegians gained a lot of new fans. I must highlight the fact that their drummer Andreas Kjøl Berg is also drummer for Avant-Garde proggers Atrox. Magnus Børmark on the guitars and backing vocals was a tornado on stage. They also had Ruben Aksnes from Dreamarcher joining the band on bass duties for this tour, as well as Fredrik Bergersen Klemp from Maraton, who toured in vocal duties and just joined them as their brand new vocalist. The quartet left a very good impression on a lot of people. As for me, I surely will keep track on them.
Then it was time again to get swept into a turmoil of emotions and musical perfection when Agent Fresco jumped into scene to deliver the best show I've seen from them since love at first sight at ProgPower Europe 2014 and many more afterwards. Though I have to admit that seeing them so many times and with a similar setlist, as they only have 2 albums out, and I know "Destrier" like the palm of my hand, it can get a bit tiring to listen and watch them perform the same songs over and over again. But don't get me wrong, no matter if they play the same song all the time, it is always a superb show. Being very aware of this, the Icelandic 4 gave us 2 new songs (of which one I knew already), being both rollercoaster of emotions and energy as Agent Fresco know how to deliver. And the audience simply loved them! – I for one, can't wait for the new album! …almost ready according to the chat I had with Keli (Hrafnkell Örn Guðjónsson), Arnór Dan Arnarson and Totti (Þórarinn Guðnason) after the show.
Last time I saw the band it was during the tour opening for Katatonia, not the right bill for this eclectic and energetic band, so it was a bliss to see them on their waters, delivering a show near to perfection. Also was a come back to European shows for Vignir Rafn Hilmarsson, as he couldn't join the band on their previous tour. A swift passage through songs from "A Long Time Listening" and "Destrier": 'Eyes of a Cloud Catcher', 'Howls', 'Wait for Me', 'The Autumn Red', 'Bemoan'. But the crowd went to sing as one with 'Dark Water' and 'See Hell'.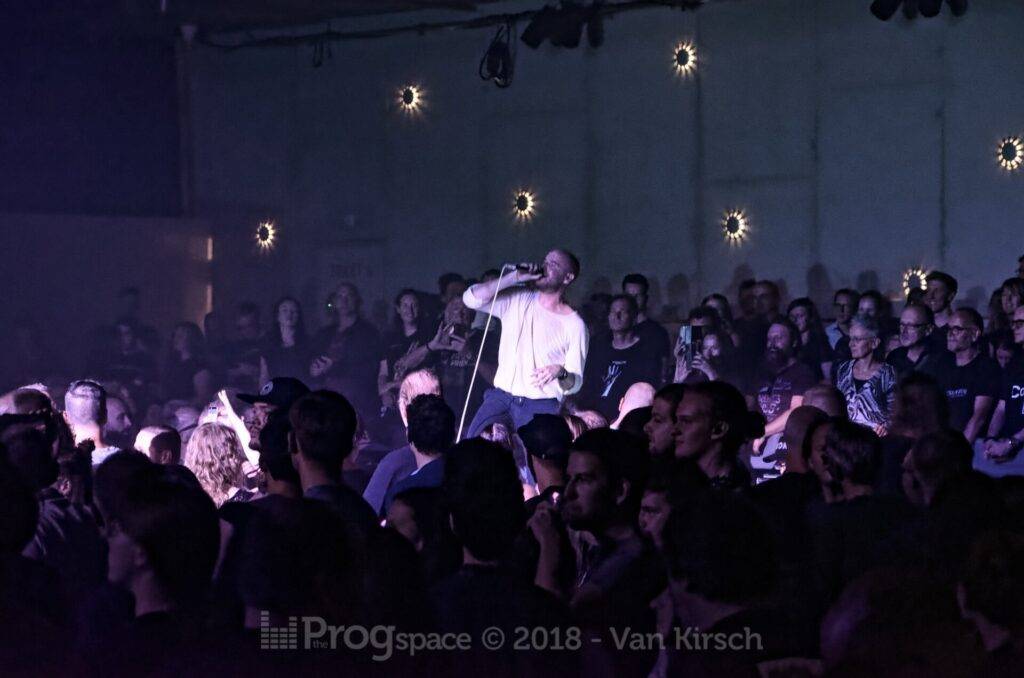 And as icing on the cake, Arnór Dan jumped down the stage, hugged the fans, high-fived others while singing and dancing, crossed the length of the Effenaar main hall, reached the audio console (mastered by Chris Edrich), jumped on it and sang his lungs out from within the crowd while the rest of the band took over the stage in a storm of lights and sounds. An image that will remain in my heart for many years to come!
Then when the Icelandic magic was over, lights went down and the mood changed. Expectation mixed with a somber energy flew around the already very crowded place. Leprous was coming on stage, to present the second leg of their successful "Malina" tour, supporting their very successful, dark and emotive album of the same name.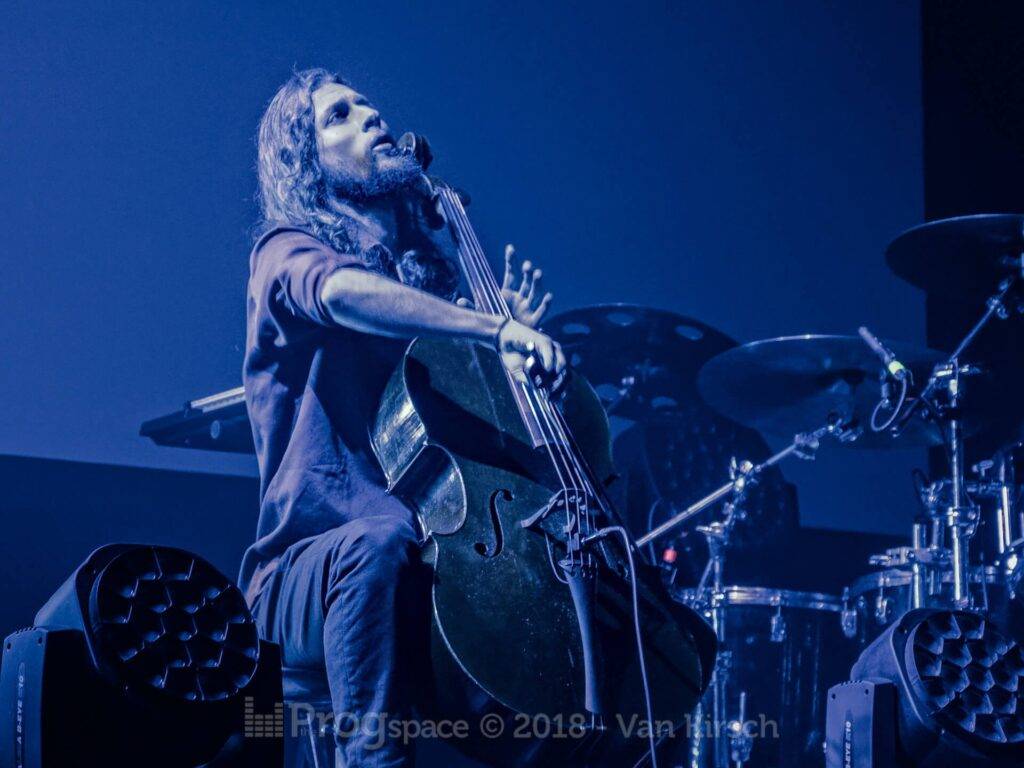 The main hall of the Effenaar is packed by now when Raphael Weinroth-Browne, the Canadian cellist who guested in the album and in the first leg of the world tour, took the stage solo to prepare the audience with his prowess on his string instrument, providing the perfect background for what was to come.
What can be said of a Leprous show that has not been said before? They simply delivered a perfect performance. Aided by the excellent sound and lights of the Effenaar, I'm sure I was at one of the best shows of the year for me, and I've seen a fair share this year. Lights were awesome, sound was perfect, crowd was overly enthusiastic, many friends everywhere and a band of 5 Norwegians and a Canadian guest making the best music they have, and throwing in their everything into a show that I will remember for a long time!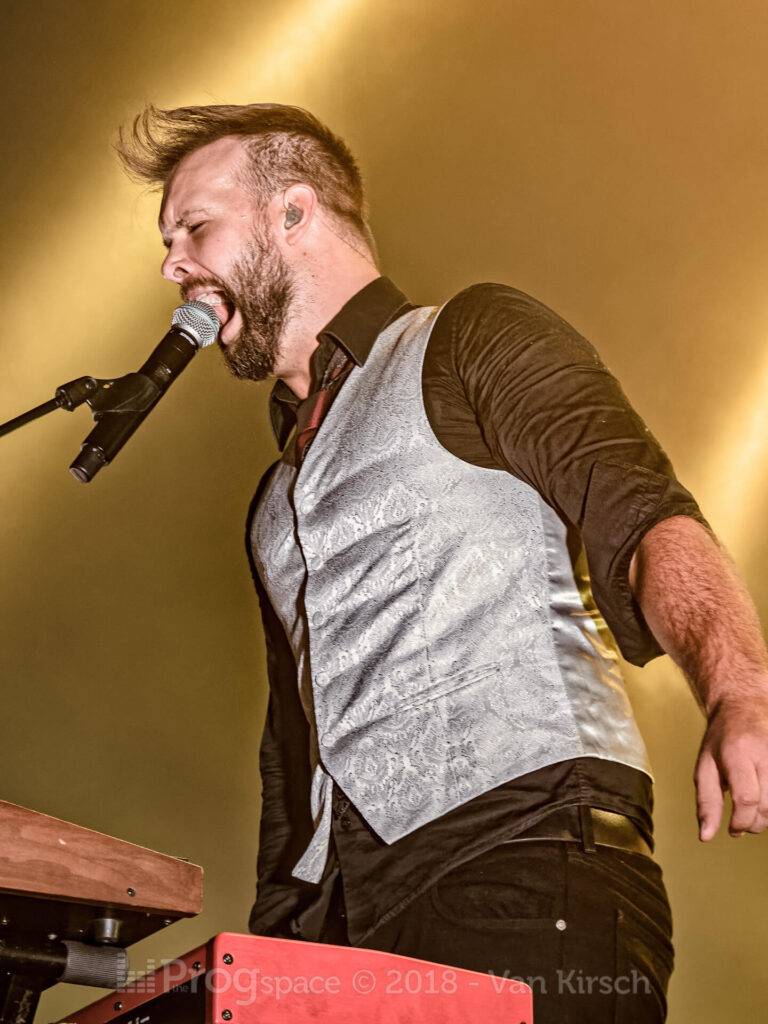 Faithful to their setlist change approach on tours, Leprous gave us a varied set, along with some surprises that were a real candy for many. 'M.B. Indifferentia' quite early on the show gave me a moment to just stare to the stage in pure awe. Opening with 'Boneville' and 'Illuminate' is a must as they're promoting their album. But adding what have become classics like 'Echo', 'Stuck' or 'The Price' to the most recent ones from Malina. The beautiful, and shivering 'The Last Milestone' featuring Einar Solberg solo with Raphael on cello, was a moment of reflection, a moment to hold back tears, or actually let them flow, as many I saw flowing among the crowd. Absolute beauty.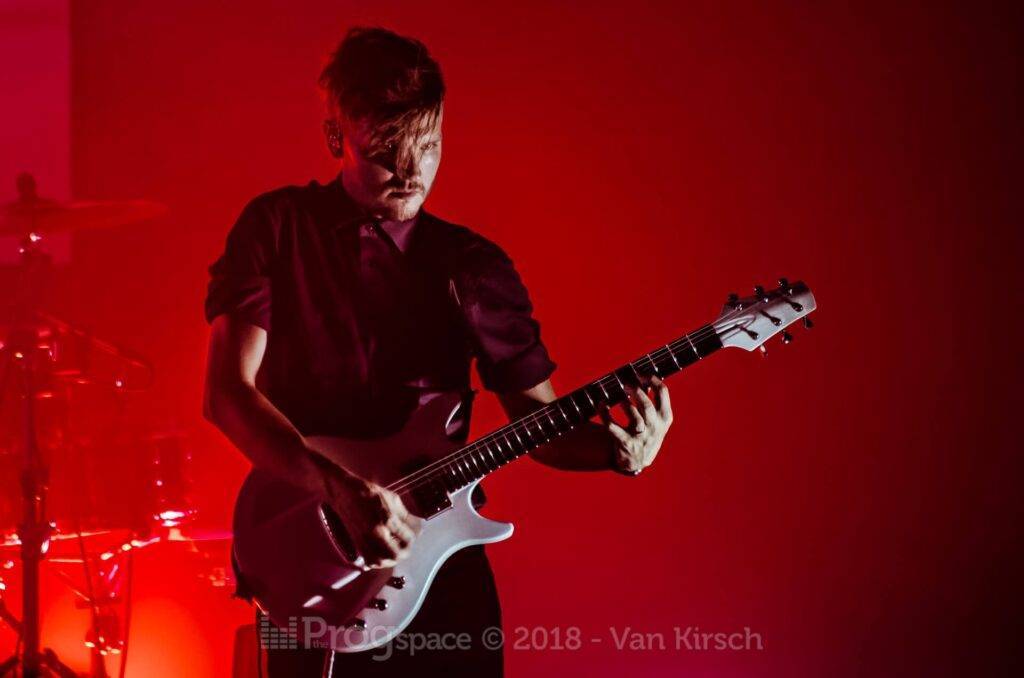 A highlight of the show was the Massive Attack cover 'Angel'. I'm no fan of the British band's music, but the cover Leprous made really got things going on the Effenaar. As encore, Leprous came back with one of my favorite songs from the Norwegians: 'Mirage', followed by 'From the Flame' which got everyone singing and headbanging along and to even top that, they closed with 'Slave'. BUT, as if that was not enough, the extreme reaction of the fans, not wanting to leave and shouting a nonstop "one more!", they came back on stage with 'Third Law'. WOW! At this point I had already left my camera in a corner and was enjoying and headbanging as another fan of the hundreds who enjoyed this gem of a concert!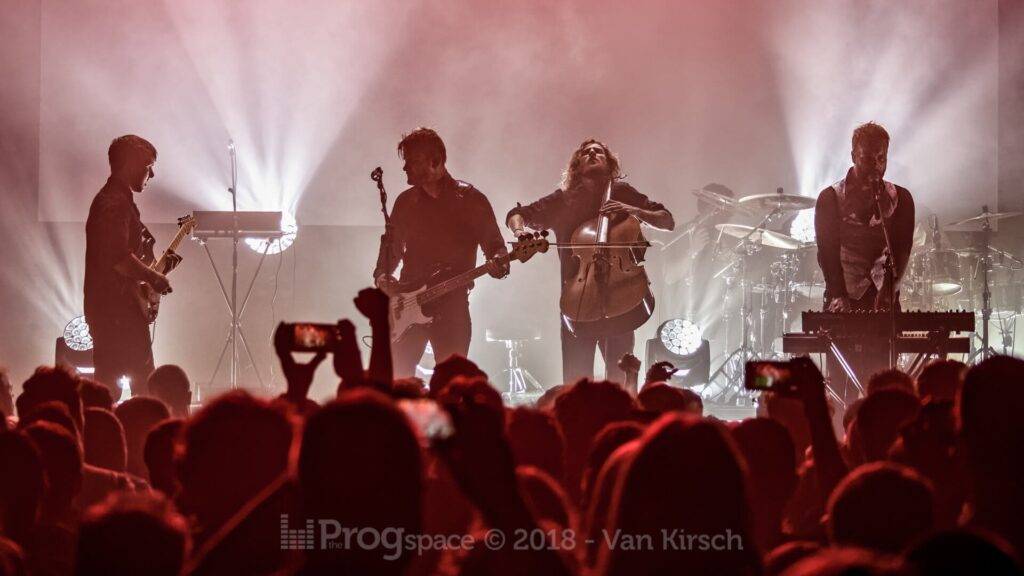 Click here to see the full Photo Gallery of Leprous, Agent Fresco and 22 live in Eindhoven.
Leprous are in top form and they barely stop touring. Right now they're embarking with Haken and Bent Knee on a extensive North American Tour. Don't miss one of the coolest Prog packages of the year!
North American Tour Dates  (with Bent Knee and Haken)
30.10.2018. Pontiac, MI (US) / The Crofoot Ballroom
31.10.2018. Toronto, ON (CA) / The Opera House
01.11.2018. Montreal, QC (CA) / L'Astral
02.11.2018. Philadelphia, PA  (US) / Underground Arts
03.11.2018. New York City, NY  (US) / Highline Ballroom
04.11.2018. Cambridge, MA  (US) / The Sinclair
06.11.2018. Baltimore, MD  (US) / Baltimore Soundstage
07.11.2018. Carrboro, NC  (US) / Cat's Cradle
08.11.2018. Tampa, FL  (US) / The Orpheum
09.11.2018. Fort Lauderdale, FL  (US) / Revolution Live
10.11.2018. Orlando, FL  (US) / The Plaza Live
11.11.2018. Atlanta, GA  (US) / Variety Playhouse
12.11.2018. New Orleans, LA  (US) / Southport Hall
13.11.2018. Dallas, TX  (US) / Gas Monkey Bar & Grill
14.11.2018. Austin, TX  (US) / Barracuda
15.11.2018. Albuquerque, NM  (US) / Launchpad
16.11.2018. Phoenix, AZ  (US) / Crescent Ballroom
17.11.2018. Pomona, CA  (US) / The Glass House
18.11.2018. San Francisco, CA  (US) / August Hall
19.11.2018. Portland, OR  (US) / Hawthorne Theatre
20.11.2018. Seattle, WA  (US) / The Crocodile
21.11.2018. Vancouver, BC  (CA) / The Rickshaw Theatre
23.11.2018. Salt Lake City, UT  (US) / Metro Music Hall
24.11.2018. Denver, CO  (US) / Bluebird Theater/ [BUY TICKETS]
25.11.2018. Lawrence, KS  (US) / The Granada Theater
26.11.2018. St. Louis, MO  (US) / Delmar Hall
27.11.2018. Nashville, TN  (US) / Exit/In
29.11.2018. Pittsburgh, PA  (US) / Rex Theater
3o.11.2018. Cleveland, OH  (US) / Beachland Ballroom
01.12.2018. Chicago, IL  (US) / Bottom Lounge