Orphaned Land – Unsung Prophets and Dead Messiahs
Those blessed, cursed humans. You may call them authors, true leaders, kings with no crown or simple human beings, they lived and died here they are always among us – those unsung prophets and dead messiahs.
Orphaned Land is a band who knows how to reinvent themselves while surprising us not only with new music but also with a solid statement. Being born in the middle of one of the most difficult places to live on Earth, in the center a conflict that extends for centuries, they know their bit about war, survival, tolerance and above all: love and humanity.
Well known for their blend of metal with traditional Middle Eastern music, they developed what is now called "Oriental metal", borrowing elements from Jewish and Arabic music as well as orchestration and frequently adding lyrics in Hebrew, Arabic, Greek and Latin, apart from English. Living in a multicultural region and being witness of so much, they have come to be a flag of peace and union in a place that has been divided for so long. Just to take a glimpse to their fans, it doesn't matter if you're Christian, Jewish, Muslim, Buddhist or even an atheist. Their message is a message of union, tolerance and peace.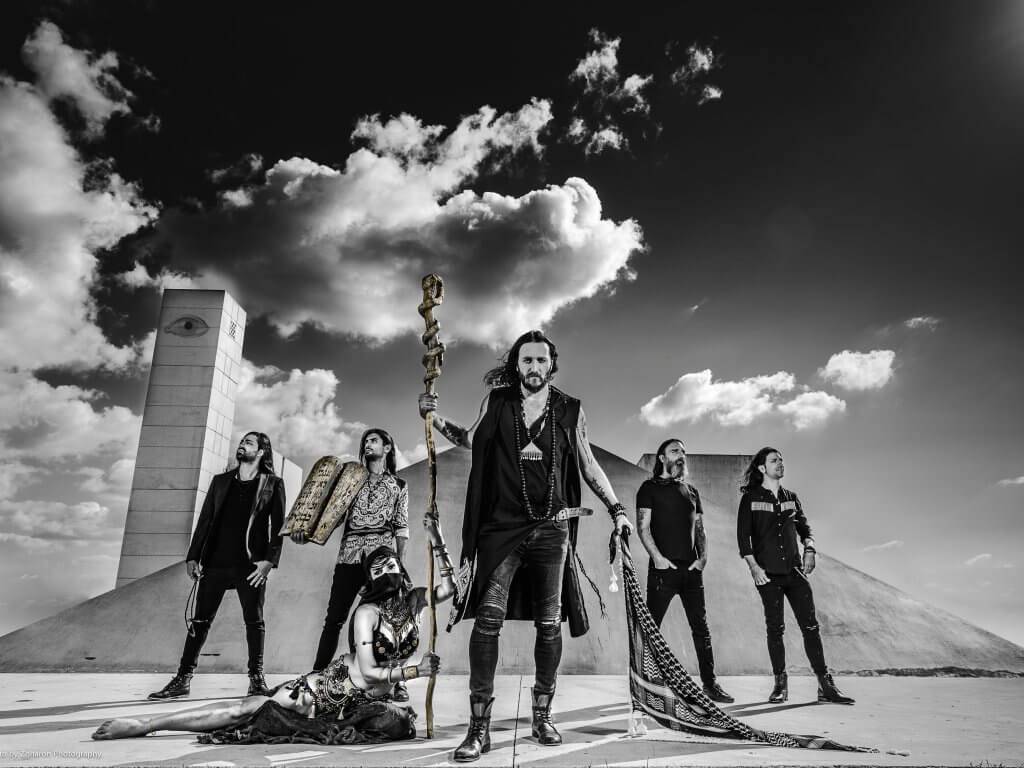 I discovered Orphaned Land many years ago, right after they released the highly acclaimed "Mabool". I was truly in awe not only for the music, the impressive blend of styles and of course their message.  6 years later when they finally released their next album, musically I was a tad disappointed, it didn't reach me at all and I feared they had lost their "magic". Then back in 2013 they released "All is One" – my comment then: UFF! Then I said Orphaned Land is back! It also brought a fresher sound from the hand of the then new, guitarist Chen Balbus who brought youth, smiles and freshness to the band and now is taking on the lead guitar after the departure of founder Yossi Sassi, who left the band after the release to pursue his solo career.
"All is One" was a punch in the face, a bold statement about how foolish religious conflicts are, if in the end we are all equal, we're all humans, and connected in infinite ways, just like that, we (all) are ONE. A concept, those who know me well know I follow since even before I knew about Orphaned Land. Seeing a barefoot Kobi Farhi personifying Jesus Christ while wearing the traditionally Arabic keffiyeh during the tour was indeed something I truly connected with. One was left to wonder, after the announcement of a new album, how could Orphaned Land excel the previous one?
Unsung Prophets and Dead Messiahs just did that! What an album! And difficult to review! It has taken me weeks to give form to these lines. A concept album based on the "Allegory of the Cave" by Plato: a group of people are bound by chains facing a wall during all their lives. Their only world and reality is what they see on the wall: shadows of objects from a fire behind them they cannot see. One day one of them is free from the chains and awakes to a new reality. He comes back to urge the others to follow him, but they cannot comprehend and thus reject. Meaning that humans are bound by their reality, not able to break free from the bonds of our human condition. But if we break those chains and wake up to a new reality, it would be a world that we could not understand, unless we try to embrace it or at least give it a try.
This profound concept formulated by an ancient Greek philosopher more than 2000 years ago, shines with the conflicts of our modern world: wars and mass manipulation, everyday life, politics, information and money controlled by some few powerful, while some are trying to break the bonds or just living blindly in their pre-made realities that might not be what they are meant to live. We won't be free of these chains unless we try to be true to ourselves while searching for the light and truth. Though these lines might fall short to what this album really transmits, musically and lyrically.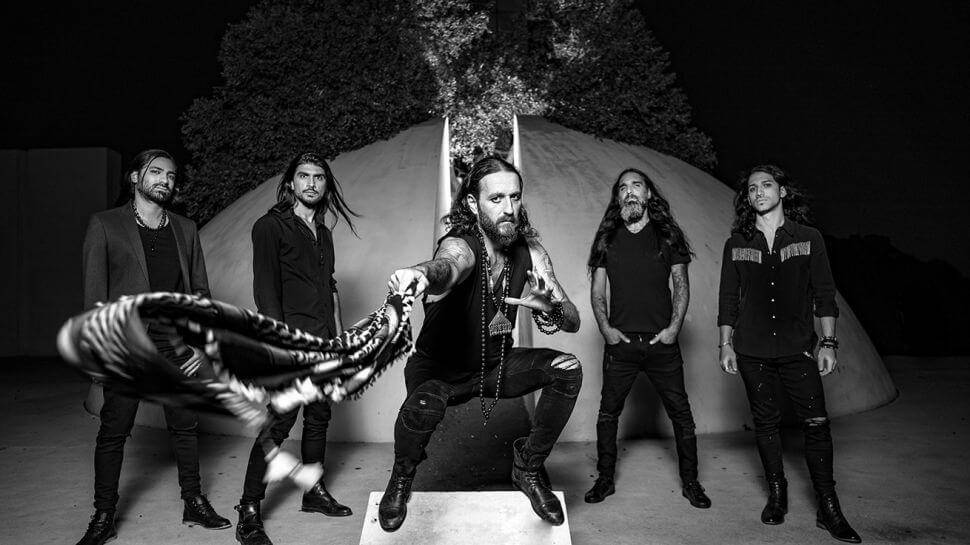 In this album, as per tradition in Orphaned Land releases, the lyrics are mainly in English, but also in Hebrew, ancient Greek and even Spanish. The band also invited legendary guitarist Steve Hackett (ex-Genesis) in the beautiful masterpiece 'Chains Fall to Gravity', Hansi Kürsch (Blind Guardian) on the debut single 'Like Orpheus' and Tomas Lindberg (At the Gates) on the dark and heavy 'Only The Dead Have Seen The End Of The War'. Skilled Jens Bogren (Opeth, Devin Townsend, Ihsahn, Katatonia, etc) produced the album.
Unsung Prophets and Dead Messiahs opens with 'The Cave' that musically follows from "All is One", masterfully blending middle-eastern melodies with catchy female choruses and powerful metal riffs and blasts. Lyrically we're introduced to the concept of the Allegory of The Cave mentioned before. A good introduction for what's coming next. 'We Do Not Resist', released as single, and Farhi's personal favorite, deals about fake news and misinformation, in a world where millions are in poverty we only see the glam and the fashion that mass-media serves on our plates. As Farhi mentioned in several interviews, this subject was the spark that ignited the album.
The fast-paced song starts almost right away with the return of Farhi's growls, he had dismissed for the previous album. With the subject of the present release, clearly the growls help to establish the darker mood. The song keeps the pace until it blends with beautiful middle-east melodies which then change in metal form in 'Propaganda', lowering the mood but keeping the subject. Towards the middle the song falls back to a more metal sound (keeping always in the back the middle-eastern vibe). 'All Knowing Eye' sound is more subtle, softer and ballad-like, but the subject goes even darker, blaming those chains to the few that control it all. Then comes 'Yedidi' where we jump to Farhi in Hebrew chants and traditional melodies in metal sound, aided by the perfectly timed Matan Shmuely's metal drum blasts aided by Balbus and Idan Amsalem's rhythm guitars and Uri Zelcha's bass lines.
My favorite track 'Chains Fall To Gravity' goes into a bit more of light as it deals with waking up from darkness and control, being released from the chains, but to what price? Musically it starts slowly, but quickly gains momentum with the massive and dramatic female chorus that I can't help but feel goosebumps every time I hear them. Farhi's singing falls almost like whispers. Then with the most proggy parts of the album, it gives way to Mr. Hackett's guitar finesse along with very well integrated orchestral arrangements, growing into drama to fall into the female chorus line, bringing all those goosebumps again. And with this closing line: "No longer the slave, now I roam onto the unknown, but as sure as my heart beats, I'm not afraid of the light". UFF!
The first single released 'Like Orpheus' comes next, with the next 'music star' featured: Hansi Kürsch doing very fine vocal duties alongside Farhi's. After the chains fell, now the hero realizes he's a beacon of light against the current and must lead the others out of the darkness. The song is a classic example of melodic metal. Not much new left to explore, but a solid example of melodic metal mix with the O.L.'s so-called 'oriental metal' subgenre. The middle-eastern orchestration and Kürsch's addition is what really shines on this song, though for me it is the weakest of the album, why the first single? I guess is the easiest to listen and to headbang to.
'Poets of Prophetic' brings us back to the origin of the concept, basically a slow instrumental, except for an excerpt from Plato, sung in Greek by the chorus, which in English reads: "Anyone who holds a true opinion without understanding is like a blind man on the right road".
'Left Behind' turns us back into the darker subjects. Make us heed those left alone after the wars, the forgotten ones, the ones under the media radar, the spoils of war. Musically it is one of the most solid songs on the album and one of the best examples why Kobi Farhi should be on the lists of best singers out there. Guitars are exceptionally good and more progressive elements on the rhythms can also be found in this track.
Following the same subject line of the previous song, 'My Brother's Keeper' is one of the most complex and easily the darkest song. With Farhi talking instead of singing on the first part, the song hails the fallen heroes, the hardships of trying to save others from falling into darkness, the revolutionaries who tried to wake up others from their slumber. This quote by Janusz Korczak (polish writer and pedagogue, director of an orphanage in Warsaw and advocate for children protection, who most likely died along with the children at Treblinka Nazi concentration camp) summarizes the feeling of the album: "I exist not to be loved and admired, but to love and act. It is not the duty of those around me to love me. Rather, it is my duty to be concerned about the world, about man". Musically I can easily say is one of the best Orphaned Land's songwriting examples in their career.
Falling from light, trying desperately to convince those who don't want to believe, 'Take my hand' shows the despair of feeling helpless among a sea of darkness knowing there's truth and light on the other side. The melodies are harrowing but still bringing about a spark of hope: "Wake up!"
After realizing all is lost, 'Only the Dead Have Seen the End of War' brings in the despair of wars leading only to blindness and no solution, the desperation of seeing all lost and not seeing more than what lies in front of our eyes. The denial of faith, in what you believed in. The addition of the sirens and medical equipment sound samples are distressing, along with the growls from Farhi and the featured growls from Tomas Lindberg, takes the darkness of the song to a new level raising the bar for epicness. It could have been the perfect closing for this album (including the haunting sound of a sword apparently killing someone). But after a long pause, the album closes with 'The Manifest – Epilogue'.
Sounds of chains open the track, middle-eastern orchestration follows and then the spoken Hebrew, which in English reads: "You are not obligated to complete the work, but neither you are free to desist from it", a quote extracted from the Pirkei Avot – traditional Jewish ethical teachings. An emotionally fully charged guitar solo follows, leading us to a talked statement read by Farhi which closes with the female chorus in Spanish, which translated reads: "A song that has been brave, will always be a new song" by Victor Jara (Chilean teacher, theater director, poet, singer-songwriter and political activist tortured and killed during the dictatorship of Pinochet).
The song reminds us that not all is lost, it is an acknowledgement to those fallen heroes of everyday life. But quotes are not over, the album thus closes with an excerpt from George Orwell: "If you want a picture of the future, imagine a boot stomping on a human face forever, the moral to be drawn from this dangerous nightmare situation is a simple one, don't let it happen."