Anubis Gate – Covered in Colours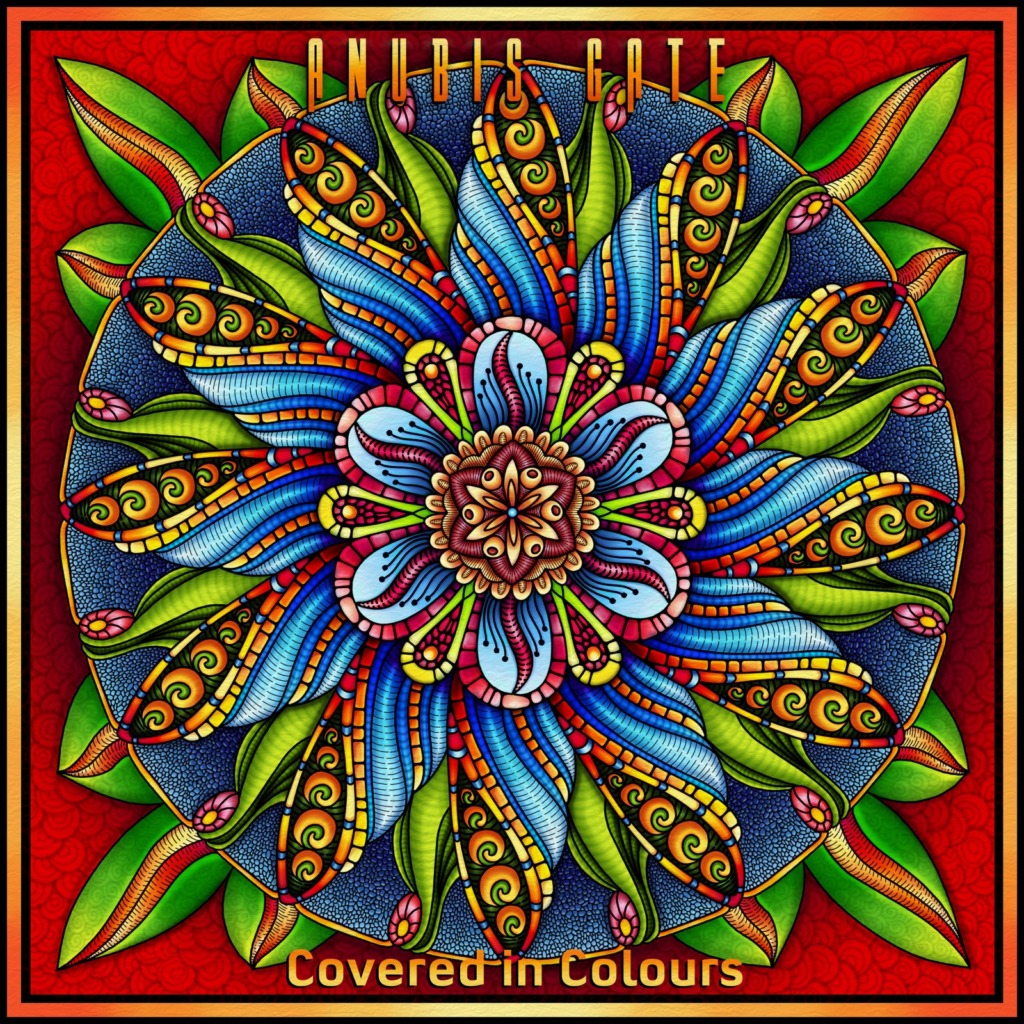 Anubis Gate is one of those prog metal bands that have been around since quite a while, and despite being excellent musicians and having excellent albums, they don't seem to be so popular in the genre. It is no surprise then, that they are considered "obscure" by some. 2017 saw the release of their excellent album "Covered in Black", a striking, though as its name says, dark release that took the band to higher levels in their songwriting and musicianship. As the band themselves say, the album was a "dark and introspective album", I add: massive at times, and very draining if you allowed it to get into your veins… So naturally, the 4-piece danish band needed a respite and after a couple of years hiatus, they surprised everyone by releasing their 9th album, and indeed a colourful one, aptly (or lazily?) named "Covered in Colours".
Oh boy! And colourful it is! What a selection of songs the Danes chose for the delight or dismay of fans of the diverse genres they covered. All genres and artists that have influenced the 4 band members in their varied musical careers. From 80's electronic pop to classic progressive rock, jazz and some heavy metal classics. There is a bit for everyone! And without fear of saying so: thanks to the universe they decided to treat each song as if they were their own: the result is simply stunning!
On the press release, interestingly enough, they divided the 14 songs (their longest album to date!) into 5 parts, like in a (prog) room with 5 corners: "Starters, The Jazz-Metal Lounge, The beautiful ones, The eighties corner, No, they didn't…". Once you're in each corner, you have a different point of view, even if you're always in the same room. This analogy is simply perfect, as each song is indeed very different but there's one single thread connecting them all: the unmistakable Anubis Gate sound.
Anubis Gate – Still Life in Mobile Homes (unofficial video) (click here if the video doesn't load)
This enormous variety starts with a classic 80's song by the electronic pop band Japan, 'Still life in Mobile Homes', surprisingly sounding like an original Anubis Gate melodic metal song. And from the first minute I'm already loving this 'covers' approach. I confess I didn't want to hear the original songs (of those I didn't know or remember well), but after listening to so many rounds of "Covered in Colours", I just had to. For example this one, I hadn't heard it before, and it is SO DIFFERENT from what the Danes created! And this really helped me to understand how massive this album is, not to take it lightly as "oh just another covers album".
And this is what they indeed did in each track, they literally deconstructed and re-built them again with the Anubis Gate personality. Production-wise it is excellent what they (re)created with prog and rock classics like 'Red', 'Entangled', 'To France', 'Strawberry Fields Forever' and even the classic radio pop song 'Fade to Grey'. Songs the band kept intrinsically the same but adding their own sound and little details here and there, making them a new enjoyable experience.
Anubis Gate – Strawberry Fields Forever (official video) (click here if the video doesn't load)
A note apart is 'S.A.T.O.' by Ozzy Osbourne, which is basically a metal cover, enhanced naturally by today's technology and Kim Olesen's and Jacob Hansen's crystal clear production. Add to that Henrik Fevre's stunning vocals!
But then we get the interpretation, the ones that sound like a new song altogether. This is what, for me, makes a cover version really interesting, to the point of almost creating a new song. Best examples of this are 'Plantage' by the danish band Under Byen, 'Glamour Profession', 'Fade to Grey' or 'Chromazone', a stunning piece of jazz they basically re-created as a quirky jazz-prog-metal piece. One of my favourites! To highlight is the work of Kim Olesen and Michael Bodin on the guitars.
Anubis Gate – Entangled (unofficial video) (click here if the video doesn't load)
And the 3 songs remaining to mention, for me, deserve to be highlighted. As their own division in corners states "No they didn't…" I prefer to add here 'Experiment' by Voivod instead of 'Strawberry Fields Forever'. But then you have 'Aggressive Perfector' by Slayer and 'Back in Black' by AC/DC. OH.MY….…
I'll never hear these 3 bands the same again! These versions are completely new songs! 'Experiment' brings a 180° change on the vocals. To my entire surprise, this is Kim Olesen singing! (or rather almost shouting). I never imagined he could sing like that! And I loved it!. I hope the band would cash on this "experiment" (pun very much intended) and try different vocal directions on their new album, to complement Fevre's clear and high vocal range. Also the song itself, the darker tone, the piano, the acoustic guitars. It all fits perfectly and I'd love to hear more like this in future Anubis Gate albums!
Brace yourselves because now it comes the weirdest moment of all: 'Aggressive Perfector'. Those who know me well know that I truly dislike Slayer, so to say that this song is one of my favourites in this album might give you a hint about what Anubis Gate did here. Simply put: they created a completely new song. A perfect dark and haunting progressive rock song. From the leading acoustic guitars and the ambient synths -reminding me more to King Crimson or Mike Oldfield than anything the Californians would have ever written. Thank you guys, this is just perfect! And I had not even mentioned yet the perfect transition between this jewel to an almost perfect floydian song… Oh, wait.. What am I saying! This is not a Pink Floyd cover, this is AC/DC! Wait, what?!
Oh yes.. They decided to give a whole new twist to the classic 'Back in Black'  And yes it is basically a new song, to the point that I can barely hear anything from the original (good! haha!). This version is as if indeed they got David Gilmour's essence, added some cups of blues, some drops of jazz and some hefty doses of Anubis Gate and created a whole new experience! The synths and layered sampled dialogues, the background guitars and then the synth solo… to fall back to a full prog metal blow. And that juicy bass sound.… WOW. 8:09 minutes of sheer perfection! Yes, Back in Black is now a favourite of mine! Oh! I wish they'd had a video for this song!
The production and mastering are close to perfection. Each instrument is well balanced, letting each other have their highlights but all complementing each other. The effects of the synths and diverse vocal arrangements add so much depth everywhere you hear in this album. The drums by Morten Gade Sørensen are so clear and to the point, expertly produced by fabled producer Jacob Hansen. Kim Olesen also features as the main producer of the album, and he did a hell of a job! I seriously think he should be producing other bands as well. What a sound this album has!
All in all, this album is one of the best covers albums I've ever listened to. Each song is a piece of art made out of music that has influenced each of the musicians in Anubis Gate, re-interpreted and even re-created entirely new with their own sound. After listening to this album, I can only hope for more perfection, knowing the band is currently working on their 10th studio album that might even be a double one! (yep it seems they did get into a creative streak!). I can't wait!
TRACKLIST
Still life in Mobile Homes (by Japan)

Red (by King Crimson)

Plantage (by Under Byen)
Experiment (by Voivod)

Chromazone (by Mike Stern)

Glamour Profession (by Steely Dan)
Entangled (by Genesis)

Atlas (by Coldplay)
To France (by Mike Oldfield)

Fade to Grey (by Visage)

S.A.T.O. (by Ozzy Osbourne)
Aggressive Perfector (by Slayer)

Back in Black (by AC/DC)

Strawberry Fields Forever (by The Beatles)
Bonus: here's a Spotify playlist I made with the original songs: