Seven impale – Contrapasso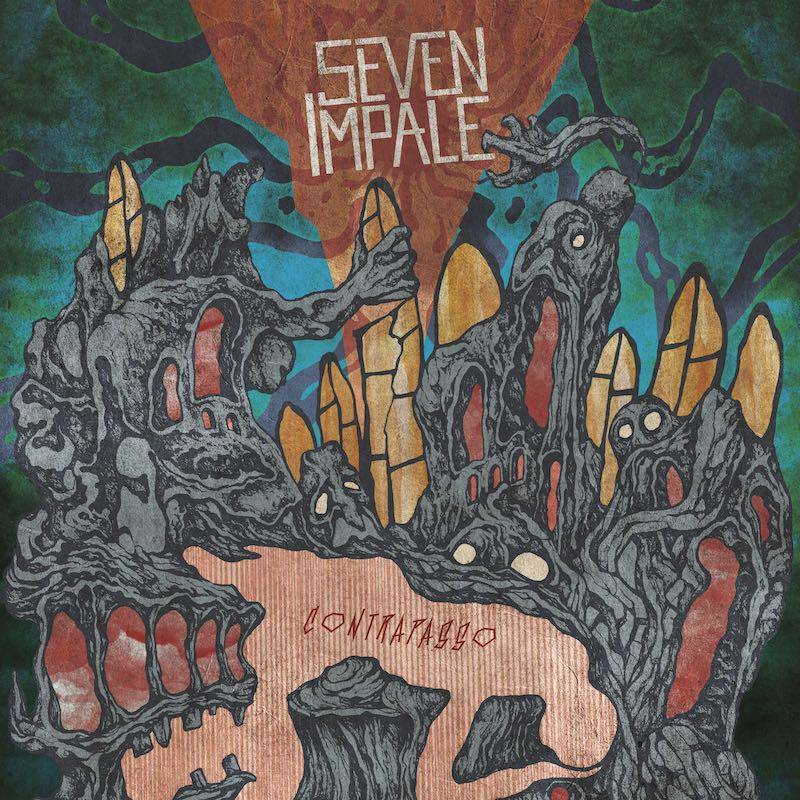 Lately Norway has become one of the most important countries for progressive music it seems. Considering that all Norway only has as many residents as the megalopolis around Munich and Nuremberg, the output of extra-ordinary music is immense. Not only great metal bands, such as Communic, Spiral Architect, Circus Maximus, Pagan's Mind, Atrox, Borknagar Madder Mortem and more recently Leprous, Rendezvous Point and Arkentype come from this sparsely populated country, but also less heavy artists such as Gazpacho, Magic Pie, Umpfel, Airbag, Kerr's Pink, Motorpsycho, Kim Myrrh and now Seven Impale are Nordic vikings that conquer the progressive music scene.
Album number one and two by Seven Impale didn't impress me all to much, as they appeared to me as a jazz effort with excursions into heavy stoner blues jams, where the two genres have had their separate parts and barely ever got in touch with each other. But with their recent release "Contrapasso", the band has taken very much more effort in the song writing and raised the bar amazingly high, so high that it partly can become exhausting to listen to their newest creation. It feels to me like a car that was running with hand brakes on and now suddenly got released from its disablement.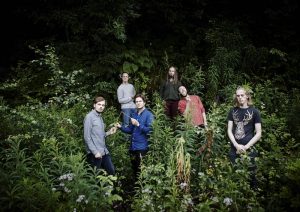 The overall band sound is a very classy retro style, with guitar and organ/synth tones set up to fit the technical environments of the seventies, and the recording set-up was just alike. Doing all this with modern equipment, the band sounds just as delicate as Magic Pie does. But musically their journey goes quite far away from there, on a much more adventurous path, so that I tend to put the first half of the album into the Kraut/Zeuhl drawer. Starting with a heavy, driving rock groove based on a Hammond organ, overlayed by vocals that celebrate a black mass and a heavily abused saxophone, the adventurous song structures soon lead into an interesting style that sounds like a mash-up of Magma and Guru Guru or Gong. But whereas the old-schoolers had the tendency to bother the listener with all too weird vocal styles or arrangements, Seven Impale keep it at a more bearable level. In that way the first half of the album pushes us through various colours of the genre at a fast pace and whilst it is fun to enjoy all these creative explosions, the heavy use of different saxophones begins to annoy a little bit. But, as if the band had had the same feeling, the style then changes quite a good bit. The saxes are becoming way less used, and the overall sound calms down to a more convenient atmosphere. With the same sort of compositions going on at a slower pace and the band sound modernized, the album turns into mixture of Änglagård and Porcupine Tree, with the filigree atmospheres that remind us of the latter mentioned, and song structures and melodies we usually know from the Swedish prog pioneers. In this way the listener is dragged into a heavy rollercoaster of extra-ordinary music, even for the regular progger and, after a heavily shaking ride, gets treated just right with a rather ambient, still thrilling and partly spacey ending.
With "Contrapasso", Seven Impale have made a giant step into progressive music and deliver an eclectic mix of styles at a breathtaking speed, and the listener hardly has the time and power to digest all this at the very moment of listening. This surely is one of the most progressive albums of the decade.