The Nefilim – Zoon (Retrospective)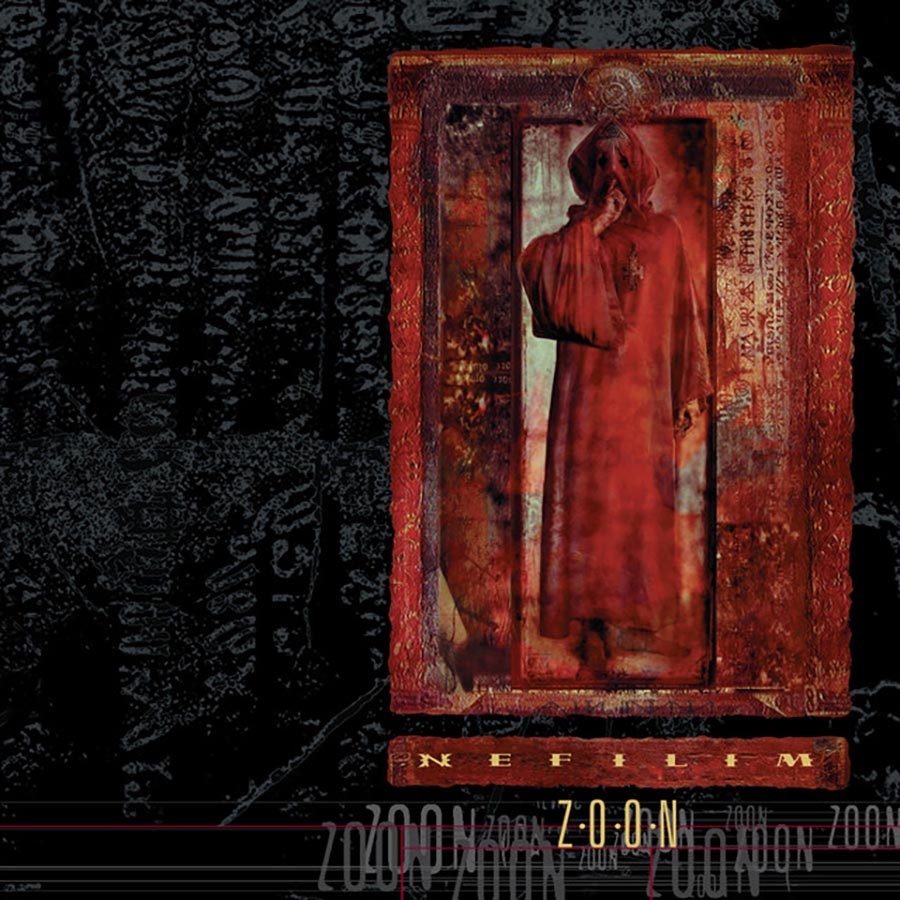 Many people might have heard the name Fields of the Nephilim but probably not their music, they are not the household name you would expect from one of the leading gothic rock bands. Maybe it's because they lean heavily on the occult, and they have rarely produced any mainstream hits similar to other bands in the genre. But their influence is felt throughout not only their native music genre, but many others too. Interestingly enough, "Zoon" is not technically a Fields of the Nephilim album. It is however a very influential album from the mid 90s that continues to influence many musicians, directly or indirectly.
Fields of the Nephilim were formed in Stevenage, England, in 1984. The classic line up includes "Nod" Wright and his brother Paul on drums and guitar respectively, Tony Pettit on bass, Peter Yates on guitar and Carl McCoy on vocals. The latter, while not the sole songwriter, he was greatly responsible for the look and aesthetic of the band, as well as the lyrics and artwork. In the first EP "Burning the Fields" as well as the albums "Dawnrazor" and "The Nephilim" their music has some similarities with Sisters of Mercy, but they have their own personal style, drawing inspiration from spaghetti western, mixed with McCoy's very distinct voice. The western inspiration didn't stop in Ennio Morricone's music, but it expanded on the stage too as the band were wearing hats and dusters, coating them with flour to give a weather-beaten look, now a staple in the goth style (the hats and dusters, not the flour). The guitar work in those albums is excellent, as the songs are built around arpeggios played with much chorus and delay, something that provides a forward momentum and a dreamy atmosphere at the same time. Those first few outings were leaning towards hard rock, but their EP "Psychonaut" was a good precursor of their magnum opus "Elizium" in 1990. Here they explored their more progressive side, teaming up with Pink Floyd / David Gilmour producer Andy Jackson. Each song directly leads to the next, much like many prog landmark albums, and has a more Pink Floyd-ish atmosphere as if the whole experience is a dream or a vision.
But that was (temporarily) the end of the band. McCoy felt that it was too exhausting to perform the songs from "Elizium" with all its airy atmosphere, he had the need to play something else. The rest of the band found a new singer and formed Rubicon. It took a while but McCoy formed The Nefilim in 1992 and their album was in development hell for quite some time due to disagreements with the record label, but on April 22 1996 "Zoon" was released. The new line up included Cian Houchin on bass, Simon Rippin on drums, Paul Miles on guitars, and McCoy of course. John 'Capachino' Carter was on the line-up, but they parted ways, however he has collaborated with McCoy many times since.
Two singles preceded the album's release, 'Xodus' and 'Penetration'. For McCoy, "Zoon" was a reaction and a natural step, after "Elizium". Sure, there is familiar sounding territory, but especially at first glance the album is quite different. The guitars are much more aggressive with heavy riffs, there are double kicks on almost all the songs and McCoy is growling more than he is singing. There are only a couple of tracks, or maybe even moments, that sound like they belong in a proper FotN album, thus the new band justify their existence. It is very possible that many people became aware of the band through the 'Penetration' video that was playing constantly on MTV and other metal music TV shows.
While bands such as Paradise Lost, Anathema and My Dying Bride are considered pioneers of the genre, this was the return of a legend of the scene in a new direction that gave a serious boost. Many bands at the time were experimenting with industrial elements, though it was not as common, at least when the songs were written. And unlike albums like "Blackacidevil" by Danzig, it didn't alienate fans that much because it respects the past but also embraces its current times. In fact, it was released 6 months before "Blackacidevil". Maybe inadvertently it started the trend of doing a 180 and infusing industrial elements? Hard to tell, but at least it's one of the very few exceptions that did it in a way that was mostly appealing to old fans, and created new ones.
'Still Life' is mostly an intro, but it grabs your attention, especially if you were waiting for something like the previous albums, and introduces you to the violence and aggression that this album is about. "Things will happen to you from which you could not recover if you lived a thousand years" says the ominous narration, with double kicks and death metal riffing. A fast fill breaks the ambience and transitions us to 'Xodus'. It is a fast, groovy and aggressive track, with an explosive chorus. Suddenly the song goes into a more atmospheric section, only to result in an even more explosive part with a guitar solo, while a hellish environment is described. 'Shine' is the only track that resembles classic FotN in the most obvious way, going back to guitar arpeggios, a melodic bass and a slower pace. It's one of the standouts of the album, as the song evolves from melodic to desperate and dramatic before you know it. We're back on even worse hellish environments with 'Penetration', while the rhythmic section never lets a beat. During this storm, there is a wonderful melodic part, which helps to make the song a bit more dramatic than plain aggressive. 'Melt (The Catching of the Butterfly)' provides a break, a haunting ambient track that creates an intense feeling of unrest. 'Venus Decomposing' is such an interesting track, as it starts with much more aggression than on the previous tracks, something that you initially didn't think possible, but it also has some of the more melodic parts of the album. It goes from one state to the other seamlessly, and it ends with just over a minute of ambient noises. This transitions us to 'Pazuzu (Black Rain)' with its monotonous guitar riff and the chant "This generation shall not pass". A complex song in which you can hear what some old school fans disparagingly called "Slayer influenced riffs". We've almost reached the end with the three-parter title track, which for some reason is divided in two, maybe because part 1 is relatively short. 'Zoon, Parts 1 & 2: Saturation' shares some common ground with 'Shine', a calm and melodic intro reminiscent of the best parts from the "Elizium" album. Suddenly we're faced with hits from the whole band and someone welcoming us and ensuring us that "I'm always with you when you fall asleep". Now chants and ambient noises can be heard, as a monotonous bassline starts fading in. The mellow atmosphere is replaced with suspicion and fear. As we go down this rabbit hole, it seems like we've locked ourselves in a tortuous trap, as the music builds up. The chants create anticipation and when the whole band starts playing the claustrophobic feeling is now even more intense, and the track naturally reaches its climax which gives way for 'Zoon, Part 3: Wake World'. The centerpiece of the album is a melancholic and sorrowful but heavy song, one of the best the genre has to offer. A soft voice in the background sings "won't you help me?", and the "Say!" (or is it "slave"?) chant is carried out from the last track, which leads to a melodic bridge. An interesting combination of both heavy riffing and guitar arpeggios makes this song the perfect epilogue for this album. The outro 'Coma' only has some spoken words and ambient sounds, which creates several questions about the concept.
The sound is unfortunately a product of its time, as the drums sound very plastic and the guitars are over-compressed. It took me a while to figure out if those drums were real or programmed, but it seems like it's a mix of both, the fact that you can't really say I guess counts as a plus according to the time it was released. The rich production of "Elizium" is missing, though the sound corresponds with the themes. Special care has been given to the vocal lines, which are the clear protagonist of the show.
Fields of the Nephilim, and by extension The Nefilim, put a lot of focus on the lyrics. McCoy was raised a Jehovah's Witness, and later he combined the bible stories about Nephilim with the Cthulhu Mythos, the writings of Aleister Crowley, Sumerian mythology and the occult in general. But he's not focusing on the "evil" side of the occult as most bands do. Instead, he uses this symbolism to tell the story he wants to tell. However, he is rarely explicit, if ever, about the deeper meanings of a song or the concept of an album. For me, it was a weird journey to decipher the lyrics, as I don't believe in anything supernatural. But because the lyrics create such mystery, they made me a bit obsessive to understand what they were trying to say. There are several websites dedicated to the various symbolisms, and how the different mythologies are mixed up together, they are worth a read for anyone interested to better understand them (here's one of them). The album seems to talk a lot about the end times and the word "zoon" is derived from Greek (ζώον), meaning "living creature" or "beast". Also, it is dedicated to McCoy's daughter, Scarlet. But what is it trying to say? I sure have some theories, but it's one of those things that leaves you drawing your own conclusions, and I prefer to keep it at that. Besides, I wouldn't say I'm qualified to explore these topics anyway, however as I said, even for someone not interested in the subjects per se, the lyrics are written in such a way that you're drawn to them regardless.
The album faced some criticism, but the 'Penetration' video made an impression (there are several cover versions, most notably by Behemoth), and the band managed to get in front of a more metal oriented audience, as well as other music fans that had no idea or interest in FotN. As I said, the album is not referenced enough as an influence, but you can clearly see its mark on bands that incorporated goth/industrial influences, as for a time you could include it in a starter pack of albums for these genres. Even to this day the album keeps influencing musicians from all kinds of rock and metal genres, as it is not that uncommon for someone to declare this their favorite FotN album (though for most people and myself it's "Elizium", but "Zoon" is second).
The Nefilim didn't continue. McCoy "disappeared" after a meeting with the record label and reappeared some years later in a failed attempt to resurrect the classic FotN, and a promise that The Nefilim will release new material. He then took control of the FotN name and incorporated "Zoon" in their discography. Since then, the record label released an album without the band's permission, and in 2005 "Mourning Sun" was released, which combined the best parts of classic FotN and The Nefilim. Now they are mostly just a touring band, and they keep promising a new studio album, so far only a couple of singles have been released.
Tracks from "Zoon" are a staple on their setlists, mostly 'Penetration' and 'Zoon, Part 3: Wake World'. While it must have been a shock to anyone familiar with their sound, you can see the parallels, and the evolution of the sound. "Zoon" stands as one of the best gothic metal albums ever, and a very influential album for anyone mixing heavy guitar riffs with a cinematic feel. And while it's not really "prog", it played its part as an influence for the more atmospheric bands. If you have the opportunity to see the band live, don't miss it. Their live shows are more like rituals, going so far as scheduling a tour (2007 – 2008 "Ceromonies" tour) according to special dates such as the anniversary of H.P. Lovecraft's death, the equinox etc. You can find this album on streaming platforms such as Youtube, unfortunately it seems it's out of print.
Track listing
Still Life
Xodus
Shine
Penetration
Melt (The Catching of the Butterfly)
Venus Decomposing
Pazuzu (Black Rain)
Zoon, Parts 1 & 2: Saturation
Zoon, Part 3: Wake World
Coma