The Pineapple Thief & Lizzard live in Munich, 26 September 2018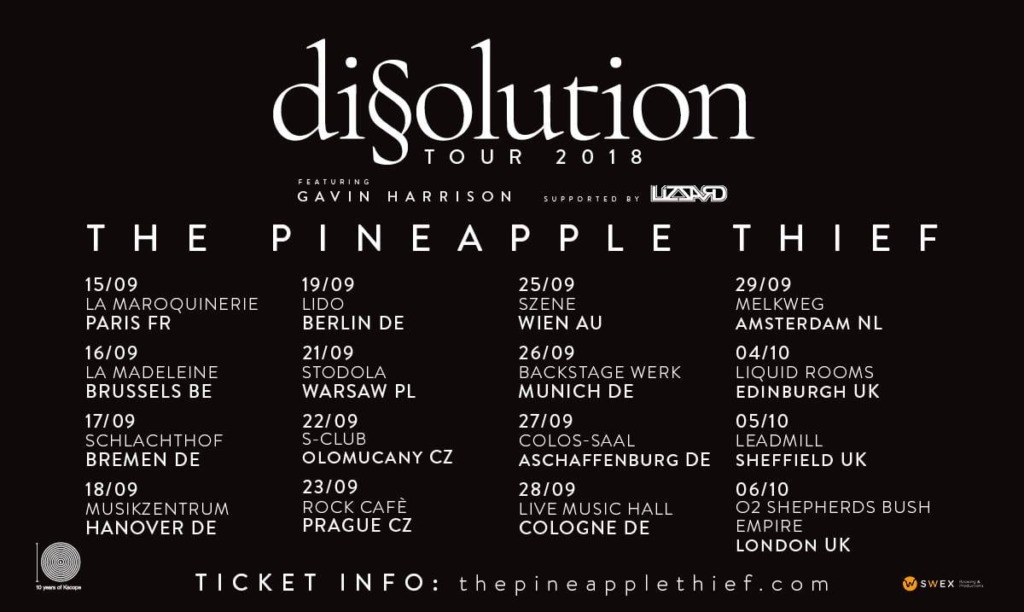 Sometimes it happens that you ignore a band you know you might like for way too long for stupid reasons. That happened to me with British prog rockers from The Pineapple Thief, whom I dismissed as boring Porcupine Tree clone without even giving them a chance. Oh how wrong I was, but what a better way to rectify that mistake than to check them out live in concert?
Starting at 8pm sharp, French trio LizZard filled their 45 minutes support slot to the brim with massively grooving heavy alternative prog. Some might know them from their previous tours with Sweden's Soen, but this time they were back with a new album and made a lot of new fans again I'm sure as the audience gave them a warm welcome. Even though I have to admit that I still didn't get them 'on record', I am very much a fan of their live performance and they delivered big time again.
25 minutes later, Bruce Soord and his band took to the stage and started into their 90 minutes set full of surprises and highlights with 'Try as I Might', the single from their current album "Dissolution". With 'In Exile' and 'Alone at Sea', they continued with two songs from the two previous albums and I finally started to see the greatness, particularly getting mesmerized by Soord's solo slide guitar and powerful, heartfelt vocals. ('This is suicide…') Finally as a full band member, legendary drummer Gavin Harrison proved once again why his craft is so highly regarded. His grooves are just so, well groovy and tasteful. He never tries to impress with his chops, making the craziest fills looking like it's nothing and never taking away the spotlight from the song. Without a doubt a lucky find and perfect addition to The Pineapple Thief.
'Threatening War' starts off quite understated, but gets more interesting with an instrumental break and subsequent build up and once again highlights Soord's impressively perfect vocals. With 'Far Below', we get a little bit of heaviness, Mr. Harrison shows us how it's done to play your drums melodically and the brilliantly executed harmony vocals by bassist Jon Sykes are the icing on the cake. For the next two songs I just took the notes: dem fills ('No Man's Land') and dem feels ('That Shore'). Nothing more to add to that I think.
After the mainly acoustic 'Shed a Light' we get treated to some older stuff with '3000 Days', whose heaviness mainly derives from the drum and bass groove, and the atmospheric 'Part Zero'. Closing off the main set with the "Dissolution" long track 'White Mist', providing even more atmosphere and a guitar solo that doesn't sound like a guitar from the second guitarist George Marios and 'Nothing at Best' with a wobbly synth intro, a heavy forward driving chorus and a fantastic synth solo by Steve Kitch, The Pineapple Thief are demanded back to the stage by the ecstatic fans.
To be honest, I was a little concerned about the turnout because the "Your Wilderness" tour also led them through Munich and it was just about a year ago. But all concerns turned out to be clearly unfounded luckily, so the venue was packed and the audience loved every minute of the evening. Bruce Soord and his Pineapple Thiefs thanked them with a long encore, encompassing an emotional rendition of the "Dissolution" opener 'Not Naming Any Names', the "Your Wilderness" longtrack 'The Final Thing on My Mind' and one last 6/8 clap along blast from the past with 'Snowdrops'.
All in all it was a great concert evening filled with quality live music. And I am happy I finally checked out The Pineapple Thief, even though I heard Steven Wilson sing 'stoned in the malls the kids play' in the back of my head during 'The Final Thing On My Mind'…
Check out the full galleries from the concert in Brussels by our collaborator Jaak Gebelens  here and here.
The Dissolution Tour returns for leg 2 in 2019:
21.02 Firenze (Italy) – Viper
22.02 Roma (Italy) – Largo Venue
23.02 Milano (Italy) – Santeria Social Club
24.02 Pratteln (Switzerland) – Z7
26.02 Stuttgart (Germany) – LKA – Longhorn
27.02 Frankfurt (Germany) – Batschkapp
28.02 Strasburg (France) – La Laiterie
1.03 Zoetermeer (Holland) – Boerderij
2.03 Hamburg (Germany) – Grosse Freiheit 36
3.03 Copenhagen (Denmark) – Lille Vega
5.03 Stockholm (Sweden) – Nalen
6.03 Oslo (Norway) – John Dee
20.03 Newcastle (UK) – o2 Academy
21.03 Glasgow (UK) – St.Luke
22.03 Manchester (UK) – o2 The Ritz
23.03 Birmingham (UK) – o2 The Institute 2
24.03 Bristol (UK) – The Fleece