Fleshgod Apocalypse – Live at Bloom Studio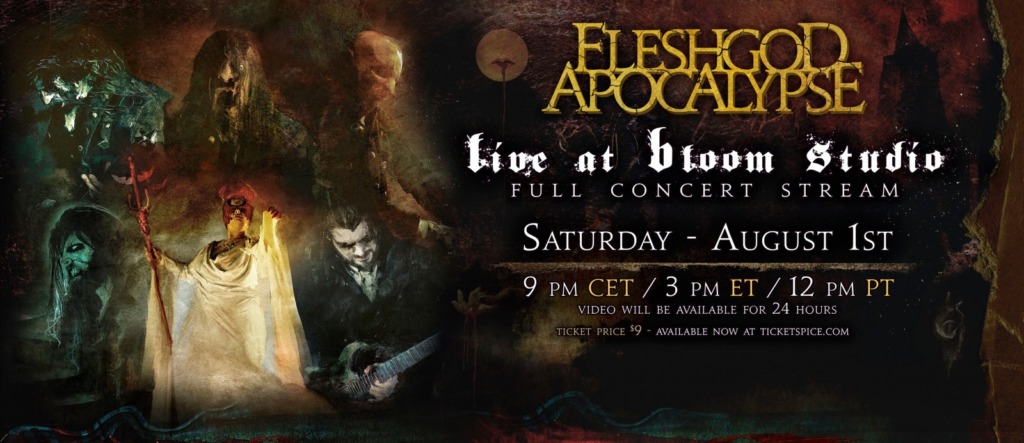 At the time of writing this, Fleshgod Apocalypse were the last band that we saw live. You can find my review and photos of that gig, in the concert section here on the Progspace. Who knows when our next concert will be?
Access to this online concert cost $9 plus a $3 booking fee, this gave you a direct link to the stream. Once it had started, there was 24 hours to watch it as many times as you wanted. I saw somebody on some thread, complaining about the band charging fans to watch this. What???  If you take into account how much planning and cost was involved in putting this whole thing on, such as transport – including bringing drummer Eugene Ryabchenko to Rome from outside Italy, studio hire, film company hire etc, $12 seems very reasonable to me.
We have watched a few of these online events, and I thought this was the best one so far.  At roughly 75 minutes long, there was a feeling of real quality about this one. The venue – Bloom Studio – was decked out with fancy carpets and lampstands, the band were equally spaced in a semi-circle around the room. The film company – Sanda Movies – did an excellent job, using multiple camera angles with some panning and zooming. The sound / mix was perfect throughout. There were no fancy mic stands, makeup or costumes, and it is maybe the only time they will perform like this. The setlist was the same as in Manchester when we saw them in February 2020.
The band performed impeccably, and there was only one short delay, when the backing track playing the prelude to 'Monnalisa' – 'The Praying Mantis' Strategy'- cut off abruptly, and pianist Francesco Ferrini had to reload it.  During 'Prologue' (on a backing track) vocalist and guitarist Francesco Paoli and Soprano Veronica Bordacchini crossed the room for a quick high five. Between 'Fury' and 'Cold as Perfection' Mr Paoli gave a little speech thanking everyone and encouraged viewers to support similar events.
After 'The Day We'll Be Gone' he announced that Veronica had been scared about singing the song which she confirmed. There was no need to worry, her delivery was perfect. Some of those high notes could shatter glass. Mr P told her that they were lucky to have her in the band, and she returned the compliment. The whole band then donned face masks, and we were told "If you don't wear a mask, you're just a f**king fool". Then, still masked, they proceeded to play 'The Fool'. After the song we were told "If we can play The Fool with masks on, you can go to the f**king supermarket with a mask on".
It was amazing, we watched the whole thing twice, back to back. It was the only way I could jot down enough notes, to have an ample supply of material for this review. I am sad that I cannot watch any of it again right now. There is a possibility of this being released on Blu-Ray/DVD, they have not ruled that out.
Whilst watching this concert I was wearing a Fleshgod Apocalypse T-shirt. I am not sure if this contravenes a T-shirt police rule. There probably is not a rule for such an unusual situation. I will have to consult my friend Rune who is an authority on these things. Mind you, if I had not mentioned it, no-one would be any wiser. To quote George Berkeley "If a tree falls in a forest and no one is around to hear it, does it make a sound?".
Set List:
The Violation
Healing Through War
The Praying Mantis' Strategy / Monnalisa
Sugar
Prologue
Epilogue
Minotaur (The Wrath of Poseidon)
Fury
Cold as Perfection
The Day We'll Be Gone
The Fool
The Egoism
The Forsaking
Musicians:
Francesco Paoli – Vocals/Guitar
Paolo Rossi – Vocals/Bass
Francesco Ferrini – Piano
Veronica Bordacchini – Soprano Vocals
Fabio Bartoletti – Lead Guitar
Eugene Ryabchenko – Drums
Fleshgod Apocalypse – Sugar (click here if the video does not play)
Fleshgod Apocalypse – Monnalisa (click here if the video does not play)
Flashgod Apocalypse – Cold as Perfection (click here if the video does not play)