Chasing record after record: 69 releases overall this week including 10 highlights, 111 mini reviews so far this year!
Releases of the Week 16/2023 with Ultraphauna, Stefano Panunzi, Sarmat, Draxhan, Echoes & Signals, Neverus, Orpheus Omega, Space Junk Is Forever, Michael Whalen & Bell Witch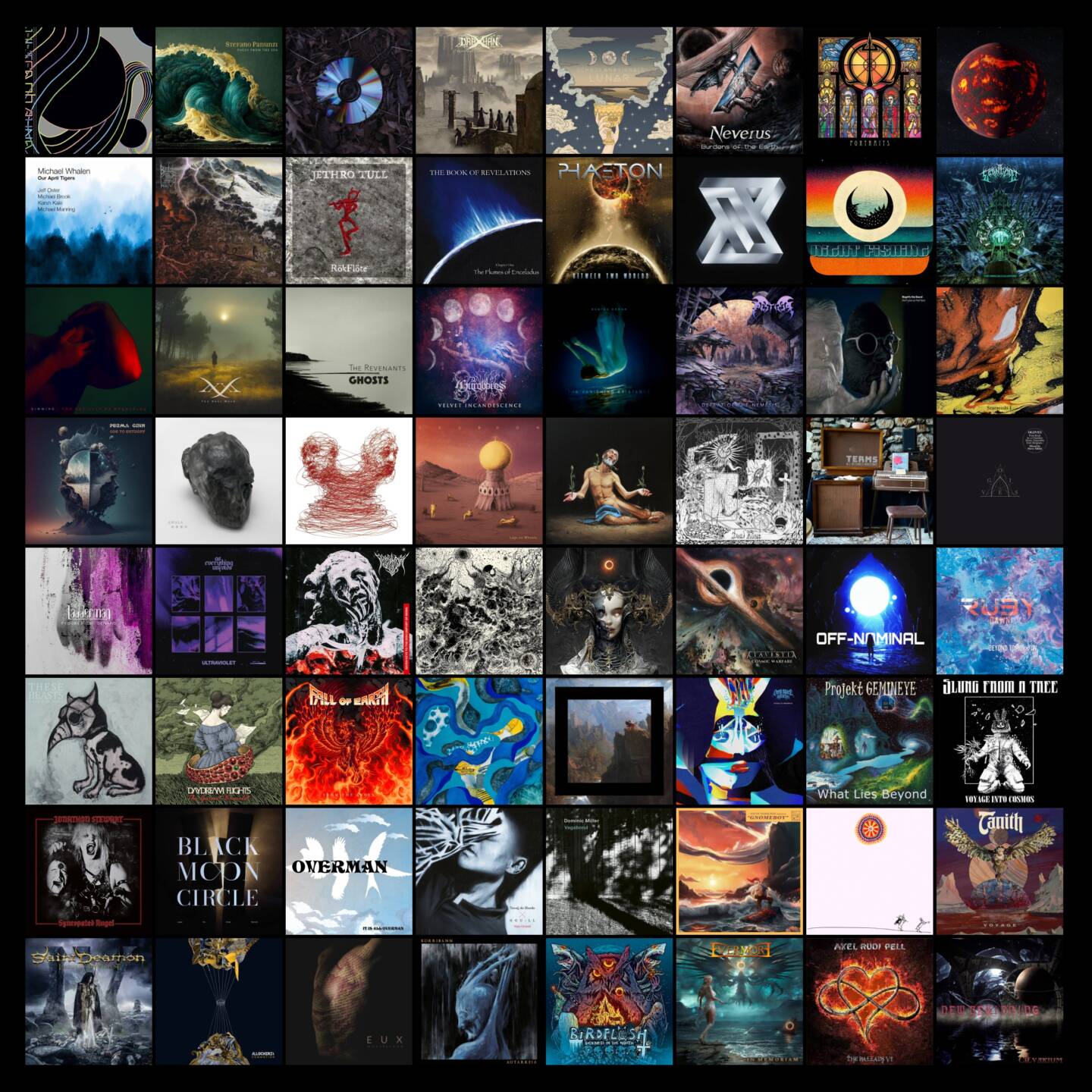 This week's 10 highlights span from avant-garde violin artrock supergoroup (Ultraphauna); atmospheric artpop (Stefano Panunzi feat. Pat Mastelotto & Jakko M. Jakszyk); avant-garde extreme jazz metal (Sarmat); Volkor X's new metal project Draxhan; atmospheric prog metal with Echoes & Signals; majestic death metal from Dutch newcomers Neverus; more melodic progressive death metal with Orpheus Omega from down under; groovy, funky, spacey instrumental prog with a retro sci-fi feel with Space Junk Is Forever; more ambient artpop with Michael Whalen feat. Michael Manring & more and finally another super slo-mo doom epic from the legendary Bell Witch! With today's Releases of the Week edition and the 10 fantastic highlights, we also reached 111 mini reviews in total for this year alone so far, so I think it's safe to say that we will easily crush last year's record of 200 mini reviews total. Dive in and subscribe to our Spotify playlist if you haven't done so already: https://theprogspace.com/rotw-playlist!
More releases for 21 April, 2023
Jethro Tull - RökFlöte (Inside Out Music)
The Book of Revelations - The Plumes of Enceladus (Conquest Music)
Phaeton - Between Two Worlds Bandcamp
Nerve End - The Cycle (Apr. 20) Bandcamp
Night Fishing - Live Bait EP (Brutal Panda Records) Bandcamp
The Eating Cave - The Miscalculation Bandcamp
Dimwind - The Futility of Breathing Bandcamp
MMXX - The Next Wave EP (Candlelight Records) Bandcamp
The Revenants - Ghosts
Dawn of Ouroboros - Velvet Incandescence (Prosthetic Records) Bandcamp
Svntax Error - The Vanishing Existence (Bird's Robe Records) Bandcamp
Pestifer - Defeat of the Nemesis (Debemur Morti Productions) Bandcamp
Magnify the Sound - Don't Give Us That Face (Crispin Glover Records)
Xavier Boscher - Starseeds I Bandcamp
Perma Grin - Ode to Entropy Bandcamp
Amala - Shell, Elapse, Haze, Aeon EP (April 19) Bandcamp
Bandit - Siege of Self (Apr. 20) Bandcamp
Legs on Wheels - L E G R O O M (Apr. 22) Bandcamp
Nebulae Come Sweet - De Lumiere (April 20) Bandcamp
Portrayal of Guilt - Devil Music (Apr. 20) Bandcamp
Terms - All Becomes Indistinct (SKiN GRAFT Records) Bandcamp
Ogives - La Memoire des Orages (Sub Rosa Label) Bandcamp
The Ladderman - Figures on Demand
As Everything Unfolds - Ultraviolet (Long Branch Records) Bandcamp
Predatory Void - Seven Keys to the Discomfort of Being (Century Media Records) Bandcamp
Dione - Cosmosphere EP (Apr. 22) Bandcamp
Brand of Sacrifice - Between Death and Dreams EP
Atavistia - Cosmic Warfare Bandcamp
Off-Nominal - Off-Nominal Bandcamp
Ruby Dawn - Beyond Tomorrow (Apr. 20) Bandcamp
These Beasts - Cares, Wills, Wants (Magnetic Eye Records) Bandcamp
Daydream Flights - The Garnet Bracelet (Apr. 22) Bandcamp
Fall of Earth - From The Ashes
Wakki - Taxonomi EP (AudioMaze) Bandcamp
Ox en Mayo Alto - Vulpes: del fuego, quebrador del Hielo 9 EP Bandcamp
Deep Space Destructors - Voyage to Innerspace (Apr. 19) Bandcamp
Projekt Gemineye - What Lies Beyond Bandcamp
Slung From a Tree - Voyage Into Cosmos (Apr. 20, Cursed Monk Records) Bandcamp
Black Moon Circle - Leave the Ghost Behind Bandcamp
Jonathon Stewart - Syncopated Angel (No Remorse Records)
Overman - it is all overman Bandcamp
Terzij de Horde + Ggu:ll - Van Grond EP (Apr. 22) Bandcamp
Dominic Miller - Vagabond (ECM Records)
Count Hamilton - Gnomeboy Bandcamp
ALL HANDS_MAKE LIGHT - Darling the Dawn (Constellation Records) Bandcamp
Tanith - Voyage (Metal Blade Records) Bandcamp
Saint Deamon - League of the Serpent (AFM Records)
Allochiria - Commotion (Apr. 23, Venerate Industries) Bandcamp
E U X - Mor(t)sang Bandcamp
Korribann - Autarkeia Bandcamp
Birdflesh - Sickness in the North (Everlasting Spew Records) Bandcamp
Evermore - In Memoriam (Scarlet Records)
Axel Rudi Pell - The Ballads VI (Steamhammer/SPV)
Cilvarium - New Beginnings (April 18, Sliptrick Records) Bandcamp
The Devil's Trade X John Cxnnor - Live at Roadburn 2022 (Pelagic Records)
Car Bomb - Live in Santa Cruz Bandcamp
Circle of Sighs - Performs an Invocation Bandcamp
ten56. - Downer (Deluxe)
The Mars Volta - Que Dios te maldiga mi corazon