Three EPs that will make your jaw drop!
Releases of the Week 17/2023 with Loam, Asymmetric Universe & Lunar Chamber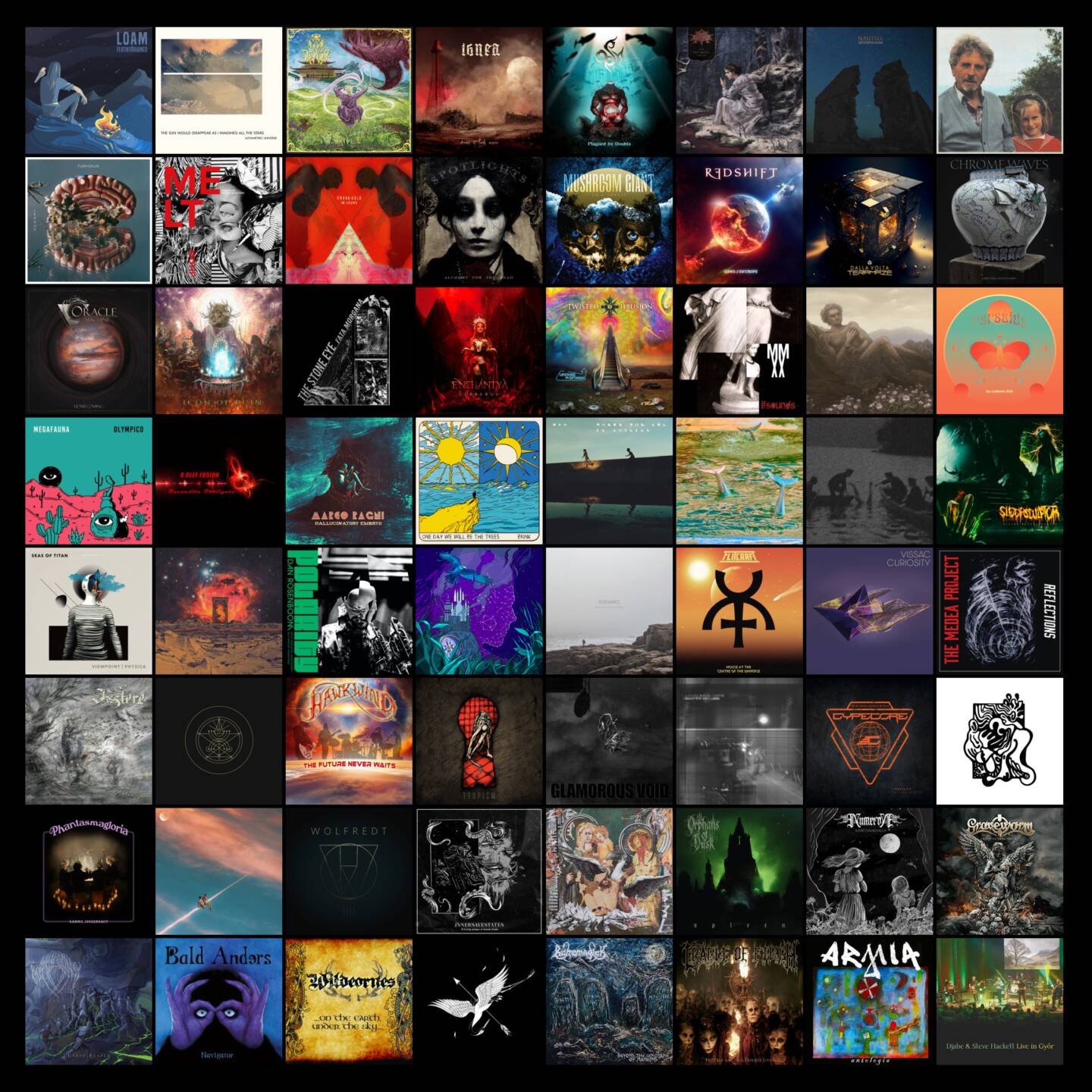 April sends us off into May with 3 of the best EPs this year so far: instrumental modern prog fusion with both Loam from Scotland & Asymmetric Universe from Italy and  technical esoteric progressive death metal from the US with Lunar Chamber's debut EP "Shambhallic Vibrations". 62 more releases to check out in our list, either down below through bandcamp or by subscribing to our Spotify playlist right here: https://theprogspace.com/rotw-playlist!
Loam - Featherbrained EP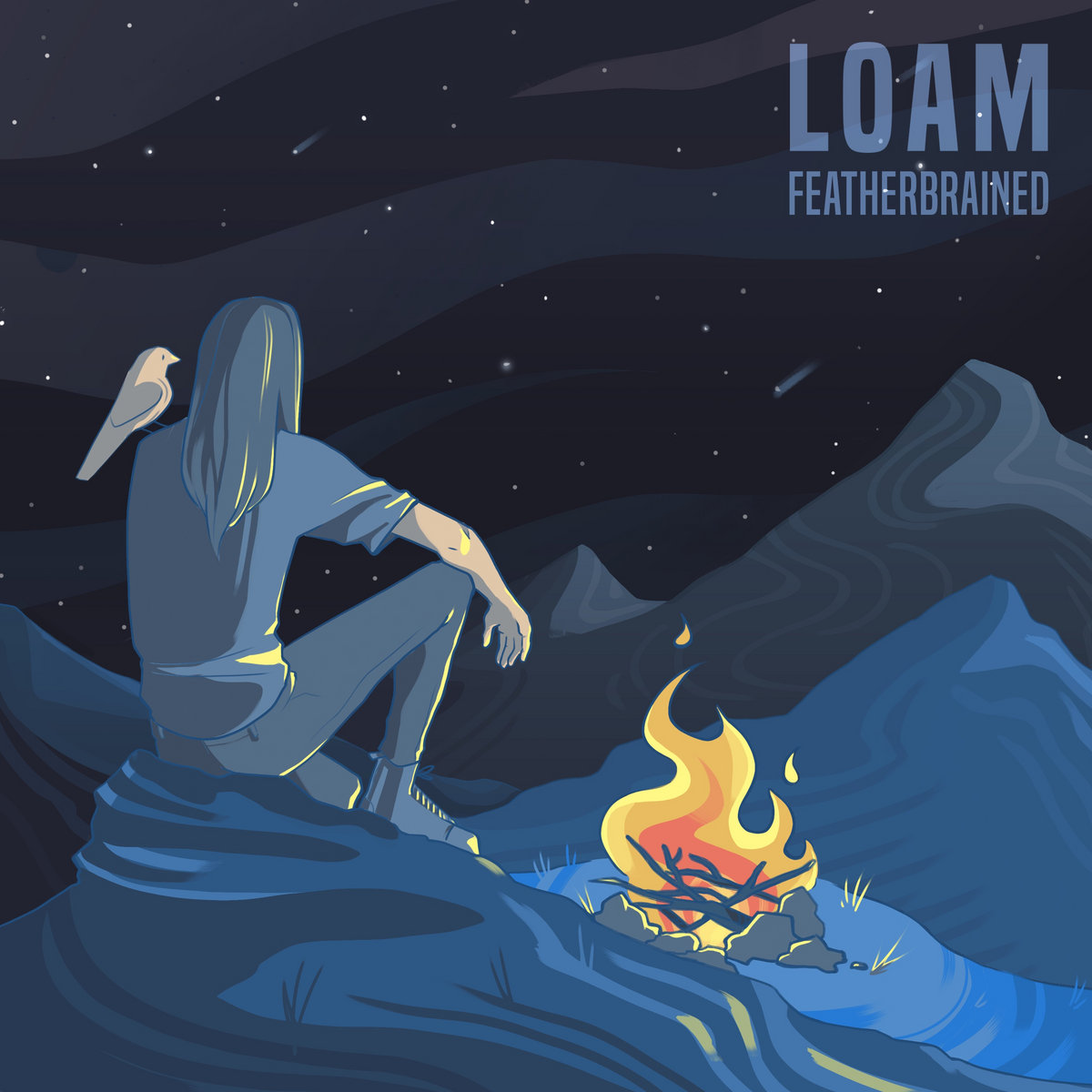 Instrumental Prog fusion #1: Scottish guitar prodigy Liam McLaughlin aka Loam, whom some modern prog metal experts might remember from Orynthia's stellar 2017 EP "Immersed in Lucidity", as second guitarist for the Sithu Aye live band or more recently from his appearance with iamthemorning and Mariana Semkina at Prognosis NL and UK, just dropped his debut solo EP "Featherbrained", and the music you'll find thereon is neither the modern hybrid prog metal that Orynthia played nor the semi-acoustic chamber folk prog of iamthemorning. Sithu Aye's modern djent fusion prog style might come closest out of these three, including influences from gaming music and playful electronic bits, however there's barely any metal guitar sounds (or djent for that matter) on "Featherbrained". It's 21 and a half minutes, 5 songs of non-stop feelgood music, with a huge emphasis on jazz and fusion influences. Now whether you're gonna listen in awe at all the flawless performances from Loam himself, but also drummers Clark McMenemy (Ihlo) & Andrew Scott (Leviathan Owl), keyboard/synth guests Rohan Sharma (RO1) & Lucas de la Rosa (Archætype), guitar guests Sithu Aye & Scias and more, or you're just gonna bob along to the infectious melodies with a bright grin – or both – is up to you of course. As long as you listen to "Featherbrained". Like right now. Do it! I mean it! Dario
Asymmetric Universe - The Sun Would Disappear As I Imagined The Stars EP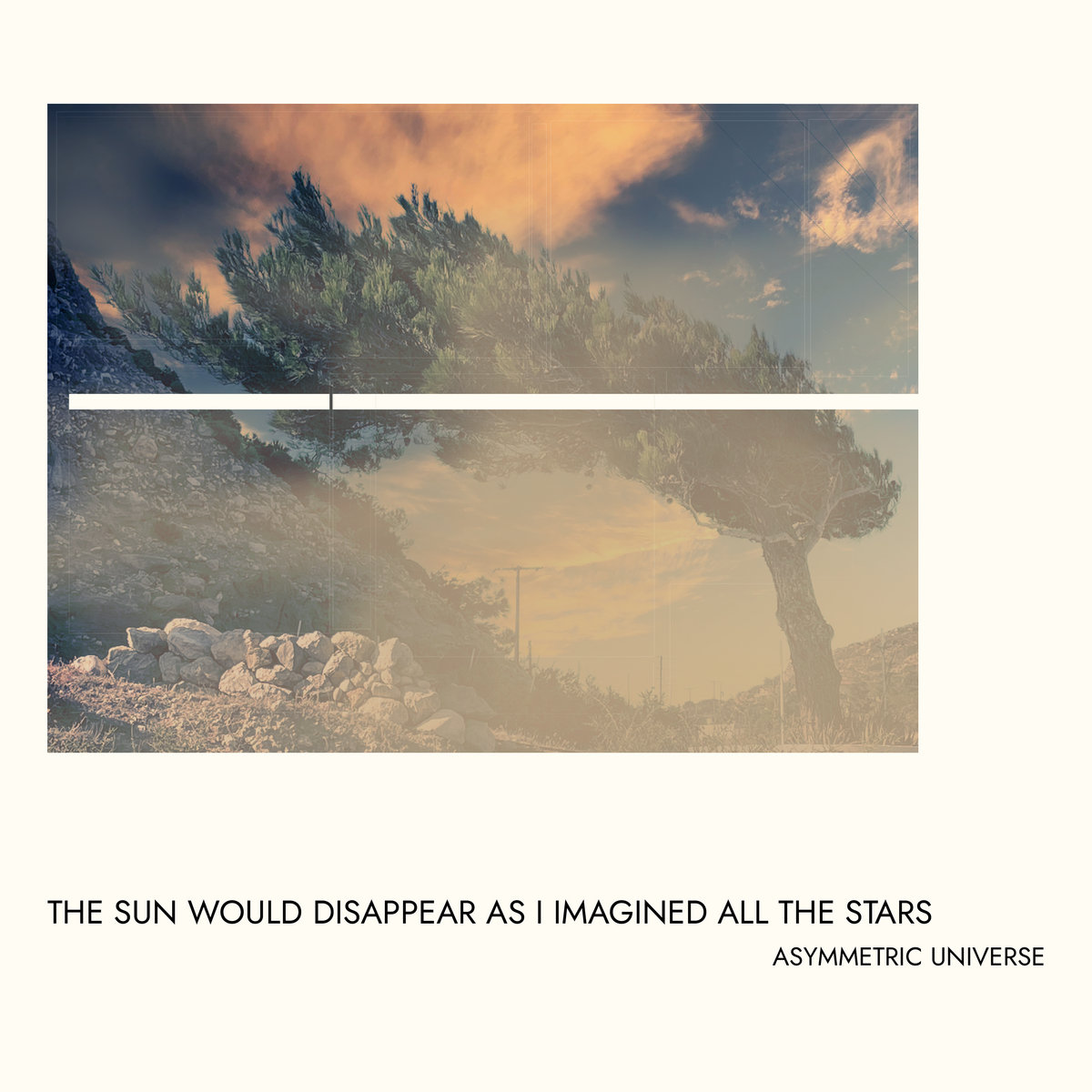 Instrumental Prog fusion #2: turning up both the jazz and the metal factor by a good measure is this next EP from Turin based trio Asymmetric Universe. "The Sun Would Disappear As I Imagined The Stars" is 30 minutes of pure musical ecstasy for anyone susceptible to the wonders of jazz and fusion. If you were still grinning from ear to ear courtesy of Loam, your jaw is bound to drop below floor level within the first few bars of the opening track 'Extrospection', right after the soothing piano intro. Brothers Federico and Nicolò Vese on guitars and bass respectively together with drummer Gabriele Bullita are joined by a real string quartet plus trumpet and saxophone on occasion and the EP just keeps on giving musical perfection throughout its entire runtime of 30 and a half minutes. And if there's any righteousness beneath this proggy sun, these three masters should dominate the 2023 The Progspace Awards performance categories together with Loam and The Resonance Project. Unless The Aristocrats decide to release something quickly before the end of the year, but I guess they're too busy touring the world (which is also a great thing of course)… Dario
Lunar Chamber - Shambhallic Vibrations EP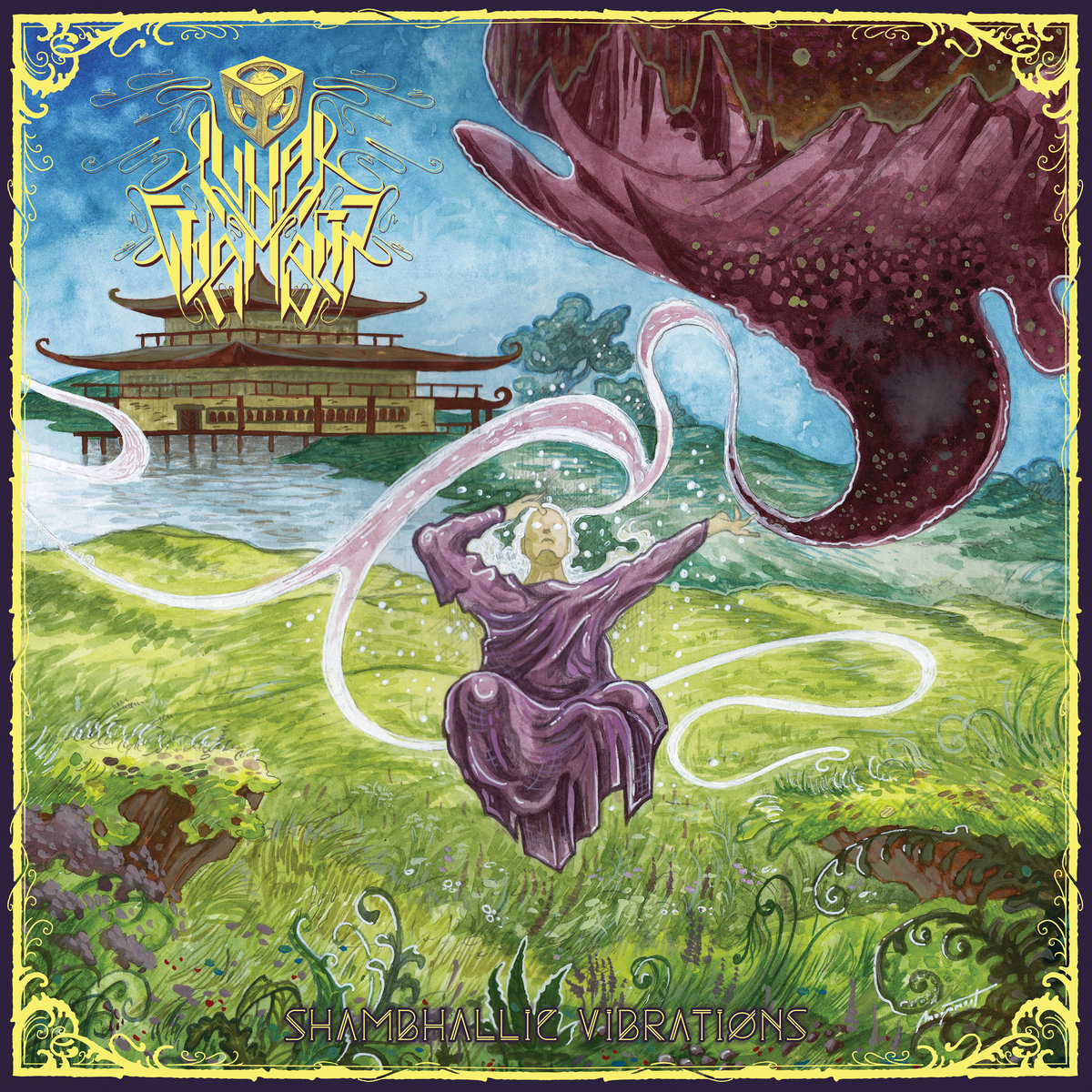 Ok, that's it. I quit. Or rather: any band or artist who planned to release another EP this year: don't do it. The top three best EPs of the year have been released this week, on April 28. There, I said it. Add to that Exploring Birdsong, A.C.T, Ihsahn, Poh Hock & BRUIT ≤, the Top 8 EPs of 2023 have been set pretty much in stone here and now. Oh, what's that eighth EP you ask? It's called "Shambhallic Vibrations" and it's the debut EP of Lunar Chamber, a brand new Extreme Prog trio that apparently features two members of Tomarúm, who released the Album of the Year 2022,  at least according to my esteemed RotW-Colleague & Ashbreather drummer Colin MacAndrew. While I have to admit that Tomarúm's debut "Ash In Realms of Stone Icons" didn't manage to fully convert me to their cause, "Shambhallic Vibrations" sounds nothing short of a revelation to these ears. Halfway between The Artisan Era's usual almost clinic perfection and I, Voidhanger's more raw extreme avant-garde underground, with Cynic's feel for mysticism and an aura of esoteric, umm vibrations, these "Shambhallic Vibrations" are released through 20 Buck Spin and I have to say the Pittsburgh based label had their bucks right on the money. Hold on, I'm gonna give it another spin and vibrate some more. And so should you. Dario
More releases for 28 April, 2023
Ignea - Dreams of Lands Unseen (Napalm Records) Bandcamp Read Our Review
OSM - Plagued By Doubts (Klonosphere Records) Bandcamp
Fires in the Distance - Air Not Meant For Us (Prosthetic Records) Bandcamp
Nautha - Metempsychosis (Argonauta Records) Bandcamp
Susanne Sundfør - blómi (Bella Union) Bandcamp
Leagus - Flora Eallin (Is it Jazz? Records) Bandcamp
Melt Motif - Particles.Death.Objective (Apollon Records) Bandcamp
Orsak:Oslo - In Irons (April 27, Vinter Records) Bandcamp
Spotlights - Alchemy for the Dead (Ipecac Recordings) Bandcamp
Mushroom Giant - In A Forest (Bird's Robe Records) Bandcamp
Redshift - Laws of Entropy (Pale Wizard Records) Bandcamp
Teramaze - Dalla Volta (April 27) Bandcamp
Chrome Waves - Earth Will Shed It's Skin (M-Theory Audio) Bandcamp
The Oracle Machine - Homecoming (April 27) Bandcamp
Terranoct - Icon of Ruin Bandcamp
The Stone Eye - Fata Morgana Bandcamp
Enchantya - Cerberus (Inverse Records) Bandcamp
Twisted Illusion - Upstairs to Optimism Bandcamp
ifsounds - MMXX (Melodic Revolution Records) Bandcamp
Aton Five - Aton Five Bandcamp
Perséide - Les couleurs d'​é​té (Dure Vie) Bandcamp
Megafauna - Olympico Bandcamp
G Clef Fusion - Recondite Obbligato Bandcamp
Marco Ragni - Hallucinatory Embryo Bandcamp
One Day We Will Be the Trees - Brink Bandcamp
Odd - Where the Sun is Shining EP (Melt Records) Bandcamp
Kukangendai - Tracks (April 26) Bandcamp
IER - 物の怪 Bandcamp
Sleepsculptor - Divine Recalibration (Silent Pendulum Records) Bandcamp
Seas of Titan - Viewpoint | Physica EP Bandcamp
Mars Red Sky & Queen of the Meadow - Mars Red Sky & Queen Of The Meadow EP (Mrs Red Sound/Vicious Circle Records) Bandcamp
Dan Rosenboom - Polarity Bandcamp
The Swan Station - Nightgazer (April 30) Bandcamp
Scenario. - When All is Said and Done (April 24) Bandcamp
Flitcraft - House at the Center of the Universe (Pitch Black Records) Bandcamp
Vissac - Curiosity EP (April 26) Bandcamp
The Medea Project - Reflections (Trepanation Recordings) Bandcamp
Austere - Corrosion of Hearts (Prophecy Productions) Bandcamp
Unborn Prophecy - Waking Our Ancient Memories Bandcamp
Hawkwind - The Future Never Waits (Cherry Red Records) Bandcamp
Tropism - Tropism Bandcamp
Heel Turn - Glamorous Void (The Ghost Is Clear Records) Bandcamp
Loud As Giants - Empty Homes (Dirk Serries) Bandcamp
Cypecore - Version 4.5: The Dark Chapter
Sugar Horse - Thrash Music Single EP (April 27) Bandcamp
Karmic Juggernaut - Phantasmagloria Bandcamp
Lakes - Elysian Skies Bandcamp
Wolfredt - IIII Bandcamp
Inner Savestates - A Fleeting Glimpse of Fulsome Deaths EP (April 29) Bandcamp
Helicon - God Intentions (Fuzz Club Records) Bandcamp
Orphans of Dusk - Spleen Bandcamp
Numeron - Road to Valhalla (Tragedy Productions) Bandcamp
Graveworm - Killing Innocence (AFM Records)
Wallowing - Earth Reaper (Church Road Records) Bandcamp
Bald Anders - Navigator (Antiq) Bandcamp
Wildeornes - …On the Earth, Under the Sky… (April 30) Bandcamp
Mistral - In the Throes of Losing Love (Onism Productions) Bandcamp
Runemagick - Beyond the Cenotaph of Mankind (Hammerheart Records) Bandcamp
Cradle of Filth - Trouble and their Double Lives (Napalm Records) Bandcamp
Armia - Antologia
Amplifier - The Old Forge Sessions Vol. 1
Djabe & Steve Hackett - Live in Györ (Cherry Red Records)