Be Prog! My Friend 2017 – Day 1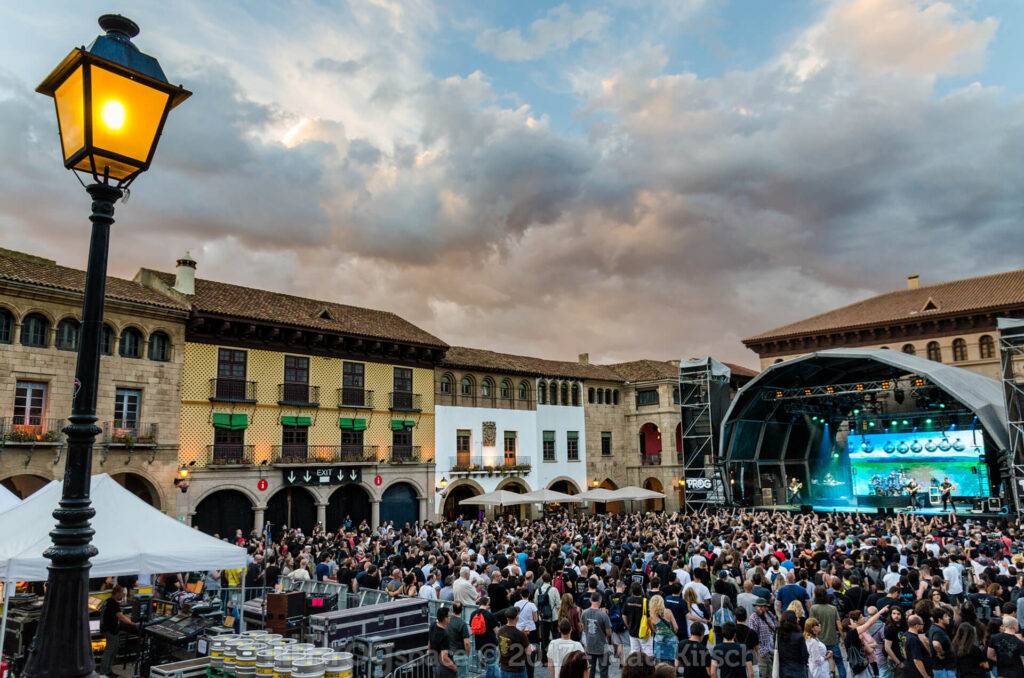 Last year, I fell in love with the quite newly established Be Prog! My Friend Festival in the beautiful city of Barcelona, when I seized a last minute chance to experience it. So there was no doubt I would be back this year for its fourth edition, this time with the whole crew of The ProgSpace to bring you some visual impressions to prop up my humble scribblings.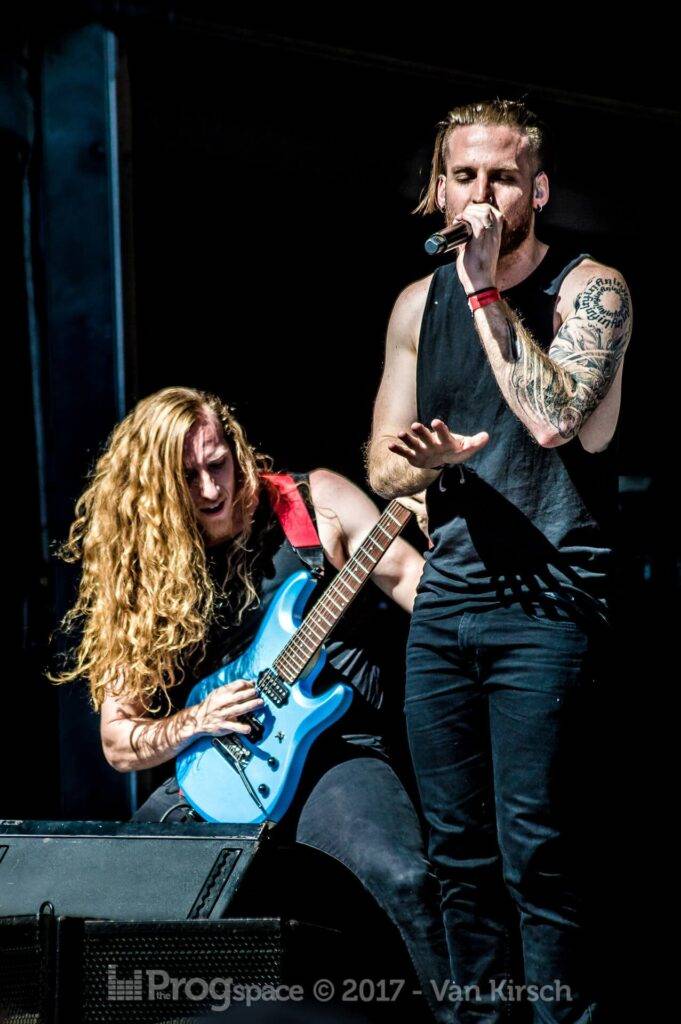 The first band of Be Prog! My Friend 2017 were the Aussies of Caligula's Horse, still supporting their 2015 breakthrough album "Bloom". Their beautiful, heartfelt, modern and melodic take on prog metal together with an energetic performance proved as the perfect festival opener. The only downside of that slot was only 45 minutes playing time, but with a new album around the corner ("In Contact", coming via InsideOut Music on September 15th), and a promise to be back in Europe around spring time next year, I think it's safe to say, that we will be in for a longer treat next time. Having undergone some line-up changes recently, the 'new guys' Adrian Goleby on second guitar and Josh Griffin on drums are a perfect fit for the band, providing killer guitar licks and a steady rhythm and, especially Adrian, brimming with excitement and passion.
The same goes for the 'old guys' naturally, Dave Couper providing his solid bass foundation and stellar harmony vocals on top. And of course the core duo, consisting of mastermind and guitarist extrordianaire Sam Vallen, who sure knows how to make his guitar sing (and is responsible for most, if not all compositions). And, last but not least, charismatic front man and velvet voice Jim Grey. When those two met for the first time, there must have been a magical rainbow going on, of such enormous perfectness is the creative match here. The compositions and Jim's voice as icing on the cake are oozing pure beautiful emotions from every pore, an incredible thing to witness paired with their sheer positive energy on stage. To quote Jim Grey's former band Arcane: luckily he was given the voice to be heard and he is constantly filling is lungs, wearing his heart on the tip of his tongue and giving all his soul into every single note. And luckily he is not singing the same tired old song. Incredibly stoked for the upcoming album and their return to Europe for more shows. Fanboy much? Oh yeah, and damn proud about it!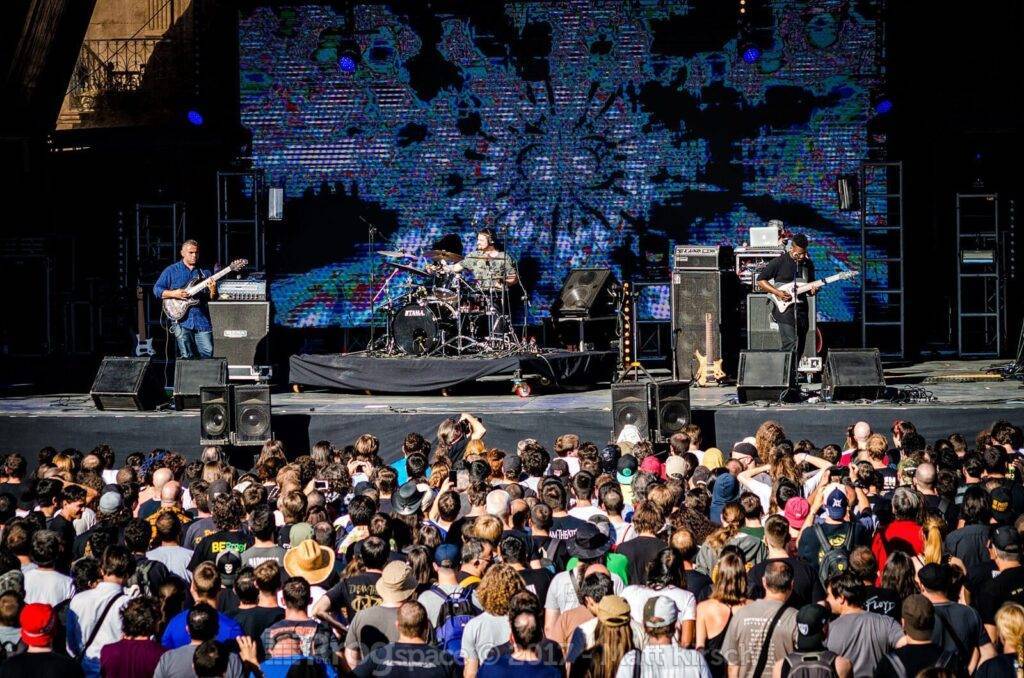 Next up were three american gentlemen shredding their 8-string guitars or hitting the drumkit in a polyrhythmical fashion respectively. Tosin Abasi, Javier Reyes and Matt Garstka, better known as Animals as Leaders. Their ultra-technical instrumental prog metal is just so impressive, that it somehow becomes quite boring, as a lot sounds like the same over and over again. But despite this lack of variation in the songwriting, it came out quite nice as sort of dancy background music while having a chat with friends in the shadow. No disrespect, this probably sounds horribly derogative, but I mean it in the most positive way: like this, I actually enjoyed the performance of Animals as Leaders much more than I would have front stage. Needless to say, a band with their reputation garnered enough fans in the hot sun and kept them well entertained for the good part of an hour.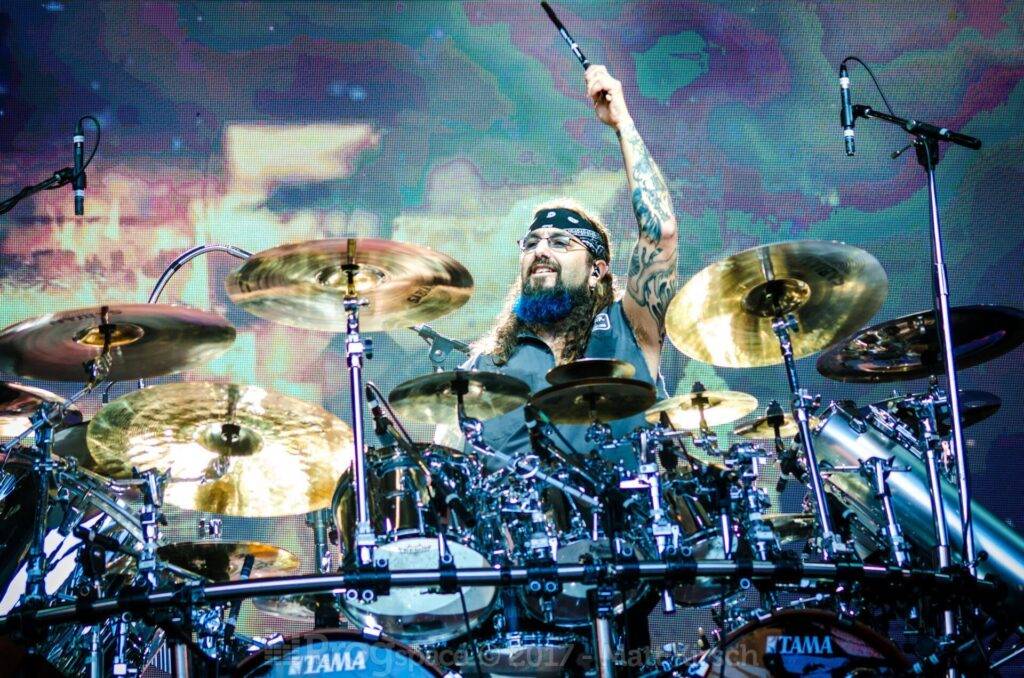 And then the 'once in a lifetime'-experience called Mike Portnoy's Shattered Fortress was already upon us. The complete performance of the Mike Portnoy initiated 'Twelve Steps Suite' (in studio form spread across four albums between 2002 and 2009) was not only a long time dream of the master himself, but also of many a fan. As a sort of 50th birthday gift to himself, Portnoy gathered some of the best young musicians in the prog metal scene today to fulfill this long-cherished dream that was almost in danger to stay a dream forever since his ugly split with Dream Theater. As for the musicians, he didn't have to look far, as his favorite young prog metal band, British shooting stars of Haken, provided all the skills needed. Well, almost, as for the full sound he added the young multitalent that is Eric Gillette he knew from his work with the Neal Morse Band. Only poor Ray Hearne (Haken Drummer and professional Tuba player) had to stay at home and I'd really like to believe that he got more money from Mr. Portnoy than his bandmates, but I guess that's another story… On to the glorious and epic performance of the Shattered Fortress that didn't sound shattered at all. On the contrary, from the first notes until the very last ones, there was an excitement in the air, from all the musicians on stage being excited to play these songs. And that came back a thousandfold from the entire audience, never getting tired to sing along anything that remotely resembled a melody.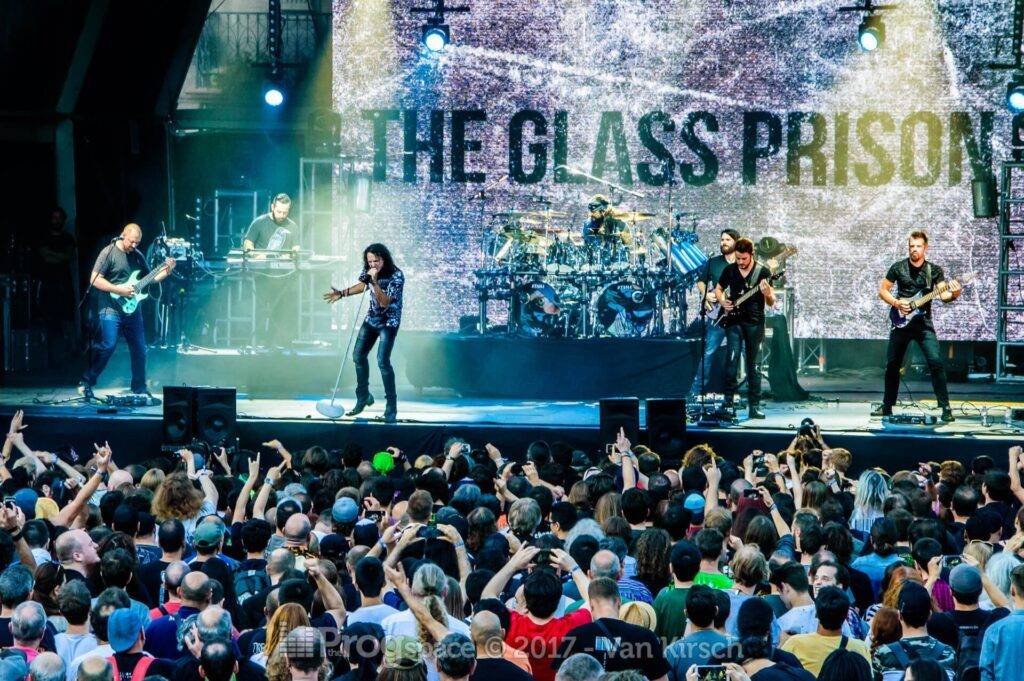 The shrill sounds of the violins from the Psycho Soundtrack got us really, well, psyched as the tension was rising. And when the all too familiar (for any progressive metal fan, I'd assume) clock from the beginning of 'Metropolis Pt. II' began ticking and the famous words of The Hypnotherapist were coming out of the speakers, the excitement of pure anticipation rose to an almost unbearable level. 'Overture 1928' and 'Strange Déjà Vu' made for an excellent opening double, all the young dudes and Mike Portnoy were absolutely on fire and the concept album lover in me wished for them to just go on with 'Beyond this Life', 'Fatal Tragedy' etc., but that was not what they did, as the focus was lying on a very different concept piece this evening. After a fierce rendition of the Twelve Steps 'predecessor' and seminal prog metal hit 'The Mirror', Mike Portnoy came front stage for his only talking spot of the entire evening to express his gratitude that he is able to perform these songs finally as they were meant to be 'en suite' with such stellar musicians. He said something like "these songs are sacred to me, and to some of you as well, but believe me, they are in good hands!" And in good hands they were.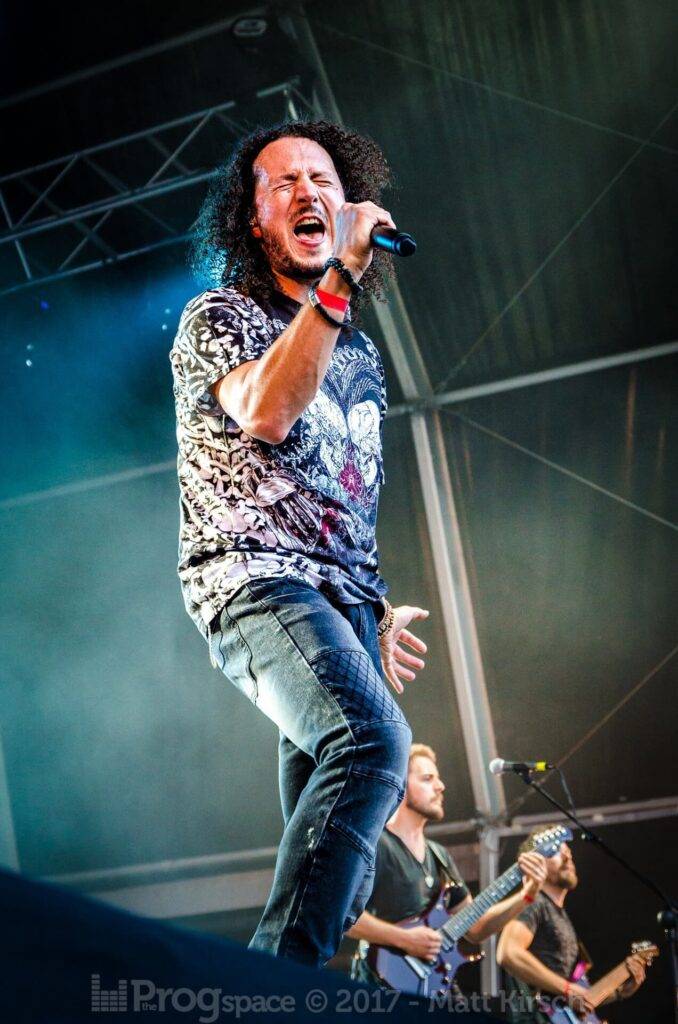 Front and center, vocalist Ross Jennings made clear that the days when he was the weak spot in Haken's live performance are long gone. Anyone who was able to catch them live a few times over the last few years since their debut can attest to his unbelievable growth. To be honest, if anyone had told me that this guy will outsing James LaBrie in just a few years time, I would have doubted him, even though James was far from his best years already back then. Ross transformed those songs most of us have listened to over and over again and made them his own. And when the concert was over I almost dreaded the thought to come home to LaBrie singing on the studio versions. Out of the whole cast, Ross was without a doubt the biggest surprise. He passed this baptism by fire with flying colors.
Concerning the instrumentalists, each and every one of them proved worthy of every single accolade that have been sung about them beforehand. Mr. Diego Tejeida makes no secret of his admiration of Jordan Rudess, yet gives his whole performance a youthful twist and a tongue-in-cheek kind of ease, that seems to be present in his brothers in arms (or axes) as well. All three guitarists, Charlie Griffiths, Eric Gillette and Richard Henshall, could take it up with the legend Mr. Petrucci himself, yet they trade the solos and riffs as brothers and equals, just happy to be playing this music together. Gillette took care of the second big surprise, as he took over the lead vocals for 'The Root of All Evil' and nailed it in grandiose fashion. Youngster Conner Green might have stayed in the background visually for the most part of the show, but his flamboyant bass tones were audible in the mix through the entire duration of it, which is rarely the case at Dream Theater concerts, sadly.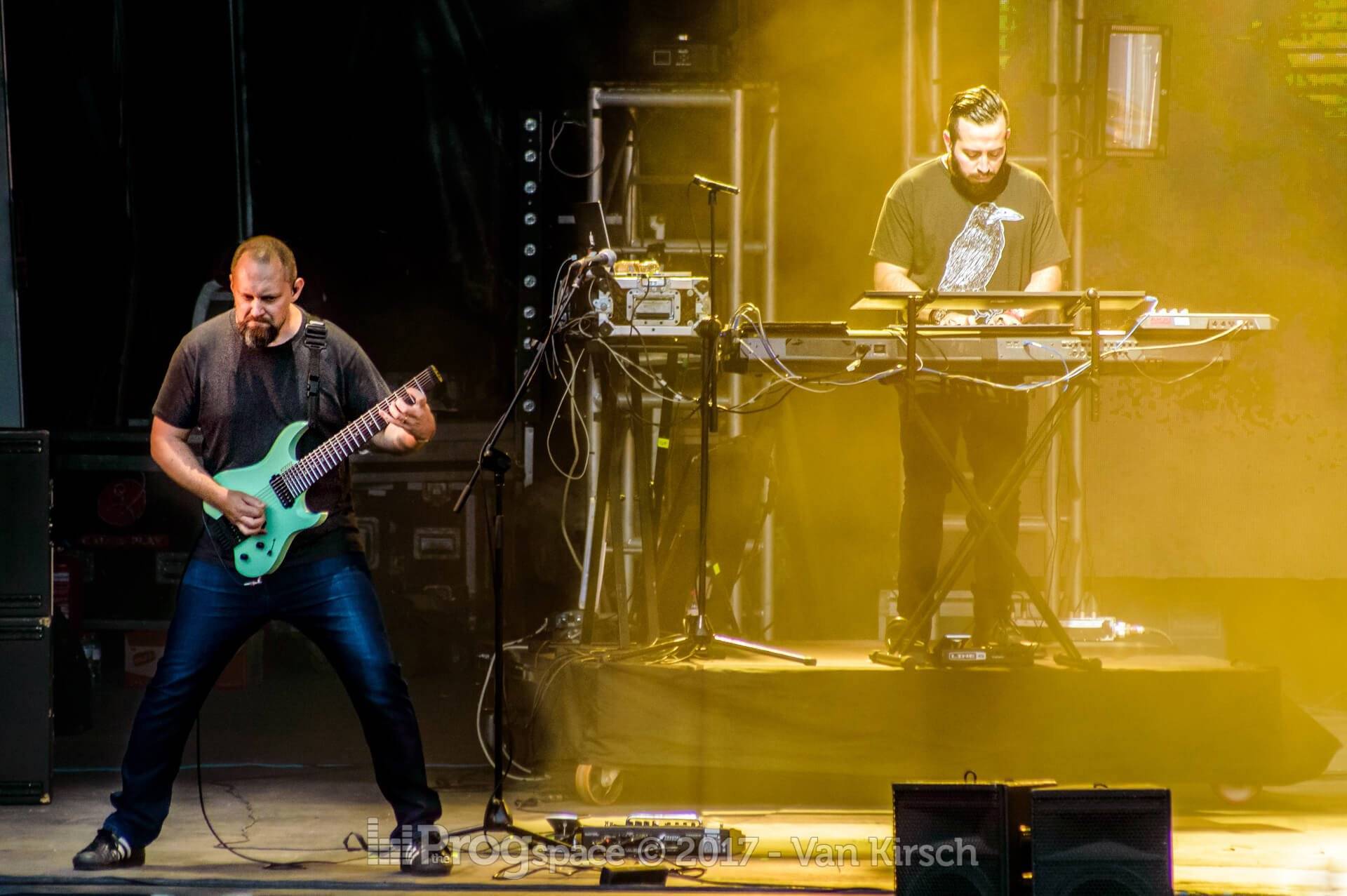 Oh and there was this drummer, he was really good, but a little bit old compared to the rest of the band. I am just kidding of course, technically Mike Portnoy might not be the most proficient drummer in prog, but with his own distinct style he influenced many drummers, both in and out of prog. And it was a celebration of his music and, ever the showman, he led his young comrades through a glorious set, providing the soul and backbone, while his excellent sidemen added their heart and skills to a near perfect whole. Yes, it was only near perfect, as The Shattered Fortress suffered from the worst sound of the whole festival, sadly. The sub-bass frequencies of the triple axe attack threatened to devour everything else, which was really a pity as everything else sounded perfect. But a live setting is a live setting and, captivated by the live spirit and the compositions, one is willing to overlook these flaws and just enjoy the moment.
Safe to say, the 'Twelve Steps Suite' and the subsequent encore, completing the circle of the show going back to 'Metropolis Pt. II' with the instrumental 'The Dance of Eternity' and the idiomatic 'Finally Free' was as triumphant and memorable as it gets in the prog metal sector. Despite its flaws soundwise, it was a show for the ages, even for someone who grew tired of the Dream Theater dinosaurs in recent years.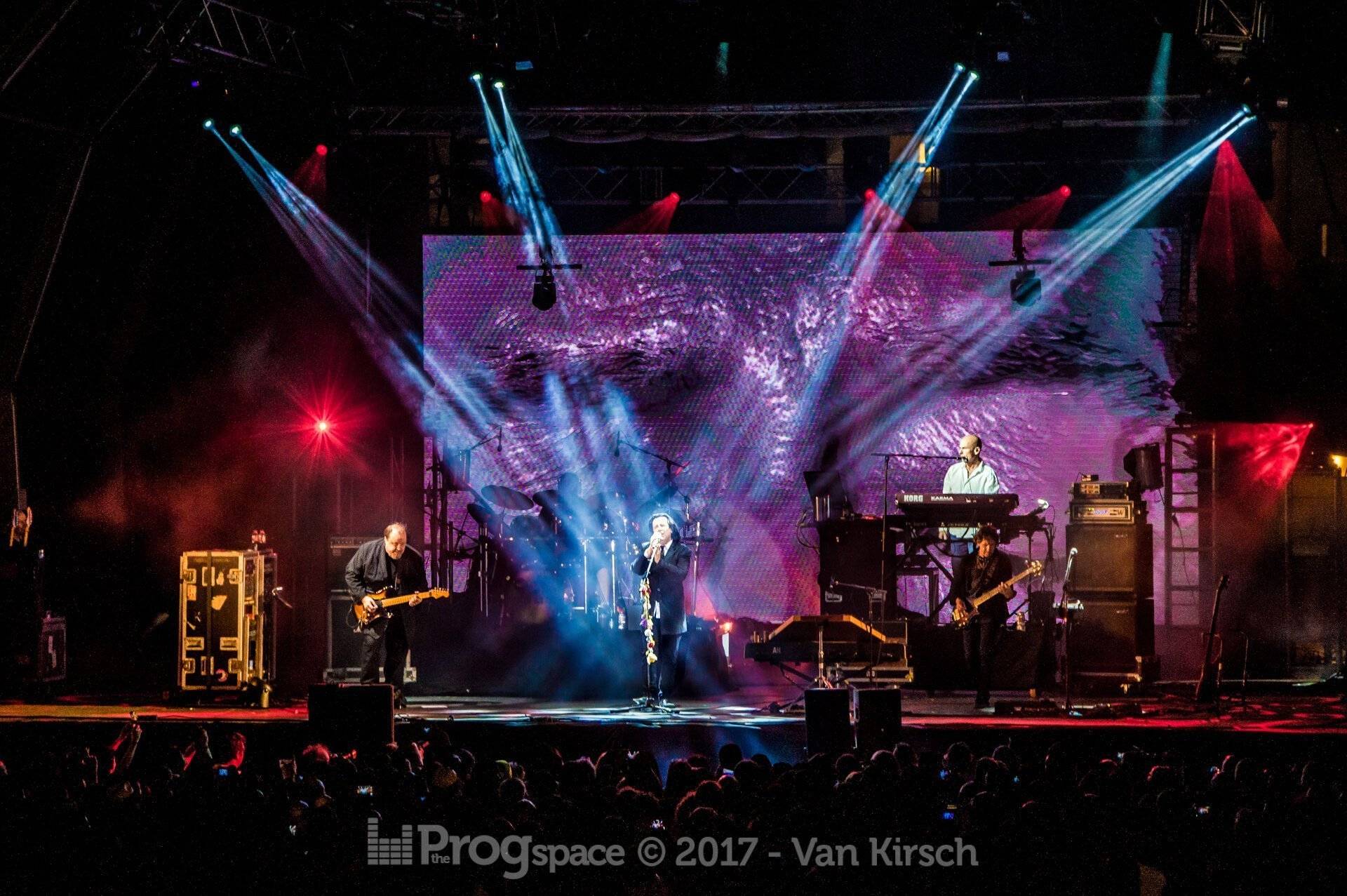 Longstanding British band Marillion, arguably the biggest one to emerge out of the second generation of progressive rock bands starting in the early eighties, creating a 'new' sound dubbed neo prog somewehere along the road, released their 18th(!) studio album "F.E.A.R." (F*** Everyone and Run) last year to widespread acclaim from both critics and fans. However, it didn't seem to strike a chord with this particular fan writing these lines, who considers somewhat half of their output since 'the new guy' Steve Hogarth joined in 1989 as essential progressive rock records. So they always seemed a bit hit and miss, still I was curious how the new material would work in a live setting.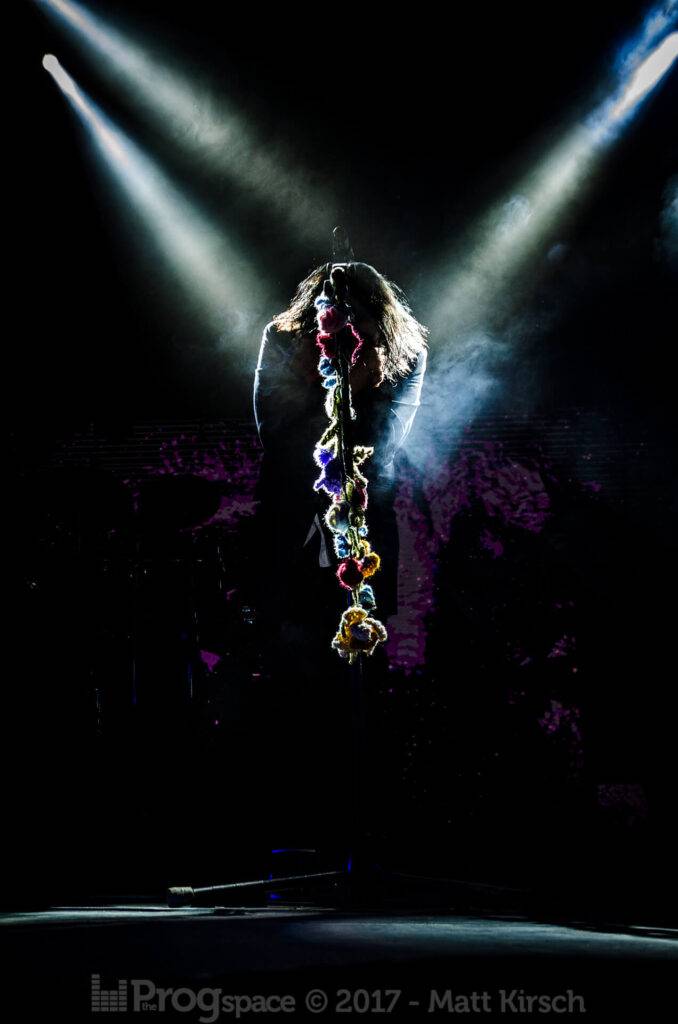 To spare you the surprise, they still didn't convince me. After a promising beginning with the suspenseful thirteen plus minutes "Marbles" opener 'The Invisible Man', the following three longtracks from "F.E.A.R." just seemed to meander around with no aim, not going anywhere, as they do on the album. Small snippets here and there reminded me of the beauty that initially draw me towards 'h-era' Marillion, but all in all it was sadly far too little to keep my attention. Only the 1997 epic 'This Strange Engine' from the album of the same name, placed in the middle of the set and the chilling encore 'Gaza' from 2012s "Sounds That Can't Be Made" (also clocking in at close to 20 minutes) were able to purvey that sense of urgency, grit and direction the new stuff was lacking. Luckily, the majority of the attending music lovers seemed to enjoy the performance thoroughly. An almost two hours concert made up by only six songs and none of them shorter than fifteen minutes, sounds quite proggy, right? Well in this case I would have preferred a best of hits set I have to admit. Maybe I'll just have to wait until Marillion's next album to enjoy their music and live show again.
So even though it was after midnight already, there was still another highlight awaiting us. The Norwegian chameleon that is Ulver has changed and morphed its sound through many different sonic stages since its inception in 1994. Black metal, nordic folk, a combination of both, industrial, avantgarde, soundtrack, electronic, you name it. Their current incarnation breathes pure eighties gothic synth pop, and they promised to play their new album "The Assassination of Julius Caesar" in its entirety with a special laser lights show, so it made sense regarding the visual aspect that they played in the middle of the night.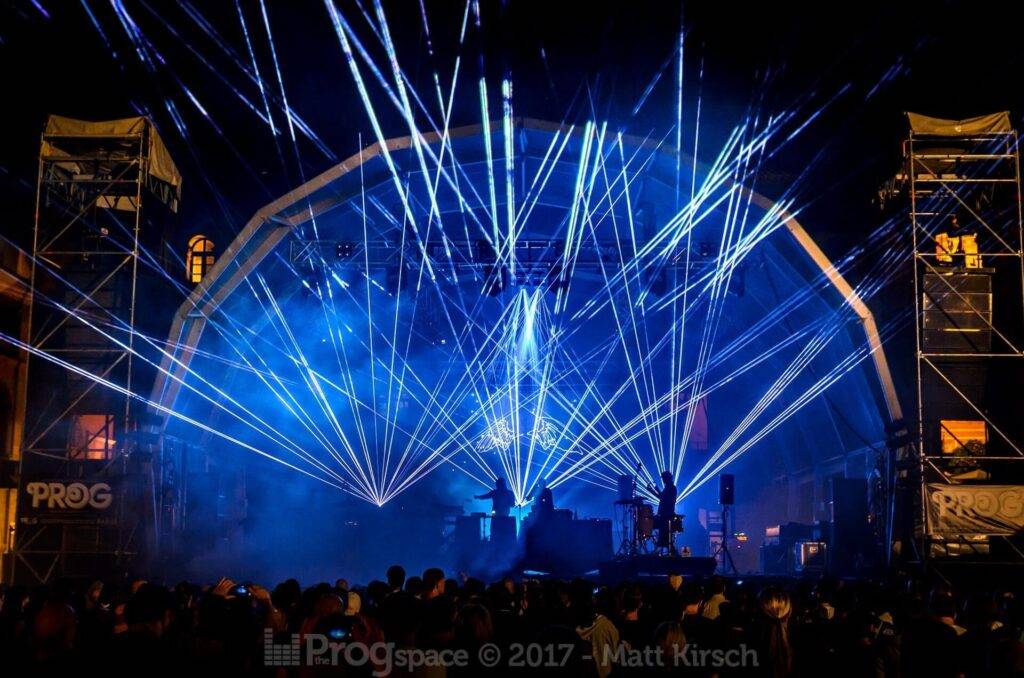 Even more than Marillion before them, they were not everyones cup of tea, so the crowd dancing and partying to the sounds coming from the stage was distinctively smaller than before. That didn't stop them from delivering a breathtaking show, carried by the incredibly beautiful voice of only remaining founding member Kristoffer Rygg, perfecting the smooth electronic layers and rhythms in an orgasmic way. Add to that the stunning visuals, to which the amazing pictures from Van and Matthias can only partly live up to, capturing mere moments of a constant flow of aural and visual stimulation, the first festival day of Be Prog! My Friend 2017 ended in quite the memorable fashion. But there was still a whole other day to come.
See our Photo Galleries on these links below:
Caligula's Horse
Animals as Leaders
Shattered Fortress
Marillion
Ulver