Riverside – Towards the Blue Horizon Tour (Worpswede, May 6th, 2017)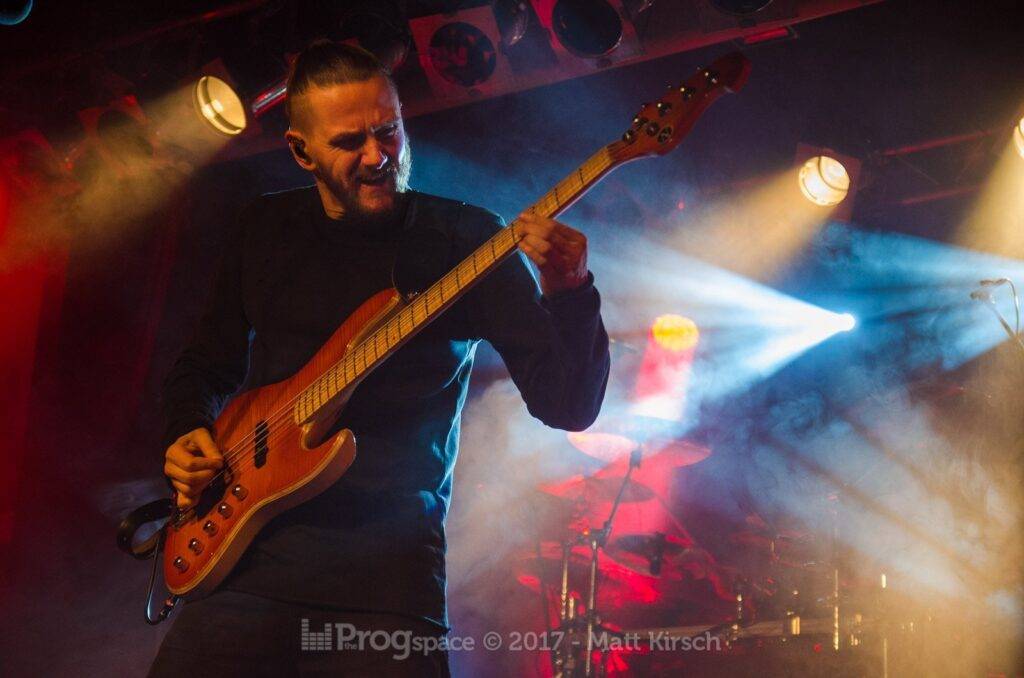 Life and all its twists and turns can tear you down, hold you back or make you want to leave it all behind. There were moments when the fans of Riverside had to fear for just that to happen, after their guitar player Piotr Grudziński passed away decades too early in 2016. It took the band one year to appear back on stage, and those two shows in Warsaw in February were like a test balloon for the polish trio, and they gloriously proved that these guys were not going to allow fate to stop them in their journey. They were still there, and carried by the enthusiasm of their fans and the support of their musical guests they were back.
Now, band leader, bass layer and singer Mariusz Duda, drummer Piotr Kozieradzki and keyboard player Michał Łapaj are traveling through Europe and, they are delivering some of their best shows so far. Something has changed. In Worpswede/Germany on the 6th of May, it almost felt like a family meeting in the small and lovely Music Hall. Musically, not much did change since the two Warsaw shows. The setlist had been shortened a bit, but still made up for a good two hours. Guest guitar player Maciej Meller (Quidam), who already played with them in February, blends in well with the band with his own sensitive way of playing, and does a remarkable job replacing the irreplaceable Grudziński, but adding his own flavor to the guitar sound,  while keeping pleasantly restrained on stage.
Despite their loss, the band emits so much positiveness on stage from the first notes of "Coda", and just as Mariusz announced at the beginning, that weird feeling inside many among the audience of not knowing what to expect is giving place to a warm fuzzy vibe, already during the everything-but-happy sounds of "Second Life Syndrome" and "Conceiving you".
As the quartet is playing it's way through the setlist, all played in a well balanced sound, there is a constant interaction between them, smiles and looks are shared across the stage, and Mariusz engages with the crowd more than ever. The great support during the band's darkest hours seems to have made a huge impact on Mariusz, Piotr and Michał. As Mariusz puts it: "We have learned that we don't have just fans – we have a family." Mariusz also once described the 2015 album "Love, Fear and the Time Machine" as an "album to fight sadness". The songs "Caterpillar and the Barbed Wire", "Lost (Why should I be frightened by a hat?)" and "Saturate Me" prove this once again – and more than ever.
Of course, the whole setlist was preparing the stage for the inevitable – "Towards the Blue Horizon", the song that was written for a deceased friend by Mariusz and has also become the anthem for Piotr Grudziński. Memories are recalled, tears are shed – it is the emotional climax of a very special show. With "Coda", this time in a slightly different and more positive version, Riverside closed the evening while keeping their promise: Not sadness, but a feeling of being strong and connected prevailed. These feelings were still floating in the Music Hall even after the lights went on and remained with us all on our way home.
Riverside are indeed starting their Second Life, and while Piotr is in everyone's hearts, the eyes are looking forward, into a different but bright future.
For more photos of the Worpswede show watch our Gallery.