Behind Prognosis Festival with Rob van der Donk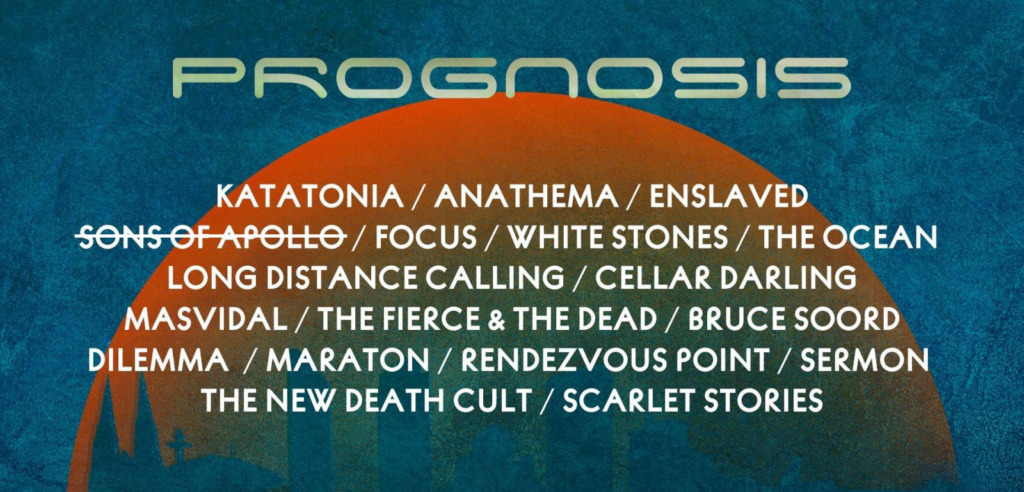 Prognosis festival has now been postponed and will take place on 4 and 5 September 2020.
In the relatively small world of Progressive Rock and Metal, Prognosis festival in the Netherlands has established itself as one of the big names in the scene. The second edition will happen on March 20 and 21 at Effenaar in the city of Eindhoven, and the line-up again looks rock solid with big names on the main stage, such as Katatonia, Focus, Anathema and Enslaved. On the second stage will be bands like White Stones, the solo project of Martin Mendez (Opeth), Rendezvous Point, Long Distance Calling or Cynic's Paul Masvidal. US Supergroup Sons of Apollo also was on the list but had to cancel all Europe dates because of uncertainties due to the coronavirus measurements. Despite the prospect of a possible cancellation of all events also in the Netherlands, the festival organizers reassured their Facebook fans on Tuesday that the concerts are going to commence as planned, while the clinics and workshops are not going to take place. We had a little chat with Rob van der Donk, leader of marketing and communications for Loud Noise, the agency behind Prognosis (as well as Dynamo Metalfest and Into The Grave festival).
You can find out all about the festival, the venue and accommodation on the website, prognosis.com.
This year sees the second edition of Prognosis festival – how has the festival been received in the progressive world?
The 2019 edition was a rollercoaster. We are very proud of the end result. We noticed the visitors liked the festival a lot and were happy with the line-up and venue. So that's a win! On the other hand, some of the visitors complained about the overlap of some bands. We do get people wanna see every band, but in our line-up, it is simply not possible. If we want to realize that, we need an extra day or simply just fewer bands. For us, neither one is a possibility. Overlap is just something we have to live with. After all, it is a festival.
What were the lessons you learned from the first edition?
We do a lot of festivals and clubs shows so we are not easily stressed out. But we did notice some of the prog bands require a bit more than the common metal band, in a technical sense. So that is something we have learned. Another thing we learned from last year is the venue itself. We love Effenaar and Dynamo – for the conference and clinics – and working together for the second time makes it all the easier. We did club shows there before, but a prog fest is something else.
How do you select the artists? Do you contact the labels to see who is available or do you have a line-up in mind and try to get the bands you want?
We are in the fortunate position to have Andy Farrow from Northern Music Company on board. He is a well known and loved person in the prog scene among bands. So this makes it much easier to contact and book the right bands.
Haken playing on the big stage at the 2019 edition of Prognosis
You have an impressive amount of clinics, speeches and workshops alongside the festival, even with artists who are not on stage. Was it easy to find renown artists and other influential personalities from the prog world for this? (Editor's note: all clinics have been cancelled due to measurements regarding the Coronavirus outbreak)
No, it is never easy, but having Northern Music Company on board helps. We have good and personal connections with most of the artists and they are more than willing to promote the scene. So yes it looks very impressive. That is our goal, so we succeeded there. But it goes very natural and is not that stressful. We hope the artists love Prognosis as much as we love them.
If you can make a wish, who would be your dream band or musician to play Prognosis?
Haha, that is a tricky one. Obviously, there are so many great bands out there. Some of them are out of reach at this moment, but who knows. Maybe we can book some of them in the near future. Of course, we all have our favourites, but this is not our main goal, to book favourites of ourselves. We want to book favourites of the fans. And those bands will come and go. So who knows which band will be up there next year. We have noticed nothing is impossible.
And finally, which band are you not going to miss during this year's festival?
There are so many good bands, but I will definitely not miss The New Death Cult. Haven't seen them before so not sure what they will be like on stage. They just released their first album and it is one I like a lot. So not the biggest name on the line-up, but definitely one I want to see.