Chronicles from Euroblast 2018 – Day 1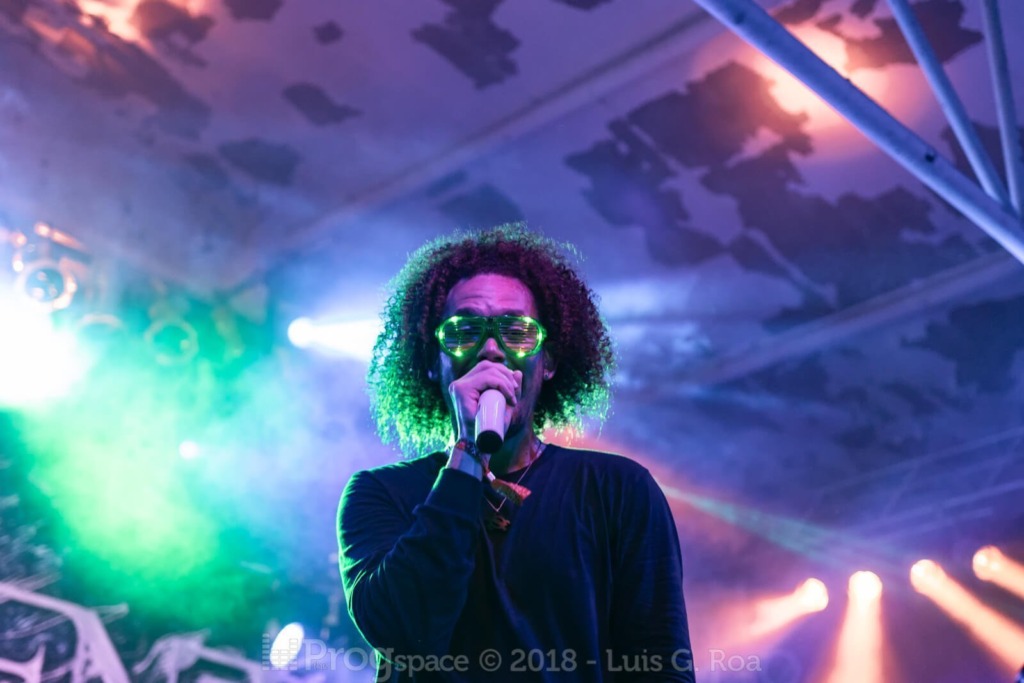 After coming to Euroblast 2016 just for one day, and what a day it was with Oceans of Slumber, VOLA, Black Crown Initiate, Ne Obliviscaris and Enslaved, I was left curious about checking the whole festival on the next possible opportunity. So there I was for all 3 days of Euroblast 2018. I couldn't be there for the warm-up party due to previous commitments, but next time I'll try to check that out as well. This festival attracts a very diverse crowd of music enthusiasts and musicians, ranging from pop-tinged progressive rock all the way to brutal technical death metal. The important thing is that the musicians involved are on the top of the class, both musically and personally.
As has been the case since it's ninth edition in 2013, Euroblast takes place over 3 days in the Essigfabrik in the city of Cologne, and it's a great location for the festival. The only kink I can think of is that the small stage is really small. Any band with 5 musicians or more will have a hard time not bumping into one another, and also the roof is lower than one would expect, which presents a risk for jumpy singers or the occasional guitar or bass headstock being very close. The common grounds are very spacious and simply organized, with most food in the back, and the heavily visited industry stands right in the middle. This year we had Kemper Amplifiers showing their Profilers along with Overload Custom Guitars and Basses showcasing their some of their instruments, and Long Branch Records offering merch, CDs and vinyls from their catalog.
As soon as I entered the main hall in Essigfabrik to get to the opening band I was surprised with 2 things: there were too many photographers to share the pit without stepping on someone else's toes, and people show up early! I'm used to skipping the first few bands to have breakfast, or second breakfast, or elevensies, or whichever of the seven daily meals is appropriate for the time of day, but for the German youngsters from Wiesbaden Unprocessed there were at least 300 people already in attendance, with more arriving shortly after. This was an excellent band to start things off, being very heavy and technical, with a trio of 8-string guitarists. The sighting of 8-stringed guitars, headless guitars and fan-fretted guitars and basses is so common in this festival that one is surprised when that actually isn't the case. Unprocessed hit hard and precisely, with a great vocalist in Manuel Gardner Fernandes.
Last time I was here I avoided the side stage during that whole day, so this was my first time going down the ramp and checking out bands. The smaller stage is tiny when compared to the main one. Anyone who wants to see a band down here has to come early, and, as it would be the case several times, miss the last moments of the band playing on the main stage as change over times didn't allow much room. First up on the side stage were Temples on Mars from London, UK. Melodic and quite dramatic music, establishing a nice contrast with the previous band, with James Donaldson as a great singer and very energetic front man, and a brilliantly layered sound coming from them as a whole. Following them on the main stage were The Dali Thundering Concept from France, the first of many "core" band playing in the festival. With a great show, and songs full of breakdowns and moshing, people really got into it. They would benefit greatly from a second guitarist, as the sound got a bit thin at times.
Next up were The Five Hundred from the UK, playing modern prog metal with very harsh growls from Jonathan Woods-Eley, which reminded me of Trevor Strnad from The Black Dahlia Murder. Paul Doughty was an absolute beast on guitar, as was Kelsey James on the drums. The stage is too small and low for such an active band, with Andy Crawford almost bringing down the snake cable hanging from the ceiling with his bass at one point.
After what can easily be considered a perfect start of the festival it was time to get to the first act that really surprised me. Conjurer from the UK took to the main stage to melt our faces with an excellent blend of all extreme flavors of metal. Part doom, part black metal, part modern prog, all rage and raw energy. They were simply amazing. I hadn't heard of them or any other band under the same genre, but if this is post-sludge, then I guess I like it. After a couple of hours of prancing between stages and enjoying great concerts it was time to make the first sacrifice of the day, and after taking photos of local progressive metalcore outfit Masuria I made a run for the food trucks. Not really my style of music but they attracted a lot of the younger crowd.
Shortly afterwards I headed back to the main stage to enjoy French progressive metallers Kadinja. An excellent modern prog metal band with a great vocalist in Philippe Charny Dewandre. We were getting then into the heavy-hitters for the day, with the room packed and people really into the music. They kept the audience involved with their heavy riffing and excellent frontman covering the wide stage with ease and just really happy to be there. He was often at a loss for words between songs, not expecting so many people to show up for their concert. Oddly they cut their set 5 minutes short.
On the side stage it was time for Sümer from UK to get our heads to gently bob to their haunting soundscapes. Three guitar players make for a wall of sound right in the face when playing distorted, but so much layering when playing clean. Their songs are very haunting and melancholic, with both singers/guitarists Ian Hill and Tim Bonney taking turns to entrance the audience. An excellent band to enjoy and relax.
Little did I know that I was about to witness something truly magical with the next 3 bands slated to play. First up we had VOLA on the main stage. Currently touring alongside Kadinja and Monuments (both also playing today) to promote their most recent and awaited album "Applause of a Distant Crowd", Asger Mygind and company delivered a solid performance filled with great music and lots of charm. Adam Janzi on the drums was unstoppable during the whole set, and Nicolai Mogensen's bass lines were only outdone by his facial expressions. Asger's voice was velvety and round throughout the whole hour, mastering old and new songs with ease, and finally headbanging heavily with all that hair. They went over by a couple of minutes, closing with an excellent 'Stray the Skies' including audience participation during a chorus.
The Australian trifecta of prog, touring Europe together, was about to take the stages, starting with instrumental metal trio I Built The Sky on the side stage. Such a huge sound coming from just 3 guys, they were excellent. Guitarist and mastermind behind the band Rohan Stevenson is incredible on stage, with such precision and virtuosity, a true guitar hero. Accompanying him were Sam Tan on bass and Rob Brens on drums, both every bit as impressive as Rohan.
Continuing the trifecta were the excellent Caligula's Horse on the main stage, giving the audience surprises and even more reasons to love them right at the soundcheck with Jim Grey checking vocal levels to the tune of Aladdin's 'A Whole New World'. They had impeccable sound and Jim was extremely charming. Both Adrian Goleby and Sam Vallen on guitars were on fire, with beautiful solos during 'Song For No One' and 'Fill My Heart' respectively. 'Song For No One' also provided a golden opportunity for crowd participation, with Jim taking some time training the audience for all the "we are aaaaaaaall" moments in the song. They were so good on stage that it felt as if I was listening to "In Contact" for the first time. I was left wishing their set had been longer, and convinced to go see them in Hamburg during the tour.
To close the Australian trifecta we had a band that stands musically somewhere between the previous two. Circles, with their frantic, strident and yet very melodic progressive rock. I'm honestly not much of a fan of Ben Retcher's voice, but damn can that guy sing! Their frenetic stage performance benefitted immensely from playing in the small side stage. They just look crazier and more dangerous that way. With the basement at full capacity and people still trying to get in, they really convinced the audience and might've made a couple of hundred new fans.
But it was time for The Band of the day, the one people were most looking forward to. British Monuments were taking the main stage and kicking massive amounts of ass while doing it. Chris Barretto gave one of the best performances from any frontman during the festival, jumping to fence and crowdsurfing while not missing a single beat singing. Adam Swan on bass was just hipnotizing to watch, shaking those meter-long dreadlocks and resembling a bearded Medusa while keeping the groove. Every time he headbanged and let those dreads fly one could hear all camera shutters going off. The audience just went insane and put security personnel to task, with crowdsurfing en masse, including a blind guy! Twice! They were visibly overwhelmed but luckily nothing happened.
To close an excellent first day on an even higher note, as if that were possible, Norwegians Aiming For Enrike brought the house down in the side stage with their delightful weirdness. Tobias Ørnes Andersen blasting away on the drums and Simen Følstad Nilsen abusing so many pedals he was more tap-dancing than playing guitar were the right amount of weird for the time of night, closing the day for us with some techno-inspired sound exploration. Nice. They also have one of the best band names ever!