Chronicles from Euroblast 2018 – Day 2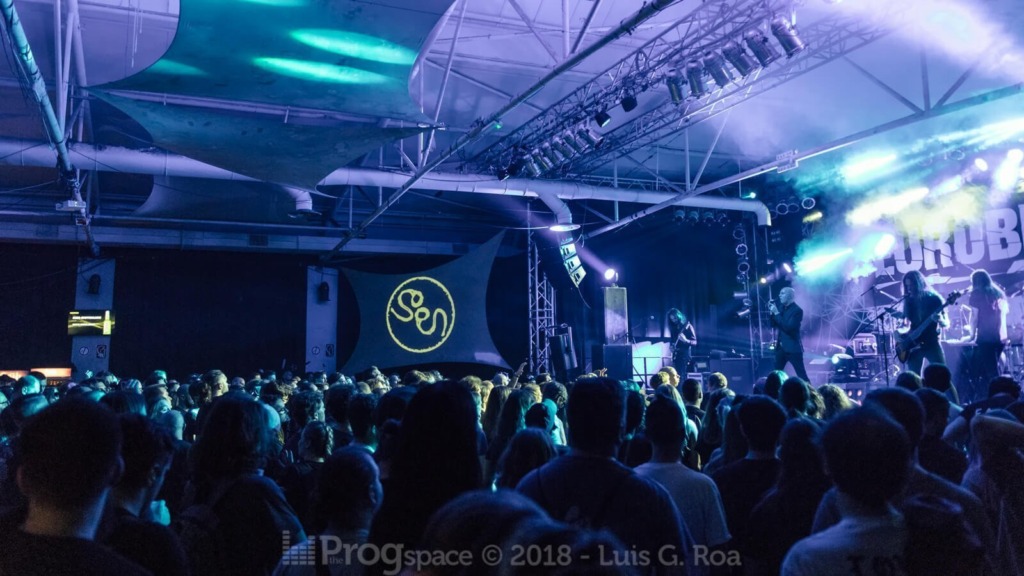 We continue with Euroblast 2018 after an excellent first day, starting in the side stage with youngsters Kill Wolfhead. It seems that they were a late inclusion in the line-up, as many people weren't aware that they were starting off Day 2 and the crowd was rather sparse. Nevertheless, they delivered their very emotional and energetic space-inspired metal. A nice way to start the day with their catchy upbeat choruses and chunky riffs. These guys could soon be playing on better stages and at better times of the day.
By the time the next band took the main stage the crowd had grown significantly, and it might have to do with the fact that it was no other than local outfit Ayahuasca with their excellent experimental death metal. What a show these guys put out! Eight musicians on stage, including 3 guitarists and 2 percussionists. They were punishingly heavy and groovy, with Kirill "Kay" Gromada, Oliver "Mulfo" Hennicke and Eduardo "Sinistro" Vizzarro all ripping through riffs and Pablo Tapia just delivering on bass. All the percussion definitely gives them an edge, with a very tribal and primal feel to their music. Vocals are also amazing thanks to frontman Sliman "Warzone" Sitta and Kay on harsh vocals, alongside lovely cleans from percussionist Julien "Bacon" Zeiler. An early surprise and a band I'll be paying closer attention to.
The heaviness and brutality would continue with Syndemic. The progressive death metallers from Hamburg came with a huge sound and very catchy melodies. They blew my ears even with plugs in.
Hibakusha from the Netherlands would come up next to fuck everyone's face off. Heavy AF metalcore with Twan's  great voice. I found the songs can be a bit monotonous though, which is a common issue to most metalcore bands to be honest. The audience didn't care anyway, enjoyed every riff and all the groove. The bass lines from Sjoerd were huge, making one's chest pound with each hit.
Danish outfit Cabal were up next on the side stage, with more groovy djent, but this time in almost absolute darkness and with lots of smoke. I guess they don't want people to photograph them that much. The music is typical techy, groovy djent with breakdowns and mechanical guitar and bass tones. As a side note, all bands were running late to the main stage this day. That coupled with the reduced time between bands would cause a lot of missed last or first songs.
The second surprise of the day came to me in the form of Rolo Tomassi. To put my ignorance and lack of journalistic thoroughness on display, I was 100% sure that this act would be an Italian guy shredding our faces off. I was immensely wrong. This British band is very diverse, with Eva Spence's vocals reflecting that. They go from '80s techno nostalgia to full-on blackened doom in the blink of an eye, with both Eva and Chris Cayford handling vocal duties with ease and lots of raw energy. This band is a must see for everyone, with an immensely intense and dramatic show.
Next up on the side stage, we had fellow British progressive/alternative band Valis Ablaze. There was so much going on on stage soundwise. These guys make very good music, but sometimes they have too many layers and one can get ear fatigue really fast. They are definitely ready for bigger stages because the small enclosure from the side stage was giving them way too much echo.
This was definitely not being my day so far, with too many "core" bands in a row, but the crowd was eating them up! Heart of a Coward was delivering the goods, with an impressive performance by Kaan Tasan on vocals. These guys are unapologetically upbeat and fun, and want the crowd to have fun as well. They're also very heavy and aggressive but in their upbeat, jolly way.
The first of four (or is it three and a half? You'll get what I mean) Swedish bands today was up. Terminal Function took to the side stage and the mood changed very fast thanks to their technical death metal with some djent thrown in for good measure. They present a very good mix of styles actually, with the djenty choruses and the frantic octave-based riffs, and also some 8-string clinical precision that reminds one of a certain Swedish band with a Yiddish name. They do need a bass player though, at least for playing live, as even with backing tracks their sound lacks just a bit of oomph.
Even though the same number of bands as yesterday are playing and we started earlier today there's no gap between some of the bands. Why, Euroblast? Why?!
Continuing on the Swedish front, kind of, were Crippled Black Phoenix. For the second time today there would be 8 people playing on stage, and also for the second time today another band would be starting late. But well, this soundcheck is hell with 7 instruments and 5 vocalists. After so much "core" and technical metal, it was high time for a straight-up prog band. This was a welcome change. They gave a beautiful show with perfect sound and beautiful songs. I guess they really needed that extra time with soundcheck because it was 100% worth it.
There hadn't been an unabashedly technical band on stage yet, but Schiermann would step onto the side stage to change that. Armed with an 8-string guitar and a mighty right-hand thumb, Schiermann got straight to slappity-slapping. Their instrumental spacey rock with absolute virtuosity from Schiermann and company is a way better experience live.
Yet another Swedish band would take up the main stage next, but this time I was eagerly expecting them to wow me. Soen, the perfect headliner for a day filled with techy bands. Joel Ekelöf had the audience eating from his hand since the very beginning of the concert, and Martin Lopez on the drums was amazing. The audience was completely into their music as well, chanting the guitar line from "Pluton" for what seemed to be at least a couple of minutes. Joel's voice or mic was a bit nasal or honky, and had too much reverb at times, becoming somewhat muddled. Such a shame as the rest of the concert was almost perfect. And I say "almost" out of pettiness, as they didn't play 'Orison'.
After Crippled Black Phoenix, Schiermann and Soen a very drastic change was needed, and that's exactly what we got with Australians Copia. Very heavy and tight in the groove department, and with Andrew Bishop's clean voice a bit off but the harsh one being great. Glenn Parkinson had a good, chunky guitar tone, and the bass from Booby Oblak could announce boxing matches, as in "Let's get ready to RUUUUUUUMBLE!". This band was like a hammer to the face after being almost lullabied into sweet dreams by the previous 3 bands.
And then came the last Swedish act of the day. A highly expected return to the stages from djent heroes Vildhjarta, who after 3 years without playing anything are perfectly back to form. This is the band that got people here today, with the crowd chanting "THALL! THALL! THALL!" while waiting for the iconic swedes to come out. I've never been a fan of this particular guitar sound, but here it feels like a wrecking ball repeatedly smashing you, in a good way. The sound is just enormous and Vilhelm Bladin's voice goes beyond angry. The dissonance goes too far for my taste though, but they are compensated with moments of absolute sonic destruction, which I like. They started late, they finished early and then didn't play an encore. What the hell?
And that's it for day 2. A day of excellent shows and great surprises, albeit a bit monotonous during the middle.