Enma – Apathy Awakened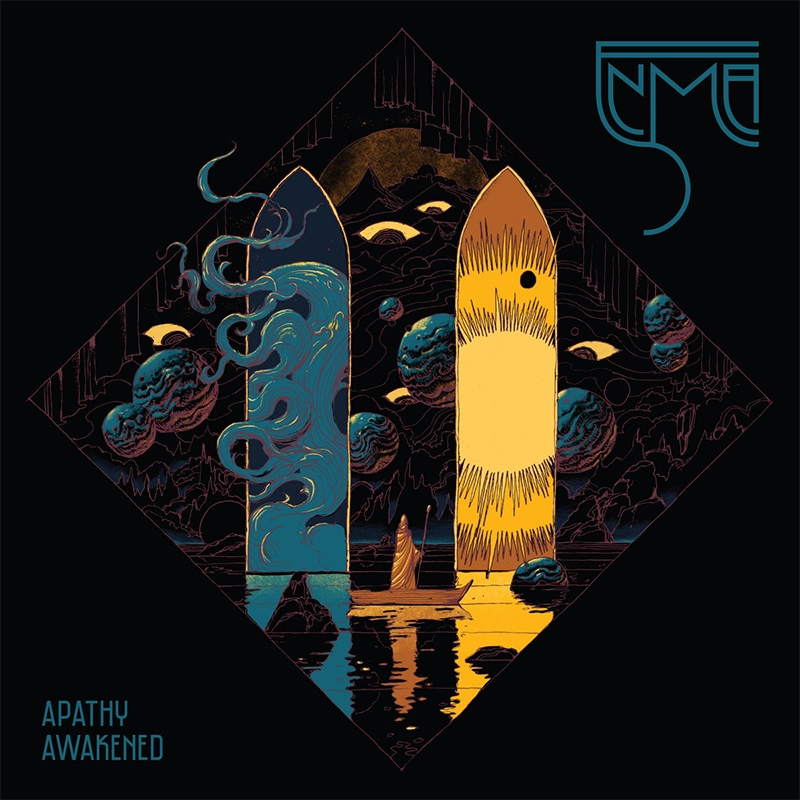 When I hear the name of Tilburg, I immediately think of The Netherlands and Porcupine Tree's live show: "Anesthetize". However, that is going to change from now on, because the band I will talk about today is precisely from that city. I'm referring to the Dutch band ENMA. Founded by Tom Adams, guitarist and composer (The New Dominion), the band is completed by Alex Schenkels (Yama) on vocals, Wessel Speelman (Godless Monarchy) on guitar, Yoeri van Helvoirt (Forcefeed) on bass, and drums by Yuma van Eekelen (Exivious, Our Oceans, The New Dominion, Pestilence).
Their first album is titled "Apathy Awakened" and was released in October last year. The name made me raise an eyebrow as to why someone would name their band's first album this, but after listening to it and finding out a bit more of where this came from, it makes total sense.
Enma – Apathy Awakened
This album was created during pandemic times, so we know how that went and the difficulties it brought us all. It wasn't only the health related issues but rather other social issues that is caused and how that affected us as a society, as human beings, and how our regular days turned into a chain of social distancing and isolation that went on for weeks and months. That "awakened our apathy" towards our new lifestyle because we no longer had what we took for granted. Brilliant title for an album born in this chaotic period for humankind, if you ask me. But without further ado, let's talk about what this first album has to offer to all prog-lovers.
It starts off with 'Enigma', a track that has some nice riffs, a compelling chorus and good vocal harmonies. I found this one to be the most dense, lyrically speaking. It's not the longest track, but it does have a lot to say, talking about the mystery behind a conspiracy to spread the virus. It became ENMA's single and the video was funded by the Culture Department of the Tilburg Municipality.
Enma – Enigma
Next track is 'Apathy Awakened', the one the album is named after. Some heavier notes begin the song, which remains a classic hard-rock track throughout, with a cool tapping riff-off preceding the guitar solo bridge. It sets the tone for the rest of the album with its social-oriented lyrics and the distinguishing sound of what I'd consider to be kind of a progressive grunge metal.
'Debita Nostra' – the Latin title of the next track (translated as 'Our debt') – is as interesting as the song itself, which caught my attention from the start with that killer riff. The chorus in Latin, which doesn't seem a chorus at all since it's so short, sounds like it's sung in an ecclesiastical tone and provides the song with a unique identity within the album. The track then explodes into all those harmonized vocals, resulting in a quite Tool-ish vibe.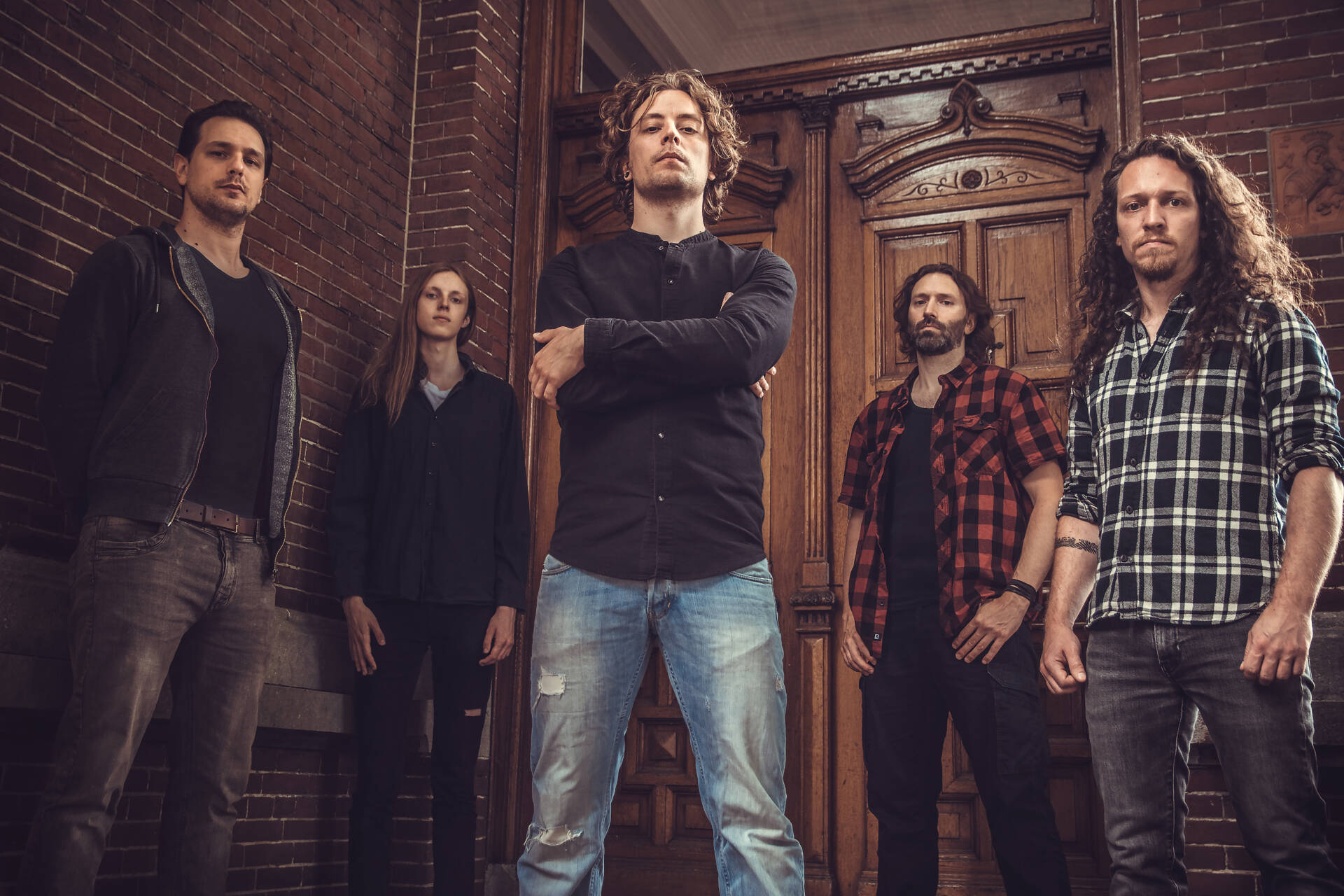 'Augury' feels almost like a ballad with a grungy vibe but also a bit of post-rock, but it certainly doesn't prepare you for what's next with 'The Elusive'. The rhythm on this one was one of my favourites and I think Alex's vocals sound really good, displaying different emotions: anger, passion and unconformity. I really liked the drumming on this one. Although it's the longest track, it's not tiring to listen to, on the contrary, keeps you interested and that might be because of the different layers of the instrumentation.
'Moira' is the true ballad of the album, but not in the whole sense that has that mellowness that characterizes a ballad, if you know what I mean. I say this because it starts softly and then, as it moves forward, it gets heavier. It is on this one where I can hear some Katatonia influence as far as the riffs and drums go. The vocals stay on the grunge spectrum and work pretty well with Alex's voice having shining moments.
'The Insatiable' starts with some great bass lines which I deeply appreciate because not only guitars can take all the glory in every band, right? I can hear a bit of an Alice in Chains influence in some vocal lines, but as far as the sound goes I also hear some Karnivool.
'Hemera's Call': Hemera is goddess that personifies the day in Greek mythology and I found this song to be lyrically the one that resembles a poem the most, referring to a feminine deity whom we await to see with the morning dawn. I appreciate the metaphors used in this track, for that always leaves room so the listener can interpret them however he wants.
Enma – Hemera's Call
'Transient Endeavours' is the last track, and it's almost another ballad but not quite as it has its heavy moments as the entire album.
One of the things I have to mention about this record is the eye-catching artwork done by Dutch illustrator Maarten Donders whose colour palette and style you may have seen before in artworks for bands like Opeth or posters for the Roadburn Festival.
Concluding, ENMA is an emerging talent that deserves more attention. 'Apathy Awakened' is a 54-minute ride, an interesting record that has some shining moments with an organic sound and is easy on the ears of all of those that are starting to get into the Prog genre or that enjoy Prog but not the type of band that will be proggy from start to finish. What they offer is a mix of progressive metal with touches of grunge, but also progressive rock with influences of bands like Tool and Alice in Chains. Not really my cup of tea if I'm honest, it's a subgenre that perhaps I wouldn't normally listen to, and I think that for some brief moments, perhaps the band could consider a less is more approach, but the more I listen to it, the more I like it, and it's been growing on me. I can assure you one thing: these guys have talent and, if they polish some details and continue to explore their sound to keep building their identity, I have no doubt whatsoever that they will deliver another album of good and even of a better quality with their next single or record.
I'm writing this review only a few days before the Prognosis Festival which will take place on April 15th and 16th in Eindhoven and ENMA will be sharing the stage on Sunday the 16th with other renowned bands such as Riverside, Soen and Voivod.
So with all of the above being said, is ENMA a band you should listen to? Absolutely! This generation needs more bands like them: unafraid to go their own direction, develop their own style and break genre boundaries.
Track List:
Enigma
Apathy Awakened
Debita Nostra
Augury
The Elusive
Moira
The Insatiable
Hemera's Call
Transient Endeavours