Hog Meets Frog premieres EP humANIMALization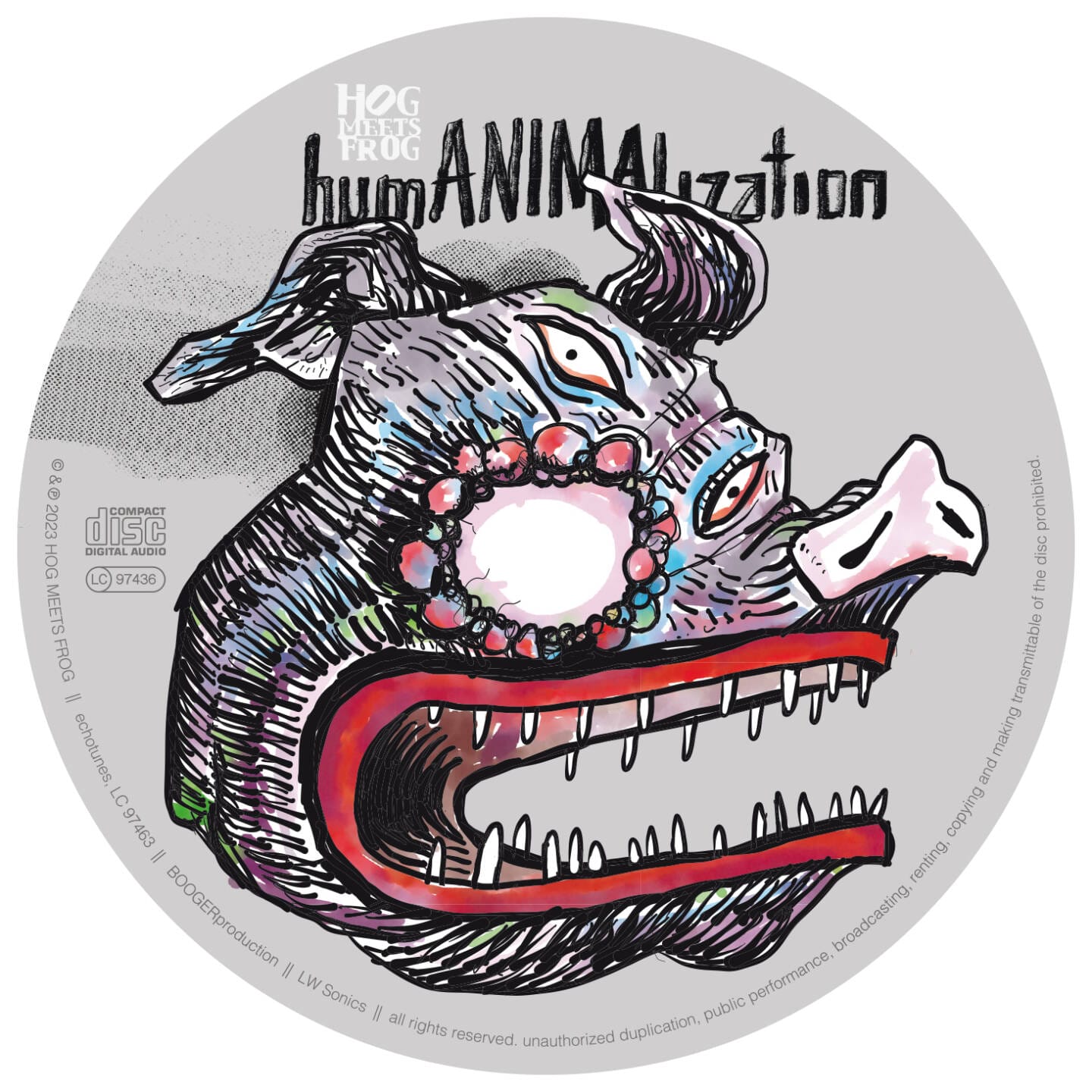 Hog Meets Frog's third EP "humANIMALization" is a witty and entertaining jaunt that flirts with obscurity and is entirely thought-provoking. With influences ranging all over the musical spectrum from progressive and death metal to jazz, to world music and funk, there is something for everyone in the riffs and chords that the Austrian group writes. They explain the avantgarde record in their own words:
"The EP is a non-conceptual concept EP under the motto of the title: "humANIMALization". And, as it happens, when the animal in the human awakens, then, for example, one turns into a bigot monkey and the other becomes an insecure piggy, one becomes a peeping control bear and the other becomes a greedy stock market bull. Just this behavior – sometimes silly, monkey or also clumsy, bearish – is told in the lyrics, as well as through the wide range of sound worlds and riffs."
Crossing genre borders and providing a challenging listen, the music bounces from cheerful, funky sounds to the broad, massive, nu-metal sound to fuzzy bass and distorted-guitar sound with a sip of kick-ass drums. The band finds that the best approach to serious topics is with fun and that is emphasized with "humANIMALization". Most people will first notice the cheerful, funny, sick side of Hog Meets Frog, but a few will remove the mask and then let themselves fall into the deepest depths of the music and lyrics and see what thoughts lie dormant there: Stories that life writes.
Adventurous listeners are invited to go through the looking glass and find the deeper meaning in each of the tracks on the EP, or simply frolic in the bright colours on the surface.​
"humANIMALization" is due out on February 24, 2023, but can be heard in advance via its full stream premiere on TheProgSpace here:
EP Band Lineup:​
Ivo Matuš – Drums (peeping-bear's exegesis of not peeping || apes don't smoke cigars – just pipes)
Christoph 'fizl' Hehn – Drums (of snakes 'n' moles 'n' bulls 'n' dough || stuff(ed), cage(d) & enslave(d) || ZIGGY the unpigcorn)
ARIYAN Rezaei Jahromi – Guitar
Peter 'PETZ' Schwabl – Bass, Storytelling
Live Band Lineup:​
Christoph 'fizl' Hehn – Drums
ARIYAN Rezaei Jahromi – Guitar
Peter 'PETZ' Schwabl – Bass, Storytelling