Kino – Radio Voltaire
The debut album from the "super-group" that is Kino was a breath of fresh air in a pretty stagnant neo-progressive world back when it was released in 2005. The band, consisting of guitarist and vocalist John Mitchell (Arena, It Bites, Lonely Robot), bassplayer Pete Trewavas (Marillion, Transatlantic), keyboardist John Beck (It Bites, Fish) and drummer Chris Maitland (Porcupine Tree, Blackfield, Nosound), were able to put together a flawless debut album. Now 13 years after "Picture" the band decided to come together again to create that "difficult second album", definitely a real challenge when reminded of the quality of their first outing.
The line-up is the same on "Radio Voltaire", with one exception. Drummer Chris Maitland is now replaced with Craig Blundell, who has no less of a impressive track record. Blundell is a part of *Frost, has contributed to Mitchells Lonely Robot albums, and plays on Steven Wilson's latest album "To The Bone", thus showing a pedigree that would make him a great fit for a new Kino album. Another change is that Keyboardist John Beck is now a "guest performer" on this new album, instead of being a fully fledged member of the band.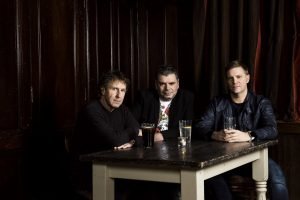 So how does "Radio Voltaire" sound? Let me start by getting the obvious question out of the way; this is not a new "Picture". There is no new 'Loser's Day Parade', 'Letting Go', or 'Future Tense' on this new album, but that does not mean it's a weak album in any sense. While the debut sounded very fresh, and at times almost felt like it redefined the neo-progressive genre in some sense, "Radio Voltaire" sounds and feels much more traditional and established. That feeling may be hard to shake, as it's been 13 years since the debut, and other bands and projects have explored the sound they created on "Picture" to great effect. It Bites, *Frost, and Mitchell's solo project Lonely Robot, have all tapped into the magic created on that initial Kino release.
The album opens with the title track, a slow, moody track balancing on the edge between pop and prog. Spearheaded by Mitchell's guitar and work, before going into that well crafted catchiness that sets Kino above many others in the genre. It also features a graceful guitar solo half way through, before picking up pace and intensity towards the end. All in all a great tune to bring us back into the world of Kino. Up next is 'The Dead Club' which was also one of the tracks that was used to tease the album before release. It's a faster, less melancholic song focusing more on rhythmic appeal than the opening track.
The ballad 'Idlewild' follows, another of those trademarked Kino moments, that seems to carry with it a positive tristesse, however strange that might sound. Something like a good memory of a lost time, painful but pleasing at the same time. The track is elegant and delicate in its simpleness. 'I Don't Know Why' starts out as a faster, almost rock-like track, sliding into a melodic interlude before returning to a measured ending, complete with a short, but sweet guitar solo.
'I Won't Break So Easily Anymore' has a infectious chorus that sets in the brain, and a tasteful keyboard and guitar interlude, while 'Temple Tudor' shows the band calming it down again with a nice, appealing ballad.
'Out Of Time' might be one of my favorites on the album, partly due to a charming and subdued bass solo from Trewavas midway through, while the short 'Warmth of The Sun' again strongly features Mitchell's warm voice as a centerpiece. 'Grey Shapes On Concrete Fields' is a more uptempo track, a melody that keeps growing and expanding, showing once again that Kino's music could just as easily be described as "intelligent pop-music" rather than prog. 'Keep The Faith' continues this trend, tapping into a almost Beatles-esque quality in the verse.
"Radio Voltaire" then ends on a very strong note with 'The Silent Fighter Pilot', that might be the most interesting and different song on the album. An almost ominous atmosphere, where the vocals build up the haunting feeling by going in a more rough and bitter direction than the rest of the album. Maybe the farthest from the music the band delivered on "Picture", but also the most fascinating track on the album.
All in all, while not being a repetition of their debut, this is an impressive piece of art, effortlessly straddling the line between pop and prog. Kino delivers catchy, memorable songs on all fronts, even though a few tracks are sadly less memorable than others. The album, as a whole, seems to embrace the credo of the French writer and philosopher Voltaire, whose name the band has borrowed for the album title, and is a testimony to openness and breaking the boundaries that separate us in music as in life.
Recommended.
Tracklist:
Radio Voltaire
The Dead Club
Idlewild
I Don't Know Why
I Won't Break So Easily Any More
Temple Tudor
Out Of Time
Warmth Of The Sun
Grey Shapes On Concrete Fields
Keep The Faith
The Silent Fighter Pilot