Lyrre – Not All Who Dream Are Asleep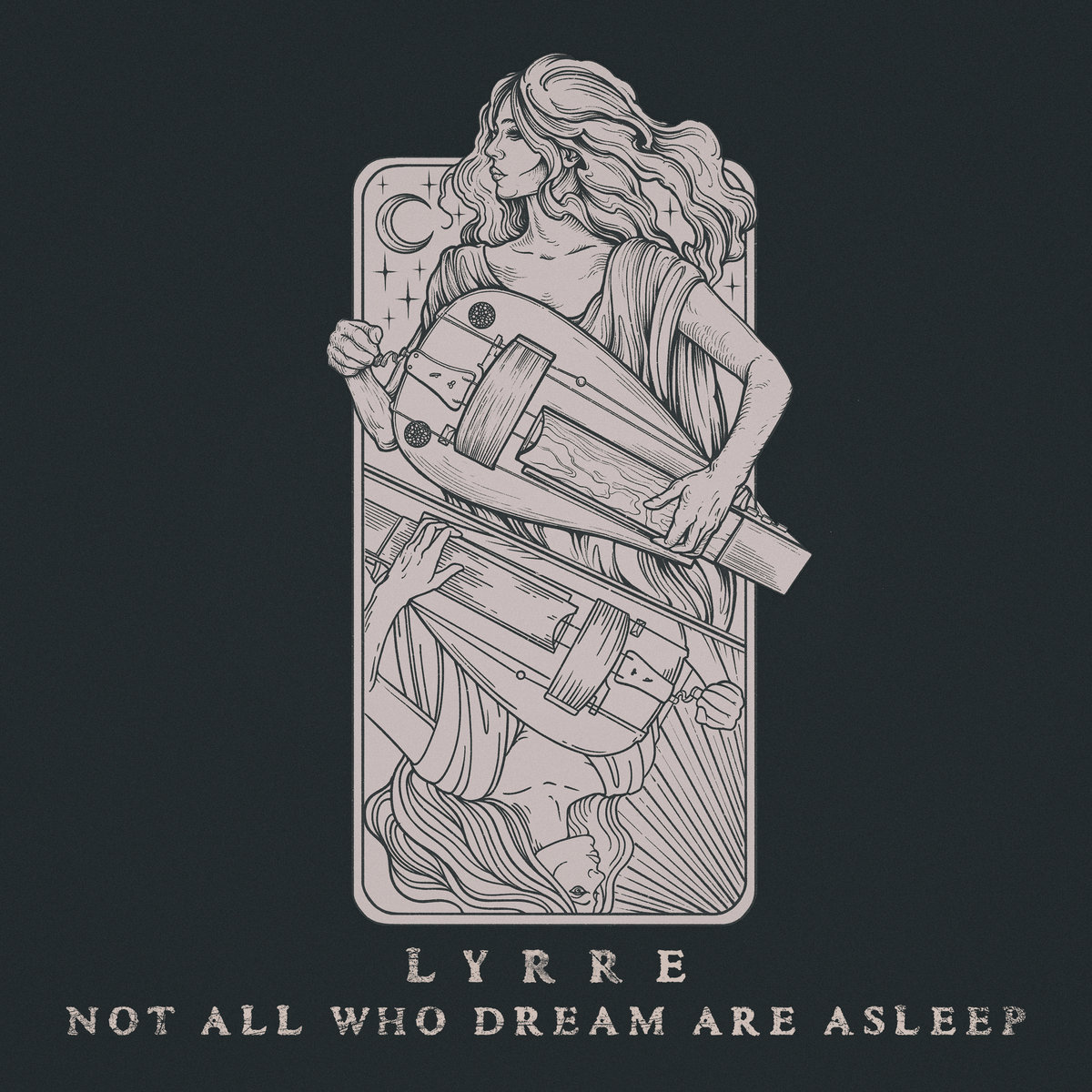 I've been wanting to take a deep dive into Lyrre's debut album for a few months now, and finally, life granted me the time to do so. For those unaware, this band was started by hurdy-gurdy player Michalina Malisz after her departure from the folk-metal band Eluveitie. Michalina has long been one of the leading figures to make the hurdy-gurdy a popular instrument in the metal world, not only through her participation in Eluveitie but also through her vast knowledge of the instrument itself and her playthrough performances on her own YouTube channel. Among these performances, covers of bands like Monuments and August Burns Red made me consider for the first time the idea that folk instruments could be used in a "modern" metal context, rather than aiming to revive long lost times, as many folk metal bands do. Fast forward a few years and we see a band based entirely on this idea.
Lyrre builds on the idea of bringing together metal riffs and folk instruments but takes a different direction by making the hurdy-gurdy, the centerpiece for the melodies and by also introducing electronic elements. I would describe their sound as a mixture of atmospheric prog rock and metalcore with a high emphasis on folk elements. What makes the gurdy a centerpiece here, is the fact that it is the main lead instrument on the album. There are hardly any guitar leads or melodies. Instead, the entire metal component is focused almost entirely on the rhythmic aspect. This is very effective, firstly because it makes room for quite a lot of variety in rhythms, riffs, drum patterns and structural elements, and secondly, because it can create the folky atmosphere easily, without having to pile up 13 different instruments and squeeze them all together in a 1-minute long solo section. It is a great solution to balance out the metal and folk elements without becoming a gimmick or going too far. This, of course, also means that the band can actually invest their efforts in making good music, rather than just trying to make the recipe work.
Lyrre – North Star
As a result, the songs on "Not All Who Dream Are Asleep" are well crafted, balanced, and expressive, with plenty of room to breathe as well as stories to tell. Certain songs bring a fast-paced metalcore energy ('Divide and Conquer', 'Valley of Tears'), others are atmospheric and contemplative ('Call in the Wind', 'Chariot of Sun') and some turn heavily groovy and slightly progressive ('North Star', 'Crown').
Guitarist Piotr Martuś and bassist Miłosz Buśko do a great job alternating between dynamic riffage and open chords, which creates a beautiful effect of tension and release between verses and choruses. And drummer Tomasz Młóciński is a true master of the groove, knowing how to play with snare placements and cymbals to give an infectious pace to the music. He's also got a knack for build-ups, making many pre-choruses sound increasingly tense and suspenseful before dropping into the big, open chorus. A few breakdown structures placed here and there without pushing the heaviness too far, complete the ensemble of metal elements, making room for the folk instruments, vocals and atmosphere to shine.
Lyrre – Crown
What I like about the gurdy performance is that it's not overdone. The fact that Michalina also sings on this album means that you're not hearing the gurdy piercing through the whole time. It is the main melody instrument, but that means that when it's time to sing, the gurdy either shuts up, or stays on a simple melody with a somewhat droning aspect. This makes the two sides of Michalina's performance constantly take turns for the spotlight, which prevents the music from becoming monotone or repetitive. 'North Star' is probably the best example of this. The droning elements make the song feel drowsy and meditative while the faster, more dynamic gurdy parts get infectious and make you move.
The vocal performance is somewhat monochrome, but with all the other dynamics that the band puts together, I could hardly say there's a need for any impressive vocal acrobatics. The meditative tone to many of the songs makes Michalina's mid-range singing fit like a glove and adds to the contemplative effect. Introspective lyrics inspired from medieval times or mythology, with a focus on understanding and overcoming difficulty, complete this aesthetic beautifully and make the full album experience truly inspirational. However, just for some extra spice, we do see some more volume to the vocals, mostly on choruses, as well as a few moments of high notes with a staccato effect ('Valley of Tears', 'Peaceful Chaos').
Lyrre – Divide and Conquer
To complete this work, the band's sound is occasionally dipped in symphonic effects, electronic beats and choirs to get an epic aura and boost the songs into a higher dimension. The sound richness is also complemented by background use of various folk string instruments or folky percussion, which might be organic instruments or samples, but I wouldn't be able to say for sure.
The full album sums up just under 40 minutes through 9 songs, one of which is a folky instrumental intro. It is a compact and easily enjoyable album with catchy hooks but also many details to pick up on and meaningful lyrics to explore. With such an accessible surface aesthetic as well as so much substance in the artistic content, I wouldn't be surprised if more and more people soon dove into the world of Lyrre!
Track List:
Not All Who Dream Are Asleep (03:26)
North Star (03:57)
Divide and Conquer (03:06)
Call in the Wind (03:37)
Valley of Tears (04:13)
Chariot of Sun (03:49)
Peaceful Chaos (04:28)
Forgive and Forget (04:01)
Crown (04:20)