ProgPower Europe 2017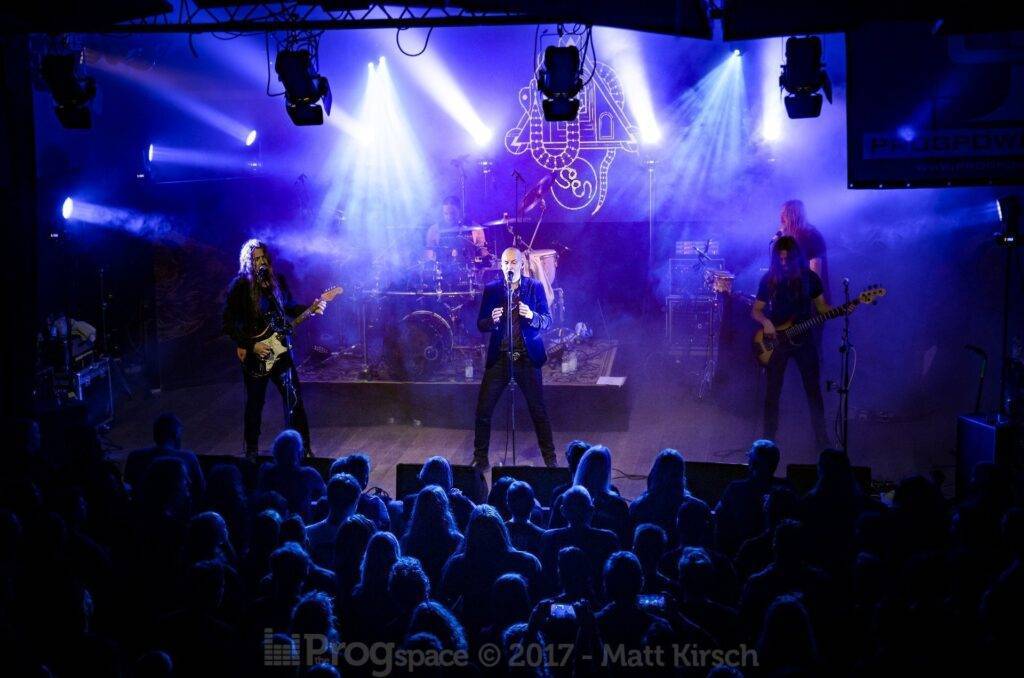 Once again, a small portion of Europe's prog family (and a tiny part of the global one) gathered in the little Dutch town of Baarlo at the beginning of October to celebrate the annual ProgPower Europe (PPE) festival – this year it lasted from October 6th to 8th. You can read more about the festival's back story in Dario's review of last year's edition, so we will dive right into the action here.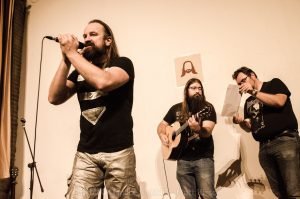 Actually, we will go back one night: As tradition has it, the night before PPE most of the attendees are gathering in the chapel of Kasteel de Berckt hostel (where most of the audience stays throughout the weekend) to celebrate the pre party. This year the master of ceremonies was no other than Damian Wilson, who, after dropping out of Threshold earlier this year, played some of his solo music and also presented the crowd with a little flashback to the much celebrated Ayreon Universe shows back in September, together with ProgPower regulars invited to the stage. There was much fun and joking around, which led to some complaints about the lack of music – but then the whole thing is called 'pre-party' for a reason. (Damian Wilson Gallery)
Friday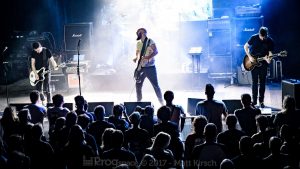 As usual, also the 19th edition of the festival officially started with two Friday bands – both hailing from down under this year. The opening act, Sleepmakeswaves from Sydney, played an impressively powerful and energetic post rock set and got the crowd well going. Musically it was a bit of a double edged sword, as it was really likable, but at the same time the songs were barely distinguishable let alone memorable – but that is a problem many post rock bands share in this reviewer's humble opinion. (Sleepmakeswaves Gallery)
Still, the stage was set for PPE 2017's first headliner – Voyager. Certainly one audience favorite at the festival, they played their third show in Baarlo's Sijwa youth center – and already their second headliner set, after jumping in for Pagan's Mind in 2014. The four guys and the girl from Perth are always a blast to see live on stage, and again they delivered. With songs off their excellent 2017 release "Ghost Mile", classics and one of their iconic medleys (including a crazy mix of Motörhead's 'Ace Of Spades', Toto's 'Hold The Line', 'Something In The Air Tonight' by Phil Collins, Slayer's 'Angel Of Death' and their very own 'Cosmic Armageddon Pt. II' from 2004) they left nothing to be desired. The volume could have been a bit lower and the sound clearer, though – and the miserable fail to play the nose flute can not be left unmentioned (better luck next time!). (Voyager Gallery)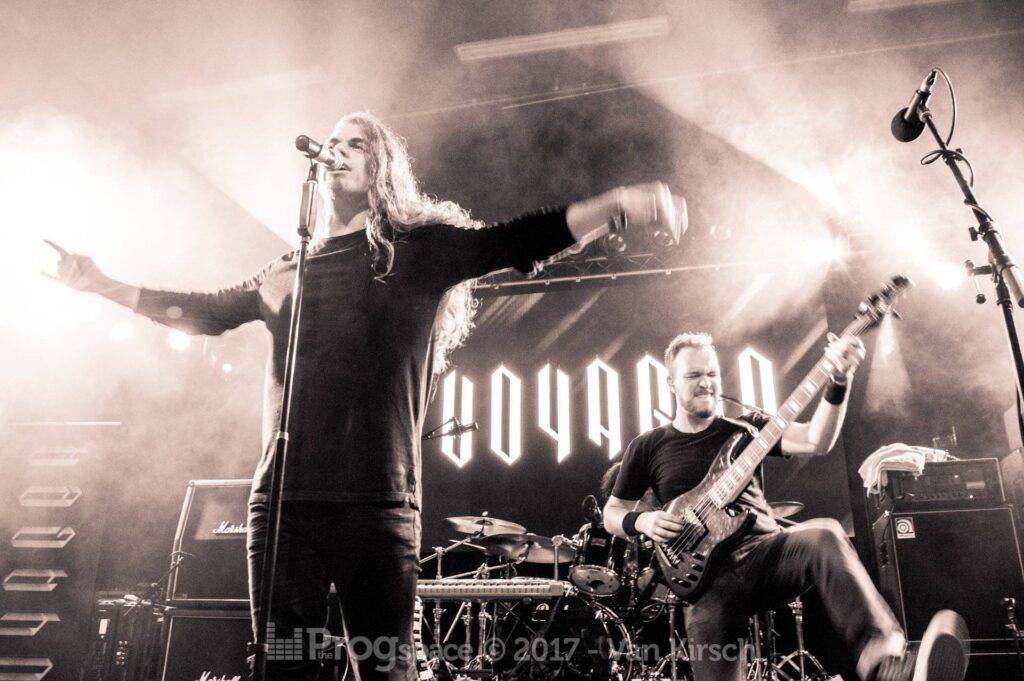 Saturday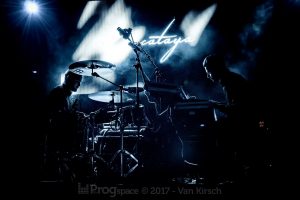 Saturday started dark and moody. Cataya's stage setup seemed to leave out the fact that there was an audience in front of the stage – it looked more like in a rehearsal room, with keyboard and drums in the middle, surrounded by three guitar players and one bass player in the dark at the sides. And dark can be taken literally here, there was barely any light at all on the stage. Still, their instrumental melancholic post rock was well presented and got the audience in the perfect mood for what was about to come. (Cataya Gallery)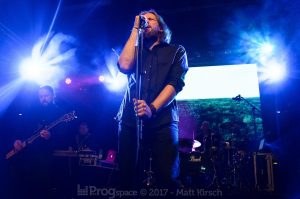 Next up was Blindead from Poland with their varied mix of styles, ranging from ambient parts like we know it from their fellow countrymen Riverside to almost tribal, mesmerizing parts and heavy progressive metal outbreaks. The music was not always easy to digest and sadly, Piotr Pieza's singing was mesmerizing in parts, but not always able to convince. In a beautiful tribute, the band showed a portrait of Riverside's late guitar player Piotr Grudziński on the back screen, an artwork made by Jolly's Anthony Rondinone. (Blindead Gallery)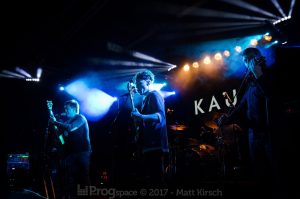 ProgPower's moody Saturday afternoon was concluded by Kauan, a band many in the audience were looking forward to see since they were announced as the first band for this year's edition. And rightfully so: the Russians from Chelyabinsk put up an extremely tight and intense show, with subtle violin sounds met by merciless (Finnish) vocals, sheer beauty against raw power that seemed to come right out of the Siberian winter. It helped that the sound was crystal clear – and not too loud, a welcome change in today's concert world. It doesn't take great volume to capture an audience like Kauan did. (Kauan Gallery)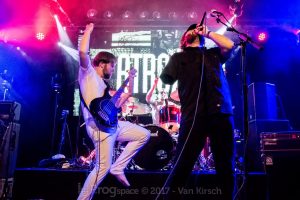 After dinner the Scandinavians took over the stage – and the Norwegian vikings of Atrox did so by force. Still a fan favorite from their last appearance nine years ago (which was described by eyewitnesses as "completely nuts"). This year's show was close to that, though. Singer Rune Folgerø ruled the stage, and the rest of the band, led by Eivind "Vind" Fjoseide and Erik Paulsen (and impressively supported by an hyperactive Andreas Kjøl Berg, positively killing his drum kit on his first performance with the band) effortlessly played the crazy music of the excellent setlist, covering the band's history up to a lot of new stuff from this year's industrial colored "Monocle". Let's hope it won't take another nine years until they come back to Baarlo! (Atrox Gallery)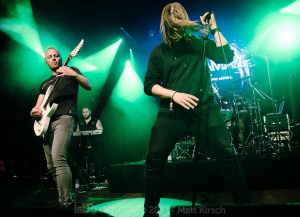 Atrox gave way on the stage for Denmark's prog/power metal spearhead Pyramaze. After 13 years on the stage, albeit with changing staff, they sure knew how to make a good show – lots of things going on on stage, interaction with the crowd and a great light show. Good musicianship helps of course, and there was not much to be desired, and Terje Harøy's timbre rounded up the whole affair, which for some might have been a bit too classic as compared to other acts on the lineup, but was very enjoyable indeed. (Pyramaze Gallery)
And so the stage was set for Saturday's headliner, the mighty Soen from Sweden, who conquered the heavy prog world by force since their debut record "Cognitive" in 2012. Only two years after their first appearance in Baarlo, they transformed Sjiwa into a prog metal temple for two hours, filled with smoke and scents. Joel Ekelöf's soft and mesmerizing vocals, brilliantly eclipsing in the a capella part of 'Fractions', and the underlying tribal-ish drumming of Martin Lopez added to this almost ceremonial spirit, and captured the audience, leaving hundreds of awe-struck faces in the end, after the last sounds of the goosebump inducing 'Lucidity'. A very worthy headliner, knowing every trick of their trade but not rubbing it into everyone's faces, but instead enchanting everyone with nothing less than brilliant music. (Soen Gallery)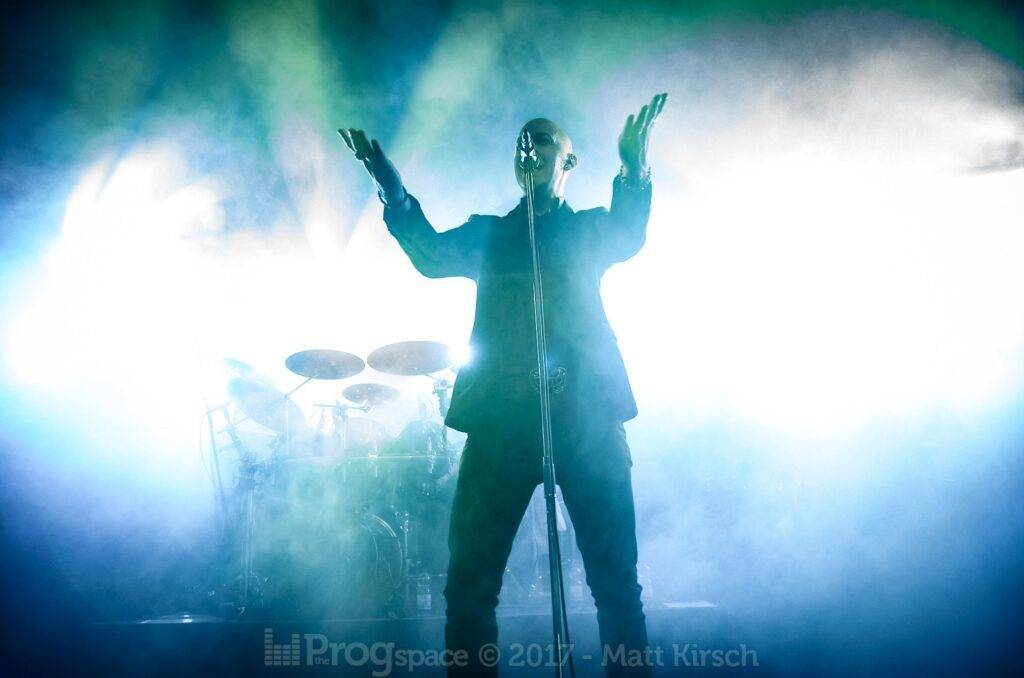 Sunday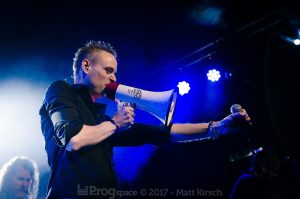 Sunday's opener Semistereo was the only Dutch band in this year's roster, and they were met with a lot of sympathy from the audience. And they gave back: with their energetic prog metal with an alternative touch (and trumpets and trombone played by Thomas Cochrane) they washed away much of the after party hangover. Singer Paul Glandorf convinced with his bright, powerful and sympathetic stage presence. Semistereo left the stage with many new fans for sure. (Semistereo Gallery)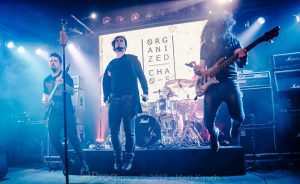 The first few songs of Organized Chaos were a challenge for the audience – there was so much very different going on musically, but then chaos ensued and mastermind and vocalist Vladimir Lalić, his sidekick David Maxim Micic on the keys and their Chile-Boys won the audience over big time. What a chaotic party, what an incredible singer! Definitely a band to be watched and the surprise of the festival for many (who just self-released their second album). In their first gig in five years with a completely new line-up apart from Vladimir and David they delivered an amazing show, flying "money" included. True artists and the second avantgarde refreshment (after Atrox the day before) giving a nice balance to the many post-rockish performances of the weekend. (Organized Chaos Gallery)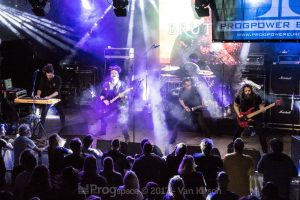 Next in line were UK's Brutai, sporting their well received 2016 album "Born". In quite a drastic change to the mess on the stage, they offered less into prog, more to the djenty power side of the festival's name. Sadly they had to do so in a very loud mix (which was a problem for several bands this year), which, together with the less progressive approach might not have been everyone's cup of tea. Still the sympathetic quintet put up a super energetic and tight show. (Brutai Gallery)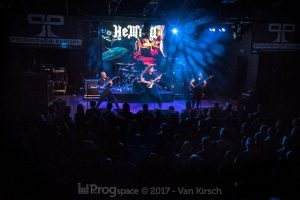 Talking about sympathetic – like most Australian bands Hemina gained grand scores in that department, too. With their music ranging somewhere between "traditional" and more modern prog metal, a lot of people were having high hopes for their appearance, and they were not disappointed. The space in front of the stage was packed, and the humorous announcements between the songs were met with lots of laughter and the traditional "PPE growls". A groovy bass, dramatic riffs and the fact that three members added to the vocal department (with maybe a bit too many of those high squeaks from Douglas Skene) gave a nice twist to the sometimes a tad too long songs. (Hemina Gallery)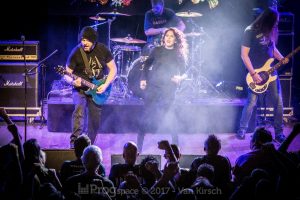 "What kind of creature am I?" was the name of Michael "Toehider" Mills's previous album, and the current darling voice of the prog metal circus proved that this question is meant for real. Along with only a drummer (Ricky Evensand) and a bass player (Sampo Axelson), the performance ranged somewhere between stand up comedy and heavy metal concert, and musically so diverse that it is useless to try categorizing it – folk, funk, pop, metal and yes, also progressive rock/metal like 'This Conversation is over' from this year's release "GOOD". Highlights mark a passage sung (screamed) without microphone, which was well heard all the way up to the balcony, and a blind solo with the iconic hat pulled down over the face. A true tour de force, leading to the epic performance of Ayreon's 'The Theory of Everything', with the guests singer Marcela Bovio and guitarist Marcel Coenen as a flashback to the Ayreon Universe Shows a few weeks earlier. The master approved – Arjen Lucassen himself was there, merged among and hovering above the crowd, watching his young Padawan conquer the Sjiwa. (Toehider Gallery)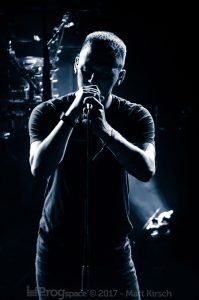 And so the mighty TesseracT took over to end Progpower Europe 2017. Now, the audience was in for something completely different, and the crowd got a good stir with people arriving only for the night's headliner. From the first note, they owned the stage, and with amazing precision they effortlessly hammered through their set. It got quite obvious, though, that the admiringly technical Tesseract is a love it or hate it thing, so while a good portion of the audience was stunned in front of the stage, a big part spent the last hour of the festival outside – also due to the mercilessly loud volume, which was excellently mixed and crystal clear, though. Every instrument and Daniel Tompkins's great voice could be appreciated. (TesseracT Gallery)
And so ended the 19th edition of ProgPower Europe, with a bang. Another edition with something for everyone who likes heavy progressive music, even if it might have been a bit too much on the post-something side. But every PPE is different, and next year's lineup is already growing promisingly. There are not many words that have to be said about the organization – it was, once again, perfect. If there is a wish to be made it would be to think about reducing the volume a little – bands like Kauan demonstrated well that great music doesn't need to be extremely loud to make an impact.
Click here to see all photo photo galleries for ProgPower Europe 2017