Scardust – Strangers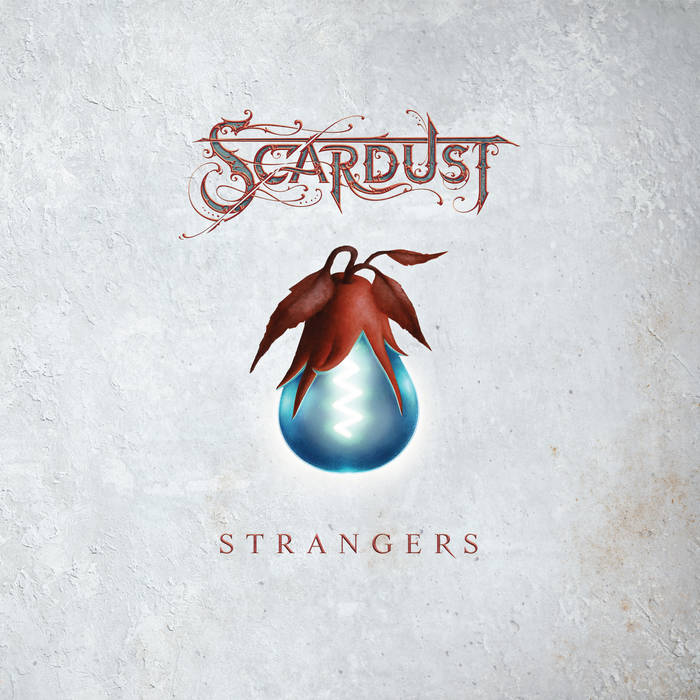 I remember my first time listening to Scardust's debut album "Sands of Time". It was one of those very few moments when hearing new music blew me away in such a manner that I had to start re-thinking the meaning of my existence and all my previous biases. Needless to say, I quickly became a fan of the band and they have been a constant in my playlist ever since. But, all fanboy-ish opinions aside, I really think this band is a unique and truly outstanding presence among the up-and-coming artists of the progressive metal scene. Blending influences from the biggest prog names out there (Dream Theater/Symphony X DNA is very noticeable) with loads of orchestration and choirs akin to symphonic metal bands like Epica, they truly have a sound of their own, and the quality of their musicianship is undeniable. Now, their second album, "Strangers" is right around the corner, which beckons the question… have they maintained the same standard?
The answer is simple: No, they didn't maintain it. They completely demolished it! What "Sands of Time" was all about in my books, was blending influences from many of my different genres and artists together, admittedly with a fair share of their own vibe and DNA, but on "Strangers", they sound a lot less like Dream Theater meets Epica, and a lot more like just Scardust. While touching on more or less the same musical elements, they seem to have refined their own signature and identity, to the point where comparisons lose their relevance. And on top of that, all the technical and proggy wizardry was taken to a whole new level.
click here if the video doesn't play
Let's break it down! First off, it's outstandingly complex when it comes to progressive patterns and unexpected changes in pace, and that obviously means the drummer is a genius. Yoav Weinberg completely crushes it when it comes to polyrhythms, syncopated off-tempo accents and weird time signatures, but he's not just about that. His playing is extremely groovy, energetic, engaging and dynamic, setting a high-octane, volatile yet well-grounded foundation for the music. And his approach to fills, strums and transitions is off the charts! See the chorus in 'Huts' for the best sample of this. On bass, Yanai Avnet kills it with the groove and overall, fat, satisfying, slappy and dynamic tone. With the guitar parts being somewhat fast and agile, it's the bass that lays down the heavy artillery in terms of full, chonky riff sound, but he is of course also a solo master, as are in fact all the members of the band. Guitar riffs are once again a sublime blend of progressive intricacy and hooky groove! Sometimes it's about speed, sometimes about melody and sometimes about pure, nasty heaviness (see main riff and chorus in 'Over') placing the guitar parts somewhere in between the classic prog metal sound and the modern, djenty hi-tech influences. The keyboard parts are ridiculously dynamic, never resting into fixed patterns but always infusing a sense of haste and agitation, at least through the fast and heavy tracks (see 'Tantibus II'). But when the tempo slows down and the emotions start to flow, we are greeted with sweet, gentle piano and harpsichord melodies ('Break the Ice' and 'Mist' pull off this trick excellently). I feel Itai Portugaly brings the extra flavour and diversity that the full-band soundscape required to be as diverse, colourful and multi-faceted as it is, with his various synth, piano and string sounds.
click here if the video doesn't play
While each musician on his own is a genius, it's the way they work together that makes Scardust's music so exciting. The tones patterns and moods that they deliver are constantly changing, developing a sense of movement and free spirit built into the energy and drive of their sound that just triggers my inner child. And when it comes to solos, it's jaw-drop time! Every single member has multiple spotlight moments. The technique and speed is outstanding but the melody and infectious hook of the lead parts is what really stimulates your serotonin levels. The solos don't sound like technical show off, but rather like insane technique used as a tool to have insane amounts of fun! They're exciting, flamboyant, unexpected and dramatic, shifting gears and moods out of the blue, putting up solo duels or even battles as I may call them (e.g. guitar, bass, keyboard and even drums taking turns throughout the same solo section). What I especially love about Yadin Moyal's guitar leads is that they often evolve from, or revolve around the main theme of the song. And believe it or not, in 'Concrete Cages' there is even a vocal part that I would describe as a solo… And they somehow manage to put all this tech-madness on display, arguably embarrassing even tech-death bands, without disrupting the flow and mood of the songs, but rather having the insanity built into it.
Then we get to the symphonic part. There's a string quartet that makes an appearance in all the right moments, breathing life and cheesy vibes to enhance the atmosphere. And then there's the Hellscore Choir, which, unlike most choirs in symphonic or epic metal, isn't just massive in sound but also dynamic and cinematic, layering different parts and registers in a superbly theatrical manner. And after all that is in place, it's time to unleash the complex bittersweet bastard of a phenomenon that we call emotion: it's vocalist Noa Gruman's time to shine.
click here if the video doesn't play
The vocal performance here is, simply put, insane. Her range is incredible, her volume and power might crack your speaker if you're not careful with the volume and equalizer, and the diversity of textures, feels and vocal styles refuses to find boundaries. From gritty and aggressive rock/metal singing to operatic style, cheesy Disney-ish poppy hooks and death growls, it's a treat for the senses. And I particularly love how well she can display the concept of each song in her act. Conceptually, the album consists of an overture (which is one of the most insane and skillfully calibrated medleys I've ever heard, introducing all the main themes on the album) and 5 pairs of songs, each displaying the interaction of two "Strangers". That means she gets to play a different part in each song. In 'Mist' and 'Break the Ice', she's all sweet and princessy. In songs like 'Tanitbus II' or 'Stranger' she's a drama queen, In 'Gone', she's bold, adventurous and charismatic beyond belief, and in 'Over', she brings out the inner demon (death growls! big yay!). And unlike most symphonic metal acts, Scardust doesn't feel like an instrumental soundscape led by a diva, but rather like the diva is part of the full instrumental and vocal mashup. Given the lively character of the instruments and the choirs bridging the gap between instrumentation and vocals with their many layers, Noa has an incredible sonic playground to work with that allows her to do the most ridiculous stuff you can imagine. Sometimes she's in the spotlight, sometimes she's alternating with the choirs and on a few occasions, she even plays into the instrumental maelstrom, as she has the capacity to treat her voice like a musical instrument that you actually play rather than just singing words (see the ending of 'Concrete Cages').
click here if the video doesn't play
This entire display of musical madness and emotional diversity is then wrapped in a superb concept. The pairs of "Strangers" are placed between the 'Overture for the Estranged', which feels like opening the gates to adventure, and the anthemic closure on 'Mist' which superbly evokes the effect of a curtain falling down. Additional goodies on the album are the children's choir in 'Huts' (most addictive chorus on the album) and the guest performance of Patty Gurdy on 'Concrete Cages', which adds a very organic texture to the song and pushes the limit as far as infectious groove is concerned. Whether you love symphonic metal, classic prog metal, concept albums, soundtrack vibes or heavy aggression, I can't hype this album enough for you. It's everything it was intended to be and it will take you on an incredible journey that you're most likely not qualified for. But I guess life itself is no different in that aspect, so hop on board and enjoy the ride!
Track List:
Overture for the Estranged (06:34)
Break the Ice (03:52)
Tantibus II (03:40)
Stranger (04:11)
Concrete Cages (07:22)
Over (06:15)
Under (04:13)
Huts (03:27)
Gone (04:43)
Addicted (05:29)
Mist (03:22)