Shadow of Intent – Elegy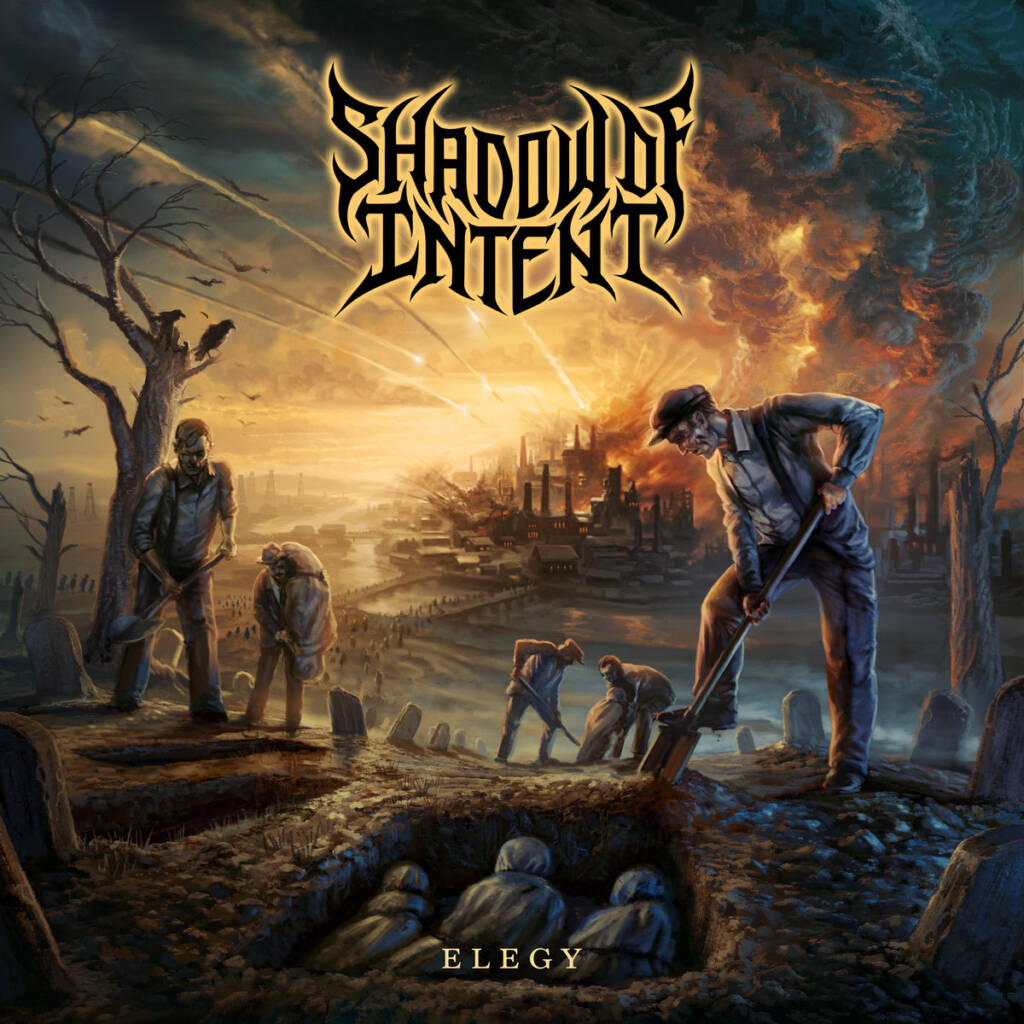 Shadow of Intent has been for a couple of years now, my favorite deathcore band and also the one that introduced me to the genre. The 3 albums they had under their belt were all incredible and showed a slightly different side of the band while staying true to their DNA. While some people disliked "Melancholy" for being less focused on ridiculous technicality and taking a more rhythmic, structured and melodic approach, I actually regarded that one as my favorite. However, when the new singles from "Elegy" started dropping, it was exactly that which slightly disagreed with me. The band seemed to keep downgrading their epicness and extremity, leaving way for other facets and giving more breath-space to the songs. That is by no means a bad thing but seemed a bit underwhelming at first glance. The deathcore driven maniacs now seem to take more of a death metal route. The songs are more anthemic, and digestible, and the whole thing seems to just be slightly reducing the shock-value…
Until you hear the full-length…
Shadow of Intent – Intensified Genocide ( Click here if the video does not play )
I'm not sure what it was about the singles that left me scratching my head. The empty spaces in 'Where Millions Have Come to Die' or the reduced amount of orchestrations in 'Intensified Genocide' just left me confused about where the album was gonna go. They didn't build hype as much as curiosity. But it turns out, that was a good single-release strategy, as it leaves a lot of the surprise factor for the full album release and also seems to unveil what the whole phenomenon was about… war.
I guess when treating the darkest aspects of the darkest aspects of humankind, instant hype isn't exactly the first thing you want to get across. What then felt like confusion, in hindsight feels like the misunderstood herald of darker things to come, and once the album hit me, it wasn't exactly the instant satisfaction I was hoping for, but rather a big slap out of my ignorance and a realization that this is the most courageous, mature, intricate, emotional and relevant piece of work that this band has ever put out, one that doesn't draw inspiration from video games and fictitious adventures, but from the coldest realities that none of us wish to be reminded of. And that instantly takes the fore-front, and sucks the listener into a spine-curling description and dramatic interpretation of things that are unfortunately happening, even in the present time.
Shadow of Intent – From Ruin … We Rise ( Click here if the video does not play ) 
As the album opens, you already feel you're not anywhere near ready for what's about to hit you. The opening orchestrations inject an epic yet chilling rush into your veins and soon after, the battering unleashes, painting a tragic yet brutal scene of someone being forced to give their life for the one they love. The album then goes on a rampant spree of violence, death, destruction and suffering painted vividly by drilling riffage, explosive drum performance and a voice from hell itself. Exactly the songs that seemed to lack epicness when I first heard them, now point at horror and atrocity instead. 'Intensified Genocide' (as the title suggests) keeps you on edge with a relentless high-tempo outpour of dynamics, riffs and descriptive lyrics of mass death and destruction. 'Where Millions Have Come to Die' paints the hollow, apocalyptic scenery of an army marching on course for destruction at the cost of self-destruction and the madness of one mind that led its path. 'Blood in The Sands of Time' just scars you with the persistence of the horror maintained throughout time and the awareness that it's not stopping. And 'From Ruin … We Rise' shows the rotten nature of vengeance and the will to send all the pain back where it came from in its most vicious form.
But "Elegy" isn't all about horror and death. It actually offers what I would consider a successful attempt at drawing some meaningful emotion and a thing or two to be learned from all the madness. 'Life of Exile' focuses on the grief of loss. The outro to 'Blood in the Sands of Time' is the sheer sound of weeping tragedy. In fact, the guitar solos and lead sections throughout the entire record keep a tone of part majesty, part sorrow and mourning that brings to light the souls being lost and the pain of it all. And the final track, the 13-minute long 'Elegy' brings an attempt at understanding and accepting this most horrid side of human nature. It seems to urge us to somehow keep moving forward in spite of all the atrocities. It's probably the message no one wants to, but everyone needs to hear. Adapt, Devise, Overcome…
Shadow of Intent – Of Fury ( Click here if the video does not play )
Normally, with an album in this genre, I would hyperfocus on all the technical details, but with this one, the sheer maturity of expression and the boldness to take on the most gruesome topic of them all and do it justice, is what really convinced me of its value. I can only bow my head to these maniacs of musical violence for bringing beauty into the world, from the place where it could least be found. However, now it's time to drop some music nerd details in as well.
All band members eventually proved their worth once again on "Elegy" as on all previous releases, displaying absolutely insane technical performances. But it seems that the direction of keeping things more orderly that they started with "Melancholy" continues in an even more relevant fashion. You still have ludicrous double kick speed and blast beats. You still have epic transitions and groove changes. You still have colossal breakdowns. They go progressive on a number of occasions, as can most clearly be seen on 'Elegy'. They even give some proper bass love on the instrumental track 'Reconquest' and the title track. Everything that makes them their absurd selves is as present as it was ever since "Primordial", but it's becoming integrated into a much more coherent flow of musicianship. The songs maybe take you by surprise less (although there are some jaw-drop moments you're simply not ready for) but the trade off for that is the most coherent and fluid songwriting they put out to date, and one that leaves room for concept and emotion to an entirely new level. And Ben Duerr's vocals are just as guttural and filthy as ever, but seem to advance the accuracy of pronunciation and to bring in more layering. This band keeps evolving, it's just a matter of understanding where they're going before you can come to that conclusion. I recommend "Elegy" to any fan of extreme music, especially to those who are tired of formulas, but even to them I'd say, you need a strong stomach for this one.
Shadow of Intent – Blood in the Sands of Time ( Click here if the video does not play )
Track List:
Farewell (04:54)
Saurian King (05:24)
The Coming Fire (04:09)
Of Fury (04:47)
Intensified Genocide (04:00)
Life of Exile (04:53)
Where Millions Have Come to Die (04:23)
From Ruin … We Rise (04:50)
Blood in the Sands of Time (05:22)
Reconquest (04:50)
Elegy I: Adapt (02:28)
Elegy I: Devise (04:25)
Elegy I: Overcome (06:01)