The Outsider – From Ancient Gods and Forbidden Books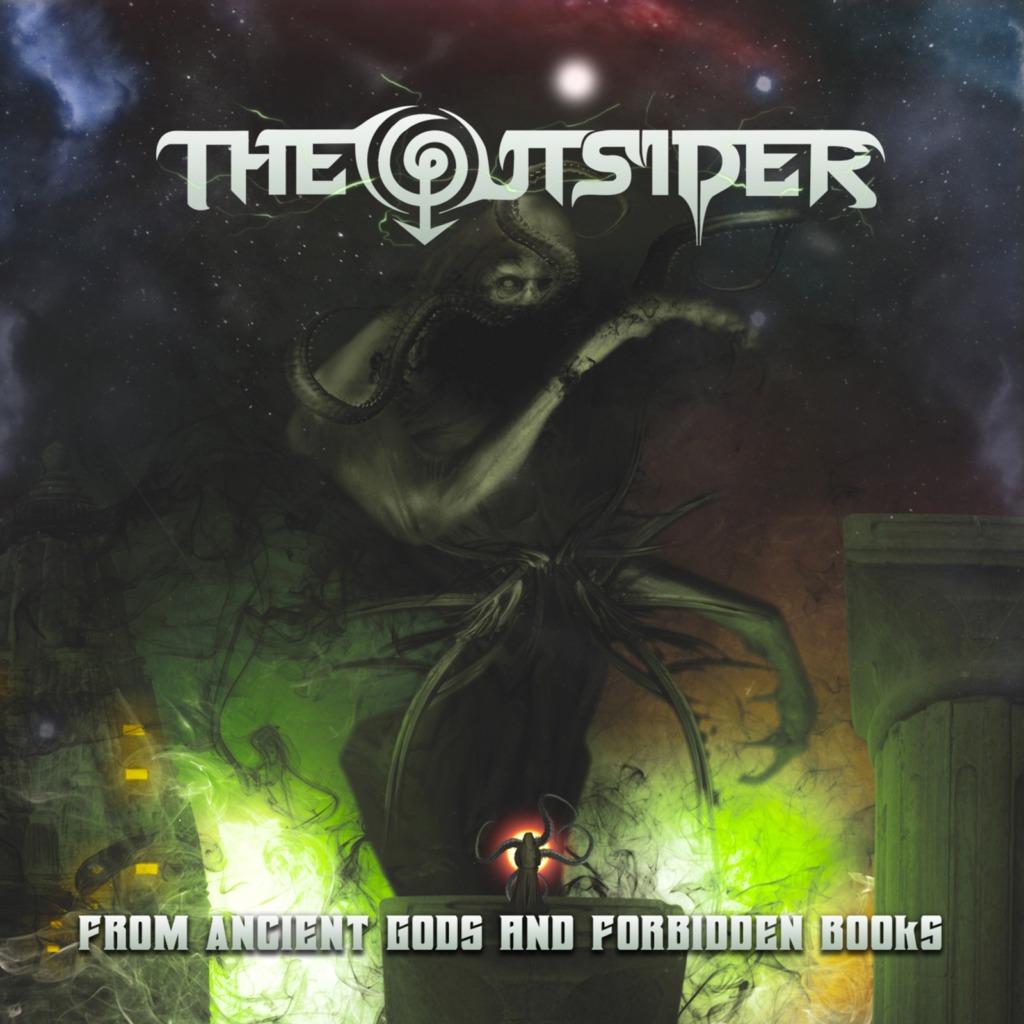 This album is described as a journey through cosmic horror in the vein of HP Lovecraft, despair, dystopic scenarios, and madness. The Outsider is a one-man (un-named) project from Mexico City, "From Ancient Gods and Forbidden Books" is his second full length release. The project and album names, and indeed the album cover artwork, certainly do invoke Lovecraft, but what of the music?
Forewarned is forearmed, so given that this album revolves around a writer of weird horror fiction, the creator of Cthulhu Mythos, then the premise has to be that anything goes. This sonic trip gets pretty weird. It encompasses death metal, doom metal, black metal and takes on other influences such as Middle Eastern tunes, pre-Hispanic music, and even electronic sounds, jazz and orchestral.
The use of an "eight-dimensional audio effect" (his words, not mine) on some of the tracks, one that that makes the sound revolve around your head, adds to the cosmic experience. This is particularly effective through headphones. I wonder what it will sound like in 5.1 surround. It might just be my perception, but like a lot of horror stories and movies, this starts off fairly normally and gets stranger as it progresses.
'I Belong to the Stars' starts with a short passage that could be something from The Outer Limits and moves into a rhythmic drum beat and chanting, that sounds almost primal and then becomes orchestral death metal. A strong opening to this journey into the unknown.
Sirens whirl around your head at the beginning of 'Bringers of the Apocalypse'. Some Middle Eastern influence can be heard in this melodic death metal track, that includes some spoken parts and a wicked guitar solo from Kristian Niemann (Sorcerer, ex-Therion). A choir also features on this track, made up of Rick Loera, Daniel Serratos, and the Outsider himself.
The Outsider – Bringers of the Apocalypse – Lyric Video (click here if the video does not play)
More chanting, this time from the choir leads us into 'Primordial Abyssal Chaos'. Rick Loera (The Legion of Hetheria) also features on guest vocals here. The album still sounds fairly normal at this point, with those orchestral and Middle Eastern influences continuing to play their part.
The Outsider – Primordial Abyssal Chaos – Lyric Video (click here if the video does not play)
In 'The Wish That Became a Curse' the story continues but the mood is beginning to change, getting darker and stranger. Dramatic orchestral metal music sits behind incanted verses.
The eight-dimensional audio effect sends strange sounds from side to side in 'Nine Worlds Down', a doomy little ditty, with a growled monotone delivery and that choir again. "Oh Lord! Oh Mistress! Watch me disintegrate, I crave for my eternal sleep, I know it is my fate"
'The Headless Horror' features Kelly Shaefer (Atheist) as guest vocalist. The lyrics to this song set it aside from the others. The first line of each verse is [Forbidden to be written], and this is repeated every other line until the chorus. Try as I might, I cannot make out what is sung (grunted) here, but I do not think it is English. There is a small clue later in the line: "It's not written because it shall not be named", so perhaps it is the unspeakable name of the headless horror.
The Outsider – The Headless Horror (click here if the video does not play)
'918' is one of three instrumental tracks on the album, and here the weirdness knob is turned up to 10. It is less than two minutes long, but there is no rest from the strangeness, as this leads into 'Suicide is Progress' featuring Jørgen Munkeby (Shining). There is nothing like a saxophone if you are looking for an instrument to add weirdness, and Jørgen duly obliges.
The Outsider – Suicide is Progress (click here if the video does not play)
'Beautiful' is actually, one of the more beautiful tracks on the album. Ranging in style from quiet piano that plays around your ears, to fast heavy melodic death metal. This is followed by another short instrumental track 'Prelude to the Downfall' which finishes with a countdown to lift off. Some of the heaviest passages come in 'Lost', they are interspersed with spoken verses that remind me a little of Hawkwind's '10 seconds of Forever'. Then, complete chaos ensues in the last track 'The Divine Punishment'.
It is all a little pretentious and crazy, but nevertheless a thrilling 66 minutes of entertainment, and although it took me a few plays to get into it, I have ended up enjoying it. It is both weird and intriguing, different to anything I have heard before. So, as the Outsider would say "In Horror We Trust".
Track List:
I Belong to the Stars
Bringers of the Apocalypse
Primordial Abyssal Chaos
The Wish that Became a Curse
Nine Worlds Down
The Headless Horror
918
Suicide is Progress
Beautiful – The "Across the Black Sea" Suite
Prelude to the Downfall
Lost
The Divine Punishment