Warforged – The Grove | Sundial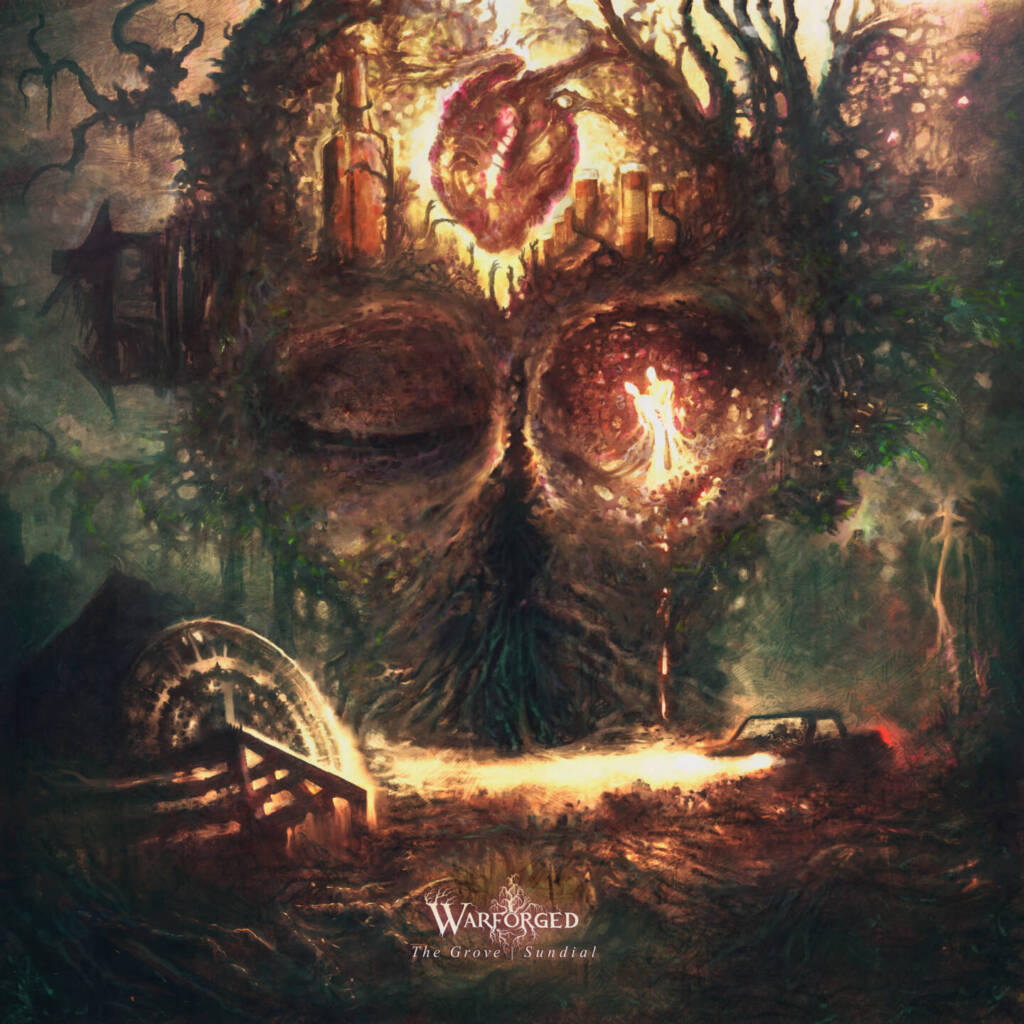 It's no news that The Artisan Era is a label focused on the most extreme of the extreme in metal music, but when I heard Warforged's debut album "I: Voice", I thought it was extreme even for this label. And it wasn't necessarily the technicality, but rather the sheer size of the album, as well as the complexity and pressing mood that made it one of the most challenging records I had ever heard. And while I was filled with respect by their skill and creativity, I can't say I felt much motivation to return for more spins.
So, in comparison to that ungodly monster, how does the band's second release, "The Grove | Sundial" present itself? Well, it's another monster, that's for sure, but it's one that fits my preference a lot better. I feel like the band stayed true to the weird, ruthless concoction of sonic witchcraft and mad science that made their debut so savage, but they decided to take their listener's risk of heart failure into account on this one. Or in plain English, it's more balanced, digestible and not quite as terrifying. At a modest 46-minute run time, and benefitting from clearer production, this is an album I can sit through a lot more effortlessly. Maybe some of the epic aura of mystery was lost with this reduction in scale, but the more accessible layout sure feels like a welcome trade-off for me.
Warforged – Bliss Joined to the Bane
But what exactly does "more accessible mean" in Warforged terms? Well, it means insanely complex and technical riffage, loads of progressive patterns, enough blast beats to throw the snare drum down the dumpster and a vocal performance pulled straight out of the Predator's version of hell. The band is labeled as blackened progressive tech-death. And I find the way they integrated the "blackened" part into their sound to be the key to what makes their soundscape so brutal and so unique at once. Due to the clearer production, everything is very audible, the drum patterns are articulate and snappy and the whole thing feels mathematically precise. But they still manage to create that wall of "white noise" found in black metal, by churning obscene amounts of gain in the guitars, backing it up by blast beats and topping it off with an extremely filthy and inhuman harsh vocal delivery. However, that's only a small part of their compositional mastery. Until that point is reached, each song goes on its own psychotic winding route of progressive… intricacy. I must give the spotlight to drummer Jason Nitts for the way he's able to merge clever polyrhythmic grooves with spurts of crazy technicality and create long crescendos of intensity towards the peak blasting of the songs (See the intros to 'No Land Man' and 'Bliss Joined to the Bane').
On guitars, there's also quite a creative maelstrom of overdriven violence. With the 2 guitarists, Jace Kiburz and Max Damske, deciding more often than not to go their separate ways in terms of riffage, and often even layering clean upon driven guitars, you sure have a lot to unpack. The solos also show quite some diversity, bringing together melody, technicality and the wholesome feeling of being chased by the ghost of an alien (yes, the kind that Sigourney Weaver blew out of the air-lock).
And then the bass, in a very NOT tech-death fashion, refuses to follow the highly used fluid fretless approach, but instead sounds like a growl rumbling from below the ground. I don't know how much distortion is on that thing or how many strings it has, but its sound quite simply stinks, and I'm all about it. And of course, just like the guitarists, our friend and bassist Alex Damske decided to not do anything that any other instrument is doing, and rather go his own way as well. The one thing that the band kept in mind though, is that the 3 incoherent paths of the 3 string instruments should be coherent when pieced together, and so they were merged into a counterintuitively spectacular symphony of noise.
Warforged – Sheridian Road
If you're still reading after that completely unnecessary stream of over-the-top metaphors, I can assure you this band also does music, not just sci-fi violent noise. There's a strong atmospheric side to their sound. It's actually the first thing you hear on the album, with some very creepy sound design. Further down the line though, we also find creepy string sections and creepy clean guitars ('No Land Man'), creepy piano ('Painted Heart') and creepy electronic beats ('Bliss Joined to the Bane'). And we even find clean vocals and clear consonant guitar melodies. 'Sheridian Road' is the best example of this. It's simply beautiful how they merged this element into their cocktail of evil and harsh soundscapes by creating long winded mood shifts from peace and tranquility to tension, suspense and alert, and back again.
There would be more to unpack, but I'm sure this is enough to have you either intrigued, or scared or questioning this reviewer's sanity, and honestly, all three are accurate after listening to "The Grove | Sundial". So, there you have it, Warforged's slightly more digestible album is out on September 9th. Be sure to keep an eye out for it.
Track List:
No Land Man (06:47)
Hymn of Broken Teeth (04:21)
Sheridian Road (05:38)
Self-Destruct Seminar (02:25)
Bliss Joined to the Bane (05:16)
Burning Days (04:44)
House of Resentment (03:21)
The Place That Breaks Your Bones (05:15)
Painted Heart (07:09)