Kyros – Four of Fear EP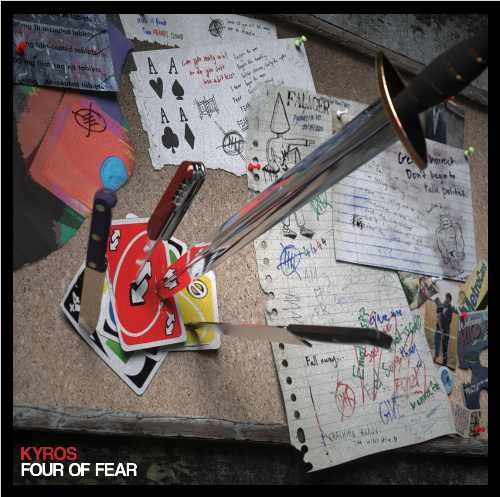 Just about five months after they dropped one of the hottest prog records of 2020 in June with their latest masterpiece "Celexa Dreams", the four synth-prog nerds in Kyros return with a surprise EP called "Four of Fears". Our very own Rune awarded the aforementioned "Celexa Dreams" 5 out of 5 stars (read his review here) – and deservedly so I might add. So with one heavy contender for the crowning jewels of Album of the Year already out, why rest on your laurels when you can keep busy, your fans entertained with the excellent "Celexa Streams: Isolation Gigs" series of streams on their YouTube channel and quietly work away on a quick follow up EP.
So, were they able to keep up with the staggering,  flawless quality they were able to conjure up on "Celexa Dreams"? Well, yes and no. While "Four of Fear" clearly follows the same path as its album predecessor, it is expanding on the sonic spheres established earlier this year and takes them to a raging extreme. Everything seems to be louder, crazier, messier. Especially the first minutes of 'Ace's Middle' are quite an opening statement and can leave you puzzled. Haken incorporated circus music into their prog? Hold our pints! Ok, sonically Kyros are a lot closer to their country-mates and musical idols Frost*, but you'll get the picture.
Kyros – Fear of Fear (click here if the video doesn't play)
Quasi-title track and video single 'Fear of Fear' luckily moderates the craziness a bit after the harsh onslaught of 'Ace's Middle', before 'ResetRewind' fully taps into pop and dubstep territories. Whoever thought "Celexa Dreams" was Euro Pop Trash (an actual comment from someone below a post of PROG Magazine's review of "Celexa Dreams"), will definitely find this completely unpalatable. According to Adam Warne, whose vocals and synths are once again front and center, "Four of Fear" was a sort of experiment to combine four very different musical directions into one release. The melodic resolution after the abrasively electronic dubstep parts and the stunning subsequent guitar solo from Joey Frevola, however, are a testament to their songwriting prowess, that allows them to combine seemingly disparate elements inside a single coherent song even.
Finally, 'Stop Motion' sees Kyros visiting their more ponderous, epic side, which is a welcome resolution after all the hectic craziness that went down before. If I had to pick out a flaw in "Four of Fear", then it might be that it lacks that overflow of those huge melodies that was permeating "Celexa Dreams". Not that they have disappeared entirely, I had just wished for more… Oh and that atrocious cover artwork. Sure, I get the metaphorical meaning behind it, it's just far from being visually pleasing. That being said, "Four of Fear" is an excellent addition to the Kyros discography and a successful experiment.
It's wild and it's loud. It's synth-heavy and it's exuberant. It's bold and it's daring. It's epic and it can be a bit messy as well. It's Kyros and they're unstoppable in 2020!
Ace's Middle
Fear of Fear
ResetRewind
Stop Motion