Adagio – Life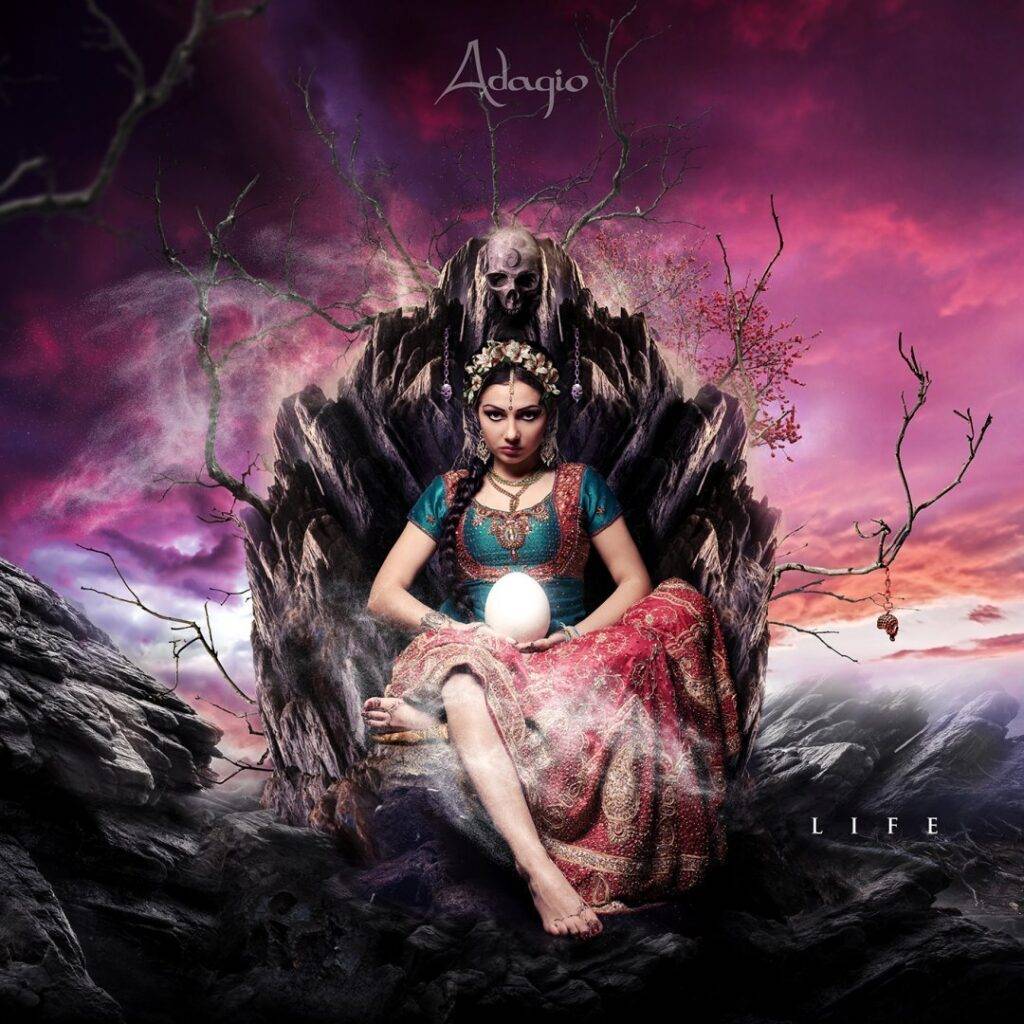 After two releases that garnered instant classic status in their genre (Sanctus Ignis in 2001 and Underworld in 2003), french symphonic metal masters Adagio entered quite an unstable time in their career with the departure of vocalist David Readman (Pink Cream 69 a. o.). Neither Gus Monsanto nor Christian Palin managed to stay for more than one album (Dominate in 2006 and Archangels in Black in 2009 respectively) and the slightly altered sound didn't sit too well with a lot of fans. After a short live stint of swedish legend Mats Levén, Adagio went into an indefinite hiatus. In the meantime, bandleader and guitar shredder Stéphan Forté released two excellent solo albums, still the fans never gave up the hope for a return to former Adagio glory. Now, a mere eight years after the last album, their patience will be finally rewarded, as the new Adagio album "Life" has been released this week.
A successfull pledge campaign was launched in 2016, a tentative release set for November/December, they even played a release show in Paris on December 10th, but even the pledgers only got an advance download in spring 2017. So there's been quite some confusion around "Life" finally seeing the light of day and being unleashed onto the public. Fears arose they might be pulling a "Tool" and we'll be waiting forever, but I can assure you: I've been listening to nothing else the past week and by now it is safe to say: it was well worth the wait. The core trio of the aforementioned Stéphan Forté, keyboarder and co-producer Kevin Codfert and Bassist Franck Hermanny are joined by new drummer Jelly Cardarelli, violinist Mayline and on lead vocals they recruited none other than the inimitable Kelly "Sundown" Carpenter, who had already helped them out for a few gigs in Japan a few years back. His powerful vocals already graced the second Beyond Twilight album "Section X" and the self titled Outworld debut, to name but a few. And they are a perfect fit for Adagio, a match made in heaven.
Kicking off with the nine minute title track, it is clear from the beginning, that it is both a return to form and a big step towards the future for Adagio. "Life" is not as full on symphonic as the first two albums were, but that is probably only for the better, as only Symphony X in their prime could rival their sound and the progress to more metal and hard rock sounds and song structures suits Adagio pretty well and doesn't feel as forced as it did with "Dominate" and "Archangels in Black". Abandoning the speedy approach that was dominant back in the days works gloriously as well, as the impact of the melodies and emotions is weighing even heavier with the reduced speed. The glorious days of melodic speed metal around the turn of the millennium are long gone. It was nice while it lasted, but time moved on and so did the music.
"Life" is Adagio 3.0, and it feels like the versions 2.0 and 2.1 never existed. Don't get me wrong, "Dominate" and "Archangels in Black" are in no way bad albums, but they just paled in comparison to the insanely high standard Adagio set themselves with "Sanctus Ignis" and "Underworld".
"Life" is all killers, no fillers whatsoever, the compositions contain both memorable hooklines as well as proggy shreddy solo breaks, but always stay classy, never getting to the point where the soloing gets self indulgent. The solo section of the second song, 'The Ladder', for example, is going through prog rock textures never heard before in the Adagio universe and without a single shred note, where the solo simply lies in the progression of the composition away from the verse, bridge and chorus riffs or themes. The following 'Subrahmanya', also the first single, provides a stark contrast with a massively djenty main riff. Adagio and djent? On paper it sounds like an absolutely crazy idea that is never going to work, but upon numerous spins of the song it turns out to work surprisingly well. And once the long time Adagio fan got used to the djent influences, he will still have his head spinning from the mighty dark 'Subrahmanya' chorus kicking in out of nowhere. The spacy "Grand Spirit Voyage" is sporting a different kind of unusual chorus though, more of the spiritually uplifting kind. The video single "Darkness Machine" is juxtaposing a frantic verse with an epic chorus, built upon a slick bass line, making for a great contrast.
Hints of "The Rains of Castamere" (a song from the HBO hit series "Game of Thrones", for those who don't know) appear for the first time in the solo of 'Secluded Within Myself' and reappear at the end of the penultimate "Trippin' Away', a heartbreaking Power Ballad, played by violinist Mayline. An on and on I could go why song X is fantastic or what makes song Y so great. Instead, I prefer to press the repeat button after the final fading notes of "Life" and urge you, my faithful readers, to check it out immediately!
Two minor flaws I have to note though about this otherwise flawless album. The last two tracks end in a fade-out, which is a bit of a let down, as a grandiose album screams for an epic closing chord. Be that as it may, Adagio are back with full force with their long awaited fifth album. "Life" makes the two previous mediocre albums forgotten, gives the symphonic prog metal genre a long overdue modern update and propels the band back at the top of their game, ready to take over the throne from Symphony X (whose future is uncertain at this point). Adagio combine the best of various worlds, enhancing their signature symphonic sound with some djenty riffs, a modern bass sound and a few colorful dashes of prog rock. It goes without saying that the musicianship on this album is top notch from every player involved, it is the compositions that might put this album into the top five progressive metal albums of the year. Adagio are back without a single doubt, and hopefully they are here to stay.