Kamelot – I am the Empire – Live from the 013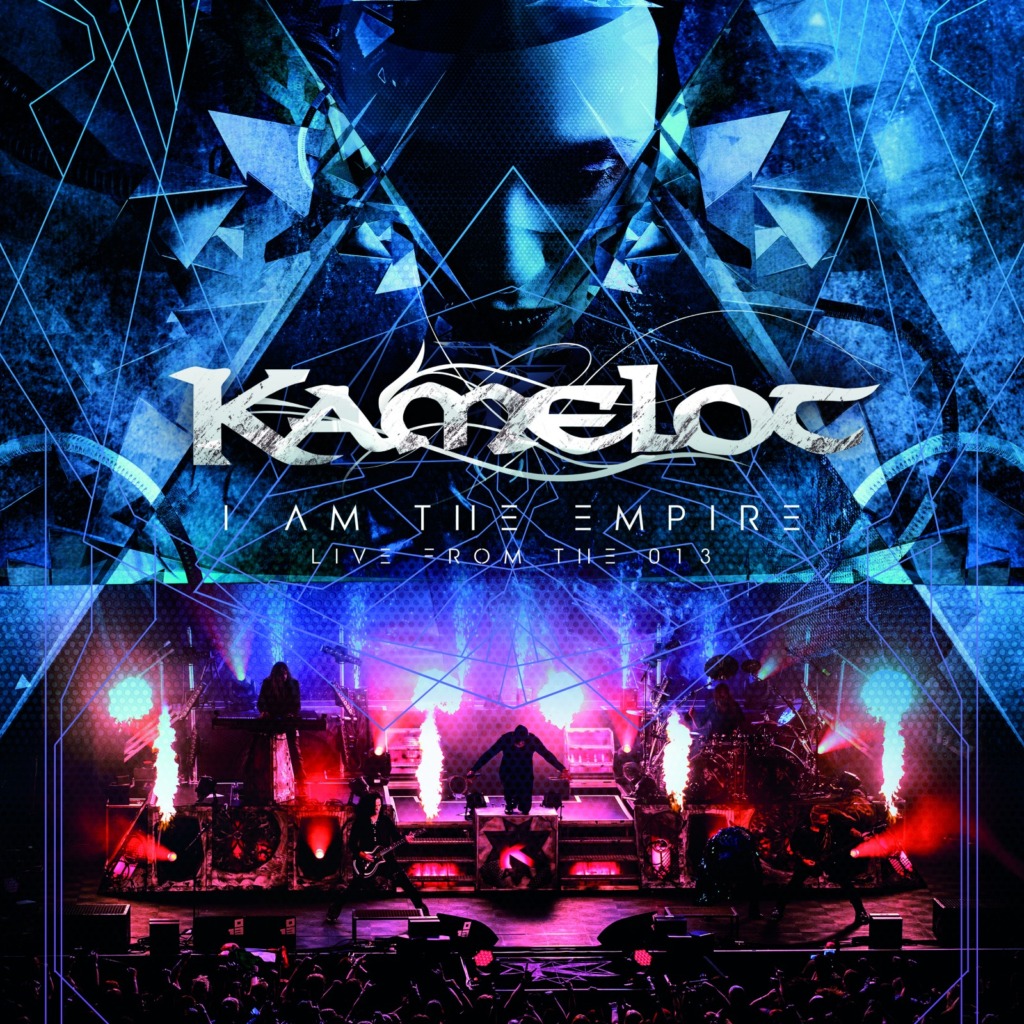 This much I know:- Kamelot are a very professional and popular outfit. When Roy Khan left the band, it was game over for some fans. His replacement was well known to the Progressive Metal fraternity, and Tommy Karevik already had the right pedigree as the singer for Seventh Wonder. The fact that, in some people's eyes, Tommy became moulded to sound and look like Roy, was rubbing salt in the wound for them. I am not one of those people, I respect all the decisions made by Roy and everyone involved. I own pretty much everything the band has released and have ordered the 2 CD/DVD/Blu-Ray digipak in slipcase of this live performance. It is available in half a dozen formats from Napalm Records.
I may not listen to them as much these days, but they remain one of my all-time favourite bands.
"I am the Empire – Live from the 013" is an epic 100+ minutes of their show recorded at the 013 in Tilburg, Netherlands on 14th September 2018. There are 21 tracks in this show, so I'm not going to walk you through them all, that would be very tedious. Let's look at a few though, starting at the beginning, a short intro 'Trancendence', leads straight into 'Phantom Divine (Shadow Empire)' featuring Lauren Hart (Once Human). This is off Kamelot's last studio album 'The Shadow Theory' released in 2018. This song is available to watch on the Napalm Records YouTube channel. It is a typical rousing track to get everyone in the mood.
Kamelot – Phantom Divine (Shadow Empire) (click here if the video does not play)
The next guest appearance is in the song 'My Confession' by the string quartet Eklispe. The track from 'Silverthorn' starts with a nice string section, and has a bit of everything including a lead break and some female vocals, (possibly Lauren Hart but I'm not sure as there are four guest vocalists in the show, that will have to wait for the video version).
The beautiful ballad 'Under Grey Skies' from the 2015 album "Haven" features angelic vocals from Charlotte Wessels (Delain). Although Charlotte has appeared in a video version of this song, this is actually – the first live performance with her singing – and is one of the best songs in the show for me.
Sascha Paeth, who I believe has produced and mixed every Kamelot album from "The Fourth Legacy" to date, makes an appearance in 'Ravenlight' playing guitar. He will also be well known by fans of Avantasia.
The guests keep on coming. Alissa White Gluz from Arch Enemy, in 'March of Mephisto' from "The Black Halo" album and later in 'Sacrimony (Angel of Afterlife)' from "Silverthorn" where she is joined by Elize Ryd from Amaranthe. Alissa makes one final appearance in 'Liar Liar (Wasteland Monarchy)' from "Haven".
Kamelot – Sacrimony (Angel of Afterlife) (click here if the video does not play)
On a personal note there are a couple of annoying parts in the show. These are not specific to this show, but common occurrences at many shows. 1. There is a drum & keys solo – boring – and 2. 'Forever' from "Karma" which is just over 4 minutes long, is strung out to over 14 minutes! Mainly crowd interaction and their attempts at copying Tommy's singing. There you go, moan over. What we have here is a well mixed, well produced live album (the first one I have listened to in a long time) and I can't wait to watch the Blu-Ray.
Track list:
1. Transcendence (Intro)
2. Phantom Divine (Shadow Empire) feat. Lauren Hart
3. Rule the World
4. Insomnia
5. The Great Pandemonium
6. When the Lights are Down
7. My Confession – feat. Eklipse
8. Veil of Elysium
9. Under Grey Skies – feat. Charlotte Wessels (live premiere)
10. Ravenlight – feat. Sascha Paeth
11. End of Innocence
12. March of Mephisto – feat. Alissa White Gluz
13. Amnesiac
14. Manus Dei
15. Sacrimony (Angel of Afterlife) – feat. Alissa White Gluz & Elize Ryd
16. Drum and Keys Solo
17. Here's to the Fall
18. Forever
19. Burns to Embrace – with Children's Choir including Thomas Youngblood's son
20. Liar Liar (Wasteland Monarchy) – feat Alissa White Gluz
21. Ministrium (Shadow Key)