9 diverse highlights, 50 releases overall: October 2022 ends with a bang!
Releases of the Week 43/2022 with Axiom, Behind Closed Doors, Enma, Galahad, Psychonaut, Obsidious, Anna Pest & Colin MacAndrew, Worm, Ricky Patel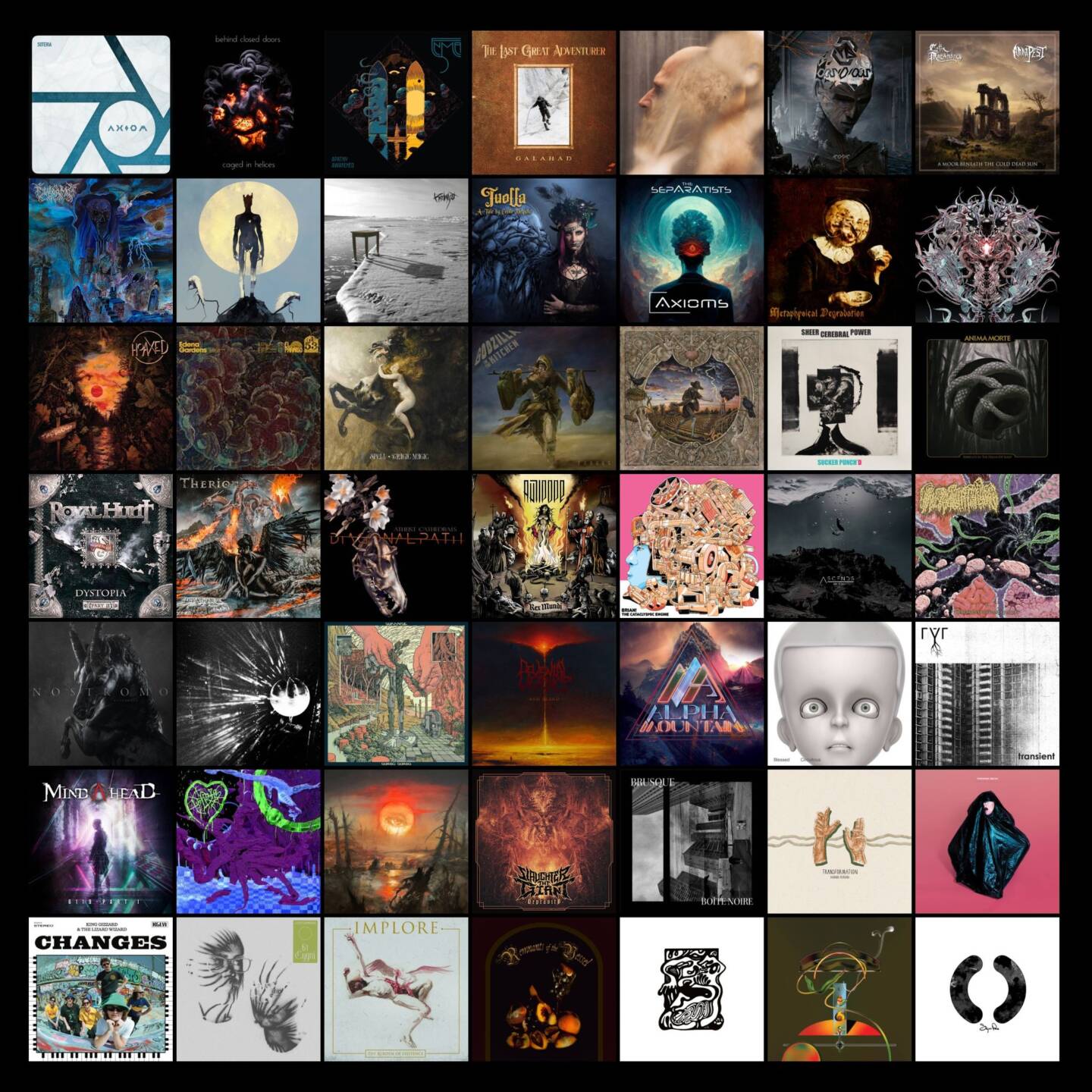 October 2022 says goodbye with an absolutely MASSIVE release week: 9 highlights and 50 new releases overall. That's your halloween listening sorted I guess. Happy Halloween!
More releases for 28 October, 2022
Burn the Sun - Le Roi Soleil (Oct. 25, Sliptrick Records) Bandcamp
Knekelput - Teloorgang (Oct. 25) Bandcamp
Cécile Delpoïo - Tuolla (Oct. 26) Bandcamp
The Separatists - Axioms EP (Oct. 26) Bandcamp
Voidthrone - Metaphysical Degradation (Oct. 27, Total Dissonance Worship) Bandcamp
Polyphia - Remember That You Will Die (Rise Records)
Hoaxed - Two Shadows Bandcamp
Edena Gardens - Edena Gardens (El Paraiso)
Spell - Tragic Magic (Bad Omen Records) Bandcamp
Godzilla in the Kitchen - Exodus (Argonauta Records) Bandcamp
Forlesen - Black Terrain (I, Voidhanger Records) Bandcamp
Sheer Cerebral Power - Sucker Punch'd Bandcamp
Anima Morte - Serpents in the Fields of Sleep Bandcamp
Royal Hunt - Dystopia: Part II
Therion - Leviathan II
Diagonal Path - Atheist Cathedrals Bandcamp
Antipope - Rex Mundi
BRIAN! - The Cataclysmic Engine (Nefarious Industries) Bandcamp
Ascends - Lost in Gravity
Universally Estranged - Dimension of Deviant Clusters Bandcamp
Nostromo - Bucephale (Hummus Records) Bandcamp
Oiseaux-Tempete - What on Earth (Que Diable) Bandcamp
Guranfoe - Gumbo Gumbo Bandcamp
Devenial Verdict - Ash Blind (Transcending Obscurity Records) Bandcamp
Alpha Mountain - Alpha Mountain (Vallis Lupi Productions) Bandcamp
Blessed - Circuitous (Flemish Eye) Bandcamp
Ryr - Transient (Golden Antenna Records) Bandcamp
MindAhead - 6119 - Part 1 (Rockshots Records)
Thotcrime - D1G1T4L_DR1FT (Prosthetic Records) Bandcamp
Blacklist - Afterworld (Profound Lore Records) Bandcamp
Slaughter the Giant - Depravity (Hammerheart Records)
Brusque - Boite Noire Bandcamp
Nionde Plagan - Transformation Bandcamp
Throwing Bricks - The Burden (Tartarus Records) Bandcamp
King Gizzard & The Lizard Wizard - Changes Bandcamp
lostlemming - 61 Cygni Bandcamp
Implore - The Burden of Existence (Church Road Records) Bandcamp
Faetooth - Remnants of the Vessel (Dune Altar) Bandcamp
Sugar Horse - Waterloo Teeth EP (Art As Catharsis) Bandcamp
Wand - Spiders in the Rain (Drag City Records) Bandcamp
Sigur Ros - ( ) [20th Anniversary Edition] (Krunk) Bandcamp