Allegaeon – Damnum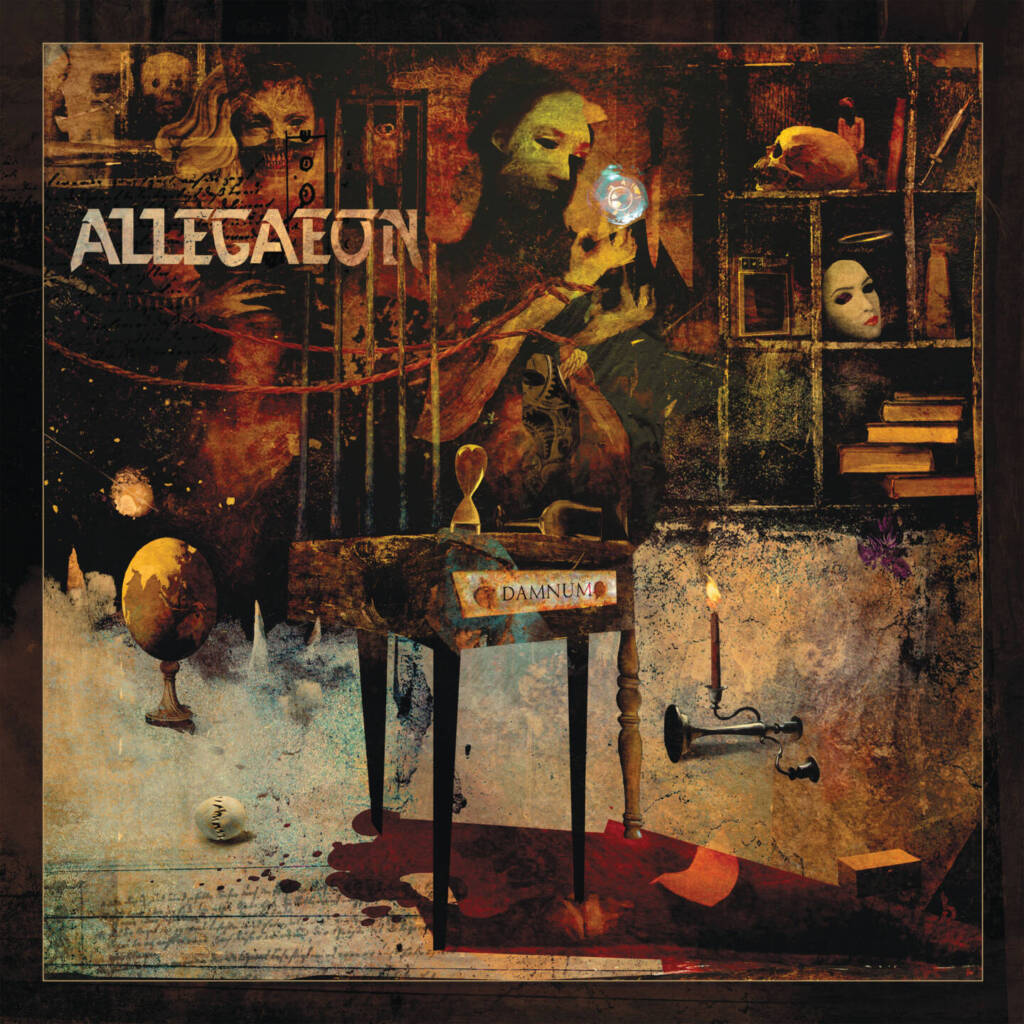 If you are like me, your musical adventure as you've journeyed through life will have been littered with significant moments. These important little events will have possibly changed your outlook on things. They might even have been stepping stones to an exciting new music genre. The first of these eye openers for me was Judas Priest on the 'Sad Wings of Destiny' tour in my hometown. That night determined my musical course from there on.
The number of times similar things have occurred are numerous. A few years ago, it happened again when I discovered Allegaeon and their album 'Proponent for Sentience'. Then and now, I only countenance guttural vocals if they are accompanied by clean vocals and, most importantly, excellent guitar driven metal. It goes without saying that Allegaeon fit the bill perfectly, and certainly over the last few albums.
Their sixth album "Damnum" comes almost three years after their last one 'Apoptosis'. That was the first album to feature bassist Brandon Michael who is still with the band. "Damnum" sees the introduction of a new drummer, Jeff Saltzman, who replaces Brandon Park. So, a new drummer, a new album and some new ideas. Vocalist Riley McShane elucidates, "With this album, it was more about knowing what we didn't want". All five members were involved in the writing, so expect some new sounds, albeit some of them subtle in nature.
Speaking of subtlety, the opening track has an acoustic guitar introduction. This is short lived as you might expect for a track entitled 'Bastards of the Earth'. From there on it's a ferocious number with new boy Jeff showing that he's more than capable. It's clear that he has the calibre to work with and complement the other musicians in the band. Moving on, 'Of Beasts and Worms' is heralded in with a single power chord. When it fades there's a short ambient passage, the style of which Allegaeon fans will be unfamiliar with. After this intriguing surreal intro, normal service is resumed – fast, aggressive and complex – just what is expected.
Allegaeon – Of Beasts and Worms (click her if the video does not play)
Damnum is the Latin for loss, it's more commonly used today in legal terms. It also fits many of the themes explored in the songs, including the loss of friends. There is a lot of anger and sadness in the writing – not with each other but with the current state of the world.
An earlier video of "Into Embers" also showcasing the new line-up was released in October 2021. It gives you a perfect glimpse of the extreme nature and intensity of the material. What stands out especially is the superb complex guitar work from Greg Burgess and Michael Stancel.
Allegaeon – Into Embers (click her if the video does not play)
 With the whole band inputting creative ideas, this ultimately led to some friction in the studio. Greg Burgess had this to say, "It was tough getting used to doing things this way but, in the end, sometimes change is necessary for growth". After all that is what progressive music is all about, isn't it? For Riley McShane, the biggest obstacle was the psychological and emotional angst. "For me, this album was very cathartic, but also very difficult to write and record. I chose to access a part of my mind and my heart that I often keep closed off to myself and to others".
 This is perhaps conveyed in the title of 'To Carry My Grief Through Torpor and Silence'. The track also expresses the anger alluded to by Riley, although halfway through there's a calming funky Latin style passage. It is followed by a few bars that remind me of Greg's side project Nuclear Power Trio. This leads on to some stupendous soloing before careering off angrily to the end.
But then it really is heart on sleeve time for 'Called Home'. Drawing on extremely traumatic experiences for both Riley and Greg, the song is about the suicide of some personal friends. It is both heavy and angry in places but with quieter reflective parts as well. The lyrics contain actual parts of the notes left by those friends. Riley sums up this emotive song, "This song was written in their memory, as well as to help us find closure in their loss".
There's more clean singing and softer pieces than you might expect from this band. There's some evolution here, but the familiar fast paced complexity is still abundant. These two aspects of Allegaeon manifest themselves in the two parts of 'The Dopamine Void'. The shorter Pt.I is almost the mellowest track on the album whereas it's business as usual in Pt.II. There are some clean vocals but also a lot of screaming and blast beats.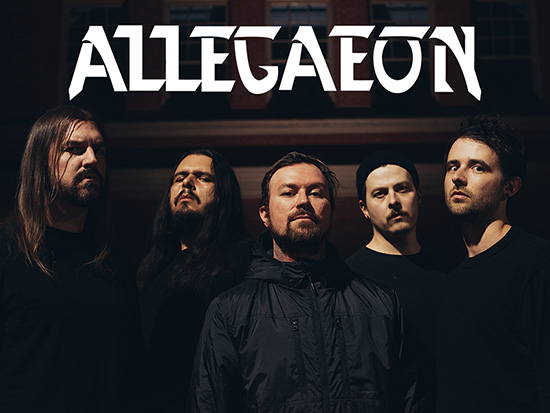 The honour of the mellowest track on the album goes to 'In Mourning'. It basically features Mr Burgess doing what he does on an acoustic guitar, serenading us before the final track. It's sort of the calm before the storm. The last song is particularly bleak according to Riley. "This song is about coming to terms with the fact that sometimes life can be challenging, and it can be difficult to see the light at the end of the tunnel. Throughout the album, there are many metaphors for mental health and again, my hope is that they can provide something for listeners to use to cope while having similar experiences. This song, however bleak, represents an idea that I hope provides clarity through the thought that once you realise these bad things in life never go away, you can begin working on how to process them as they arise."
A minute before the end of the album and the storm that is 'Only Loss', the heaviness fades away. A single guitar plays us out subtlety and it finishes as it started, in quiet contemplation.
It has been my great pleasure to see Allegaeon live on two occasions and hopefully a third later this year. They are as stunning live as they are on record. The skill of the guitarists particularly is jaw dropping. The prospect of seeing them play at least some of this album live, is mouth-watering indeed. But for now, this new offering from these masters of their craft, will have to suffice.
Track List:
1. Bastards of the Earth
2. Of Beasts and Worms
3. Into Embers
4. To Carry My Grief Through Torpor and Silence
5. Vermin
6. Called Home
7. Blight
8. The Dopamine Void Pt. 1
9. The Dopamine Void Pt. 2
10. Saturnine
11. In Mourning
12. Only Loss